The AZT 2017


Arizona Trail 2017 (Part 1 for 2017)
East Verde River to Cedar Ranch Trailhead
Total AZT miles = AZT 438.4 at the East Verde River to 625.6 at Cedar Ranch TH = 187.2 miles

May 9 - 19, 2017


Text and photos © copyright by Rob Jones



Co-participants: Solo hike by Rob (Wild Vagabond)

Total Trail Miles –> 187.2
camera: Panasonic DMC-ZS19

<! --------------------------------------- this first table is across 3 collums ----------------------------------------->
Day 5 Manzanita
(Click the image for the full-size image)

Day 11 snowy morning
(Click the image for the full-size image)
<! --------------------------------------- first table ends -------------------------------->

<! --------------------------------------- this first table is across 3 collums ----------------------------------------->
Day 11 Snow on the AZT
(Click the image for the full-size image)

Day 2 Mazatzal Mountains from Polk Spring
(Click the image for the full-size image)
<! --------------------------------------- first table ends -------------------------------->

<! --------------------------------------- this first table is across 3 collums ----------------------------------------->
Day 6 Coconino Tunnel
(Click the image for the full-size image)

Day 2 Mazatzal from Whiterock Mesa
(Click the image for the full-size image)
<! --------------------------------------- first table ends -------------------------------->

<! --------------------------------------- this table is across 3 collums, so it stands alone ----------------------------------------->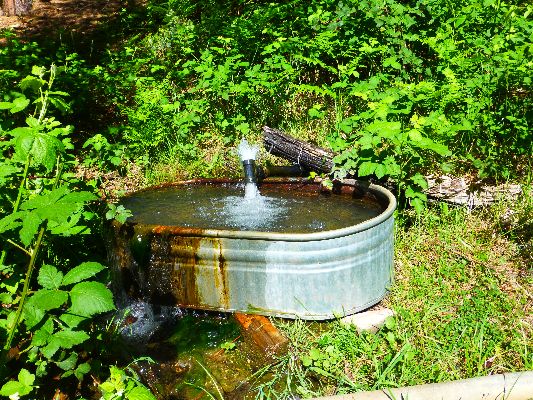 Movie - Day 5 Wondrous waters at Bray Spring, 4.5 mb
(Click the image to see the short video)

<! --------------------------------------- table ends -------------------------------->

"Between every two (cacti) is a doorway to a new world". - John Muir

Overview: I backpacked from the East Verde River near the LF Ranch, where I had last left off on the Northbound hike of the AZT, Arizona Trail, to Flagstaff. Then, connecting previous hikes, I gathered the bits of hiking to the Cedar Ranch Trailhead (TH). So, as of this report, I've hiked from Oracle to the Cedar Ranch TH, a distance of just over half of the AZT, 424.8 miles (AZT 200.8 to 625.6).
Counting AZT miles from the Mexico border (AZT mile 0) to the Arizona-Utah border (AZT mile 800), the AZT is 800 trail miles long.

Counting from the South to the North, here are the reports about hiking the AZT, Arizona Trail. I'll fill in the gaps as I hike along.

Oracle to Mt. Peeley; AZT miles 200.8 to 404.2 = 203.4 miles; the AZT 200 (2016)

Mt. Peeley to the East Verde River; AZT miles 404.2 to 438.4 = 34.2 miles; Ambling Arizona Trail: Mazatzal Divide (2015)

And of course the current report. AZT mile 438.4 to 625.6 = 187.2 miles: The AZT 2017 (2017).

I've also backpacked across The Canyon (Grand Canyon) a few times.

One report about this section can be seen here. Rimster: Grand Canyon Corridor Cruise (2012)

The Maps: To create the maps you see in this report, I downloaded the GPS tracks from the ATA (Arizona Trail Association) site and created a map using gpsvisualizer, then captured a view of the map for you to use. Some of the features mentioned in this report are not on the maps and many of the features depicted on the maps are not mentioned in the report. I hope you find them useful nevertheless. The sections as created by the ATA do not exactly correspond to the sections I describe, yet you'll get the lay of the land from the maps.

ERM = Energy Required Miles. A mile is added for every 500' elevation gain or loss. It's a very serviceable method of estimating energy required miles. ERM was initially used in Trails of the Tetons (long out of print) by Paul Petzold, founder of NOLS. It's a wonderfully useful concept and application. Add one mile for each 500' up AND down to distance = ERM. I use ERMs to calculate what the actual day is like. It's a very serviceable method of estimating energy required miles. Remember, however, that the ERMs are estimates because they depend on GPS satellite coverage and math functions.
Using ERMs does not account for the 'texture' of the route or trail - that is, rocky, boulders, no trail, slimy mud, etc., yet does help approximate the route.
See more information about ERMs at the end of this report.

<! --------------------------------------- this first table is to display a jpg map - centered ----------------------------------------->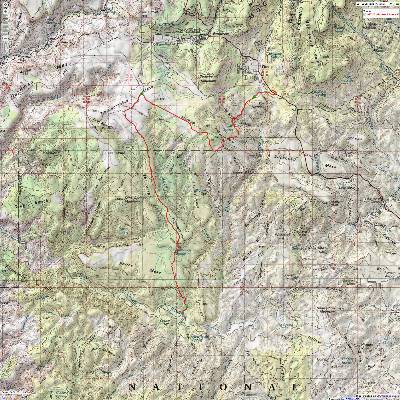 Map - AZT from the East Verde River to Pine, Passage 25
(Click the image to see the map)

<! --------------------------------------- first table ends -------------------------------->
Photos: Day 1 of the AZT 2017
Click thumbnail to see full size image

| | | |
| --- | --- | --- |
| | | |
| | | |
Day 1: Cool beginning. To Polk Spring: Doll Baby TH to Polk Spring. to AZT 439.0. 4 miles. ERM = 6. Camp @ 3500'.
It's snowing as Harry S. drives me toward the Doll Baby TH. Dropping off the Mogollon Rim, snow turns to rain and the temperature inches out of the 30Fs. Burr.
So, we stop in Clint's Well for breakfast.
Harry walks part of the LF Ranch access road with me and then returns to the car. Soon after, a vicious hail storm envelopes me just before I drop to the East Verde River via an old ranch trail, leaving the access road. I wait out the storm crouched under my trusty umbrella.
The Verde, to my relief, can be crossed without water topping the boot cuff, yet with great care. It's a relief because the storm has been active for a couple of days. Peacocks shriek behind the picket of huge trees, announcing the location of the LF Ranch.
Drizzle again sets in as I climb North, out of the Verde drainage.
Arriving at Polk Spring, I decide to inspect the spring. I smell ozone and note that the clouds are black as they leave the Mazatzal Mountains and fly this direction. I'd thought about continuing to Whiterock Spring, yet opt to hastily set up the TarpTent and pile in, as it rains coolly for the next hour and a half.
Sun appears in the grove of Arizona Walnut, fig, Cottonwood trees, and perhaps pear or apple trees gracing what was once a homestead or such as suggested by the scraggly rose bushes, bed springs, and assorted junk at Polk Spring. Mourning Doves coo relentlessly as clear water courses and gurgles through duckweed and yellow Monkey Flowers at Polk Spring camp. This is the first day on the AZT of 2017.
Chicken broccoli pasta with dried peas and chicken; white miso soup; enjoyed with views of the Mazatzal Mountains.
Photos: Day 2 of the AZT 2017
Click thumbnail to see full size image

| | | |
| --- | --- | --- |
| | | |
| | | |
| | | |
| | | |
Day 2: Mogollon Mudfoot; To AZT 450.6: To AZT 450.6. 11.6 miles. Up 2500'. ERM = 17. Camp @ 5960'.
The clay mud clings to my boots, adding more than a pound to each. A Coyote family sings the song dog quartet as I approach Whiterock Spring. I'm smiling on the AZT. I find gorgeous water at Whiterock Spring because the old leaker wood tank has been replaced with a metal one and the piping reworked.
Up another step of the Whiterock Mesa and Mogollon Rim. The Whiterock is a limestone. More gumbo, followed by a dip and a long rocky climb up the broad nose of Saddle Ridge. The ankles detest and protest this bowling ball route and are happy to pause under a sheltering juniper near the Mazatzal Wilderness boundary for lunch. Clouds and breeze and very cool. I've come up about 2,000' so far, with another 500' to go.
Leaving the Mazatzal Wilderness, the grade lessens and the walking is easier - partly because there are not as many rocks. Less erosion? The Saddle Ridge Tank is nearly full, yet the water looks unpleasant. I'm happy that I placed a water cache up ahead. A cowburnt of moo cows greets me at the Twin Buttes Trailhead, rolling their eyes in wonder that I have made it this far. This ends Passage 25, and starts 26. A bit of road-walking on FR194 and I arrive at the 450.6 water cache. Kathleen and I placed this water cache a few days ago. I locate a suitable camp in a triangle of Alligator Juniper, which afford some respite from the biting breeze. Clouds completely cover the sky into the less than warm evening.
Alpine Spaghetti with hot & sour soup.
Photos: Day 3 of the AZT 2017
Click thumbnail to see full size image

| | | |
| --- | --- | --- |
| | | |
| | | |
Day 3: Peccary Pig; To Bradshaw Tank: To AZT 459.4. 8.8 miles. ERM = 14. Camp @ 5400'.
The two shaggy peccary pigs, Javelina, burst out of the mud puddle below East Tank as I round the corner on this rock-choked forest road. I go for my camera, yet it barely clears the holster before the Javelina hit the brush.
The rocky volcanic trail drops and contours to Oak Spring which is running clear and cool. Yellow Columbine are preparing to bloom. A delightful place for an early lunch. This morning, I wore the down jacket and pile gloves. Now, I'm zipping off the pant legs, preparing for a short climb out of the Oak Spring Canyon.
The climb out switchbacks through volcanic, briefly through limestone, then stays on quartzite (Mazatzal Red Quartzite?) to camp.
I stop at Bradshaw Tank and consider lunch#2, watching the Great Blue Heron prowl the shallows and the tippy Turkey Vultures teetering on their dihedral wings. Six Mallard ducks are vying for mates. The drakes attempt to submerge rivals with much flapping and quacking. The water in the tank is not superb, nothing like the Oak Spring water. So, I continue and see a few cattails and clear water below the tank. Looking for the good camping announced in the AZT app, I hike to where I can look down into what I suspect is Pine Creek and I'm disappointed to see houses. Ick. So, I return to near Bradshaw and enjoy the merits of a short day, bucket bath, laundry, lounging.
Macaroni (shells) and cheese with sausage TVP (textured vegetable protein) and dried corn; hot & sour soup.
<! --------------------------------------- this first table is to display a jpg map - centered ----------------------------------------->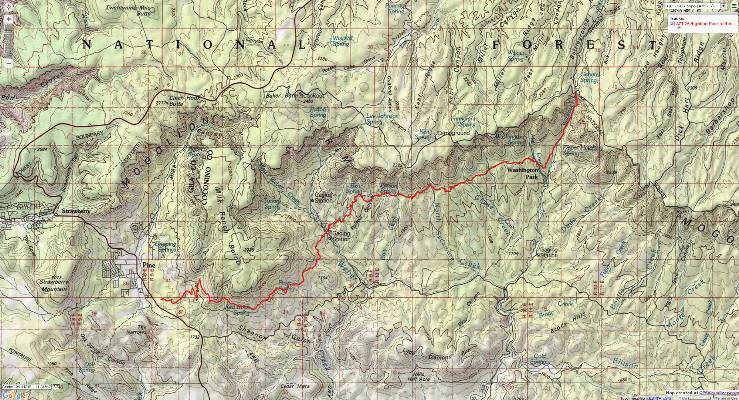 Map - AZT - the Highline trail, from Pine to the Mogollon Rim, Passage 26
(Click the image to see the map)

<! --------------------------------------- first table ends -------------------------------->
Photos: Day 4 of the AZT 2017
Click thumbnail to see full size image

| | | |
| --- | --- | --- |
| | | |
Day 4: Hail Highline. to Geronimo TH, Webber Creek: To AZT 469.8. 10.4 miles. ERM = 15. Camp @ 5500'.
The steam rises from Bradshaw Tank while four young White-tailed Deer play "go chase" in the meadow. The solar charger hangs in an Alligator Juniper collecting welcome morning rays. With the first clear night came heavy dew and condensation all around. I'm getting a later start while partially drying the tent and bag.
I slip across Hwy 87 near Pine and start on the Highline Trail, which overlaps the AZT. Dirt, there's actually dirt on the trail! Lovely. Switchbacking up through Alligator Juniper, Pinyon Pine, rare at first Ponderosa, and occasional Arizona Cyprus, the vistas become more expansive as I meet the first AZT hikers of this trip. These three guys tell wondrous tales of collecting snow for dinner water while hiding out in the tent near Happy Jack. Burr.
The trail rolls along, through untold dry side drainages and over and around the noses of ridges. A high bump affords a look at the Mogollon Rim, presenting an imposing escarpment that towers an additional 1500' above the Highline. Yikes, where is the pathway up this battlement? It's beyond warm, and I'm happy to lounge in the shade near Red Rock Spring eating an early lunch.
At the Webber Creek crossing, I meet the delightful and gorgeous Ren, who is completing the Highline Trail early tomorrow. photo.
While talking with Ren, a UPS truck goes past near the Geronimo TH. Curious. What is up the road at Camp Geronimo we ask?
It's a fine camp near the burbling Webber Creek beneath P-Pines and Arizona Walnut trees. The only negative is that there is a road across the creek and it's Friday night, so people occasionally drive past looking for a camp. Or perhaps they're headed to the mysterious Camp Geronimo?
Orzo & beef with sea shell pasta; peas, peppers, parsley; Aka (red) miso soup.
Photos: Day 5 of the AZT 2017
Click thumbnail to see full size image

| | | |
| --- | --- | --- |
| | | |
| | | |
| | | |
| | | |
Day 5: Elk Utterances. to the East Verde River at 479.6, above the Washington Park TH: to AZT 479.6. 9.8 miles. ERM = 16. Camp @ 6170'.
The eerie haunting Elk utterance stops me as I switchback up out of Webber Creek, on a nicely crafted dirt! trail. It sounds like a cow elk looking for a youngster or the herd.
Then, an Acorn woodpecker drills staccato on a derelict P-Pine. Natural quiet. Lots of it. Climbing gently to an open ridge, I follow pussy cat tracks (no toenails, lacking the canine cross) in the dried mud from the last storm. As Ren noted, parts of this forest have been burned, yet long enough (1990?) ago that the twisted flowering Manzanita are tall, intertwined, twisted Dr. Seuss shape.
Now, approaching spurting yummy Bray Spring, it seems that the trail is on the red-orange Supai level, passing Coconino Sandstone boulders; just like on the North Rim of the Grand Canyon two weeks ago while hiking the Tuckup Trace (click here to go to the Tuckup Trace report). The trail rolls and more water appears, good quality water at an unnamed stream and then an arm of Chase Creek. I stop and sample each one, given the rarity of AZT water.
Dropping into the East Verde drainage, I see a "camping closed" notice at the Washington TH. At the Washington TH, I turn North while the Highline Trail continues East. I feel sad about this turn of events because the Highline has been adorned with lovely and frequent water sources. Efforts are underway to recover the Chiricahua Leopard Frog. So I slog up the hill trying to locate something level, and eventually locate a just almost suitable camp. The good news is that it is near a spectacular and clear side stream to the East Verde. As soon as the sun sets I find it necessary to put on the down jacket.
Chicken fettuccine with shells, TVP, chicken, and peppers; apple cider.
<! --------------------------------------- this first table is to display a jpg map - centered ----------------------------------------->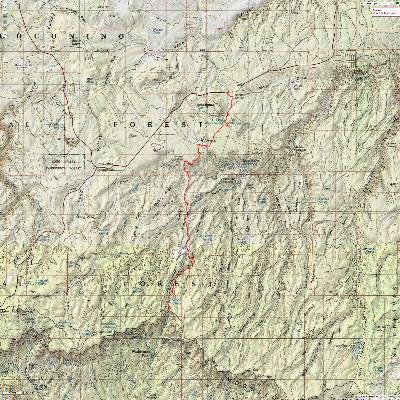 Map - AZT - Mogollon Rim to Hwy 87/Blue Ridge TH, Passage 27
(Click the image to see the map)

<! --------------------------------------- first table ends -------------------------------->
Photos: Day 6 of the AZT 2017
Click thumbnail to see full size image

| | | |
| --- | --- | --- |
| | | |
| | | |
| | | |
Day 6: Rim slog, Tunneling to the Top. To Blue Ridge TH: to AZT mile 496.6. 17.0 miles. ERM = 22. Camp @ 6850'.
Up steeply in a cold wind, I take the Tunnel Loop and switchback up to where a poor side trail departs the main trail. Leaving the pack, I put on gloves and an ear band and clamber up the scree to find a partially finished tunnel (railroad?) through the Coconino Sandstone and apparently intended as a portal to the rim. There's more to this story, I muse.
Back on the main trail I'm on the Mogollon Rim before long and strolling across the FS dirt Rim Road to the General Crook Cabin, where I meet Carl (Scrabbler; Fart Bag) of Canada who started out on the Grand Enchantment Trail and switched to the AZT. photo
Carl and I hike together to where the AZT pulls away from the water, and I stop for snacks and water. The walking is largely on the level and I make good time to Clear Creek. Dropping two hundred or more feet into Clear Creek, I see pools of water and Carl eating a late lunch. I originally planned to camp here, yet it's early and the trail has dirt!
Up out of Clear Creek and back on the level, we encounter Gillian, with her horses Shilla and Dakota (pack). Photo She's leap-frogging the AZT, positioning a vehicle at Pine with feed and such, driving a second vehicle to Flag and riding to Pine, then driving that vehicle North of Flag and riding to Flagstaff, etc. She's been doing this from the Mexico-AZ border.
Carl hustles out of sight and I grind along to my resupply cache near Blue Ridge TH.
It's later than I typically stop, and I work into hiker midnight (9 p.m.) trying to get some things organized, enjoy a hot bucket bath (lovely, even with the wind), sort maps and such. I'm lavish with the hot water because I cached a partially used fuel canister from a previous trip. Ahh, a hot water bath.
Scrambled eggs with orzo, ham TVP, and peppers; spiced cider. And treats from the resupply bear canister.
<! --------------------------------------- this first table is to display a jpg map - centered ----------------------------------------->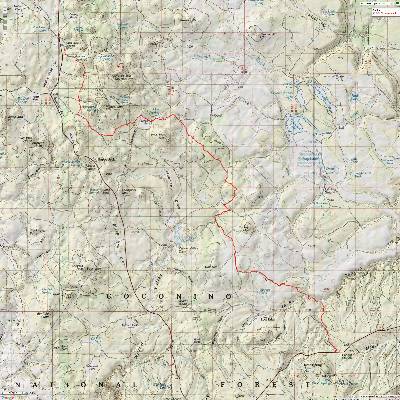 Map - AZT - Hwy 87/Blue Ridge TH to Gooseberry TH, Passage 28
(Click the image to see the map)

<! --------------------------------------- first table ends -------------------------------->
Photos: Day 7 of the AZT 2017
Click thumbnail to see full size image

| | | |
| --- | --- | --- |
| | | |
Day 7: Pronghorn Road Walk. To Gonzalez Tank: to AZT 509.4. 12.8 miles. ERM = 16. Camp @ 6920'.
The two buck Pronghorn appear like apparitions from the rocky streambed. Yes, the black jaw patch identify them as males. Again, I draw the camera and again the targets are too fast for me. Drat. Later, I see a ewe herd with one youngster eyeing me from a distance, partially obscured by intervening trees. They curiously move closer, then bolt as I realize my camera battery is dead. Drat.
The wind is once again flailing the P-Pines and my hat. Although the temperature is pleasant, it's cool when in the path of the gale.
There is a lot of road walking today, yet not on busy roads. I've seen only one vehicle, and that was back near Hwy 87. Possibly, some of these roads are in such bad condition that they attract little interest.
As I'm approaching Gonzalez Tank a cow Elk races across the road. I pull the camera, believing that when you've seen one Elk more are to come. Nope.
At Gonzalez, the wind is howling and I search for a protected area. There's been a ground fire through the area, possibly a controlled burn, and there is almost no protective brush. I find a small stand of unburned P-Pines and hope that the nearby hill will afford some protection.
The tank water is fairly clear and there have not been cow intrusions for awhile.
It's a chilly late afternoon on AZT 2017, Day 7.
Cheddar Broccoli; rice and pasta with green onions, peppers, chicken, and TVP; hot and sour soup.
Photos: Day 8 of the AZT 2017
Click thumbnail to see full size image

| | | |
| --- | --- | --- |
| | | |
Day 8: A Day Without Sunscreen. To Maxie Tank: To AZT mile 523.5. 14.1 miles. ERM = 19.5. Camp @ 7560'.
The shards of snow skitter past in the relentless piercing wind, some bouncing off my nose. Yikes! Happily, there's only a few flakes, just enough to remind me (if I needed any reminder) that it's cold. I'm trudging along trying to keep warm by hiking. It's only a bit useful and I still need three layers and gloves and an earband.
Again, Elk slip through the trees, unheard but not unseen. A Redtail Hawk orbits low, followed by a trio of tippy Turkey Vultures who probably wonder when I will be ready for them.
I get to Shuff Tank and hide behind a large downed tree to escape the wind. I'm really hungry and eat nearly all the "extra" lunch bits. Cold weather does this to me. Then, I keep moving to stay warm and because the water is predicted to be better at Maxie Tank. Along the way, I pause at Bargaman Tank for some delicious clear water.
Maxie Tank does have good water, water that filters well. Now to find a decent camp out of the wind and far enough from the tank to give wildlife free access to the tank.
The wind quiets near dusk and I realize that I have seen only wild things since Hwy 87.
Chicken broccoli with actual chicken and peas; Shiro (white) miso soup.
<! --------------------------------------- this first table is to display a jpg map - centered ----------------------------------------->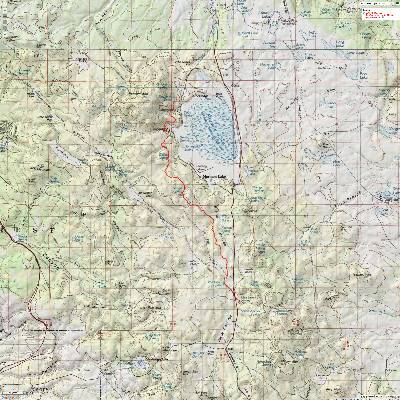 Map - AZT - Gooseberry TH to Mayflower Spring, Passage 29
(Click the image to see the map)

<! --------------------------------------- first table ends -------------------------------->
Photos: Day 9 of the AZT 2017
Click thumbnail to see full size image

| | | |
| --- | --- | --- |
| | | |
Day 9: Windy Redux. To Navajo Spring: To AZT mile 533.7. 10.2 miles. ERM = 13. Camp @ 7450'.
The eeking of an youngster not far from me and the separate barking of the apparently distressed cow Elk up toward Maxie Tank brings me out of dreamland with a start. The eeking and barking sounds come together and all is again quiet. Until the omnipresent wind cranks up; argh. It's a windy redux day.
I'm marveling at the saturated green in a small Ponderosa meadow when I see a small tent protruding into the trail. Inside, avoiding the wind and cold, is Lil BA (little bad ass) Olivia from New Hampshire, hiking South to Pine from Utah. We enjoy a good discussion of the pros and cons of the US Forest Service. photo
Just over the hill, a group of cow Elk slide through the P-Pines and allow me a distant photo of an Elk butt.
Before long, I arrive at the Gooseberry Spring TH, and enjoy snack one, wearing 4 clothing layers. I won't warm up until about 3 miles from Navajo Spring, during lunch #2.
Navajo Spring runs clear and cold from an ancient iron pipe. There is a lengthy row of cement water troughs, making me wonder what activity produced the need for all this drinking space. Logging? Livestock?
It takes awhile to locate a campsite even mostly out of the gale. It's a harbinger of a two hot water bottle night. Burr. The bleak sky starts spitting rain while I finish dinner.
White cheddar queso rice, with peppers, chicken, green onions, and TVP; miso soup.
Photos: Day 10 of the AZT 2017
Click thumbnail to see full size image

| | | |
| --- | --- | --- |
| | | |
| | | |
| | | |
| | | |
Day 10: Snowmageddon. To Wiemer Road water cache: To AZT mile 542.9. 9.2 miles; ERM = 12.5. Camp @ 7250'.
During last night, I think that it is raining and peak out. Snow. Snow and ice are sagging the TarpTent. Snowmageddon! I bounce off the precipitate from the TarpTent and snuggle back into the bag with my hot water babes. Cuddly.
Amazingly, I get up in the morning before the sunlight hits the tent and I'm able to brush and rub off almost all the snow/ice and thus have an almost completely dry tent to pack. Small favors.
Soon, I'm hiking an old logging railroad bed to warm up my feet, which takes about a mile. Today, it's blue sky (so far, at noon) and with a sporadic wind, and it feels much warmer.
A herd of adolescent Mule Deer cross my path, observed by a Redtail Hawk perched in a P-Pine who is scolded by a Stellar Jay pair and ignored by a Red-breasted Nuthatch bopping up the tree below the Hawk. Lovely.
I take a short break to relish in the sun not long after traveling through Double Springs CG. I can see a sliver of mormon Lake, which laughably is the largest natural freshwater lake in Arizona; and it often goes nearly dry each year. This wet Spring year could be different. Do economists or republicans realize Arizona is the second most arid state (after Nevada)? Learning to subtract (human population) is a survival strategy. Hah!
I am actually putting on some sunscreen today. Wow.
A fluffy Coyote eases across the AZT, then stops. Apparently curious, he watches me moving about until I pull out the camera. Fearing a gun?, he bolts and runs to deep woods, a victim of the misinterpretation of the second amendment, which was clearly written with a state militia in mind.
"The Second Amendment was a response to concerns raised during the ratification of the Constitution that the power of Congress to disarm the state militias and create a national standing army posed an intolerable threat to the sovereignty of the several states," then-Justice John Paul Stevens correctly noted in his minority opinion, joined by Justices David Souter, Ruth Bader Ginsburg, and Stephen Breyer. "Neither the text of the Amendment nor the arguments advanced by its proponents evidenced the slightest interest in limiting any legislature's authority to regulate private civilian uses of firearms." Now, every Coyote, fence post, sign, child, scientist, dog catcher, human, coffee drinker, police, literally everyone is as governed by fear as those of the new NRA, who were once for sensible gun control. It's a fear-driven variation of a religion. Yet, that says little because religions are fear-based, as noted by their support for the most aggressive and evil (promising more wars as a jobs plan and greater marginalization of the poor and anyone not wealthy) politicians money can buy. Recent activist judges have made us less safe and less free. Sad. I'm not talking about sportsmen and women. It's amazing to me how religionists have flipped their values upside down so they can vote for who they want (republicans), despite it going against all their so-called "family and religious values" (e.g., extramarital affairs are now OK, lies are nothing, abusing women and others is OK, encouraging physical violence and bullying are OK, worshipping the money-changers and corporations while blaming the poor and unfortunate is OK, fear and hate over hope and inclusion, walls over bridges, etc.).
The trail lilts on, eventually joining an historic railroad grade from the 1920s. Constructed by a logging company, the grade makes a good trail tread. It's also fascinating, walking the old grade, wondering about the country during this time. I locate the water cache I earlier placed and a fine camp among the P-Pines.
Chicken broccoli pasta and orzo, with corn, chicken, green onions, and peppers; hot and sour soup.
<! --------------------------------------- this first table is to display a jpg map - centered ----------------------------------------->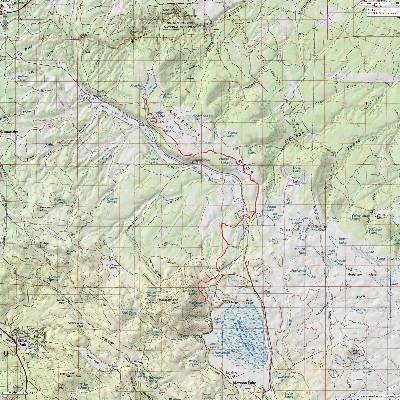 Map - AZT - Mayflower Spring to Marshall Lake, Passage 30
(Click the image to see the map)

<! --------------------------------------- first table ends -------------------------------->
Photos: Day 11 of the AZT 2017
Click thumbnail to see full size image

| | | |
| --- | --- | --- |
| | | |
| | | |
| | | |
| | | |
| | | |
Day 11. Those High Heel Days. To the Lakeview CG junction: To AZT mile 554.2. 11.3 miles. ERM = 14.
I'm walking along a snow-dappled railroad grade in high heels of snow. Yes, more snow. This time, the ground is covered and water is partially frozen in the water containers. The wet snow builds up on my boots, particularly under the heels and I'm enjoying those high heel days. Argh. Soon, I'm walking in platform shoes of mud as the snow melts into the gumbo clay and now it's those platform shoes, which weigh a great deal.
The railroad grade continues to near Pine Grove CG. There are signs of bermed soil and rocks to make a grade, piling lots and lots of basalt rocks, dilapidated log trestles over small drainages, old railroad ties scattered about.
Snow and drips tumbling from the P-Pines punctuate the morning stillness. It's a very interesting hike to near Pine Grove, then I cross Lake Mary Road and climb to the South end of Anderson Mesa. I meet Paddler from New Hampshire and we walk together for awhile. Views of the snow-topped San Francisco Peaks pop out more dramatically than previously on the AZT. We pass a Great Blue Heron stalking the shallows of Horse Lake, which is surprisingly full.
Kathleen is picking me up at the Lake Mary Road near Lakeview CG, so I head down the new connector trail to the campground then out to the road. I've decided to forego my last night of this backpack because of the incessant winds and the repeated snow storms.
If I had stayed on the trail, my meal for Day 11 would have been: Orzo and couscous with beef, corn, and curry; wakame soup.
<! --------------------------------------- this first table is to display a jpg map - centered ----------------------------------------->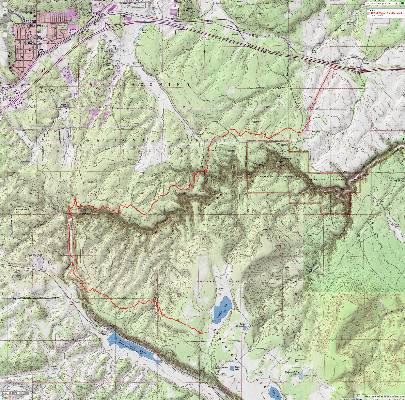 Map - AZT - Marshall Lake to I-40, Passage 31
(Click the image to see the map)

<! --------------------------------------- first table ends -------------------------------->
Photos: Day 12 of the AZT 2017
Click thumbnail to see full size image

| | | |
| --- | --- | --- |
| | | |
| | | |
| | | |
| | | |
Day 12: Walnuto. To Fisher Point: To AZT 566.1. 11.9 miles. This was a 13.5 mile+ hike when adding in the access to and from the AZT.
It's a stroll along Anderson Mesa, passing Vail then Prime ponds. The USGS observatory and Perkins Telescope (part of Lowell Observatory) emerges.
We take a break at Marshall Lake before continuing along to drop into Walnut Canyon. Here we see colorful Coconino Sandstone cliffs highlighting the trail. Some lilting down canyon and we arrive at the "Y" in the AZT, with one loop sweeping East around Flagstaff and the other plunging West into town before the too branches meet up just beyond Shultz Tank.
Skirting the Rim. Fisher Point to the Old Walnut Canyon Road: To AZT 572.4.
Soaring Turkey Vultures and Redtail Hawks zoom past as Kathleen and I sit on the Kaibab Limestone steps and gaze down at the broad triangle where Walnut Canyon constricts and the AZT divides in its route around Flagstaff. We're on the East loop. Canyon views and guzzler trick tanks can be enjoyed in this section along the AZT bordering and bopping through part of Walnut Canyon.
I hiked and wrote about this segment a few years ago. 6.3 miles on the AZT.
Here is the report about hiking from Fisher Point to the Old Walnut Canyon Road (pdf file)
<! --------------------------------------- this first table is to display a jpg map - centered ----------------------------------------->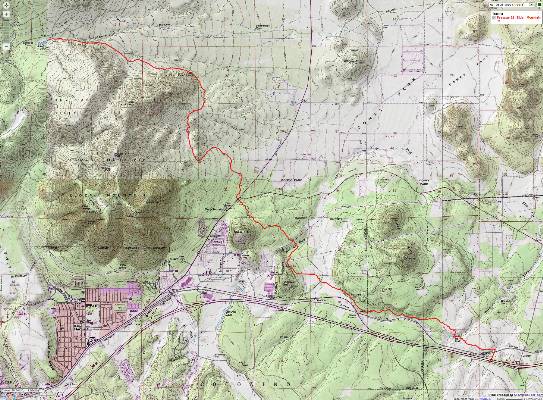 Map - AZT - I-40 to Schultz Pass, Passage 32
(Click the image to see the map)

<! --------------------------------------- first table ends -------------------------------->
Photos: Picto Diversion. Old Walnut Canyon Rd to Rio de Flag
Click thumbnail to see full size image

| | | |
| --- | --- | --- |
| | | |
| | | |
| | | |
Picto Diversion. Old Walnut Canyon Rd to Rio de Flag: 9.7 miles. AZT 572.4 to 582.1.
The reclaimed water runs riparian in the Rio de Flag drainage in Picture Canyon Natural Area (open space for the City of Flagstaff), springing forth from the Wildcat Water Treatment Facility. Cinnamon Teal and Great Blue Herons call this refuge home from arid land. A bridge crosses the stream, and then there's access to a side trail to some Zuni petroglyphs. Gorgeous.
Today I am day hiking with Kathleen. It's a lovely loop as we divert from the AZT and follows four cow Elk to loop around the natural area.
Photos: Rio de Flag to Schultz Pass TH
Click thumbnail to see full size image

| | | |
| --- | --- | --- |
| | | |
Schultz Tank Lake. Rio de Flag to Schultz Pass TH: To Schultz Tank. 8.3 miles. AZT 582.1 to 590.4.
Climbing from 6600' to 8000', the stink of the Nestlé chow plant initially dominates the local breeze. Ick. We continue through Picture Canyon conservation area before crossing under Hwy 89 in a metal tube. Then, the AZT climbs through the cleavage of some A-cup cinder cones before dropping down and around the edge of the Mount Elden ridge and to Little Elden Spring. There's dippable water in the spring today, yet we continue to Schultz Tank, which today looks like a small lake. It's a terrific place for a lingering lunch, gazing at San Francisco Mountain and watching Mallards vie for egg-laying space.
<! --------------------------------------- this first table is to display a jpg map - centered ----------------------------------------->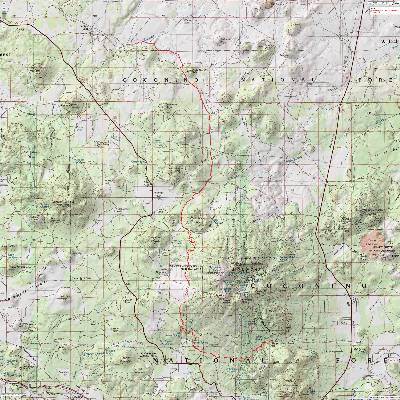 Map - AZT - Schultz Pass to Cedar Ranch TH, Passage 34
(Click the image to see the map)

<! --------------------------------------- first table ends -------------------------------->

day photos

San Francisco Mountain. Schultz Pass TH to FR 418: 19.0 miles. AZT 590.4 to 609.4.
I backpacked this delightful chunk of the AZT during a four day, three night circumnavigation, a circum-ambulation, around San Francisco Mountain - commonly referred to as the San Francisco Peaks in the Coconino National Forest of Northern Arizona. The trail distance was about 40 miles total, and made use of existing closed roads, trails (including a 19-mile chunk of the Arizona Trail (AZT), a National Scenic Trail), and a short piece of an open forest road. The route included: Starting at Schultz Tank TH, Waterline Road (closed) to the Bear Jaw Trail, Bear Jaw to FR 418, 418 to the AZT, and the AZT back to Schultz Tank.
This may be the most delightful section of the AZT. You'll have to hike the entire AZT to answer that statement.

See the Circumnavigation of The Peaks WV report here

day photos

Old Roads and Ranches. To Cedar Ranch TH: AZT 609.4 to 625.6.
Two out and back AZT stretches adding onto the San Francisco Mountain segment. FR 418 to FR 523, past Kelly Tank. 6.3 miles. AZT 609.4 to 615.7. And later FR 532 to Cedar Ranch TH. 9.9 miles. AZT 615.7 to 625.6.
With distant views of San Francisco Mountain peeping through the P-Pines North of the Peaks, it's a fairly level and quiet segment of the AZT. Water is scarce and mostly consists of unreliable dirt tanks. It's a good section during which to practice using alum to settle the mud and silt from the stock tank water.

Click here for specifics about using alum to clarify water prior to treating it.

*ERM: Energy Required Miles, are there data to support this mileage adjustment?
Journal of Outdoor Recreation, Education and Leadership
Petzoldt first proposed his theory in his 1976 book "Teton Trails" to help backpackers plan trips and calculate their energy needs on mountain trails. "Petzoldt defined one energy mile as the energy required to walk one mile on the flat. He recommended adding two energy miles for every 1,000 feet of elevation gain, so a person hiking one mile and 1,000 feet upward would use the equivalent of three energy miles," Phipps said.
Petzoldt's energy mile theory was just a reflection of the mountaineer's "gut feeling," Phipps said. The theory had never been tested in a laboratory before the study began in WCU's Exercise Physiology Laboratory in the spring of 2010, Phipps said.
To determine the validity of the theory, the study measured the energy cost and perceived exertion for walking on flat ground, with and without a 44.5-pound backpack, and up an elevation gain of 1,000 feet, with and without the backpack, through the collection of metabolic data, Phipps said.
Twenty-four student, faculty and staff volunteers, including 12 males and 12 females, went through four testing sessions as the research continued into fall semester of 2010. The study results showed that the additional energy cost for ascending 1,000 feet ranged from 1.34 to 2.02 energy mile equivalents, for an average of about 1.6 miles, compared to Petzoldt's use of two energy miles for each 1,000 feet. The range revealed by the study was due to the "hikers" personal weight differences, Phipps said. "It is remarkable that Petzoldt's energy mile theory is so close to the actual energy cost measured during our study," Phipps said. "In the field of outdoor education, it's important for leaders to include an estimation of energy requirements during the planning of hiking trips."
Phipps said the energy required for hiking up steep mountain trails would vary for individuals and groups, and the variables of the trail would also factor in, but he recommends that backpackers stick with Petzoldt's idea of adding two energy miles for every 1,000 feet of elevation gain when planning trips.
The Validity of Petzoldt's Energy Mile Theory, 2010
Authors: Maridy McNeff Troy, Maurice L. Phipps
Publication: Journal of Outdoor Recreation, Education, and Leadership

Links and books:
Arizona Trail Association - trail and water conditions; maps of some of this hike
How to use alum to clarify water prior to treating it.
Bill McKibben – suggested books include: Maybe One, Eaarth, The End of Nature
<! --------------------------------------- this table provides a link to all WV reports about the AZT ----------------------------------------->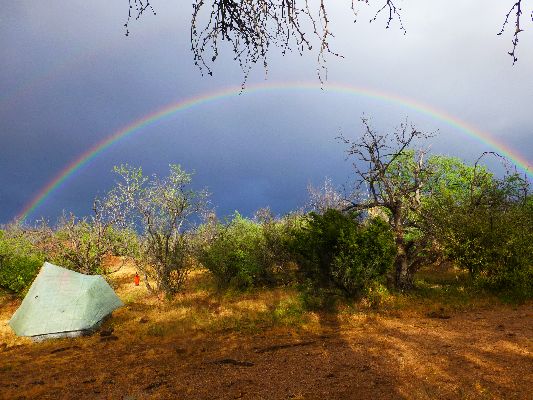 Looking for All Wilderness Vagabond trip reports about hiking the Arizona Trail?
Click the image to go to All WV reports about The AZT, Arizona Trail

<! --------------------------------------- table ends -------------------------------->

Reports about bits of the Arizona Trail:

Mazatzal Meandering: Baby Doll TH to The East Verde River (2014)

Mazatzal Divide - Arizona Trail Passages 23 & 24: Mount Peeley TH to Doll Baby TH (2015)

San Francisco Circum-ambulation: Circumnavigation of the San Francisco Peaks and Musings about the Life Zones of C. Hart Merriam (2015)

The AZT 200, Arizona Trail 2016: Oracle to Mt. Peeley TH (2016)

Related Sites:

Scenic Toilets of Inner Earth: Scenic Scatology of the Wilderness Vagabond

We Are Breeding Ourselves to Extinction (click here for full article, pdf)

More Truth Than Joke: <! --------------------------------------- this first table is across 3 collums, so it stands alone ----------------------------------------->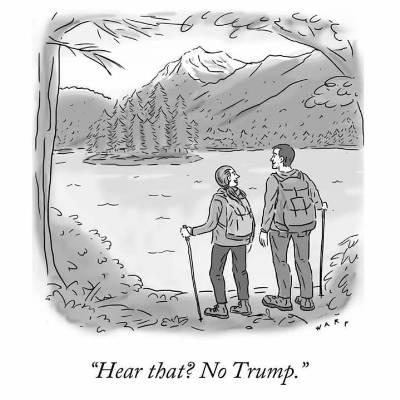 no trump
(Click the image for the full-size image)

<! --------------------------------------- first table ends -------------------------------->

<! --------------------------------------- this first table is across 3 collums, so it stands alone ----------------------------------------->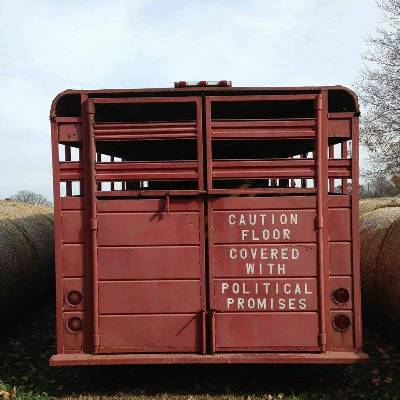 political promises
(Click the image for the full-size image)

<! --------------------------------------- first table ends -------------------------------->

<! --------------------------------------- this first table is across 3 collums, so it stands alone ----------------------------------------->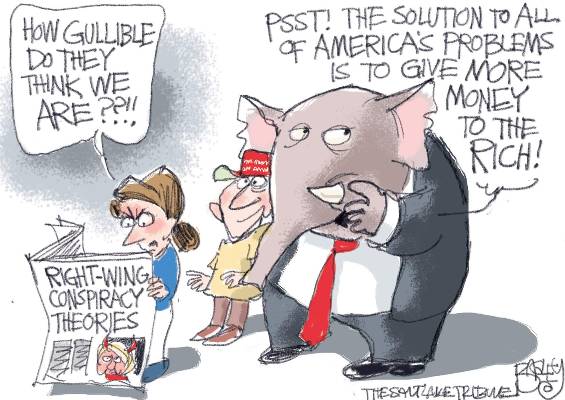 again with the false economic theory
(Click the image for the full-size image)

<! --------------------------------------- first table ends -------------------------------->

<! --------------------------------------- this first table is across 3 collums, so it stands alone ----------------------------------------->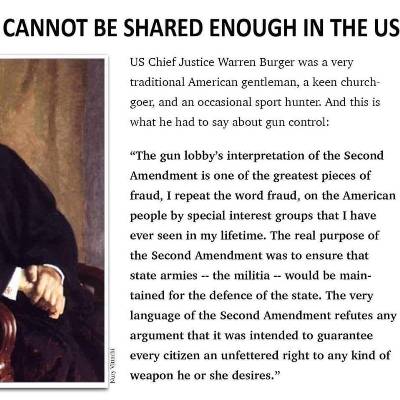 the Second Amendment was about a militia
(Click the image for the answer)

<! --------------------------------------- first table ends -------------------------------->

<! --------------------------------------- this first table is across 3 collums, so it stands alone ----------------------------------------->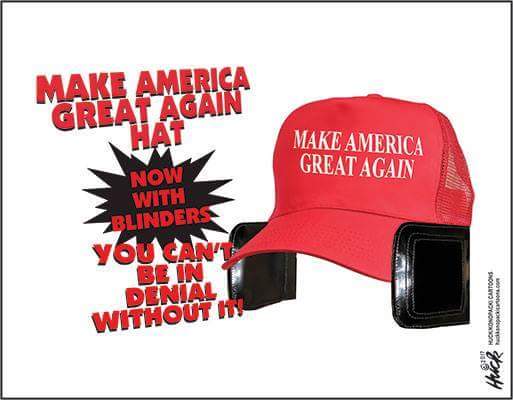 blinders needed for those who believed the lies
(Click the image for the full-size image)

<! --------------------------------------- first table ends -------------------------------->

"What luck for the rulers that men do not think". - Adolph Hitler
---
---