White Gas Fuel Tips
(Based on a few years of experience)
Over the past thirty years, I first used a Svea (Bunsen burner type stove), later a Peak, followed by an MSR XGK, then a Whisperlite International, and most recently a Simmerlite. The XGK is a tremendous bicycle touring stove because it can burn most anything. (See the "Border Bop" trip report about what it cost Marv and me to tour and cook for 38 days.)
Your experience and needs may vary, but for what it is worth - some general guidelines are:
In warm weather, after carefully packing your meals (minimal cooking, use of soaking while preparing another food course) you can pack as little as 2 ounces of white gas per person per day. This is generally what Kathleen and I can accomplish by drying our own food and using simple soups such as Knorr vegetarian bouillon cubes and instant oatmeal for breakfast. Therefore, a quart of fuel is about the minimum for two people for a 7-day adventure in warm weather using water that is not too cold. This is for desert-type hiking. We typically add a small 6 or 8 ounce bottle of gas for unexpected contingencies. You never know when that wonderful water filter might clog and you're purifying water by boiling it.
We also prime the Simmerlite (and the other stoves) with denatured alcohol. This accomplishes three important things: 1) Denatured alcohol does not "flash" when ignited, making it safer to use. 2) Using denatured alcohol helps keep the jets of the stove clean, reducing field maintenance difficulties. 3) You can carry the denatured alcohol in a 2 oz. squeeze bottle (pack carefully) and this allows you to more precisely squirt the right amount into the priming cup of the stove. A 2 ounce bottle of denatured alcohol is usually sufficient for a week or more of backpacking.
The general guideline from stove makers is 3-4 ounces (114 ml) of white gas per person per day in warm weather. The WV guideline is 2 ounces per person per day in warm weather, when you have modest cooking and hot water (coffee, tea, etc.) needs - use this as a starting point, adding more for cool weather or more complicated menus. Note that this is a starting guideline. Heating that extremely chilly Colorado River water? Consider taking a bit more fuel.
If you are melting snow (ski camping or mountaineering) you may wish to pack 8 ounces (237 ml) per person per day.
100 grams of white gas = 3.6 ounces.
28 grams = 1 ounce.
100 grams boils about 7 liters of water (not snow).
White gas has the advantage of being relatively easy to obtain in the U.S. So, if flying you may be able to bring your stove, and obtain fuel at your destination. The volume you carry is easily adjusted, and the weight decreases as you hike along - as opposed to those annoying canisters that folks leave "hidden" under rocks and such. See the informative worksheet and stove tips sites below:
Find the lightest stove - based on your situation (click here). White gas stoves still reign as trip length and number of hikers increases. However, a Caldera Cone alcohol stove is terrific for two and almost always the most efficient choice for a solo hiker (and probably for a hiking pair). My default methodology is to take the cone when one or two of us are hiking, consider a compressed (butane type- canister) gas stove for three or short trips with a group larger than two, and divide the weight of that white gas stove (gaining increased BTU per fuel ounce) when three or more are going long.
&nbsp Your mileage may vary. Perform your own data check by tinkering with the inputs (e.g., amount of water heated per day) in the link at the top of the above paragraph. On our last GC trip, to Cheyava Falls, we found that our choice for a group of 5 was white gas or canister stove, yet the cansister fuel cost a lot more and then there is dealing with the expired canisters. We took the MSR Simmerlite (white gas). On the Transcendental Trans-Tonto (114 miles) we (two) took the Caldera Cone (see below, then see the TTT report).
&nbsp Transcendental Trans-Tonto (TTT): Tanner TH to South Bass – about 114 miles(click here).
&nbsp The Concept of Cone. After goofing with the design and redesign of building my own alcohol stove (see below), I met a couple hiking the Hayduke Trail. We met near Deer Creek in the bottom of the Grand Canyon, and talk soon progressed to this cone-shaped stove they were using. It was one of the Trail Designs Caldera Cones, and they were cheerleaders for this stove. I have now owned one for over four years and can state that they are far superior to other alcohol stoves. Yet, it is not the stove. It's the cone, funneling the majority of heat to your pot (open to flame because there are no stand sections in the way).
&nbsp The limitation is that only one pot works with the cone because the cone supports the pot from the pot rim. The benefits are efficiency and stability and light weight. Given proper design to allow the proper distance between stove and pot bottom, you might combine the cone with your own stove (see below) design - or buy the unit in a classy carrying cylinder (which doubles as cup and bowl).
&nbsp Trail Designs site - note: this, WV, is not a commercial site. Yet, these guys have done the work, deserve the credit, and produce an exceptional Caldera Cone and stove (click here).
&nbsp Build a cone - youtube video (click here).
&nbsp Build a Caldera Clone by Kevin Beeden, aka 'Captain Paranoia' of the UK (click here).
&nbsp Build an Alcohol Stove. I have been toying with building a light weight alcohol stove for backpacking. My friend Bob G. got started first and built a very functional stove, based on the design of the Cat (food) Stove. We became interested in alcohol stoves after finding this comparison site:
Find the lightest stove - based on your situation (click here). White gas stoves still reign as trip length and number of hikers increases. However, a Caldera Cone alcohol stove is terrific for two and almost always the most efficient choice for a solo hiker (and probably for a hiking pair). My default methodology is to take the cone when one or two of us are hiking, consider a compressed (butane type- canister) gas stove for three or short trips with a group larger than two, and divide the weight of that white gas stove (gaining increased BTU per fuel ounce) when three or more are going long.
&nbsp Your mileage may vary. Perform your own data check by tinkering with the inputs (e.g., amount of water heated per day) in the link at the top of the above paragraph. On our last GC trip, to Cheyava Falls, we found that our choice for a group of 5 was white gas or canister stove, yet the cansister fuel cost a lot more and then there is dealing with the expired canisters. We took the MSR Simmerlite (white gas). On the Transcendental Trans-Tonto (114 miles) we (two) took the Caldera Cone.
&nbsp Transcendental Trans-Tonto (TTT): Tanner TH to South Bass – about 114 miles(click here).
Assorted information about backpacking stoves (click here). Probably more than you thought you wanted to know.
(click here) Here are my notes about white gas backpacking stoves.
&nbsp Stop the electrons! Kevin Beeden, aka 'Captain Paranoia,' from the UK, has posted a design for a very efficient and crafty alcohol burner. This is a terrific how-to article. Here it is: Captain Paranoia shows you how to make your very own drinks can meths stove. (click here).
&nbsp I have made his good work available here with this MS Word file (htm file - click here - because links sometimes change and I don't want to lose this terrific work).
&nbsp Long before Kevin B. sent along the above designs, Bob G. and I built stoves based on this design:
If you cannot locate this cat food can stove link, get this MS Word file (htm file - click here).
&nbsp Here are our modifications to the Cat Stove:
&nbsp Use a paper punch or drill to open 10, 1/4" holes around the (Open end) top of the smaller can - rather than a church key (beer can opener). This allows more room for alcohol in the stove (so it doesn't leak out the vents).
&nbsp Make the stand to support the pot 1.75" above top of can stove. Keep in mind where you are going to pack this stand - will it fit in the pot?
&nbsp Make the opening in the large can 1.5" (not 1.75").
&nbsp Make holes in wind screen in one 90 degree quadrant (or 180 degree quadrant)- so the screen can be oriented away from any wind.
&nbsp You can roll the screen around most fuel cans and secure with a rubber band for travel - saves wear and tear.
&nbsp The stove in the below photos weighs 3 ounces (stove, stand, wind screen).
&nbsp In a test run, using 1.25 ounces of denatured alcohol, it boiled 4 cups of cool water in 12 minutes. The ambient air temperature was in the high 70Fs, and there was no wind. Altitude was 7,000'. I doubt the stove would have boiled the water if not for the wind screen and a tight-fitting lid on the pot.
&nbsp Your stove's performance may vary. Although some of the below photos show the stove on a wood deck - this was solely to get enough light to photograph the subject. Do NOT start or use this stove on any flammable (combustible, burnable) surface. The stove bottom and other parts get very hot.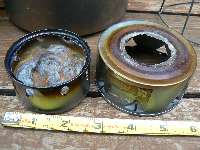 components of stove body
(Click the image for a full-size view)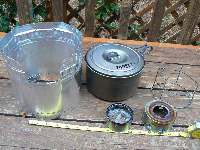 components of stove - all parts
(Click the image for a full-size view)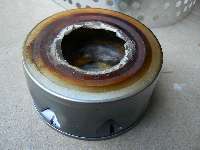 components of stove: body assembled
(Click the image for a full-size view)
outside-of-windscreen
(Click the image for a full-size view)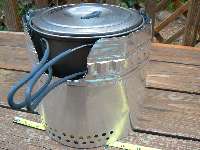 ready to go
(Click the image for a full-size view)
ready for testing
(Click the image for a full-size view)


Alum Water Treatment for Backpackers
see the full pdf by John Ladd
&nbsp Many hikes in desert canyons give you access to water that is turbid, 'clogged' with silt or mud. This is often true along the Green River, the Colorado, the San Juan, desert water tanks, etc., and may be worse after rain or snow melt.
&nbsp During a 2011 hike in Grand Gulch, a thunderstorm clouded all the previously clear pools with heavy silt - alum (Aluminum Sulfate) to the rescue. The same situation happened during a backpack of Aravaipa Canyon - a short flash flood muddied the water during the hike - alum to the rescue. Start your own experiment this Spring.
&nbsp Colorado River water is often affected by silt and other particles coming from the Little Colorado River or the Paria River. This affects users downstream for many miles.
&nbsp Along the Arizona Trail, many water sources are natural or man-made dirt tanks, which are filled with muddy water after rains or after the Elk have waded in them.
&nbsp Alum has the advantage of being readily available in most grocery stores. Look in the spice section, near the salt and pepper. It is also used as a pickling spice for preserving food, and that's how come it's fairly easy to find. You can, of course, find larger quantities on the internet. Your local water treatment plant may have some that they are willing to share - so you can try out its use.
&nbsp Basic use: Carry some alum and a large container (e.g., collapsible bucket, 10 liters; less than 3 ounces) in which to clarify the water. The basic starting point - assuming you do not want to do your own field work as described in the below write-up by John Ladd - is to use 4/5 of a teaspoon of alum per 10 liters of water. Stir like mad for a minute, let sit, see what happens over the next 1/2 an hour. This is a light treatment, and you may need to add more to get the effect you wish. The larger the suspended particles in the water, the less alum you need and the faster the particles flocculate together and fall out of solution.
&nbsp If you use too much, you'll experience how come it's called a "pickling spice."
John Ladd reviews the backpacking basics of using alum to settle silt from water that we refined while hiking the Grand Canyon (useful other places too). (click here).
******************************
&nbsp The article by Todd Lochmoeller, an environmental engineer, referenced in the pdf link above is duplicated here so you don't have to go looking for it. We on the Colorado Plateau, and indeed in much of the West/SW, have water that flows through limestone layers - so, in my experience the use of lime is sometimes helpful but typically unnecessary. Here is the article by Todd, which contains some useful background for clarifying water:
&nbsp I recently took my first Grand Canyon Raft Trip. It was near the end of August and recent thunderstorms had added a lot of sediment to the river. This condition created a water supply problem for our group. The water filter system was becoming plugged too rapidly to produce the volume of water we needed. The guide was prepared with some of the correct materials, alum and lime, but was not certain of the best application methods. Earlier in my career I spent six years as an applications engineer for water treatment chemical companies. I visited dozens of water treatment plants and tested different treatment schemes using techniques that could be applied to treating river water by the bucket anywhere. Here are some principles and tips.
&nbsp What determines the rate at which particles settle? The equation that describes settling of small particles is known as Stokes' Law. Gravity pulls particles down but the viscosity of the water resists. The speed of settling is proportional to the diameter of the particle squared. That is, if you can triple the particle size the settling rate will be nine times faster.
&nbsp How can we increase the particle size? The traditional treatment chemical has been aluminum sulfate, known as alum. Alum is usually thought to work through two mechanisms. Clay particles have negative surface charges that, like two south poles of a magnet, cause the particles to repel each other rather than lump together. The triple positive charge of the aluminum ions of alum act to negate this repulsion. Alum also forms a sticky aluminum hydroxide precipitate that sweeps the clay particles out of solution. Some researchers think that the precipitate formation is the most important mechanism.
&nbsp How much alum should be used? It varies with the water. The concentration of particles, the type of particles and water temperature can have an effect. The best approach is to do a small test on each sample and go by experience. Before discussing test procedures we need to discuss pH and alkalinity.
&nbsp Alum has a disadvantage as a water treatment chemical. As it forms the aluminum hydroxide precipitate it pulls hydroxide ions out of the water which lowers the pH.
&nbsp What is pH? pH is the measure of positively charged hydrogen ions in the water and is measured on a scale of 1 to 14. A pH of 7 is considered neutral, that is the positive hydrogen ions are in balance with the negative hydroxide (OH) ions. A pH less than 7 is acidic and pH greater than 7 is basic. In natural waters the pH is usually between 6 and 9.
&nbsp Why is pH important? The precipitate that makes alum an effective treatment only forms between pH 5 to 8. As the addition of alum itself lowers the pH it is entirely possible to add so much that the treatment will not work for pH reasons. Adding more is not always better. (It is also possible to overtreat by adding too much alum even if the pH is in the right range. The negative repulsive charge of the particles can be reversed, causing them to repulse as positive charges.)
&nbsp What can be done about pH? In some cases the problem may be solved for you through natural Alkalinity. Alkalinity is a natural buffering system that resists pH change due to carbonates in the water. Any water that has been in contact with limestone should have some of this buffering capacity built in. If there is not enough alkalinity to hold the pH in the right range the pH can be adjusted upwards with lime. Remember that the upper limit for alum treatment is pH 8. Adding too much lime can hurt treatment also. Testing is the best approach.
&nbsp TEST PROCEDURES: Equipment Needed:
&nbsp 2—4 oz widemouth jars
&nbsp 1—500 ml or 1 liter bottle
&nbsp 1—1 gram scooper or pre-weighed alum and lime samples
&nbsp 1—large spatula or spoon for mixing in 5 gal. buckets
&nbsp 1—1 ml syringe
&nbsp 1—10 ml or 25 ml syringe
&nbsp This is the test procedure that I would recommend. Either pre-weigh some 1 gram samples of alum and lime or find a small scooper that will reliably give you an amount close to 1 gram. Mix the one gram with 100 ml of already clean water in a 4 oz. jar. This gives you a 1% or 10,000 ppm test solution. Add 500 ml of river water to a mixing bottle. Each 1 ml of 1% solution added to 500 ml of water will provide a dose of 20 ppm (1ml)x(10,000ppm)/(500ml)=20ppm). Start with a low dose, say 10 ppm (1/2 ml). Mix vigorously for 15 sec3. then swirl gently for about 1 min. and observe for coagulation. Increase the dose gradually until you have a good result. If the alum dose gets above 50 ppm try adding increasing lime doses. Without a pH meter you won't know where you are and will have to go somewhat by feel. Feel free to try several tests. Eventually you will zero in on the correct dose.
&nbsp To scale up to bucket sized batches you can still use your 1% solutions. Ten ml of your 1% solution will give you about a 25 ppm dose per gallon. (10ml)x(10,000 ppm)/(3785 ml/gal)=26.4 ppm.
&nbsp You could thus treat 5 gal. with 50 ml of 1% solution if the dose was about 25 ppm. Scale the dosage up or down as needed.
&nbsp Mixing is nearly as important as getting the dosage right. A water treatment plant will normally rapid mix for 30-60 seconds and provide slow, gentle mixing for up to an hour. The rapid mix disperses the treatment chemical so that all the water is treated with no localized overtreatment and the slow mix brings the particles together so that they will grow in size and settle out quicker. In a bucket treatment situation I would recommend at least 15 sec3. of rapid mix and 3 minutes of slow mix. The slow mix should be more back and forth across the bucket rather than swirling. Using these techniques it should be possible to produce well clarified water in less than an hour.
&nbsp Are there alternatives to alum and lime treatment? Yes. Many industrial plants treat river water using Ferric Sulfate. Ferric Sulfate works across a wider pH range than alum and would normally eliminate the need for lime. There are also some organic coagulants that are collectively known as polymers. These are clear viscous liquids that do not effect pH at all and work at much lower doses. They would be tested using the same techniques as above. Mixing is particularly important when using polymers. The major suppliers of polymers include Betz Laboratories, Nalco Chemical Co. and Calgon Chemical Co. They might be willing to send you a 2 or 4 oz. sample that would last a long time.


Oh Lord, won't you buy me a 20-tooth gear


(Words by Rob as developed on the Schaefer Scrunge, Day 5 of Disraeli Gears - bicycling the White Rim. It is sung to the tune "Mercedes Benz" by Janis Joplin):

Click here to see Disraeli
Oh Lord, won't you buy me a 20-tooth gear
My friends all run 19's, I must change I fear
Working hard on this old, uranium trail -
No sweat do I feel
Oh Lord, won't you buy me a 20-tooth gear
(Puff, gasp; grinding, sand-laden gears squeak in the background.)
Oh Lord, won't you buy me a 20-tooth gear
My knees don't like this 24, no matter my tears
Curt is on top, Harry in pursuit, the grade goes without heel
All of my half a century of high mileage grind do I feel
Hey Lord, won't you buy me a 20-tooth gear
(Wheeze, argh; crunching rocks, poofing dust and squeaking gears form the background 'vocals'.)
Oh Lord, won't you buy me a 20-tooth gear
The lactic acid is overflowing down there
Old sol is drilling holes in my skin, I fear
If only I can make it to that shade respite up here -
Say Lord, won't you buy me a 20-tooth gear
(Gasping, hacking; scuffing sounds of friction and gription breaking from the knobby rear tire.)
Oh Lord, won't you buy me a 20-tooth gear
Below, sounds of the chase jeep grow near
Will it catch me as I jam for that nonexistent gear
I can beat this 1500' angle of repose and the heat, though it sears
Hell, Lord, won't you buy me a 20-tooth gear
(Yips of yahoo as I reach for those big chainrings when we reach the Navajo Sandstone layer and the trail angle drops to 4%.)
Oh Lord, won't you buy me a 20-tooth gear
6 miles of click and a half gain brings nary a fear
There's a chance for big chainrings, right here
We've ridden the Scrunge, all without beer
But, Lord, won't you buy me a 20-tooth gear
Oh Lord, won't you buy me a 20-tooth gear
My friends all run 19's, I must change I fear
Working hard on this old, uranium trail
No sweat do I feel
Yet Lord, don't forget to buy me a 20-tooth gear


Poems from the Jarbidge 2000

in assorted styles, by Rob


Click here to see the Jarbidge 2000

SIX TO JARBIDGE (Day 1; acrostic style - title makes first letter of line, vertically)
Six people joining, and just two tents
Introductions and then we went
X-ing into where Tsawaawbitts said we be sent

Talking round the happy hour
Our wilderness home we devour

Jarbidge is our acrostic duty to rhyme
And searching for Hummer Spring this time
Ribald jokes of T.P., just to be kind
Before long, we searched for trail sign
In the Jarbidge, wandering is sublime
Don't come to join us, cause we will whine
Good it is to have somewhere free of population slime
Experience vicariously, if you so incline

A RUBAIYAT OF CAMP CREEK (Day 2)
A lounging rubaiyat at Camp Creek
Where George has paused to repair his feet
Bracketed by bounding volcanic hoodoos
This Jarbidge hiking is beyond neat

TIC

(Day 3; acrostic with visual structure to show movement)
Tic lighlegs it across my calf
Immerses herself, head-first by half
Conjure up this vision, with sage to your ass

Tic lighlegs it across my calf
Introduces herself and decides to stay
Consumes too much, then goes... .... away

LOST (Day 4; Haiku - the haiku poem breaks at five syllables, seven, and again five)
Lost, North of Camp Creek
Canyon, haunting Raven soars
Search, to reunite

Off route tour, to where
Discover country superb
All done off the course

VERDANT RING (Day 5; Rubaiyat)
Emerald Lake glows a turquoise hue
Hulking Mary, we're always with you
Round the alpine loop we lope
Returning to camp as sky goes black from blue

Cinching The Loop (Day 6, Haiku - sort of)
Hike over Right Fork
Undulating without torque
Wildness!, our retort

With Delight we see
Wandering Brent, before we
We all are with glee

Here, cinching the loop
Out, tomorrow we will troop
Leaving wildness loot

No delight to go
You, who know wildness, you know
In the wild, one grows!


Selway Somewhere Serenade
by Rob
Click here to see the report about the Selway Somewhere Serenade
Selway Somewhere Serenade?
Wildness, Lochsa ramblings?
Exchange for money? No, no trade!
Where in the Selway? You ask
Bitterroot Mountains? Trammeling?
I will not tell, lest wilderness spirit take me to task!
Hotsprings capers, known by few
So lovely, so hot you'll poach
Ranger Sarah, George and llamas, here's to you.
Blackberry, Service, Thimble too
Loads of berries, on trails they encroach
Selway country, here's eating you.
Round the circle, shade of Redcedar
At happy hour, we burble
No tent poles, and who cares to be the leader?
What's that, a boulder in the lake?
Sounds of gurgle
It's Ms. Moose, and she's no fake!
Black Bear prints, deep in the dust
Eating berries, I assume
On a 15 mile tent pole quest, a mind is free of rust.
Moose guzzling from the hotsprings
Wild experiences bloom
In the Selway, wildness is a love thing!


A Ruba'iyat about the Crestival
by Rob
Arriving in the rubiginous sunshine,
I relished in the rubric of the Rubys without mankind.
Rolling the wondrous, rubescent Crestival, I enjoyed a wilderness festival;
You might someday revere these wilds, then write your own Crestival Ruba'yat, if you are so inclined!
Click here to see: Hiking the middle section of the Ruby Mountains Crest
Click here to see: the Consummate Rubaiyat Crestival
Note: The ruba'i, plural rubaiyat, is a two-lined stanza of Persian poetry. Ruba'i is an Arabic word meaning "four-some." It was a very popular form of poetry in the 11th and 12th century in Persia. The first, second and last of the four hemistiches must rhyme, while the third does not need to rhyme with the other three.


Poems from Cedar Mesa Somewhere
by Rob
Click here to see the 'poetic' report about the Cedar Mesa Somewhere
Timoring Towhee (Day 3; Haiku)
(the haiku poem breaks at five syllables, seven, and again five)
Timoring Towhee
Kicks out bugs within our sight
"Towhee!" said with glee
Murmuring - "Wildness delight!"
Ancient Way
Hard boot, hard trail
it's not the Ancient way.
Hiking through graupel and hail
We dream we could, yet will not stay.
We see etched petroglyphs, pictographs,
exploring pueblos, ancient ones.
Perhaps, this might be our epitaph
today, our wilderness moniker is "having fun!"
Pictos, petros, rambling art?
At first, just squiggles.
Where's a story, not just a part?
Perceptions comical, we revert to giggles.
Lines so pure
and handprints slapped.
Chiseled features, by hands sure,
atheistic, artistic, inscriptions rapt.
We hike into and then out of
canyons cluttered, middens of yore.
Pausing, we languish, relish songs of Mourning Dove,
canyon bend, more ancestral work by those who trod before.
Adobe fingerprints
arching alcoves.
Broken shards glint
in ancient treasure troves.
Scurrying reptiles
and lizards leaping.
Broken matates in piles,
near granaries, for corn keeping.
Four friends packing
reflections reticulated.
Clear water not lacking,
we won't end up desiccated.
Ravens spiral,
floating buzzard hawk too.
Sun slips, after awhile
giving canyon colors a wondrous hue.
Coursing dust devil, Redtail too
sacred cows make the best hamburger
I'll relish in wilderness, will you?
vegetarians rejoice, share the Limburger.
Wondrous things we see,
and ancient way beckons.
Comrades are we,
returning, we reckon.....
Shallow End Of The Gene Pool
Ode to gw bush-leaguers...
from the shallow end of the gene pool.
Our public lands they rape, they beleaguer
doing industries' bidding, an oil man's, miners' tool
The West ain't where you're bound
but where you play, work and stay.
Wall Street Journal in New York. Paris. Moab?
the geographically challenged, sipping eastern lattes.
Every day is Earth Day
when you're dabbling in the dirt.
Contrast corporations, full-spread marketing array
while coating cyanide with money, the future becomes inert.
Everywhere's a boom town
because we're hurtling to 7 billion.
Technology's facade crown
genetically modifying foods, us? Seems vaudevillian.
Is life quality important?
Or is money, power, all!
With greed, population corpulent,
as a species, we're due a long fall.
Bigger homes, families, coffers?
Can economists learn to subtract?
Imagine what a sense of space and place offers
wildness has no value, if not in a stack?
Make kindness our religion!
replace "faiths" that marginalize?
Which urge overpopulation as mission
all this amounts to genocide?
Ultra conservative with the compassion!
Corporate "religion" shoved down throats?
Star wars frenzy, our futures look ashen.
Humans starve while republicans bloat.
ORVs, the blue smoke hoard, scourge to our public lands
these, if gw was a conservative, he would prohibit.
These wasteful chainsaws on water, snow, dirt be banned,
air, water, sound, visual pollution he would inhibit!
Coyote canyon, raucous raven, spiraling buzzard hawk too?
keeping Mother Nature pristine is not a wall street aspiration.
gw folk will take the resources, money, give future toxic brew,
Sentient citizens fear the result will be an aberration.
Take my advise I'm not using it
imply the rich, supply-side cabinet
Big SUV, big family, big oil, big hypocrite
If a citizen of earth, please be a big reticent!
Is the glass half full?
could it be a matter of perception?
Dormant pawns of right-wing pull?
Consider the here, the now, the next election!
The shallow end of the gene pool?
Money around republicans' waists is a green belt?
Over wilderness, open space, oil men do drool
and accumulating social/ecological impact felt. :-(


Rob's Autobiography

in 5 Short Chapters


I walk down the trail.
There is a deep hole in the path.
I fall in.
I am lost, I am helpless.
It isn't my fault.
It takes forever to find a way out.

2
I walk down the trail.
There is a deep hole in the path.
I pretend I don't see it.
I fall in, again.
But, it isn't my fault.
It still takes forever to discover a way out.

3
I walk down the trail.
There is a deep hole in the path.
I see it there.
I still fall in. It's a habit.
My eyes are open.
I know where I am.
It is my fault. I get out immediately.

4
I walk down the trail.
There is a deep hole in the path.
I walk around it.

5
I walk down the trail with you.

adapted from: There's a Hole in My Sidewalk by Portia Nelson


Here's a song from the "Long Ranger" report (click here for the full report): Esplanade Terrain - Sung to the tune of "Acid Rain" by the Austin Lounge Lizards: Highway Cafe of the Damned - 1988 (Sugar Hill Records; SUG-CD 3901)

Off we go, the intrepid eleven;
As we grunt into Snake Gulch heaven.
While we keep on rolling, Without refrain;
Toward that Esplanade terrain.

Because of monstrous pack weight, we are all in pain;
Packing for 9 days; we do not hike in vain.
On and on we are hauling, toiling;
Thinking Esplanade terrain.

Esplanade, keep on rolling;
As we 11, we are strolling.
While here is great, we all exclaim;
Where's that Esplanade terrain?

Seeing pictos in the shelters;
And some petros, scattered helter-skelter.
This is just exactly what we came to do;
You cannot imagine doing this, can you?

Some go out Swapp;
To Fredonia it's a quick hop.
The rest remain;
heading to that Esplanade terrain.

Now we are the Magnificent Seven;
In this country like heaven.
Marching down rock slabs;
Just South of Bigotville, Kanab.

Cow fondlers and tree huggers;
Without Ed Hatch water, all would be strugglers.
And against the Zane Grey sky;
Neither has a reply.

The Lost Ranger trail 41, where is it?
Looking, scanning, we could have a fit.
No Esplanade on which to be roaming;
At the mouth, we are foaming.

Esplanade, keep on rolling;
As the rain, it is falling.
And with the sun, it's like a flame;
On this Esplanade terrain.

Walking around slickrock canyons, without a handrail;
Inching, striding, promenading - mostly like a snail.
Esplanade, keep on rolling;
As the rain, it is falling.

When we came to Lawson - thought we were half-way;
Without the clouds & showers we would not have survived the day.
Esplanade, keep on rolling;
As the wind, it is blowing.

After 13 on the Ranger and only 3/4 done;
If not for rain-filled potholes, we'd be raisins drying in the sun.
Esplanade, keep on rolling;
As the sun, it is glowing.

So, thyne Jugs of Jeremy* did fall from the sky;
We made camp on the slickrock, and did not fry.
Esplanade, keep on rolling;
As the shadows they are growing.

And, we did speak of the scrolls of Jeremy;
Up on this gentle layer, so much better than hegemony.
It's delightfully deluxe, we all acclaim;
This glorious Esplanade terrain.

Well, the rain provided rescue;
While we enjoyed a panorama view.
Respite from the desiccated trudge;
Over all this world we judge.

Esplanade, keep on rolling;
As the sun, it is glowing.
Even with the sun, hot as a flame;
I love this Esplanade terrain.

First foreigners of the trip today;
We hope they do, then they go away.
At the Mountain Sheep;
All those frogs go "bleat."

Too soon we are climbing;
Out of the canyon, I am rhyming.
A report of our adventure, I sing the refrain;
About that wondrous Esplanade terrain.

The "real" lyrics by the Lizards go like this:


Acid Rain, keep on falling;
while her name, I am calling.
I walk the shores, of Lake Champlain;
in the placid acid rain.
Walked together through the forest of dying trees;
tasted the sulfuric acid on the April breeze.
went canoeing on the lake, fish were floating by;
she read me her manifesto, I had no reply ...

Click here for Long Ranger: Kanab Creek Wilderness: Snake Gulch to Sowats Point, 2006


A Mountain Valentine
by Kathleen King, from "Famous Potatoes, Southeast Idaho Poety"
Blue Scarab Press, Pocatello, Idaho, 1986
A haze, sunset reddens the mountain
to the west snow breaks
into lace beneath her skis
like the Valentine poems she writes
each year the lines deepen
in her face the eyes darken.
She telephones last year's Valentine.
Long distance as they say
remember me and I love you
a thousand miles and six months apart
voices electric through copper wires
remember skin and chocolate
Sunday mornings of strawberries
the lazy kisses and tangle of legs.
Late that night she cries for
his hand on her naked back
the way she curved to him
their faces turned toward each other
when his skylight glowed morning
with rumbled hair and bare feet
he stood at the top of the stairway
she at the bottom. Both wished.
She steps into a cold red dawn.



In Watermelon Sugar
The Forgotten Works
Excerpts from a book by Richard Brautigan
In watermelon sugar the deeds were done and done again as my life is done in watermelon sugar. I'll tell you about it because I am here and you are distant.
Wherever you are, we must do the best we can. It is so far to travel, and we have nothing here to travel, except watermelon sugar. I hope this works out.
I live in a shack near iDEATH. I can see iDEATH out the window. It is beautiful. I can also see it with my eyes closed and touch it. Right now it is cold and turns like something in the hand of a child. I do not know what that thing could be.
There is a delicate balance at iDEATH. It suits us.
The shack is small but pleasing and comfortable as my life and made from pine, watermelon sugar and stones as just about everything here is.
Our lives we have carefully constructed from watermelon sugar and then traveled to the length of our dreams, along roads lined with pines and stones.
This morning there was a knock at the door. I could tell who it was by the way they knocked, and I heard them coming across the bridge.
They stepped on the only board that makes any noise. They always step on it. I have never been able to figure this out. I have thought a great deal about why they always step on that same board, how they cannot miss it, and now they stood outside my door, knocking.
I did not acknowledge their knocking because I just wasn't interested. I did not want to see them. I knew what they would be about and did not care for it.
Finally they stopped knocking and went back across the bridge and they, of course, stepped on the same board: a long board with the nails not lined up right, built years ago and no way to fix it, and then they were gone, and the board was silent.
I can walk across the bridge hundreds of times without stepping on that board, but Margaret always steps on it.
I looked forward to seeing Pauline and .... we might go for a long walk, maybe along the aqueduct.
Then maybe we would go to her shack for the night or stay at iDEATH or come back up here, if Margaret wouldn't knock the door down the next time she came by.
The sun was going down over the Piles in the Forgotten Works. They turned back far beyond memory and glowed in the sundown.
We made a long and slow love. A wind came up and the windows trembled slightly, the sugar set fragilely ajar by the wind.
I liked Pauline's body and she said that she liked mine, too, and we couldn't think of anything to say.
The wind suddenly stopped and Pauline said, "What's that?"
"It's the wind."
I spent a HALF AN HOUR or so pacing back and forth on the bridge, but I did not once find that board that Margaret always steps on, that board she could not miss if all the bridges in the world were put together, formed into one single bridge, she'd step on that board.


Five Poems by Edson Fichter, "Dr. Pahsimeroi"

(Edson was one of my mentors at ISU. As a graduate student, he worked with Aldo Leopold. He studied Pronghorn Antelope in the Pahsimeroi Valley of Idaho for 25 years and considered himself "a student of animal behavior," never allowing anyone to call him an "expert." Here's to you, Edson.)

from: "Pahsimeroi, Land Beyond Words" by Edson Fichter

Blue Scarab Press, Pocatello, Idaho, 1988

Eden Beyond
As in the shadowed afternoon
The hidden thrush
Must flute its lyric spell -
Symphonic now
With all the languages of love -
So must I listen,
Lost in wonder and in longing
On the fragile edge of Rapture.

Before the Night
Walk with me among the vesper hills
To some forever-listening place
Where thrush song will be more
- - than thrushes singing
Because of evening radience on your face.
Forgotten then the masks of daily work,
The words we weave -
- - to keep the heart concealed.
At one with earth's -
- - transcending stillness, we
Can know the towering gift of self revealed.

Pahsimeroi
No wilderness of my remembered years
As sweetly sang to me -
- - as this possessive land -
The night-sad voices of its haunting winds
That only searching hearts can understand.
Too late I came to consummate a bond
With every sensuous meaning
- - of its perfumed air,
Its brooding slopes and secret valleys that
Will never feel my shadow moving there;
Too late for total being. Yet I know
These hills will never let me go.

Two Loves
I would go back to the trail,
To the silent hills and the coyote's wail
And the cold stars over our bedding place.
I would go back to the windy ridge
--- and the gray face
Fighting the slanted snow,
I would go back - if you would go.

I would go back to the lonely plains,
To the prairie grass and the sudden rains
And the shout of thunder across the night.
I would go back to the willow marsh
--- and the flight
of mallards dropping low.
I would go back - if you would go.

I would go back to the osprey's cry,
To the long canoe and the endless sigh
Of the wind in a yellow pine.
I would go back to an autumn woods
---- and the line
Of flight of a crow.
I would go back - if you would go.

Evensong
When thunderheads no more for me
Are piled above a summer afternoon
And silence is more than silence
Whispered in a thrush's twilight song -
When the smoke of countless campfires
Is lost among the stars
And all of love no more remembered -
I will turn towards the mountains.


The Rise and Fall of the Anasazi:
Why Should We Care What Happened to Them?
taken from: "The Summoning God" by Kathleen O'Neal Gear and W. Michael Gear, 2000, New York: Forge Books
Text below © copyright 2000 by Kathleen O'Neal Gear and W. Michael Gear


Click here to see the WV specialty page about: Pictographs and Petroglyphs

During the eleventh century, a high desert valley in northwestern New Mexico named Chaco Canyon became the cultural center for a people we call the Anasazi, or Ancestral Puebloans. Their culture encompassed over 115,000 square miles and included approximately 100,000 people. The Anasazi built five-story buildings with over eight hundred rooms in them; they charted the solstices and equinoxes, the cycles of stars, even the 18.6-year cycle of the moon; they established far-flung trade routes that brought them scarlet macaws and cast copper bells from Mexico, seashells from the Pacific Ocean and Gulf Coast, the buffalo hides from the northern plains; and they engineered a road system that would be unequaled in North America for seven hundred years. But by A.D. 1400, they had all but vanished.

Perhaps the two questions archaeologists are most often asked are: "What happened to the Anasazi?" and "What do they have to teach modern people?" Though both questions are linked, the latter is the more important, because the answer bears directly upon the survival of our own civilization.

Around A.D. 1130 the climate began to change. In Europe it would become known as The Little Ice Age, but the Anasazi knew only that a new drought had begun. Not in their wildest imaginations could they have guessed that the period of deep cold and reduced rainfall would last for more than three hundred years. The count of tree pollen in the archaeological record drops dramatically during this period - meaning they cut down every tree they could find to clear fields for crops, to build their homes, cook their food, fire their pottery, light their kivas, and keep warm during the bitter winters. When the trees ran out and the soil became depleted, they imported many of the basic items of their lives - wood, pottery, food, and animal hides. But, in the end, not even that would save them.

To understand what was happening to the Anasazi, we need to look no further than our own lives. Since the arrival of Europeans in North American we have cut down 90 percent of our forests. Most of the wood we use to build our houses comes from forests hundreds of miles away. We import a great deal of our meat, fruits, and vegetables, often from distances like South America and Hawaii. Much of the oil that fuels our automobiles and heats our homes is shipped from the Middle East. Why? Because we, too, have over-utilized our resources and are now relying upon trade to provide us with many of our most basic needs. But the parallels to our own time do not end there.

In 1900, 80 percent of the people in the United States lived in rural areas. Today, 80 percent live in cities. In the 1200's, as the shortages grew and the climate deteriorated, the Anasazi abandoned their small towns and moved to large pueblos. Let us make this point clearly, before A.D. 1150 there were hundreds of Anasazi settlements, small and large, scattered across the Colorado Plateau. By A.D. 1400, there were three: the Hopi villages in Arizona, and the villages of the Zuni, and Acoma, in New Mexico. The rest of the traditional Anasazi homeland was a vast no-man's-land.

How could such a thriving and sophisticated culture be reduced to a mere handful of survivors? Despite the romantic image that the Puebloan peoples were peaceful farmers, we have abundant archaeological evidence to demonstrate that during the thirteenth century the Anasazi were engaged in brutal annihilation-oriented warfare. Massacres, scalping, slavery, torture, and even cannibalism occurred.

The vicious cycle that led to the rise and fall of their civilization has become clear as a result of excavation of hundreds of their towns: the rise began with a warm wet climatic episode that resulted in a period of affluence and scientific achievement. With the affluence came swift population growth. In the process of feeding their people, they exhausted the soil, cut down the trees, over-hunted the animals. Then the climate changed. When their crops wouldn't grow, they expanded their trade routes. When their trade routes were cut, they turned to warfare to keep them open. When they couldn't keep them open, they took what they needed from their closest neighbors. They must have fought to protect their homes from their victims' wrath, then the fight became a struggle to stay alive.

We leave it up to you to decide where in that cycle our modern civilization stands, but several things are clear: we've over-utilized our resources, the climate is changing, and we've already begun to "fight."

End of quote from "The Summoning God" by Kathleen O'Neal Gear and W. Michael Gear


Despite what king george says or demonstrates, please show some restraint - Click here to see the effects of and what you can do about reckless population growth and consumption.

And, Click here for a link describing the relationship between population growth, consumption, and the death of nature.


---
---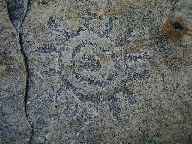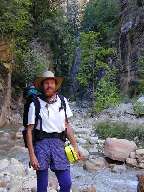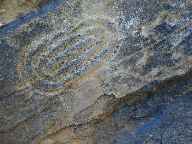 ---