And, here is what happened when we finally got organized and on the road: George did a spectacular job of organizing the food and equipment, and we all rendezvoused in Twin Falls. Then, we tumbled into the llamamobile for our Jarbidge 2000 adventure.

Day 1: Hummer:

(Note: During the tale of this adventure, I will begin the day with one of a variety of styles of poetry, followed by a scant narrative.)

SIX TO JARBIDGE (by Rob, Day 1; acrostic style - title makes first letter of line, vertically)

Six people joining, and just two tents
Introductions and then we went
X-ing into where Tsawaawbitts said we be sent

Talking round the happy hour
Our wilderness home we devour

Jarbidge is our acrostic duty to rhyme
And searching for Hummer Spring this time
Ribald jokes of T.P., just to be kind
Before long, we searched for trail sign
In the Jarbidge, wandering is sublime
Don't come to join us, cause we will whine
Good it is to have somewhere free of population slime
Experience vicariously, if you so incline

The shooting stars glow in the near sunset light, backed by the trickling of the outflow of Hummingbird Spring. George is unpacking a box of white wine (only the best for us!) and Brent is setting up his stove in one of the few nonvegetated areas in this angled meadow. We joke about the number of rolls of toilet paper we collectively have brought, then we explore the vague trail branch to Cottonwood Trail. The llamas lounge in high grass. Ah, Jarbidge.

Day 2: Far Piece to Peace Tower:

A RUBAIYAT OF CAMP CREEK (by Rob, Day 2)

A lounging rubaiyat at Camp Creek
Where George has paused to repair his feet
Bracketed by bounding volcanic hoodoos
This Jarbidge hiking is beyond neat

Group at the Peace Sign Hoodoo, along Camp Creek
(Click the image for a full-size view; Photo by Rob)
The ruba'i, plural rubaiyat, is a two-lined stanza of Persian poetry. Ruba'i is an Arabic word meaning "four-some." It was a very popular form of poetry in the 11th and 12th century in Persia. The first, second and last of the four hemistiches must rhyme, while the third does not need to rhyme with the other three.
We're reveling in happy hour, lounging on saddle pads, etc. along a fine-sand beach at the junction of North Fork Camp Creek and the main Camp Creek. Twin peace sign spires tower above us, signaling peace. They are crafted from the volcanic intrusions, the remains of which bruised llama feet. Fields of these hoodoos proliferate this region. George, too, is repairing holes in his feet. As the sun sets, the hoodoos simmer umber, nicely contrasted by the saturated greens of the clumps of hip-high grass.
Day 3: Jarbidge Electric:
TIC (by Rob, Day 3; acrostic with visual structure to show movement)
Tic lighlegs it across my calf
Immerses herself, head-first by half
Conjure up this vision, with sage to your ass
Tic lighlegs it across my calf
Introduces herself and decides to stay
Consumes too much, then goes... .... away

Brent and Camp Creek Falls
(Click the image for a full-size view; Photo by Rob)
The Jarbidge Electric Company releases another surge, waving a boom through our outfitter camp, situated just downslope from the Camp Creek origins. Sound gutturals roll across these high gold and green-hued mountain bumps, crackling and grumbling with low frequency eruptions, argumentative and assertive in a very natural way. The llamas hunker low, long necks stretched in the dirt, ears flat against their glistening wool as the light fades and a torrent sets in. The rest of us huddle under a tarp, attempting to cook dinner and write. Only Brent is wise enough to meditate in the tent.
Highlights from today include the plethora of wildflowers along Camp Creek, from crossing to 12th crossing. Then, there was the lovely waterfall, cascading through eons-old volcanism. And, one tic imbedded in my leg.
Day 4: Way Off Route:
LOST (by Rob, Day 4; Haiku - the haiku poem breaks at five syllables, seven, and again five)
Lost, North of Camp Creek
Canyon, haunting Raven soars
Search, to reunite
Off route tour, to where
Discover country superb
All done off the course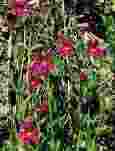 Monkeyflowers
(Click the image for a full-size view; Photo by Rob)
Five of us enjoy wine, tomato and basil soup, and chicken and rice as we sit vigil on the low pass between Camp Creek and Right Fork Camp Creek. Somewhere out there wanders Brent, way off route we suspect. We are worried because it's been several hours since we saw Brent climbing toward the sharp orange fishfin ridges separating one of the forks of Marys River from a high bowl of Camp Creek. Bruce and I have had an exhausting of searching, and retracing the route to place notes. Still no Brent.
Day 5: Birthday Brent Quest:
VERDANT RING (by Rob, Day 5; Rubaiyat)
Emerald Lake glows a turquoise hue
Hulking Mary, we're always with you
Round the alpine loop we lope
Returning to camp as sky goes black from blue
Puffing to near 9300', Deborah and I near Emerald Lake on this grand loop below the snow-studded shoulder of Marys River Peak. We looped around to Emerald Lake, down the flower-choked Cougar Creek Cirque, and back up the occasionally-trailed East Fork Jarbidge. Despite the amount of funds squandered on monitoring the 'shovel brigade' near Jarbidge, the town, and the ill-conceived and ill-advised planned rebuilding of the road that Mother Jarbidge had wisely closed to restore the wilderness, no pennies are invested in trails.
(Note, the 'shovel brigade' is a group of welfare artists, who believe the role of the government is to provide them with motorized access to everywhere. Sometimes, this assortment is called the 'blue smoke hoard' or 'sagebrush rebels.' When you see an ORV, think of how much you are paying for the wreckreation of the welfare rider on this destructive, deplorable, wildlife harassing, ecotrashing, resource squandering, air fouling, watershed despoiling, 100-decibel open sled. It's your public land they are abusing as a sacrifice area.)
We located four hikers at Emerald Lake, from Michigan and Ohio - the first people of the trip. They appear to recognize the value of wildness the locals forsake. We also located Brent's footprints, heading downstream in the East Fork, but no Brent. Finishing the ridge bump back to camp, we returned around 8 p.m., just in time to toast Deborah's birthday with wine and a very thick pancake disguised as a cake, layered with lemon jello. Deluxe.
Day 6: God's What!
The rust red metamorphic cliffs block the wind on parts of the God's Pocket Trail, a lovely tour of the upper reaches of Camp Creek. This Jarbidge trail does exist and it is well-graded as it floats through volcanic intrusions, conifers, and across open ridge noses. As we closed the luscious loop we encountered Brent at Hummer Spring, surprising fresh from his ordeal hiking the slide and glide chutes.
Cinching The Loop (by Rob, Day 6, Haiku - sort of)
Hike over Right Fork
Undulating without torque
Wildness!, our retort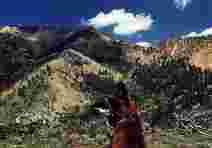 Alfie says "I want to stay here!"
(Click the image for a full-size view; Photo by Rob)
With Delight we see
Wandering Brent, before we
We all are with glee
Here, cinching the loop
Out, tomorrow we will troop
Leaving wildness loot
No delight to go
You, who know wildness, you know
In the wild, one grows!
---