Rob's 2009 year-end report
Featuring Five Weeks in THE Grand Canyon
Happy New Year and a Scenic solstice to you!  This is my 2009 year-end report, an old time tradition for countless decades in a shiny and new format. 
     You may click on the web addresses, the trip title, or the photo to go to each report.  Note that not all photos are linked to reports. 
<![if !vml]>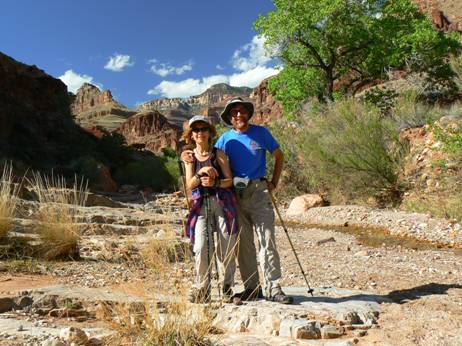 <![endif]>
K & R somewhere in the Grand Canyon
     Yes, the year was filled with wild experiences.  Yes, I am still working, although not that much.  I am finishing my final year of consulting for a school counselor grant in Kingman, Arizona.  The grant was poorly written (developmentally-delayed in its methodology and procedures), and so there is no chance it will be renewed.  The good news is that I get to dabble in all sorts of real school psychology (that is, not weighed down with testing tasks), and, because there are few opportunities for further money mining by marketing psychologist types, I rarely see the "supervisors."  What's next?  Maybe, I will be forced into retirement.  OH NO.
     In any event, 2010 is already shaping up to be another wild year.  I am planning to hike the Tonto Trail in the Grand Canyon, from Tanner to South Bass.  This trek will be about 120 miles, and will include all but a tiny bit of the Tonto.  Yes, I have the GC permits to enable this jaunt.  Kathleen and I also have a permit to hike to Clear Creek in the GC, following the Transcendental Tonto Traverse by a rest day.  What else?  Stay tuned.  Maybe a repeat of the BAMIC (Bicycle Across Mountainous Idaho Country)?  A through-hike of the John Muir Trail?
     One of the things that continues to amaze me is that I am still married to Kathleen.  Amazing because she somehow continues to tolerate my SD and lizardo mannerisms and behavior, notwithstanding my liberal use of Idaho dialect.
     As said by Edward Abbey - Joy shipmates of Earth!  Joy!
     Now, back to the wild experiences for a recap:
     Kathleen and I hiked around Northern Arizona in the late Winter and early Spring of 2009.  We hiked near Sedona quite a bit because I, for one, am becoming even more lizard-like as I get older.  Here is a recounting (from 2008) of many of the places we again hiked in 2009:
     (click on the below links to go to the report)
http://www.wildernessvagabond.com/flag08/flag08.htm
      We did add a few new hikes to our repertoire, and they can be seen here:
http://www.wildernessvagabond.com/flag09/flag09.htm
     April started the backpack season with a Grand Canyon Spring 2009 Trilogy.  Kathleen, Chris, Zig, and I lilted along the "Gems" route, named after the numerous side-canyons with names like Ruby, Sapphire, Turquoise.  The first segment of the Trilogy involved exploring the Precious Canyon Gems:
Precious Canyon Gems:
Grand Canyon Trip Report - Tonto West / Hermit's Rest / South Bass / Colorado River / Canyons named for Rocks
(April 4 to 10, 2009)
http://wildernessvagabond.com/gcgems09/gcgems09.htm
<![if !vml]>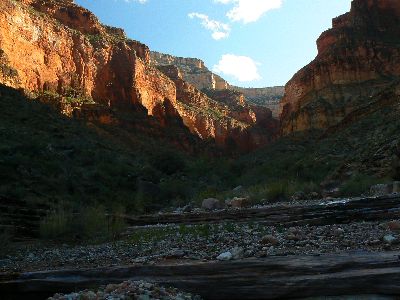 <![endif]>
Ruby Canyon at Sunset - GC Gems Report
     Still April, and we enjoyed the Grapevine Galleria, part 2 of the GC Spring 2009 Trilogy, and a lovely lilt from the corridor trail of the South Kaibab to The River, then back up to the Tonto Platform and across it to Horseshoe Mesa.  The photo below shows Kathleen on her birthday hike to the Mesa, a delightfully beautiful woman in a deluxe  beautiful place.
     Grapevine Galleria of the Grand Canyon:
Grand Canyon Trip Report - Tonto East: South Kaibab – Indian Gardens – Bright Angel Camp – Lonetree – Grapevine – Cottonwood – Horseshoe Mesa – Grandview Point
(April 25 to May 1, 2009)
http://wildernessvagabond.com/gctontoe4-09/gctontoe4-09.htm
<![if !vml]>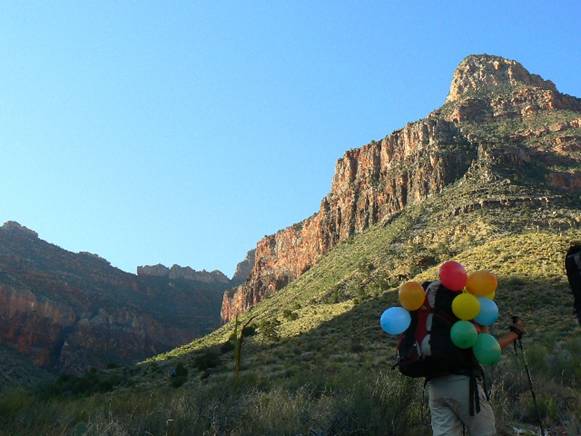 <![endif]>
the Birthday Girl climbs toward Horseshoe Mesa - Grapevine Galleria report.
     Kathleen headed off to Costa Rica for Spanish immersion.  Immersion in hot sauce?  This is what happened to Craig and I as we broasted in unseasonably hot weather in the Grand Canyon, hiking Torrid Tapeats:
Torrid Tapeats:
Fishtail Frolic off the North Rim of the Grand Canyon - Thunder River / Colorado / Deer Creek / Siesta Springs / Cobblestone NB
(May 9 to 17, 2009)
http://wildernessvagabond.com/gcfishtail5-09/gcfishtail5-09.htm
<![if !vml]>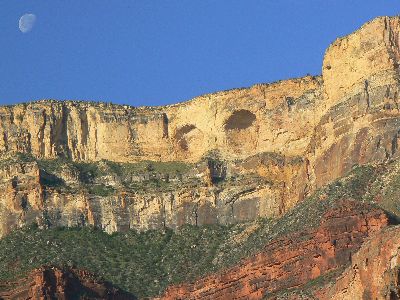 <![endif]>
Owl Eyes watch over Torrid Tapeats - Part 3 of the Spring 2009 GC Trilogy
     After another work stint, I went solo traipsing in THE Maze District of Canyonlands NP, ostensibly searching for arches and natural bridges, and finding aMazing solitude along the path:
A-Mazing Maze, a Desert Solitaire
Exploring The Fins Area of Canyonlands NP
http://www.wildernessvagabond.com/maze-fins-5-2009/maze-fins-5-2009.htm
<![if !vml]>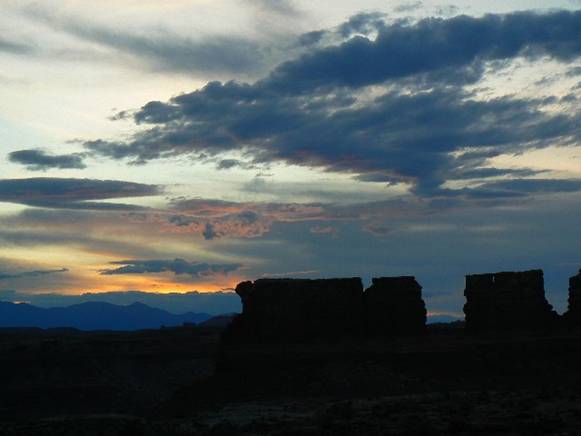 <![endif]>
Distant Henry Mountains provide the backdrop for some area fins - A-Mazing Maze report.
     In June, Kathleen and I met Nancy and George on the North Rim of the Grand Canyon for a series of slightly soggy day hikes.  George was in the first group to climb El Capitan in Yosemite many years ago.  After we returned home, George and Nancy went farther out into the wilds, hiking North Canyon and the Thunder River Trail (in a thunderstorm). 
<![if !vml]>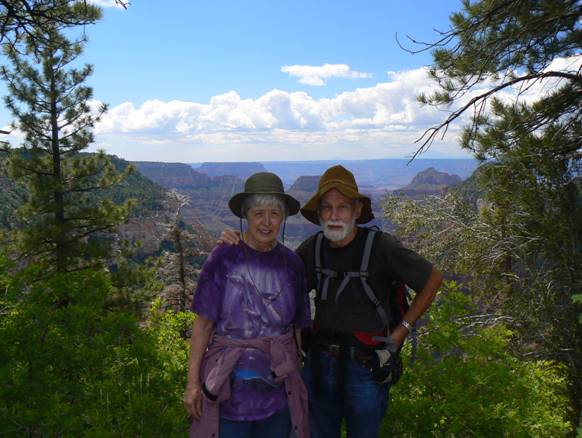 <![endif]>
Nancy & George above The Transept on the N Rim of the GC
     Kathleen was off on other adventures, so I continued the solo adventures with a hike of the Toiyabe Crest in Central Nevada.  At the start of the trek, I met the wily Wes H. from Friends on Nevada Wilderness and David K. from the F.S. Then, for nearly 7 days, I saw only my footprints, creatures of the high desert, and gorgeous country on:
Toiyabe Crest - A National Recreation "Trail"
Kingston to South Twin Rivers (71 miles; 137 ERM*)
http://www.wildernessvagabond.com/toiyabe09/toiyabe09.htm
<![if !vml]>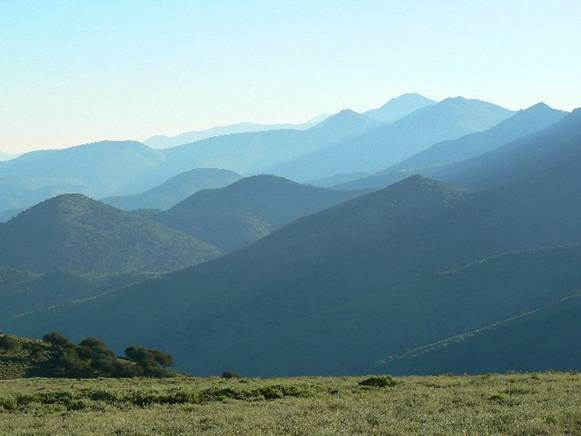 <![endif]>
Toiyabe Sea - The Toiyabe Crest in Central Nevada
     Kathleen and I ventured to overpoweringly beautiful Idaho to backpack a figure-8 in the Sawtooth Wilderness.  Conditions were terrific, except for the horrendous squads of mosquitoes, who caused the shortening of this venture.
Phantasmagorical Figure-eight in the Sawtooth Wilderness
Visiting a host of the 400 Sawtooth lakes
Twin Lakes, Sand Mountain Pass, Ten Lakes Basin, Benedict Lake,
South Fork Payette, Edna, Toxaway, and Yellow Belly Trail
http://wildernessvagabond.com/sawtooth09/sawtooth09.htm
<![if !vml]>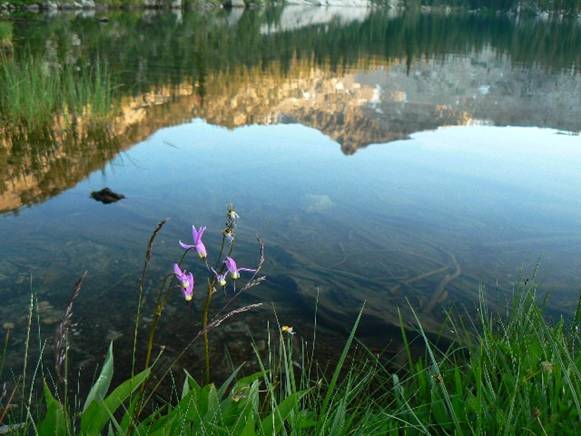 <![endif]>
Reflections of Edna - Sawtooth Wilderness, Idaho
     While in the pretty great state (Utah), we visited our wonderful friends Bob and Doris.  Two of the special things we miss about Utah.  As many of you know, Bob is The Archman!  See the span of his overarching work at:
http://users.sisna.com/archman/index.html
<![if !vml]>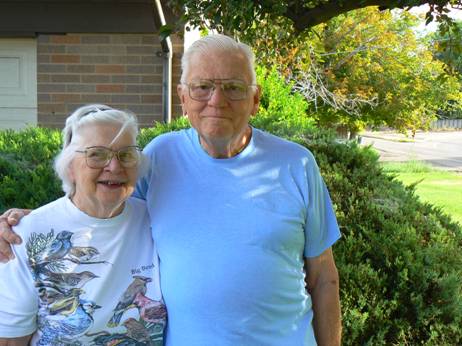 <![endif]>
Doris & Bob at home in Salt Lake
<![if !vml]>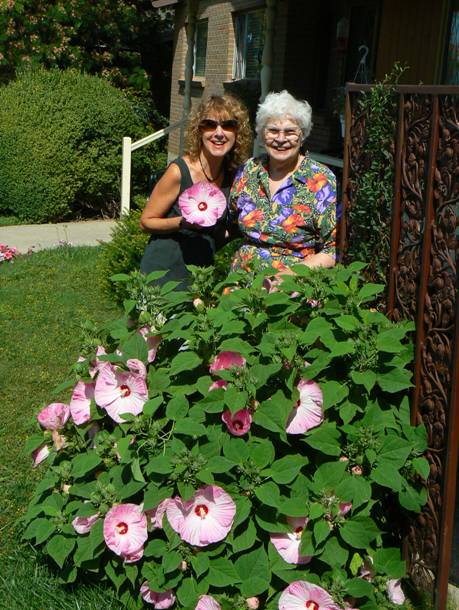 <![endif]>
Kathleen reviews Doris' begonias
     Now back at work, yet surrounded by pleasant weather, I slipped away to meet Zig, Cheryl, and new friends Dave R. and Rob P. on a nearly 270-mile self-contained bike tour of Central Utah.  Argh, there are lots of climbs over plateaus and the shoulders of mountains in this pretty great state.  My Venerable Monster (1984 era Specialized Expedition) bike toured without difficulty - if only the same might be said about my old bones.  Another re-gearing of the VM?  Probably.  Here's the report:
Self-contained bicycling circle tour of Central Utah
Torrey-Fish Lake-Otter Cr.-Bryce-Kodachrome-Escalante-Boulder-Torrey
VM, the Venerable Monster, the Specialized Expedition, rides again!
268 miles of this is the Place
http://wildernessvagabond.com/bikeutah09/bikeutah09.htm
<![if !vml]>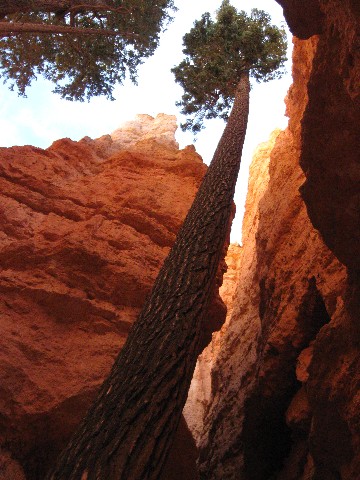 <![endif]>
Titans of the Real Wall Street - Bike Tour of Utah
     Fall is rushing forward, yet it doesn't seem reasonable to decrease trip time.  Thanks to the organizational brilliance of Craig M. (The River King), a redux of canoeing the Stillwater section of the Green River - through Canyonlands NP - avails itself.  Long on the planning documents, it was a thrill to share this country with Kathleen, from the vantage point of the river.  A host of river rats joined in, including Carol, Cheryl, and Bret.  Here's the report, which includes a link to the 2007 Stillwater adventure report:
Stillwater Redux 2009
Canoeing the Green River
Mineral Bottom to Spanish Bottom: River Miles 53 to 0, 0 to 213
With hikes to Turks Head and The Doll House of THE Maze
September 27 - October 4, 2009
http://wildernessvagabond.com/stillwater09/stillwater09.htm
<![if !vml]>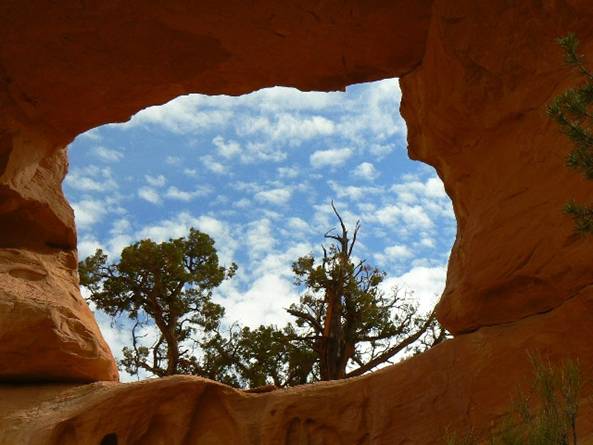 <![endif]>
Beehive Arch View - Stillwater Redux canoe trip on the Green River
     Kathleen and I escaped to the low-country of Butler Wash for a car camping exploration of the side canyons rolling off the Butler Wash syncline.  Lovely and quiet, we hiked the angled Navajo SandStone slickrock in search of ruins, arches, and adventure.  We found all three in this bucolic bastion of Southern Utah.
Butler Wash – Cedar Mesa area, Utah
http://wildernessvagabond.com/butlerwash09/butlerwash09.htm
<![if !vml]>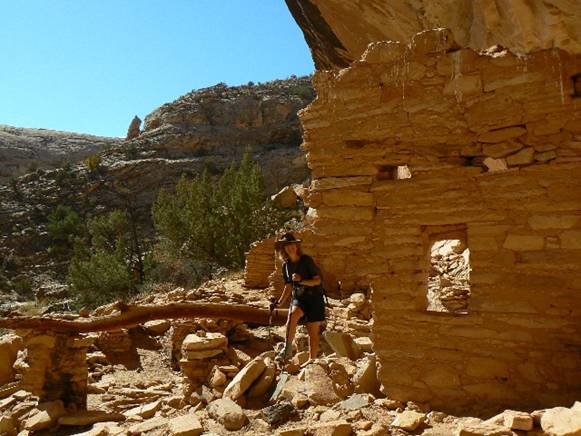 <![endif]>
Double Stack ruin - Bucolic Butler Wash Ruins or Ruination?
     It's getting cooler and cooler, yet Dave R. and I coordinate a corridor + Hermit Huff adventure in the Grand Canyon that spans 9 days and lapses from October into November.  Craig and Ward crisp in from the North Rim and Dave and I meet them at Bright Angel Camp.  We continue up the North Kaibab to Cottonwood Camp, from where Ward and Craig continue back to the North Rim.  Dave and I return to BA Camp, and then along the Tonto and out of the Canyon via the Hermit Trail.  Along the way, we are overseen by this trio of hayseed sheep (note the hayseed - actually probably a native bunchgrass - protruding from the mouth of the sheep on the left).  These are Desert Bighorn Sheep.
Hallowed Grand Canyon:
Grand Canyon Trip Report -
Cool Running in The Canyon - BA to Cottonwood to Indian Gardens to Hermit Rest via the Tonto Trail
October 30th to November 4th, 2009
http://wildernessvagabond.com/gc-cor-09/gc-cor-10-2009.htm
<![if !vml]>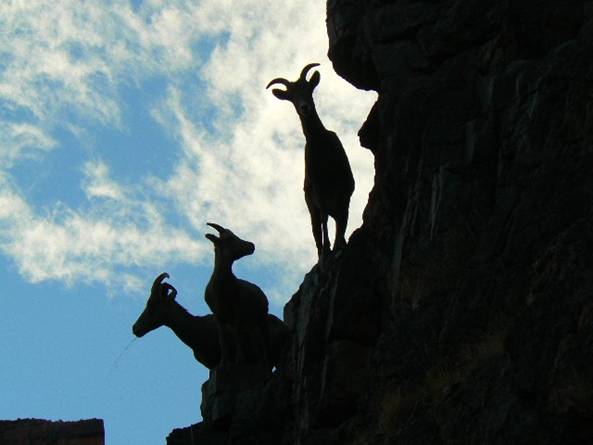 <![endif]>
Desert Bighorn Sunrise - overseeing the Hallowed Grand Canyon
     Kathleen and I finished out the year visiting her Son (Gordon) and Daughter (Elizabeth) and Gordon's girlfriend (Elisabeth), her delightful twins, and her parents Jim and Judy in California.  What a treat it was to see these quickly-developing kids (Elisabeth's twins) and meet part of her extended family.
<![if !vml]>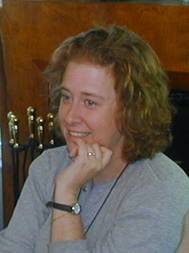 <![endif]>
Elizabeth
<![if !vml]>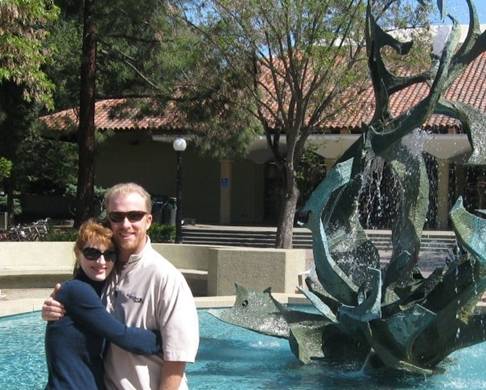 <![endif]>
Elisabeth & Gordon
<![if !vml]>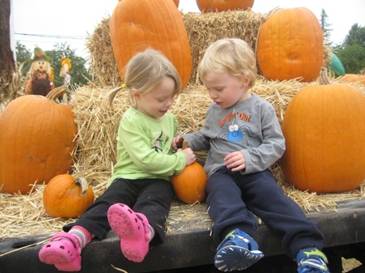 <![endif]>
Claire & Will select The pumpkin (age 3)
<![if !vml]>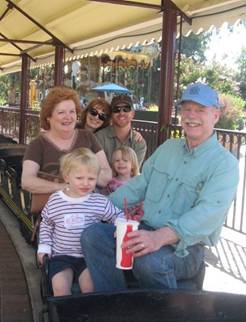 <![endif]>
Judy, Elisabeth, Gordon
Will, Claire, Jim
Brief political ranting follows:
     Tea-baggers (a distinctly appropriate name for these hypocritical, pygmy intellect "conservatives") and other mental midgets and faux religionists have regaled Obama with claims of socialism, yet forget the carnage caused by free enterprise only for the rich (can you say "corporate welfare?").  Privatization of gain and socialization of loss, that's the way of the repulsicans.  Fighting two protracted, uber-expensive wars (one an optional, unnecessary war) coupled with two huge tax cuts for the rich don't add up to fiscal responsibility.  bushco.  Conservatives must have failed basic math in addition to suffering mass amnesia about the ruination wrought by the bushco era.  Certainly, the eight-year repulsican carnage wrought by eviscerating regulations/agencies that protect public health (medical, emotional, economic, environmental, etc.) will take a lot of change to reverse, albeit this may be the real change we earn by supporting Obama and crew.
     And, with scientists back on the science advisory boards, in place in the many public agencies (can you imagine! Foresters in the Forest Service rather than lobbyists for the timber industry?), change has already begun in the U.S. Government.  While wimpy Democrats are stifling real and dramatic change, coupled with the ideologue conduct disorder of the repulsicans, the valence is positive.
Suggested Reading:
Maybe One: A case for smaller families (1999) by Bill Mckibben
The Death of Nature (2006), by Bill Mckibben
Link to books by Bill McKibben
Storms of My Grandchildren: The Truth about the Coming Climate Catastrophe And Our Last Chance to Save Humanity (2009) by James Hansen
Link to the site about this (Storms of my Grandchildren) book
- yes, this is one of the scientists censored by bushco.  Like in the audacity of dope (bushco, faux religionists), deny truth and science and it does not exist.
What's the matter with Kansas? : how conservatives won the heart of America (2004) by Thomas Frank
Link to book - What's The Matter with Kansas?
Which morphed into a documentary film (link)
     Move your money from those "too big to fail" banks - they certainly do not deserve our support for helping to create the bushco mess.  Also, this will help prevent the atrocities from being repeated because these big banks are right now lobbying against banking and financial services reform....(and using your money to do so?).
http://www.huffingtonpost.com/2009/12/30/move-your-money-tell-us-a_n_407297.html
    

Additionally, amidst talk of environmental/ecological/social/economic chaos related to climate change, it is shameful and puzzling to not see emphasis on how overpopulation cancels all efforts at reducing the spiraling effects of global climate change.

 

As noted by Alan Weisman (The World

Without

Us, 2007) and others in the truncated suggested reading list above, all efforts to reduce our carbon footprints (i.e., stomping the life from our only Earth) will have no real lasting effect unless population growth is reversed.

 

Don't read this summary before bedtime:

 
"Night and day the river flows. If time is the mind of space, the River is the soul of the desert. Brave boatmen come, they go, they die, the voyage flows on forever. We are all canyoneers. We are all passengers on this little mossy ship, this delicate dory sailing around the sun that humans call the earth. Joy, shipmates, joy." Edward Abbey, The Hidden Canyon -- A River Journey
       The adorable Kathleen and I are well, and we plan to continue to enjoy what is left of our public lands in 2010 :-))  We wish you well.  Finally, please remember, wherever you go there you are.
     Take good care, Rob   
WV home page