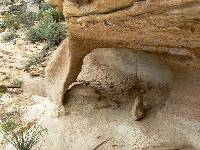 S Bass Arch
(Click the image for a full-size view)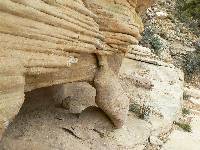 S Bass Arch
(Click the image for a full-size view)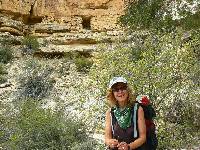 S Bass Pueblo
(Click the image for a full-size view)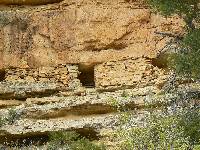 S Bass Pueblo
(Click the image for a full-size view)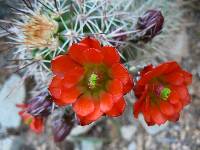 bloom follows the snow
(Click the image for a full-size view)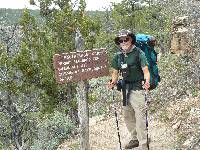 Zig at the TH
(Click the image for a full-size view)
Day 7: Bassamatic Engineering - S. Bass Historical Camp to S. Bass TH. 6.3 miles; 13 ERM.
GPS total: 52.8 miles (6.3 today); descent of 10446' (219 today); ascent of 9766' (3160 today). Total ERM - 91.
The stone steps punctuate the engineering skill that is the South Bass Trail. Hardly any elevation loss over 6+ miles and about 3200' of elevation gain. Astounding.
It's a gray day as we march up the Bass - a real treat compared to other GC trails - quiet, well engineered, with steps designed for people, not pack animals. Of course, we feel some like pack animals, and I must be the mule. A delightful bench interrupts the ascent between the Supai and Coconino, and the trail wanders through Pinon Pines. Sylvan. A small arch near the top of the Coconino layer and a pueblo ruin near the bottom of the Toroweap add zest to an already alluring climb.
Continuing gray skies and biting winds are unrelenting at the TH as we contemplate camping at the TH - deciding to go out before the storm, and making contingency plans to not miss Marvin, who is on his way in to meet us (but does not know we were given car keys for a vehicle to shuttle back to Hermit).
It's a 30+ mile dirt and sometimes clay (dry for now) road and we meet Marvin at the reservation boundary. More vehicle switching, a quick dinner at the cafeteria, and we're traveling home. Zig, Marvin, Kathleen, and I continue on as Chris heads for Smog Lake.
Snow settles over the plateau tonight.
Postscript - A most excellent adventure, albeit the cache remains at Boucher. Zig tries for a quick permit to retrieve the cache, but there is nothing available until late May. Damn - I guess we'll have to schedule another jaunt into The Canyon.
Links:

Maps:
<! --------------------------------------- this first table is to display a jpg map - centered ----------------------------------------->


Map - GC: Gems: Hermit to South Bass; 2009; 53 miles
(Click the image to see the map)

<! --------------------------------------- first table ends -------------------------------->

for a full-resolution map, click here. Caution - do not use this map or gps track for navigating the route.

Other WV reports about the Grand Canyon:

Click here or on the Looking Lizard to go to all WV reports about The Grand Canyon

<! --------------------------------------- this table provides a link to all WV reports about the GC ----------------------------------------->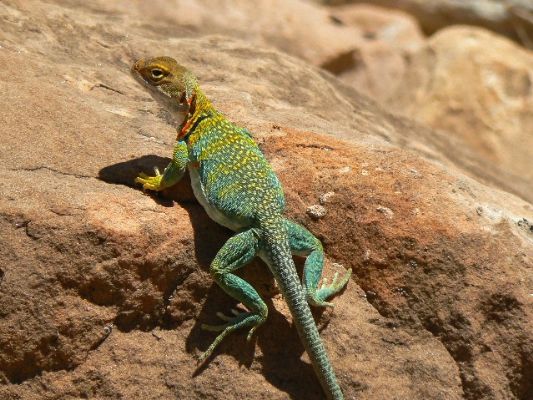 Looking for All Wilderness Vagabond trip reports about the Grand Canyon?
Click the image to go to All WV reports about The Grand Canyon

<! --------------------------------------- table ends -------------------------------->

Closing remarks:

Part 1: restore natural quiet in the Grand Canyon
An open letter to:
Steve Martin, Superintendent
Grand Canyon National Park
P.O. Box 129
Grand Canyon, AZ 86023

Superintendent Martin,

I wrote to the FAA after a visit to the Grand Canyon in the 70's, and I was told that a decision to deal with intrusive air tours was imminent. Nothing much positive has happened, and air tours routinely and frequently (nearly constantly during daylight) destroy natural quiet in the park and surrounding public lands. I am writing to request that you immediately (please, not another 30 years of delays!) work toward restoring natural quiet in the park and surrounding public lands. National security and public health issues are also important, and these are briefly reviewed below. There is essentially no valid support (except private profit as it relates to political arm-twisting) for air tours within a national park, being an anathema to the mission and purpose of the National Park Service. I urge you to completely eliminate air tours from Grand Canyon National Park. You will undoubtedly reply that this is politically "impossible." However, in support of natural quiet, the continuity of the Park, national security, and global health, I urge you to begin the appropriate containment and speedy elimination of intrusive air tours. Please:

1. Finite Number of Tours - Put a permanent cap on the number of air tour rides over Grand Canyon National Park. The number of flights should be at one-half the level it was when Congress first addressed Park aircraft noise — 1975. Then, phase out air tours to zero - over the next 3 years.

2. Curfews - The existing early morning and late evening curfews are as short as 14 minutes; they should be expanded to a minimum of 3 hours morning and 3 hours evening. One morning and evening hour of curfew should be added each year until air tours are eliminated.

3. Flight Free Zones - The area of flight free zones should be increased until natural quiet is substantially restored every day of the year. See above.

4. Quieter Technology - A transition to quieter technology should be part of the solution. Quieter technology aircraft are commonly used in Europe. We should phase out aircraft not having the latest quiet technology over the next year.

5. Altitude Limits - all aircraft (except rescue craft or NPS craft on essential missions) should maintain a minimum altitude of 3,000' above the level of the North Rim. Departure/Approach should occur over private land. Wild (unroaded) National Forest and other public lands should not become the location of displaced air tour noise and intrusions, so altitude and flight limits should also apply over these lands.

6. National Security - Air tours consume huge amounts of precious and limited fossil fuels. This is a national security issue, and encourages/supports terrorism. All governmental agencies should be involved in making us independent of coercion based on fuel supplies. Reducing and eventually eliminating air tours should be part of these efforts. The views from the rim are easily accessible to visitors in a hurry, or visitors lacking the energy or physical capacity to hike the inner canyon. Of course, with the reduction of air tours - an added bonus is that visitors might enjoy the natural quiet in addition to the spectacular scenery.

7. Global Warming - The end of Nature? Yes, there is little doubt that air tours contribute too much in the negative to this profound and universal problem. Reducing/eliminating air tours is a good thing, globally and locally.

8. Public Health Issues/national debt - Air tours should be viewed like smoking. Smoking causes medical problems for all who are exposed, willing participants or not. Air tours encourage visitors to become more sedentary, increasing public/private health care costs, decreasing productivity and causing untold stress to the nation and to families. Air tours intrude into the health of those not willingly participating in this waste of fuel and destruction of natural quiet and harmonious experience with the natural world. Air tours add significantly to stress because of their intrusive, irritating noise and visual pollution. Air tours (like smoking) should be restricted to private land where people voluntarily participate in the devastation of their health and personal (not public!) resources.

Part 2: We Are Breeding Ourselves to Extinction

We Are Breeding Ourselves to Extinction (click here for full article)

All measures to thwart the degradation and destruction of our ecosystem will be useless if we do not cut population growth. By 2050, if we continue to reproduce at the current rate, the planet will have between 8 billion and 10 billion people, according to a recent U.N. forecast. This is a 50 percent increase. And yet government-commissioned reviews, such as the Stern report in Britain, do not mention the word population. Books and documentaries that deal with the climate crisis, including Al Gore's "An Inconvenient Truth," fail to discuss the danger of population growth. This omission is odd, given that a doubling in population, even if we cut back on the use of fossil fuels, shut down all our coal-burning power plants and build seas of wind turbines, will plunge us into an age of extinction and desolation unseen since the end of the Mesozoic era, 65 million years ago, when the dinosaurs disappeared.

We are experiencing an accelerated obliteration of the planet's life-forms—an estimated 8,760 species die off per year—because, simply put, there are too many people. Most of these extinctions are the direct result of the expanding need for energy, housing, food and other resources. The Yangtze River dolphin, Atlantic gray whale, West African black rhino, Merriam's elk, California grizzly bear, silver trout, blue pike and dusky seaside sparrow are all victims of human overpopulation. Population growth, as E.O. Wilson says, is "the monster on the land." Species are vanishing at a rate of a hundred to a thousand times faster than they did before the arrival of humans. If the current rate of extinction continues, Homo sapiens will be one of the few life-forms left on the planet, its members scrambling violently among themselves for water, food, fossil fuels and perhaps air until they too disappear. Humanity, Wilson says, is leaving the Cenozoic, the age of mammals, and entering the Eremozoic—the era of solitude. As long as the Earth is viewed as the personal property of the human race, a belief embraced by everyone from born-again Christians to Marxists to free-market economists, we are destined to soon inhabit a biological wasteland.

Next, the after-backpack snow-bound excursion in The Maze, near Teapot Rock
April 14-16, 2009

<! --------------------------------------- this first table is across 3 collums, so it stands alone ----------------------------------------->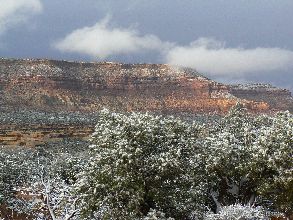 Dusted Orange Cliffs
(Click the image for the full-size image)

<! --------------------------------------- first table ends -------------------------------->

<! --------------------------------------- this first table is to display a jpg map - centered ----------------------------------------->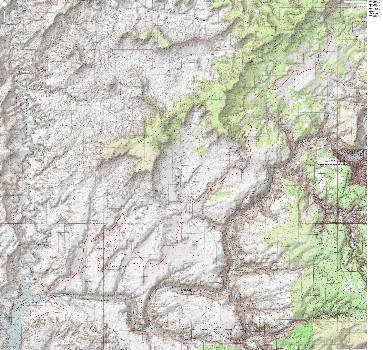 Map - UT: Canyonlands - Maze; 2009; Hite to Teapot - driving
(Click the image to see the map)

<! --------------------------------------- first table ends -------------------------------->

for a full-resolution map, click here. Caution - do not use this map or gps track for navigating the route.

Click here to see a short clip of the Horizonal snowstorm at Teapot Rock.

Day 1: Resilient Reptile Drive to Teapot Rock, The Maze District.
The lean, long juniper root straggles across most of the Waterhole Flat Road, Road 633 from near Hite to THE Maze from the South. Yikes - that's a snake, not a root, I exclaim to myself as I slide the truck tires a bit and succeed in straddling the snake, then stop and go to see if it's really a snake.
Yes, and a very upset snake, judging by the hissing and false striking when I attempt to herd her off the road. She's probably a bit cool and grumpy, why, I'm cool and grumpy standing out in this wind.
I've found a few arches along the way - including Cove Arch.
Earlier - I stop at Hite and locate the pay phone near the unmanned R.S. to call Hans Flat for completion of my backcountry permit, which is difficult with the rising gale. I laugh at the low level of the sewage pond - victim of a drought created by overpopulation of this, our only Earth. No refunds.
Bumping to a total of 38 miles from Hwy 95, I'm about 3 miles along the Teapot Rock Rd. which eventually leads to the Doll House, when I decide I've gone about a half a mile too far and find a wide spot in which to park.
Fierce winds rock and tilt the truck as I try to sleep. No rain - at least not yet.

Day 2: Listless Blast-out.
I'm hiding out in my big red raincoat and windbreak, my small red truck. A non-productive mud storm forces me to abandon my rally to start hiking. All day, gale-force winds, icy and promising, but not delivering rain or snow, have rocked the vehicle and blown away my hat.
Glipses of Standing Rocks to the NE are rare. I invest a couple of hours marking approximate locations from the WAD onto my topo quads.
Two vehicles leave - the last reporting that the area is empty of people and describing how the winds scooped sand under the tent fly - to come raining down on their faces and such. Brutal. Yet, it's better than tax day in town.
As I write these notes, a horizontal snow storm ensues. Yikes.
Yikes indeed. I gave up cowering from fierce storms and headed home, vowing to try again later.

Arches on Rd 633, from near Hite to The Maze:

Starting at MP 46.4 on Hwy 95, at the top of the hill climbing out above the bridge over the Colorado River and headed for the Dirty Devil Bridge (if you reach the Dirty Devil Bridge, turn around -you have gone too far), drive North onto Road 633, which travels to the Orange Cliffs area of The Maze District of Canyonlands NP. MP 0 for Hwy. 95 is at Hanksville, Utah.

Set your odometer to zero (0) when you leave Hwy 95. See the map above.

Maze 633 Arch 1 is on your right at 13.6 miles from Hwy 95. GPS coordinates are roughly: UTM 12 S 561441E; 4197395N; WGS84

Maze 633 Arch 2 can be seen from the car park for Arch 1, and is another mile and a half up the road.

Cove Arch is on your right at 21.4 miles from Hwy 95. Pull off on the slickrock on your right, and look just below your level and about 600 feet to the East for Cove Arch. GPS coordinates for Cove are roughly: UTM 12 S 568607E; 4202738N; WGS84

Maze 633 Arch 3 is on your left at 25.5 miles from Hwy 95. GPS coordinates for the carpark to view this arch are roughly: UTM 12 S 571511E; 4207391N; WGS84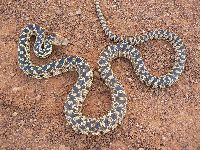 resilient reptile
(Click the image for a full-size view)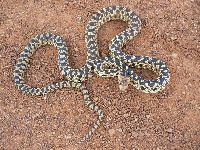 Unhappy to leave the road
(Click the image for a full-size view)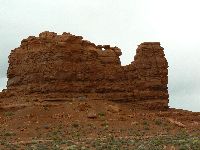 Maze 633 Arch1
(Click the image for a full-size view)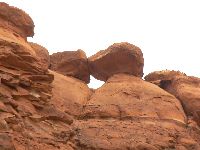 Maze 633 Arch1
(Click the image for a full-size view)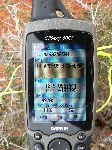 Maze 633 Arch1 GPS
(Click the image for a full-size view)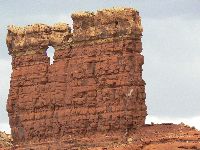 Maze 633 Arch2
(Click the image for a full-size view)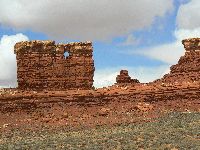 Maze 633 Arch2
(Click the image for a full-size view)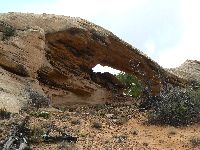 Cove Arch
(Click the image for a full-size view)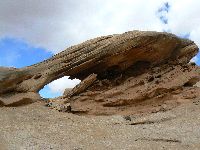 Cove Arch
(Click the image for a full-size view)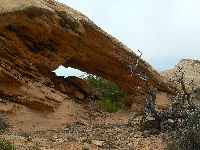 Cove Arch
(Click the image for a full-size view)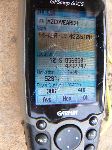 Cove Arch GPS
(Click the image for a full-size view)
Maze 633 Arch3
(Click the image for a full-size view)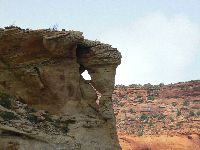 Maze 633 Arch3
(Click the image for a full-size view)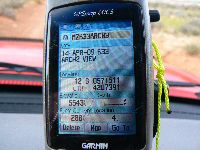 Maze 633 Arch3 GPS
(Click the image for a full-size view)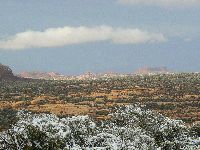 standing rocks
(Click the image for a full-size view)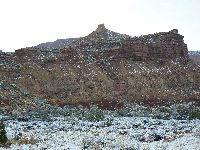 Movie of horizontal snowstorm
(Click the image to see the movie)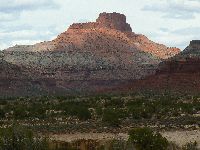 jacob's chair
(Click the image for a full-size view)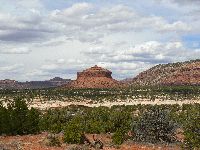 cheese box butte
(Click the image for a full-size view)
<! --------------------------------------- this first table is across 3 collums, so it stands alone ----------------------------------------->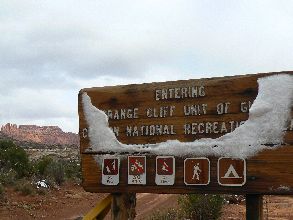 Bye for now - Orange Cliffs
(Click the image for the full-size image)

<! --------------------------------------- first table ends -------------------------------->
---
---