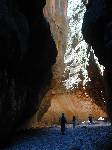 The Long Ranger report
(Click the image to go to the report)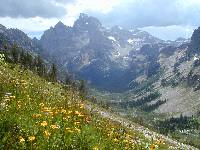 Backpacking the Tetons
(Click the image to go to the report)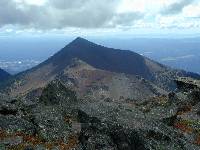 Arizona high point
(Click the image to go to the report)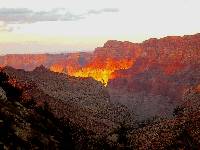 Exploring Northern Arizona
(Click the image to go to the report)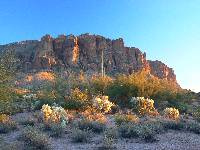 Super Superstition
(Click the image to go to the report)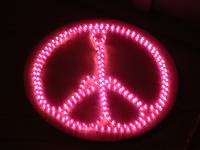 Sign of Peace?
(Click the image to go to the signs)
Click here, or on the "Trip Reports" button at the bottom of this page, to see all the reports. They are organized chronologically - the 2006 reports are at the bottom of the list.
Happy Solstice and New Year! Kathleen and I hope that the best parts of your life are "Deja Vu all over again!" As you may have guessed, this is my traditional year-end letter and review. Tune in to the reports to get a more flavorful account of our 2006 adventures, .
The highlight (or lowlight?!) of 2006 was moving to Northern Arizona. Argh, the pain of moving - well, you know. Ahh, yet the loveliness of being here... Despite how the move interrupted our lives, we managed to squeeze in some enjoyable adventures. Albeit nothing from 2006 quite compares to our 2005 Summer of delight at Little Creek Guard Station at river mile 36 on the Middle Fork of the Salmon River, one of the originally designated Wild & Scenic Rivers ( See the Salmon Sojourn! report) - we did get out a bit.
A good amount of free time in 2006 was devoted to exploring the SouthWest, including Long Ranger: Kanab Creek Wilderness: Snake Gulch to Sowats Point. This epic took us (a large group of Sierra Clubbers, Kathleen and I) ramping down into wilderness - no ORVs, no cows, virtually no people for 9 days. This adventure produced a new song, Esplanade Terrain - Sung to the tune of "Acid Rain" by the Austin Lounge Lizards.
We also hiked the Tetons on the Teton Crestival 2006!, from String Lake to Holly Lake to Paintbrush Divide to Solitude Lake to North Fork Cascade and out with Mark R.
After moving to Arizona, we hiked the Arizona high point,Humphreys Peak (12,643') in the Kachina Peaks Wilderness.
We explored our new big backyard around Northern Arizona - hiking Devils Natural Bridge, Fay Canyon Arch, Palatki Cultural Area, Dripping Springs, Bear Mountain, Mount Elden Lookout, Vultee Arch, Soldier Pass Arches, Weatherford Trail Fall Gold, Bright Angel to Indian Gardens, South Kaibab Trail to Redwall Skylight and The Tipoff, South Kaibab Trail Redux, and Tanner Trail to Cardenas Butte, yow.
And, we ended the year with the Super Superstition, an exploration of the Superstition Wilderness, where we visited Hewitt Canyon Elephant Arch, Superstition Sunsets, Dutchman Trail to the Eye of the Horse (Ojo de Caballo) Arch, and hiked the Miners Needle Loop.
Sadly, as I write this page, the misdeeds of the corporate welfare artist who shortened his name to "w" so he could spell and remember it, and whose presidency has been demoted to dwarf status (like Pluto, yet so much more deservedly) has resulted in the death of over 3000 American soldiers and hundreds of thousands of civilians. Will any of us know peace after this divider has 'decidered' that his campaign slogan was really "four more wars!" Or, perhaps it was "tyranny at home, genocide abroad!" Are there signs of peace on the horizon? bushco is mindlessly blindly supporting his lies wrapped in slogans and seasoned with large doses of fear. Master Yoda said "Fear leads to anger. Anger leads to hate. Hate leads to suffering." Perhaps this is the year we will see governing; redirecting resources from these evil crusades and working on healthcare for all, decreasing poverty and "food challenges" (starvation), proper funding and protection of our public lands, equitable taxation (rather than corporate welfare and tax breaks for the uber wealthy), returning and strengthening the bill of rights, honoring science and funding education, acknowledging then working on environmental problems (which are really public health issues and help prevent the end of nature), etc.? Peace - let's give it a try.
The adorable Kathleen and I are well, and we plan to continue to enjoy what is left of our public lands in 2007 :-)) We wish you the very best. Finally, please remember, wherever you go there you are.
Take good care, Rob <! --------------------------------------- this last table is across 3 collums, so it stands alone (the image is also larger than the others ----------------------------------------->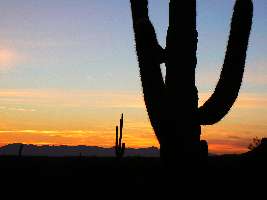 It's sunset on this year-end review, but not on hopes for Peace
(Click the image to see full-size version.)

<! --------------------------------------- last table ends ----------------------------->
---
---