K and Solitude Lake
(Click the image for a full-size view)

R, K, M in N. Cascade
(Click the image for a full-size view)

Rain-washed monkey flower
(Click the image for a full-size view)

Sunset on the Big Ones
(Click the image for a full-size view)

bear snack S. Cascade
(Click the image for a full-size view)

Solitude Lake
(Click the image for a full-size view)
&nbsp From the forest and wilderness come the tonics and barks which brace mankind. Henry David Thoreau, 1851.
To view el gordo gigabyte of photos....
click here for the web album tour that accompanies this report. Click on the "Index" and then the "Back to Home" text to return to this page.
There is a caption for each photo below the image. Please return to the below report for a more complete account of the adventure.
<! --------------------------------------- this first table is to display a jpg map - centered ----------------------------------------->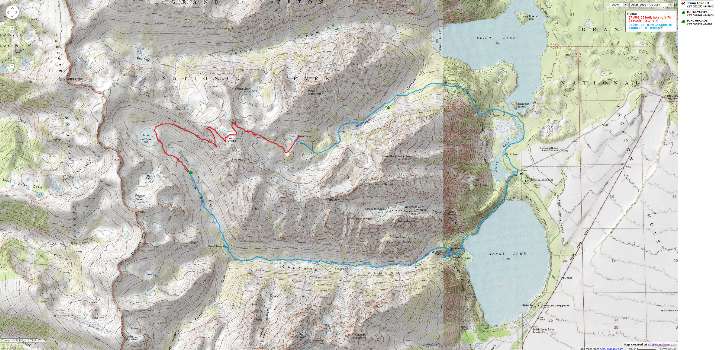 Map- Wyoming - Tetons - Paintbrush Loop - String Lk - Holly Lk - Solitude - N. Fk. Cascade
(Click the image to see the map)

<! --------------------------------------- first table ends -------------------------------->

&nbsp Day 1: Hauling Holly. (String Lake TH to Holly Lake; 6.2 miles; 2500' elevation gain.) The mosquitoes and my cold exposed toes have forced me into the tent. The pink salmon glow has faded from the toothy escarpment we dubbed 'rugged ridge,' and it's almost too dark to write inside the tent. It's the first real day of a Teton Crestival.
&nbsp We, Mark R., K, and I, are camped near Holly Lake after a rain-dotted haul up from String Lake TH. The adventure started with a long drive back to Smog Lake from Arizona, following the first part of a move. After working a few days on the house, we drove to Pocatello and enjoyed a remembrance tour of Buddy's and their infamous birth control salad. So much delightful garlic that it may act to repel suitors, unless of course you both imbibe. I was also thrilled to see another of my 'old' ISU professors, Victor J., who remains as charming and engaging as ever.
&nbsp The Crestival day started at 5:15 a.m. in Pocatello, followed by the scenic drive to Teton Village where we left Mark's car to shuttle us back to the upper TH (String Lake). Final packing and we are bordering the crystal waters of String Lake. Pine scent, the aroma of huckleberries, ahh. A cow and a calf moose ply the willows as we creep beneath the Holly cirque. Another Ms. Moose wades deep grass as we hide out from the short showers. My feet are flat and muscles tired as we pass an unnamed pond and climb more. A carpet of wild flowers graces our meadow as we inhale black beans and rice and inhaust the high altitude measure of tea (an extra quart when at altitude).

&nbsp Day 2: Paintbrush Deluge: (Holly Lake to Paintbrush Divide to Lake Solitude to N. Fk. Cascade camp zone; 6+ miles, 1350' elevation gain, 2300' elevation loss.) I'm lounging with full pile gazing out at spectacular crystalline peaks - The Grand Teton, Mt. Owens, and an unidentified lunker (perhaps the South Teton?). The air is cool and we're happy to have escaped the rain and hail for several hours.
&nbsp We started a bit late, then inched up to Paintbrush Divide at 10,700'. Grand vistas of The Wigwams, Table Mountain, Mt. Woodring, and etc and etc, and lunch. Dark skies brew over Idaho, so we start down toward Solitude Lake (9022') and are soon engulfed in a pounding hail storm. No protection out here in the land of rocks and pikas, so we continue to cover near the lake, descending on the long, steady sweeps of two prolonged switchbacks to the lake. Hiding out in the trees - it rains for about an hour, at the end of which we pop out into bright sunshine and visit Solitude Lake and absorb one of the classic views of the Tetons. Tiring now, we start down the North Cascade camping zone, investigating areas along the way and choosing one near the bottom end of the zone - just in time for the next rain. It was brief and we came out from the trees to enjoy potatoes and lentils and the dramatic Teton backdrop.

&nbsp Day 3: Flushed Out to Grand Central Commerce: (North Fork Cascade to Hidden Falls to String Lake TH; 10 miles, 1500' elevation loss.) The skies look OK this morning, belying the bouts of overnight rain. We are up early to get a good start on Hurricane Pass and over into the delights of Alaska Basin from which we hope to climb Static Peak and Table Mountain on longish day hikes. Clouds rain and hail sweep in as we begin the hike to the junction with South Fk. Cascade. Rain gear on, we note the moose are ruminating from under cover, lounging beneath stately fir. A thoroughly chewed sign warns of "bears in the area," yikes. We stop in at the patrol cabin and hunker in the rain shadow of the eves while a kindly rangerette calls for a weather update. We learn little except no one predicted the partly cloudy leaking down our necks.
&nbsp I vote to move up toward the pass, noting that "high cirrus" are reclaiming the sky. K and Mark vote to abandon the trudge, remarking that the exposed venues of Alaska Basin are unfit for Summer hikers like us. With a heavy heart, I follow my cohorts down the picturesque U-shaped valley past more moose and a diversity of berries and into a stock market of republicans. So many people! Argh. How many of this throng milling around Inspiration Point and Hidden Falls vote against their self interest and the continuity of life and science and in favor of narrow special interest fears and a widening gap between the uber-wealthy elite and everyone else?
&nbsp The population explosion eases a bit as we head toward String Lake and the TH, leaving the special views of those magnificent mammaries, our precious Tetons. Instead of the Teton Crest, we have hiked the Paintbrush Loop. Maybe next time we will hike the "High Adventure Trail" a la Paul Petzoldt, as Stan and I did over two decades ago, part of it in 1981, the whole thing in 1983.
&nbsp Now I'm catching up on writing about this tale of Teton treking, hiding out from another morning thunderstorm - my last writing from the tiny North porch of the Smog Lake house. "Adventures in moving" only grazes the edge of our experiences with the incompetent "All My Sons Movers" of Smog Lake on the first trip moving to Arizona, and now, on this second part of the move, we are delayed for two days because of broken equipment. Argh, to be back in the gargantuan clefts of the Teton backcountry, where glimpses of wilderness can be experienced.

&nbsp *Kundalini is the energy that lies dormant at the base of the spine and is said to be activated by yoga or a vigorous hike in the Tetons.

&nbsp Edward Abbey once wrote: "Wild country has the power to remind civilized people that out there is a different world, older and greater and deeper by far than ours, a world which surrounds and sustains the little world of men."

&nbsp And, in rememberance to a Man of the Tetons, Paul Petzoldt, 1974: "No one must be allowed in the wild outdoors until he can prove he is ecologically housebroken."

&nbsp Note: This report is the first written for the new server/new address, wildernessvagabond.com. This allows for larger files. I will continue to write most reports so they can be used with dial-up serviced machines, yet attempt to balance this with enhanced graphics.... Take good care and happy hiking - Rob, Paintbrush Divide Trail, August, 2006

&nbsp So, because of the spacious space of the new WV server - to view el gordo gigabyte of photos....

click here for the web album tour that accompanies this report. Click on the "Index" and then the "Back to Home" text to return to this page. There is a caption for each photo below the image.

<! --------------------------------------- this first table is to display a jpg map - centered ----------------------------------------->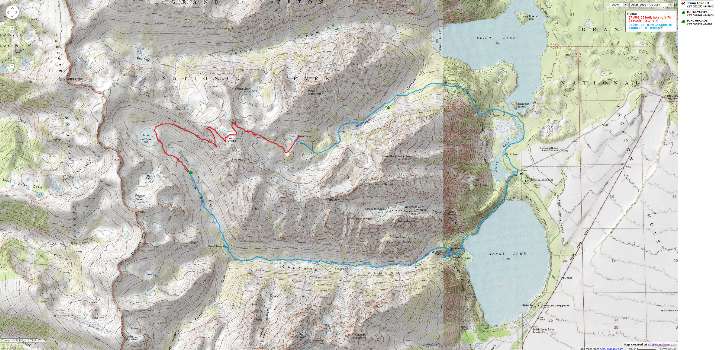 Map- Wyoming - Tetons - Paintbrush Loop - String Lk - Holly Lk - Solitude - N. Fk. Cascade
(Click the image to see the map)

<! --------------------------------------- first table ends -------------------------------->
---
---