Signs of the times?
(Text and Photos © copyright by Rob)

This page contains photos from many different trips.
I have consolidated them here for your enjoyment...

So, get ready, and here we go.... :-)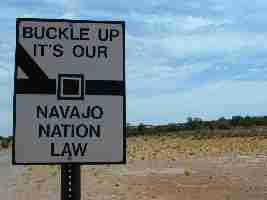 Buckle up!
(Click the image for a full-size view)
Other specialty pages on the Wilderness Vagabond site:
Scenic Toilets of Inner Earth
Pleasant Panoply of Panoramas
Hot Springs Excursions in Idaho, Utah, & California
Pictographs and Petroglyphs
Flowers, Trees, and Shrubberies
Click on the thumbnail photos to see a full-size view.
Three reminders - for maintaining freedom as the distance between church and state.
When religion is allowed to elect, evil is what we get:
---























The following photos were contributed by Bob Fagley, The Archman.
To view Bob's Arches page, click here.
---
Nevada and Intermountain Fence Art

Click on the thumbnail photos to see a full-size view.
Some additional thoughts, and thinking rather than getting "info" from the ultra-conservative media is important because:
Anyone who has the power to make you believe absurdities has the power to make you commit injustices -- Voltaire, 1767
Where is there dignity unless there is honesty? --Cicero (106 BC - 43 BC)
The only thing worse than wisdom on ice is ignorance on fire, as in the republican party, Newt Somebody
To the man who only has a hammer, everything he encounters begins to look like a nail. Abraham H. Maslow
What we see depends on mainly what we look for. John Lubbock
The fact that an opinion has been widely held is no evidence that it is not utterly absurd; indeed in view of the silliness of the majority of mankind, a widespread belief is more often likely to be foolish than sensible... Bertrand Russell
Knowing ignorance is strength. Ignoring knowledge is sickness. Tao Te Ching of Lao- tsu
Reason and free inquiry are the only effectual agents against error. Thomas Jefferson
To get a less-biased reporting of major issues, click here.
To view true Democracy in action, click here.
---
---
And - Other specialty pages on the Wilderness Vagabond site:
Scenic Toilets of Inner Earth
Pleasant Panoply of Panoramas
Hot Springs Excursions in Idaho, Utah, & California
Pictographs and Petroglyphs
Flowers, Trees, and Shrubberies

If a man walks in the woods for love of them half of each day, he is in danger of being regarded as a loafer. But if he spends his days as a speculator, shearing off those woods and making the earth bald before her time, he is deemed an industrious and enterprising citizen. (Henry David Thoreau, naturalist and author (1817-1862))

My religion is kindness. The Dalai Lama