Superstition Wilderness Backpack


"T" is for Tortoise

Peralta TH to Miner's Needle to LaBarge canyon and box to Charle bois Spring to Black Top Mesa loop to Terrapin Trail

March 13-17, 2010


Text and photos © copyright by Rob Jones



With Bob Grant
New arches: Laconic Dodo; Pyramid Peeper; Devil-OH; Emperor & his dog Window

<! --------------------------------------- this first table is across 2 collums ----------------------------------------->
Bluff Spring Mountain
(Click the image for the full-size image)

Laconic Dodo Arch
(Click the image for the full-size image)
<! --------------------------------------- first table ends -------------------------------->

"In our haste to "progress," the economics of ecology are disregarded by citizens and policy makers alike, the result will be an ugly America." Stewart Udall, former Secretary of the Interior, of Arizona, who died at age 90 on March 21, 2010.

And – from the tea bag used on Day 4: "The world is a tragedy to those who feel, but a comedy to those who think." Horace Walpole (1717-1797). (No, this comparitively sentient tea bag is not akin to those pygmy intellect "tea baggers," who would sell out our freedoms to meet some idosyncratic face valid goal.)

Total trip miles hiked = 31.0 miles total; ERM = 54.8 .
ERM = Energy Required Miles. A mile is added for every 500' elevation gain or loss. It's a very serviceable method of estimating energy required miles.

<! --------------------------------------- this first table is to display a jpg map - centered ----------------------------------------->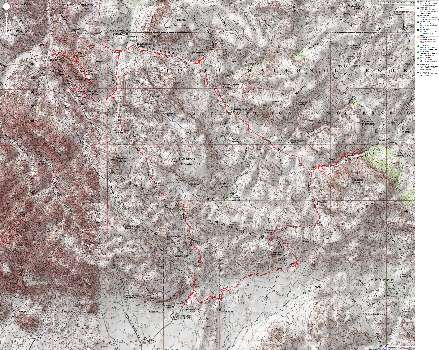 Map - AZ: Superstition Wilderness; 2010; 31 miles
(Click the image to see the map)

<! --------------------------------------- first table ends -------------------------------->

for a full-resolution map, click here. Caution - do not use this map or gps track for navigating the route.


I suggest - lilt through this report and start downloading the movie (video) while you read the narrative and inspect the photos - this way the movie will pop up while you are still scrutenizing the scenic Superstitions.

<! --------------------------------------- this table is across 3 collums, so it stands alone ----------------------------------------->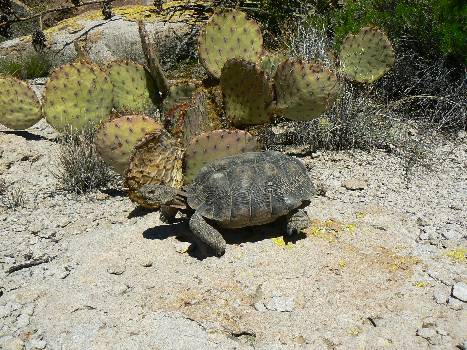 Movie of a desert tortoise, Day 5 - 7 MB
(Click the image to see the short video - 7 MB)

<! --------------------------------------- table ends -------------------------------->
Day 1 Garden
(Click the image for a full-size view)

Peralta TH Scenic Toilet 1
(Click the image for a full-size view)

Peralta TH Scenic Toilet 2
(Click the image for a full-size view)

Bob on Dutchman Tr
(Click the image for a full-size view)

Miner's Needle
(Click the image for a full-size view)

Day 1 Poppy
(Click the image for a full-size view)
(Photos and the narrative of the trip continue below.)
Day 1: Short on Whiskey: Miner-Whiskey saddle/pass. 5.4 miles; ERM = 8.5; 1200 up; 400 down; camp at 3370'
The garden of poppy, lupine, other blue and yellow flowers sways in the warm breeze. Picking our way through the rocks scattered along the trail, making the trail, we encounter lots of flowing water. The Phoenix area has received lots of rain, with more just last week.
The morning began with scraping ice off the car window and trundling down from 7000' to not much above 1500', then, after lunch at Elvira's Mexicana in Apache Junction, we climb to the Peralta TH, shuffle equipment, and start hiking around 2:30p.
At Miner's Needle pass, we veer East and hike more uphill toward Whiskey Spring and the fabled LaBarge slot and box, running low on daylight. At the pass, we see a luscious green zone of low forbs and decide to camp. With water everywhere, many good sites become possible camps. It's 63F when we stop and near 40F (and falling) while I'm writing these notes by headlight.
It's another trip for the Caldera Cone alcohol stove, and it cooks dinner 1 nicely, giving me time to finish these notes.
Day 2: Laconic Dodo, and Happy Birthday Ed Abbey: To LaBarge Spring and LaBarge Box; Pyramid Peeper and Laconic Dodo Arches. (13.0 miles total trip so far) 7.6 miles; 1400 up; 1900 down; ERM = 14.
Gription brush tears my skin like the sickle claws of a big cat and the vicious greedy fingers of bail-out bankers, desiring to take and take all your lifely bits. I like the cats much more. The world needs big predators, not predatory bankers. Simply, it's the repulsican motto "Socialize loss and privatize gain! in the name of God and fear!" The excesses of greed and selfish population explosion make the tiny plots of wild country all the more precious. Hurrah for the Superstition Wilderness.
The nasties thin as I get farther from the riparian zone of LaBarge Creek, zigging up the low ridge to Laconic Dodo Arch. Deluxe!
The morning began thawing fingers and wiping condensation from the TarpTent. Then, we drop off the pass to Whiskey Spring and on to the junction with LaBarge Box. Hiding packs, we explore through the box, spying Pyramid Peeper Arch along the way
Down LaBarge Creek we roll, passing several forb-carpeted camp areas, on a generally gentle and not-so-rocky trail, arriving at LaBarge Spring area and junction with the Dutchman 104 Trail.
Our high temperature of near 70F rapidly diminishes after sunset, initiating a cool night.
Directions: Laconic Dodo Arch: This arch can be seen from less than a half mile up LaBarge Canyon from its junction with Whiskey Spring Canyon.
Hike from the Peralta TH, over Miners Summit (Near Miners Needle Arch), turning toward Whiskey Spring near this summit. Hike down canyon in Whiskey Spring Canyon to its junction with LaBarge Canyon. Heading upstream in LaBarge, look South along the nearby low ridge for Laconic Dodo Arch. You are approximately 8 miles from the Peralta TH. Laconic Dodo because it says much in a Spartan, graceful, Dodo-arched form.
As seen on the map, the GPS coordinates for this arch are:
UTM 12 S 471617E; 3698839N; WGS84
Directions: Pyramid Peeper Arch: From where the trail traveling down Whiskey Spring Canyon crosses LaBarge Creek, near the viewpoint for Laconic Dodo Arch, hike up LaBarge Canyon, toward LaBarge Box for about 0.75 miles. You will see Pyramic Peeper Arch on the left, North, side of the trail at the approximate coordinates of:
UTM 12 S 472320E; 3699547N; WGS84
LaBarge Box - Day 2
(Click the image for a full-size view)

Laconic Dodo Arch 1
(Click the image for a full-size view)

Laconic Dodo Arch 2
(Click the image for a full-size view)

Laconic Dodo Arch 3
(Click the image for a full-size view)

Pyramid Peeper Arch 1
(Click the image for a full-size view)

Pyramid Peeper Arch 2
(Click the image for a full-size view)
(Photos and the narrative of the trip continue below.)
Day 3: Charle bois or not? To Terrapin Trail. 5.1 miles (18.1 total); 650 up; 550 down; ERM = 7.3; camp at 2650'.
The pool is deep, perhaps four feet deep, and supports an oasis containing Sycamore and perhaps a Cottonwood or three. Several blobs appear to be large tadpoles. We've sauntered to Charle bois Spring to seek haven after a gription plant and sun-baked brain hunt for the Peralta-style petroglyphs (or, a representation of where is the lost Dutchman Mine; or the chemical diagram of DDT) that are "easy to find." An unrequited quest!
We ford LaBarge Creek for the last time this trip and continue to the junction with the Cavalry Trail, which heads North into Marsh Valley. Bob and I strike West, through a desert delight which soon is choked with Holy Oaks and lots of gription plants, arriving at yet another stream just prior to the Terrapin Trail 234. We camp just before 234 begins its ascent on the East side of Weaver's Needle to Terrapin Pass.
Frogs trill as the sun paints the flank of Bluff Spring Mountain a Dutchman Gold, silhouetted by the hulking anthropomorphs of Saguaro Cactus.
Fifteen minutes and 1.5 ounces of denatured alcohol cooks water for Bob's two freeze-dried meals and my Idaho potatoes and tuna. Yumm. At 6 ounces for the stove, spoon, wind screen, food grade container - which doubles as bowl and cup - and another 5 ounces for the pot (total 11 ounces, total cook kit and utensils), this Caldera Cone stove and Evernew 1.3 liter pot are a dream compared to those Bunsen burner monsters. We are using a bit less than 3 ounces of alcohol per person per day, cooking over a liter for breakfast, and about 2.5 liters for dinner. And, the alcohol is a renewable product. Not a weighty issue, delightful!
Day 3 LaBarge
(Click the image for a full-size view)

Cavalry-Dutchman Jct.
(Click the image for a full-size view)

Bluff Spring Mountain
(Click the image for a full-size view)

Bluff Spring Mountain
(Click the image for a full-size view)

Weaver's Needle
(Click the image for a full-size view)

Weaver's Needle
(Click the image for a full-size view)
(There are - More photos below the trip narrative.)
Day 4: Black Top Blowout: Loop around Black Top Mesa, Devil-OH Arch. Day hike. (25.3 total miles so far); 7.3 miles, 1700' up; 1700' down; ERM = 14.
The bulk of Weaver's Needle punctures the horizon of verdant forbs and grasses studded with polished ebony basalt boulders. I'm nearing the top of Black Top Mesa, on a quest for "Spanish hieroglyphs." I suspect they are really petroglyphs, and thus they are, when I finally locate the faded features among graffiti from cowboys and others with their brains resembling repulsicans.
What a delight – fine views, soaring Redtail and Turkey Vultures, and solitude. Heading back to Bull Pass, where this side trail starts, I spy Devil-OH Arch peeping from the tuff bluffs. There appear to be other natural bridges or arches in the channels between the fins, as seen from the West side of the pass – yet, I continue along because the hours have passed and more exploration is ahead.
I continue to the Ojo de Caballo Arch view near the old Aylor Camp, pausing for a cool hat and shade break – then encounter four groups of hikers sullying my wild exploration. Continuing around to the Terrapin Trail, I meet up with Bob just before sunset. Bob has enjoyed the day prospecting for old mines, seeking gold flakes in the stream, following the lost Dutchman of yore.
Directions: Devil-OH Arch: The name came from the two devil horns framing the arch. This arch can be seen from the social trail leading to the top of Black Top Mesa. Leave Trail 129 nearly at Bull Pass at UTM 12 S 464312E; 3702347N; WGS84, and walk uphill for about 0.2 miles, watching the bluffs to the West and your GPS for these approximate coordinates:
UTM 12 S 464364E; 3702125N; WGS84
An unnamed NB can be seen if you carefully look into the flutes of the bluff (South of trail) near Devil-OH as you drop off the West side of Bull Pass.
Continue West toward East Boulder Creek for a bit over 0.5 mile, looking low to the right (North) side of the trail for the next unnamed NB. Very roughly, the coordinates for this NB are:
UTM 12 S 463750E; 3702524N; WGS84
Day 4 on Black Top Mesa
(Click the image for a full-size view)

Black Top Mesa Petro
(Click the image for a full-size view)

Black Top Mesa Petro.
(Click the image for a full-size view)

Devil Oh Arch
(Click the image for a full-size view)

Unnamed NB Near Devil OH
(Click the image for a full-size view)

Unnamed NB near E Boulder Cr.
(Click the image for a full-size view)
Day 5: Terrapin Tortoise!! T is for Tortoise! To Peralta TH, completing the loop-de-loopo. (31.0 miles total) 5.7 miles, up 1227'; down 1455'; ERM = 11; (Total ERM = 54.8); TH at 2380'. The Emperor and His Dog Window.
"Tortoise!" Bob cries, interrupting my photo shoot of The Emperor and His Dog Window near Bluff Saddle. "What – yoweee!" I exclaim as the charging reptilian thunders along the trail, then veers into the brush. Before escaping our view, I get a few photos and a brief video of this desert dweller. A tortoise on the Terrapin. Definitely the sighting of the trip.
Directions to the Emperor and his Dog Window: Hike about 0.2 miles South of Bluff Saddle (or about 3.5 miles North of Peralta TH toward Bluff Saddle) and look about 500' to the East for the easily seen Emperor and his Dog Window. The trail viewpoint for this window is about:
UTM 12 S 466788E; 3698436N; WGS84
Perfectionists will note that this does not meet the strictest criteria for a window because there is a gap in the rock forming the window.
We begin to encounter more people, yet find that the parking lots of Peralta are not shimmering in reflections from windshields. The area has really cleaned out compared to when we started.
Soon, we are plying our way toward the city with no reason to exist, a city sucking power, more power running those air conditioners in this hot sun-seared basin, sucking the dry desert drier, expending all but human life and golf courses. Akin to Las Vegas in its contradiction for city placement, one wonders which water basin/aquifer and contingent of wildlife will be sacrificed to the ideology of the cancer cell, unrestricted growth. The republican-produced recession, of course, benefits those that must contend with the many repulsicans of the Phoenix area by slowing the rampant building. The same can be said of Las Vegas. It's interesting to note that these two cancer cells, Phoenix and Las Vegas, are among the cities hardest hit by slumping housing prices.
Prophetically, despite the relatively early afternoon hour, we are trapped in numerous traffic surges before we escape the overpopulation madness and trundled toward the snow-dotted landscape of Northern Arizona, humming ""T" is for "Tortoise," it's good enough for me!" Since becoming involved with some delightful possible new additions to the family, I'm (more often) reminded of the iconic Sesame Street – not much of a journey for me. S is for Superstition (and it's also for Selway, Sawtooth, Salmon, Sierra, etc.). And today, T is for Tortoise!
Day 5 View from Bluff Saddle
(Click the image for a full-size view)

emperor-and-his-dog window 1
(Click the image for a full-size view)

emperor-and-his-dog window 2
(Click the image for a full-size view)

T is for Tortoise
(Click the image for a full-size view)

Day 5 - Bob, almost out
(Click the image for a full-size view)

Leaving the scenic toilet
(Click the image for a full-size view)
Links:

Map:
<! --------------------------------------- this first table is to display a jpg map - centered ----------------------------------------->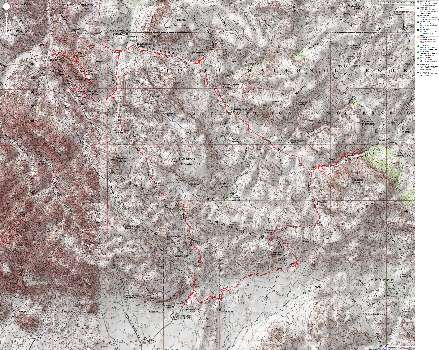 Map - AZ: Superstition Wilderness; 2010; 31 miles
(Click the image to see the map)

<! --------------------------------------- first table ends -------------------------------->

for a full-resolution map, click here. Caution - do not use this map or gps track for navigating the route.

Movie:

Click here to: see a video of a Desert Tortoise, Day 5. (7mb)

Previous WV Reports about The Superstition Wilderness:

Super Superstition: Hewitt Canyon Elephant Arch, Superstition Sunsets, Dutchman Trail to the Eye of the Horse (Ojo de Caballo; Aylors) Arch, Miners Needle Loop (2006)

Super Superstition #2: Crosscut Trail, Weaver's Needle loop, Boulder Trail 103, & Second Water Trail (2007)
---
---