WIND RIVER RANGE INTRO
Ecobust Along New Fork:
A Super-Natural Figure-8 in the Bridger Wilderness:
Willow Lake --> Peak Lake --> Knapsack Col --> Titcomb Basin--> Dinwoody Pass --> Island Lake --> Twin Lakes -->Penny Lake --> Upper Boulder Basin --> New Fork Lake
September 3-13, 1987
by Rob Jones
(Text and Photos © copyright by Rob Jones)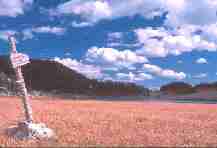 Meadow near Round Lake
(Click the image for a full-size view (22k); Photo by Rob)
Steve and Rob prepare for glacier travel
(Click the image for a full-size view (12k); Photo by Rob)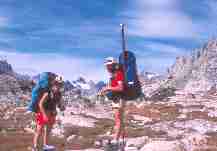 Lori and Jim in Titcomb Basin
(Click the image for a full-size view (20k); Photo by Rob)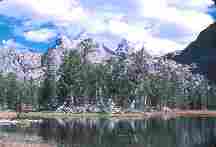 Near Vista Pass
(Click the image for a full-size view (28k); Photo by Rob)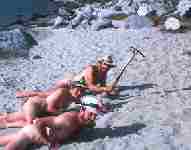 Jim, Lori, and Rob practice self-arrest on the treacherous sand of Island Lake
(Click the image for a full-size view (7k); Photo by Rob's pack)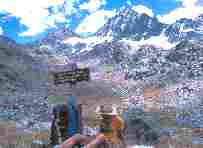 Rob at trail end near Peak Lake, Legion Peak above
(Click the image for a full-size view (22k); Photo by Jim)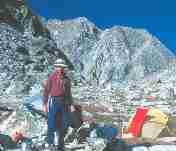 Jim at camp, Titcomb Basin
(Click the image for a full-size view (18k); Photo by Rob)
---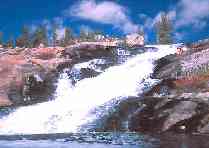 Lori and Jim and the Big Water Slide
(Click the image for a full-size view (9k); Photo by Rob)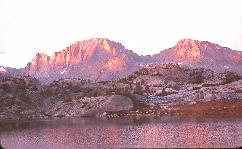 View from Camp 6
(Click the image for a full-size view (16k); Photo by Rob)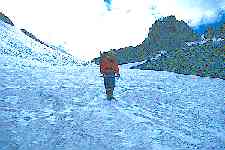 The Ice of Knapsack Col
(Click the image for a full-size view (10k); Photo by Rob)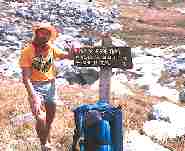 Rob at the terminus: Knapsack Col
(Click the image for a full-size view (13k); Photo by Rob)
---
Link to another trip report about the Wind River Mountains:
Do The Washakie: Backpacking the Wind River Mountains: Big Sandy Openings to Washakie Pass & Peak, Lizard Head Trail, Cirque of The Towers
---
---
Preparation: Nine breakfasts for four, a couple of tubs of anzacs (see below), a durable cookie revered to rival the trusty beer bread and bagels for ability to withstand a trip's impact and remain delectable. My task also included he preparation of two dinners for the group. Decide which, or more appropriately scrounge through, the lunch entrees. Organize the equipment, sort out the group gear and place aside the unnecessary or duplicate items. Then I went over to the library at the U of U to attempt to borrow the map quads which the Great Sinclair has not been able to find, then over to the USGS to purchase four - since the U didn't have any of the sections we needed. Should I throw in the racks for the car? Better take them along, as it would be a ponderous load for the little car, and extra space would almost certainly be needed. Would the tires hold out? How badly will the springs be overloaded? The car would look like a squatting giardia-infested dog weaving down the road.

ANZACS: (p 63, 1986 edition of Simple foods for the pack)
1 cup whole wheat flour


1 cup unsweetened coconut
1 cup brown sugar
1 cup rolled oats
2 cup butter
2 tbls water
2 tsp baking soda
1 tbls molasses or honey

Combine the flour, coconut, sugar, and oats in a large bowl. Mix well. In a small saucepan melt the butter with the water, soda, and molasses. Add this to the dry ingredients, and mix well with your hands. Shape into cookies and bake on an oiled cookie sheet at 350 for about 20 minutes or until nice and brown. Cool on a rack. (As in most cookie recipes, one needs to double this batch to get much of anything.)

<! --------------------------------------- this first table is to display a jpg map - centered ----------------------------------------->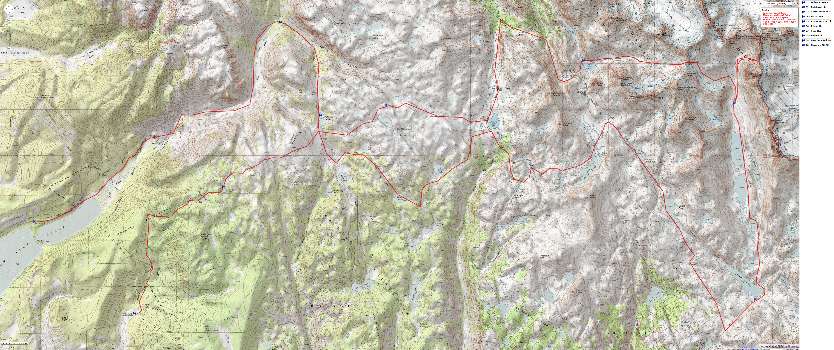 Map: Wyoming: Wind River Mountains: Willow RS to New Fork Lks; rough route
(Click the image to see the map)

<! --------------------------------------- first table ends -------------------------------->

If you want to view a full-resolution map, click here. Caution - do not use this map or gps track for navigating the route.

Day 1: Danniel Drive: SLC to Danniel, Raincamp: Jim Sinclair, Lori Neumann, and Steve Stevenson arrived in the land of zion from the flatlands of Wisconsin at 1:30 p.m. We were able to cram everything into the car, with little room to spare. We started with lunch at La Frontera (yummy smothered burritos), then the compulsory trip to REI and a stop for more food (as if we needed more), and finally a search for a boot repair establishment for Steve's boots. We got out of town around 3:30 P., and, we could have used an earlier than alpine start. Then we drove to Evanston (fishing licenses here) and on through Kemmerer to Danniel. We camped amidst a sudden rainstorm. Our jeans were soaked, but otherwise we were OK, and happy to be closing in on the trailhead.

Day 2: Car Demolition Day: Danniel to Rainbow Lake Outlet:

(3 miles hiking) We continued our drive into Pinedale, Wyoming for breakfast, gas, tackle shop, Ted's Rockshop ("rocks by God, polish by Ted"), and eventually on the road to Cora, WY. Ted and his wife turned out to be old-time Pinedale residents with a somewhat surprising and refreshing politically leftward lean. From ranch to dude ranch to lapidary work.

Mucky abandonment of our original plans to enter via the New Fork Lake Narrows Camp entrance ensued. The new segment of the road was closed, and barely negotiable; so what would the old segment be like? We didn't dare find out the answer to this question. Over to the Willow Creek R.S. entrance we drove, hoping for better conditions. We slipped and spun in nearly two miles before recognizing the extent of our error, and the probability of total car destruction. Unable to turn around, we were forced to back out about a third of the distance accompanied by great complaints issuing from the mechanical underbelly of the Lynx. Broken muffler hanger, wheels ajar, what else? We wandered around awhile, returned for a second look at the New Fork entrance, and received bits of advice from two sage locals ("impassable until the Forest boundary"). Of course, there was no hope of slithering in to the Forest Service boundary. We sulked back toward Pinedale, thinking that our two options consisted of altering plans and entering via the Elkhart G.S. or hiring an outfitter to drive us in to one of our original destinations. As we passed the Willow Creek Road, someone " discovered" an alternative, ask the rancher just off the highway for a ride in. John Barlow (proprietor of the Bar Cross Ranch, Cora, WY) eventually gave us a ride into the Willow Creek R.S. entrance.

First we asked some genuine-looking cowboys if they could give us a ride, but they directed us to the "boss-man" Barlow. Drinking Jim Beam and cantering their horses, they were enjoying another day of intermittent rain, mud, and hard work. The eventual result was a bumpy ride into Willow Creek, with Jim & Steve flying around in the bed of Barlow's pickup along with the packs, which bristled with ice axes, crampons, and assorted implements of destruction. Lori and I rode in the front with an obviously intelligent and finely literate Barlow, who told us of his lifelong "retreat from wealth." Declining an offer to attend Harvard Law School (and thus not becoming a "burden on society") he opted to take over his Great Uncle's approx. 7000 acre ranch/farm (the Bar Cross). Began as a homestead, the Barlow spread had grown over the years. Poor production years and lousy beef prices had caused difficulty for the industry as a whole, and Barlow. We had to apply pressure to convince John to accept some money for gas. His generosity embodied one of the "codes of the West" I have witnessed far too infrequently since my younger days in Idaho. Barlow expressed it as "you would help me out in a similar predicament..." This shuttle provided a great assistance to the start of our hike; that is, Barlow saved our butts.

After a gorp stop at the trailhead, we got on the trail around 4 P. Bound for Rainbow Lake, we would camp along the Rainbow Lake outlet at approx. 9400'. It appears that Sinclair has the heaviest starting pack this time. His cavernous Gregory is maxed out, plus. Alpine spaghetti, an early rising of the nearly-full moon, and plummeting temperatures concluded the day. (Overnight low of 28.)

Day 3: Into the Winds, Bridger Wilderness: Rainbow outlet to Cutthroat Lake.

(about 6 miles) With most of my clothes out and on already, I wondered what would happen if it got genuinely cold? We enjoyed a couscous breakfast before the climb up to Rainbow Lake at 10,200'. We entered the Bridger Wilderness just before reaching Rainbow Lake. Across the Continental Divide to the NE lies the Fitzpatrick Wilderness. "Bridger Wilderness" is an infinitely more appropriate use of this namesake than when attached to a coal-fire power plant. Like the insult of associating the name of Powell with the degradation sewage lagoon ("Lake" Powell, AKA "Foul Pond"), the name "Bridger" should not be linked to industrial avarice and environmental destruction.

Rainbow Lake turned out to be a sunny and warm place for an early lunch. Climbing above timberline, we passed Doubletop Mountain (trail at 10,700', mountain at 10,867') and continued on to Palmer Lake at 10,200'. Then we huffed back up to Cutthroat Lake at 10,700' amidst tremendous alpine/tundra-like scenery. Just after setting up camp, we were pounded by a graupel storm accompanied by a 20 degree drop in the ambient temperature. Turning everything white, yet the storm was immediately followed by sunshine and blue skies. Ah, diversity. We munched on barley, rice, tuna, and vegies for dinner (but, alas, no fish). (Overnight low of 24.)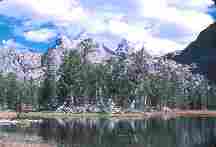 Near Vista Pass
(Click the image for a full-size view (28k); Photo by Rob)
Day 4: Undeveloped Route to Peak: Cutthroat to Peak Lake (About 8 miles.) We hiked down from Cutthroat to Summit Lake. How does one go down to a "summit"? we wondered. It's a barren place. I wouldn't want to camp right on the lakefront unless the weather was stable and the fish were biting. We had gorp stop #1 leaning against the trail sign. No mileages were indicated. Like in the Uintas, we were appreciative of the lack of info on the Wind River signs. From Summit Lake, we hiked North over Green River Pass, then began the drop toward Three Forks Park and the Green River Lakes entrance. We would turn E and climb over Vista Pass long before reaching Three Forks, however. We shivered through a welcome dip in the frigid waters of Trail Creek. It was time to change a quart of oil in my hair.
Continuing on down toward Three Forks Park, we turned and headed toward Vista Pass. We were on the loop around Skypilot Peak, which would take us to the opposite side of the mountain from Summit Lake. Not very far, straight line; but the round-about version was much easier, especially with heavy packs. There were Whortleberries with a tinge of frost along the route to Vista Pass. I heard grunting and slurping noises from the others. Whortleberries! But a lot of work is required to harvest this tiny berry. Gorp stop #2 was near the tiny lake at the pass, where we stayed in the warming sun even though we had received more than our share of UV light today. Then, we dropped toward the headwaters of the Green gorge, and began the "unimproved" route to Cube Rock Pass near Daniel and Peak Lakes. We hopped through boulder fields, but an adequate trail had been added, including some blasting. I was getting cool as I approached 10,600' at Cube Rock Pass. Waiting for the group to reassemble, I added a wool hat, windpants, and a quilted pile jacket. Straight up the canyon was an obvious pass that Jim and I thought was Shannon Pass (Shannon is actually along Peak Lake). Danniel and Peak Lakes are near the level of Cube Rock Pass, and only a short hike was necessary to reach Peak Lake. But where to camp? Rocks and sidehills predominate. We quickly set-up camp in an OK area. It was a long descent to obtain water, as we were camped near the Shannon Pass/Stonehammer Lake trail junction far above Peak Lake (27 degree low.)
Steve and Rob prepare for glacier travel
(Click the image for a full-size view (12k); Photo by Rob)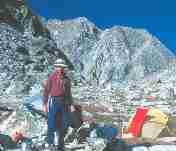 Jim at camp, Titcomb Basin
(Click the image for a full-size view (18k); Photo by Rob)

Day 5: Col Climb (the throne cirque of the mountain gods): Twin Glacier via Knapsack Col, into Titcomb Basin:

(5+ miles, almost all off route.) We got on the trail at our now traditional 10:30 A. or so. These are true alpine starts. Another decision day, as we could go over Shannon Pass where there's an extant trail. But no. We headed around to the W & N of Peak Lake, into the lightly traveled upper basin. A worn way guided us past the small lakes above Peak, then abruptly stopped at a weathered sign announcing "end of horse trail". No kidding, the boulder hopping would soon become too difficult for any but the winged Pegasus. Perhaps Jazzman Skywalker, a handsome charcoal Morgan horse I saw at the Utah State Fair on Sept. 17th, could have ascended the col – but this is an empirical question to be sure.

A col is a pass. Peak Lake is at approx. 10,600', while the pass at Knapsack Col is 12,240'. As we methodically worked our way up the col, incredible vistas developed, punctuated by the granitic teeth of Stroud, Sulphur, Bow, Arrowhead, American Legion, & Winnefred Peaks on the East side of the Col and Split Mountain, et al., on the West. We dodged a few retreating snowfields and took a few less than optimal route versions which earned us some wobbly rock hopping. The sight of the apparently building clouds kept us moving, but the altimeter remained stable, so not to worry. On top! It had taken around 3+ hrs. to scramble from Peak Lake. What a great view - now we could see the Stroud Glacier as well as being regaled with even finer views of the Peak Lake cirque mountains. No time to dawdle, since we had several more miles to cover, and the next couple were a traverse of the Twin Glacier.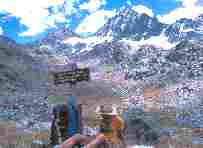 Rob at trail end near Peak Lake, Legion Peak above
(Click the image for a full-size view (22k); Photo by Jim)
Gaiters on, strap on the crampons (time to put on the "pointy things" - a Crumlinism, by John Crumlin, a Scottish friend), and prepare the ice axes for duty. Wind pants and an anorak were also necessary. The top segment of the glacier, over an old cornice, was the most difficult, and felt a bit tenuous to me. There was no gradual reintroduction to this snow craft stuff this time. At lower angle, the watermelon snow was especially pungent - and it really does smell like that plump, glorious globe.
After a good workout of the ankles, the etiquette of even sloppy French technique is exhausting, and after a couple of crampon reattachments we had milked the snow route as much as possible. Back on the rock route, we lumbered. It was very near sunset, and it looked like we would be bumping along in the dark in search of a campsite. However, we clambered down a sideslope and into the drainage formed by flows from the Twin Glacier and the snowfields of Dinwoody Pass. Pretty good walking, the roiling water ("just seconds off the glacier", as we used to say at Treasure Mountain Scout Camp) guided us into the obvious upper region of Titcomb Basin, about a mile above the upper Titcomb Lake. We promptly found a grassy tuffett among the boulders below Mt. Helen and set up camp. Although the temperatures were not bad, all the cloths in my mountain trousseau were minimal in preventing hypothermia due to wind chill. We would learn over the next two days that this area is a natural wind tunnel. Shades of vermilion accompanied the end of the day. A tough haul over a paltry five miles of rock and ice, and we're in the throne cirque of the mountain gods. The Wind River moon was full, so star gazing was very brief and not spectacular. Instead, we eyed the evening orb. (Overnight low of 31.)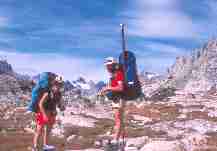 Lori and Jim in Titcomb Basin
(Click the image for a full-size view (20k); Photo by Rob)

Day 6: Dinwoody Day: Pack-free day on Dinwoody Pass:

Today, we roved up to 12,800' for the whole earth experience of an arctic gale and gazing at Gannett Peak (13,804'), highpoint of Wyoming. We enjoyed a typically late arousal from the tents, but the wind was already up, and greeted us with piercing puffs through the pile jackets. During a leisurely breakfast of eggs and potatoes, which we cooked in the lee of giant erratic (granite boulder deposited by a long-gone glacier), we looked up to see Steve's tent tumbling across the glacier-scraped granite like a possessed box kite. The damage report included several tears in the fly and a hole in the floor. I hope we escape bad weather. We moved camp a couple of hundred yards down canyon, in an attempt to find semi-calm cooking locations. Lori and Steve set out for Mistake Lake and Summer Ice Lake in search of trout dinner. The Great Sinclair and I pealed the lids (top pockets) off our ponderous packs and prepared fanny packs for a high-rise jaunt to Dinwoody Pass. This was a climb of 3400' over five miles or so - from camp at 10,900' to Dinwoody at 12,800' and back. Still steady, the altimeter has not required recalibration since Peak Lake. Wow. When we reached Dinwoody, the reading was within 10' and I had not altered the dial in two days. This is unusual for mountain travel, and it is highly unusual for the Wind River Range, according to what we have heard.

There were expansive snowfields above the confluence of the Twin Glacier/Dinwoody flows - we were thinking ice axes would be appropriate for the return, but they were back in camp assisting in the anchor of the tents. A 45 degree climb awaited us, increasing to 50, and perhaps to 60 near the summit. We passed a slowly moving group of four glacier hikers on our way up. They looked beyond exhaustion, stumbling toward a base camp we would later see nestled in the boulders near the confluence. Wearing shorts most of the way up, we added wind pants for the final 500', then scrambled for the wool hats, anoraks, and gloves while taking in the arctic vista at the pass. My fingerless gloves were less than adequate, and several rocks were needed to secure my trusty cowboy hat to terra firma in the gathering gale. A solitary pika cruised the rocks jutting above the windswept snowfield, apparently unconcerned about the cool blast off the lunker Dinwoody Glacier. A bit of gorp, several pictures, a few compass sightings to confirm our thoughts about The Sphinx, Gannett, Bob's Towers and the rest of our inner world and we were on the return, escaping the hurricane at the pass.

We had no problem going down, except that Sinclair and I demonstrating how to become bouncing paperweights, discovering that gravity doesn't cease to rule above 12,000'. We mused how a narrator would report a bounce and bash across the rocks followed by a slide across the waiting snowfield: "wow, look at that form! Oh oh, there goes an arm - he's certainly going to regret that move" etc. Perhaps this was a biproduct of high altitude exertion, or at least that's what we attributed this mindless departure to. It is all too easy to unknowingly loose that necessary edge of concentration with altitude, and especially with altitude plus exertion. Back in camp for the prelude to dinner, soup. Ah. Late that night, a front drove a misty mix of snow and rain briefly down the wind tunnel. It disappeared like an apparition in a few minutes, there would be no trace of the icy squall by morning.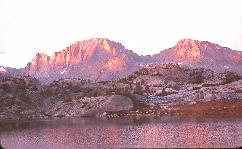 View from Camp 6
(Click the image for a full-size view (16k); Photo by Rob)

Day 7: Two glacier self-arrest: Through Titcomb Basin to near Island Lake

(6 miles.) We were actually on the trail by 9 A. or so, early for this group. We didn't hike far, however, before we dropped packs and totted ice axes up to the Summer Ice cirque for some glissading practice. Discovering a fairly good snow slope with a runout at the far end of the lake, we hiked up with an expectation of a fine ride down. It's too warm, and the snow produced a sluggish ride over most angles. Nevertheless, I managed to loose control and perform an ass-grinding ice burn before an arrest. Abrasive stuff, this corny snow.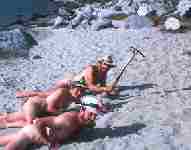 Jim, Lori, and Rob practice self-arrest on the treacherous sand of Island Lake
(Click the image for a full-size view (7k); Photo by Rob's pack)
Returning to our packs, we had gorp #1 and then walked downhill in search of the trail. We have not been on an actual trail since near Peak Lake. Seeming to hike forever around the Titcomb Lakes, we eventually left the grand basin, passing the trail to Indian Pass. Then, we continued to Island Lake, where we crossed a beach of glacial sand. Life's a beach, so off with the clothes to mimic sand self-arrest for the camera. Back on the trail, we passed two brothers and their comical mules wandering toward Island Lake (or was it two mules with two comical brothers?). Prompting the lead mule along with a withered apple, the lead brother would take a bite and give a bit to the head mule. The mule spent most of the time attempting to get its head over the apple toter's shoulder for a mule-sized bite.
At the next junction, which leads to either Seneca Lake and on toward the Elk Hart entrance or NW to Lower Jean Lake et al., we went NW. Thinking we might make Lower Jean, the walking gears were in medium range, at least for the waning portion of the day. After going less than a mile, however, we came upon a small lake where trout were rising. It was very pretty, with a mini park of close-cropped tough grass, so we elected to make camp. Life is great in the lowlands of 10,300'. Actually, there was a noticeable difference in the temperature, the vegetation, and especially the wind, when compared to the Titcomb Basin area. After all, it was already 6:30 P. and sunset wasn't long away. Jim and Steve caught 15 small Dolly Varden trout and we fried them as an accompaniment to our scheduled supper, cooking the trout in the pre-moon darkness. Even though there were a few firs around, they were too scrubby to hold the weight, so we ended up hanging our six food bags from a rock face that night - much as we had done at Peak and Titcomb Lakes.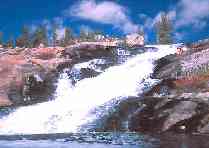 Lori and Jim and the Big Water Slide
(Click the image for a full-size view (9k); Photo by Rob)

Day 8: Roller to Twin: Island to Twin Lks, Big Water Slide.

(10 miles.) Starting at 10,300', we would roll to 11,000' near Elbow Lake before returning to near 10,400' at Twin Lakes. Just before getting on the trail, a duo we had dubbed Larry & Mo (two of the exhausted group we saw on Dinwoody) came plowing up the trail. We had been anticipating their passage, but the night before. This followed a meeting with another member of their group at the Seneca Lake/Elbow Lake junction just before sunset last night. Placing a sealed plastic bag with instructions on how to reach camp and a note at the foot of the junction sign, this character (Curly) requested that we relay a message to Larry & Mo. Well, Larry & Mo asked when we had camped, reporting that they had been through about 10:30 P and had seen no one. Our tents were about 15' off the trail, so one wonders. Clearly attempting to do more than their physical condition allowed, this duo from Tennessee and Alabama were enthralled with the country and trying to see it all. I secretly wondered how much of anything they were seeing beside the toes of their boots. Wishing them luck, we continued on to Fremont Crossing.

A deluxe FS bridge now spans Fremont Creek, most likely a formidable obstacle in the Spring, as noted by the spring run-off water lines on the rocks. The map indicated that the Big Water Slide was nearby. What was this, and exactly where? Stowing the packs, we took our cameras and set out in search of the slide. Wandering over a knoll and headed downstream, we heard the slide long before we found it. Not far from the crossing, Fremont Creek rolls and slides over 150' or so of slick granite and into a deep turquoise pool. This must be even more fantastic during Spring runoff!

From the slide, we bumped up imaginary elevation marks along the trail, past Lower then Upper Jean Lakes, and reaching 11,000' before Elbow Lake. I misjudged the distance during a leap across a stream and crashed on the other side, ripping the elbow a little. More blood than harm. Just after the 11,000' topping, we passed the trail to Shannon Pass and Peak Lake. If we had more true alpine starts, we might have day-tripped it to the pass, but as it was we paused briefly for a gorp stop - requiring a few layers of clothes and hiding behind a boulder from the wind. Then, we continued on past Elbow Lake. A strung-out lake, it seems larger than it probably is.

Weaving through the rocks, we started to drop on recently reworked pieces of trail to approx. 10,400' and the first set of Twin Lakes. This is good enough for today, we decided. We enjoyed a pleasant campsite and evening, with only minimal "tent farming" required.

Tent farming consists of golfing and hacking out the hummocks and rocks damaging to a restful sleep. Of course, the golfing and hacking is accomplished with the trusty ice axes (every piece of equipment should have at least two uses). No fish for dinner, it seems the fishermen are content to sip soup and observe the views of the first visible stars. This low-land living really is very pleasant. (overnight low of 31.)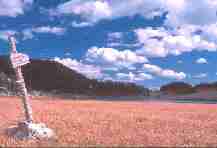 Meadow near Round Lake
(Click the image for a full-size view (22k); Photo by Rob)

Day 9: Penny Lake:

Completion of first loop at Summit Lake, and second loop at Palmer Lake. Twin Lake to Penny Lake near Palmer Lake (9 miles.) As we were bopping past lakes on a Southern dip of the trail, we tied in the first loop of the figure-8 as we swung around the S end of Skypilot Peak and approached Summit Lake from the S. We re-encountered our gorp stop of Day 4, although it was necessary to walk the 1/8 mile between junctions to officially complete the loop. Everyone dropped their packs at the route to Heart Lake/Trapper Lake and nonchalantly shambled toward the Doubletop Mountain/Green River Pass junction, though of course a hobbling race ensued to complete the loop as we approached the sign. We again slumped against the sign post for good gorp, where we enjoyed the satisfaction of mystically tying the first loop, and not seen any other hikers.

And we would see no one today or most of the next. Previously, we had encountered from 2 to 7 people every day. Not many, considering the crowded reputation of the Winds. Still stable, the altimeter reading remained accurate to within a close tolerance. This is an amazing happening amidst these tusks of granite. We then hiked SW to Borum then Gottfried Lakes, briefly dropping just below 10,000' for the first time since below Green River Pass. Then back up, to Heart Lake then Dean Lake and the ponds above - where we changed the quart of oil in our hair for the squeaky clean, but hat-shaped look. It has been too cool to partake of enough baths, at least as many as we're accustomed to. After our frosty wash, we continued on to the junction near Round Lake where a post announced "Section Corner Lake/Palmer Lake." Here, there is a deluxe meadow carpeted with wiry brown tuffetts of grass, highlighted and saturated by the low-angle sunlight into a soft and luxuriant tan-tinged sea. The old posts which indicated the route through the meadow reminded me of the seemingly abandoned routes in the Lemhi Mountains of Idaho. As we entered the meadow, a coyote started a woofing song which was promptly picked up by a song dog in the canyon we had just left and another member of the trio vaguely near Round Lake. A haunting call which requires one to stand pensively and reflect on the moment, relishing the hopefully timelessness of wilderness and the elegant purity of wild things and places. Ear-bulging silence followed, like in the deep desert. Incredible.

Gorp 2, then a brief discussion about the apparently extra trail we could see headed up the hill toward the Doubletop area. That's what it is, a nondesignated trail which joins the Doubletop Mountain trail - a way of bypassing Palmer Lake (We had nearly taken this trail in error on Day 3, meeting a lone hiker who was returning from the Heart Lake area.) The junction of the Palmer Lake/Doubletop Mountain trail is not marked, and not particularly obviously, as it was the third member of the group who noted that the first two had passed an intersection. It was obvious that we needed to parallel the deep stream cut through the broad moraine to get to Palmer, but it would have been possible to go awry if one was not attentive. Soon at Palmer Lake, we noted that the routes to Doubletop and to Cutthroat were not only not marked, but that the trail from Doubletop ends before joining the trail we were now on. This is not a problem when coming from Doubletop, but it constitutes a potential navigational nightmare if trying to return via Doubletop. This explains why a friend of Jim and Lori hiked out the New Fork trail, proclaiming that there was no route over Doubletop. Here we completed loop #2 of the roving figure-8, pausing only briefly before continuing to Penny Lake, which is tucked above Palmer just before an unnamed pass dividing the drainage to Palmer (S) and to New Fork (N).

The thready outlet from tiny Penny Lake enters just on the Palmer Lake side of this pass (though the FS map shows Penny draining to Rim Lake - could it have two outlets??). Rim Lake is far below Penny on the W side, and apparently can be reached by an undeveloped trail which eventually leads to the New Fork River trail, cutting off a substantial chunk of the loop N from Penny Lake. Tonight we broke out some of the extra gorp, as something foul (perhaps rancid-tasting dried tofu?) nearly destroyed our desire for dinner. (30 degree low.)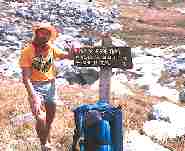 Rob at the terminus: Knapsack Col
(Click the image for a full-size view (13k); Photo by Rob)

Day 10: Ecobust:

Penny Lake, through New Fork Park, to Upper Boulder Basin/New Fork trail junction: (11 miles.) We began the day's hike with a steep 1400' descent on an old CCC trail, until it terminated in recent (past three years) avalanche debris. We were reminded of the Ibex Pass gash and thrash (see last year's Boulder/Whiteclouds venture), but today's trek was not quite up to the quality of that epic. Still, I was muttering numerous expletives about the FS, timber welfare, the FS as timber lobbyist agents, and the FS trail abandonment program before we regained the trail near the intersection of the stream we had been following with the New Fork River. Soon, we were in a pleasant meadow. A great place for gorp. Gorping up, we noticed a trail cutting down the hill to the N. The Porcupine Pass Trail, going the right direction - deeper into the wilderness. We were getting hazardously close to the wilderness boundary (in another 6 miles or so).

We are in the lowlands now, because we had just plummeted below 9000'. There were big trees down across the trail here, emphasizing that we had already traversed from tundra-like to sylvan conditions. Soon we would hike through the large open spaces called New Fork Park, and into the realm of brightly aglow populus tremuloides (Quaking Aspen). Wow, what colors! It's Fall in the lowlands, and nature is screaming about it. And what dramatic contrasts between the stark granite crags and the winsome aspens. Three moose, bull, cow, and calf, interrupted our tree-gazing. The bull came charging up from the deep stream cut, scaring the hell out of me. I had been unaware there was more than the cow. Soon, the skittish calf also roared through. Hahoo!! Was there a nearby tree big enough to stop nature's locomotive? All the impressive trees seemed very small at the time. Actually, I believe the bull was mostly interested in the cow, and did his best to ignore us.

We camped near the Upper Boulder Basin/New Fork/Willow Creek Trail intersection at a lowly 8000'. The route across the river and over the ridge to the SE would, in about 2 miles, take us to the trail we hiked to Rainbow Lake. This would have completed loop #3, but we wouldn't be officially closing this loop - at least not this trip. I saw a pair of Kokanee land-locked salmon in the stream. Bright red, they were in full breeding scalage. We put the ice axes into play again, this time to clear a cook area in the thigh-high dry grass. A gaggle of Canadian geese serenaded us at sunset from somewhere on New Fork Lake. After sunset, the temperature dropped rapidly and my handkerchief was frozen in a rumple before I went to bed. I had engaged in a quick rinse as the sun went down. It's strange that the coldest temperatures on this trip occurred at relatively low altitudes. (Overnight low of 24.)

Day 11: Silence to Cacophony: Run/ride to complete shuttle:

(2 mile hike, 7 mile run.) We awoke to frost and calm. As the air warmed, the songs of the geese drifted up from the lake. Perhaps they've been out feeding in the grain fields in the full moon. Down we hiked through the aura of Aspens displaying their Fall pelts. After nearly being run over by a foursome of horse riders towing planks for their hunting shacks (whoah, now!), we reached the trailhead at the Narrows Camp along New Fork Lake. The assault began slowly: the throaty intrusion of a trolling motor boat, then the equestrians, later the foreign sound of vehicles, and late that night in the cacophony of The Pie restaurant near the U of Utah (jam band and sorority types). Jim, Lori, and I left the packs in Steve's care at the trailhead and started the run to complete the shuttle.

My car was parked at the Barlow's Bar Cross Ranch on Willow Creek Road. Jim and I ran out to the highway, and another couple of miles before getting a ride to the Willow Creek Road turnoff. This was tough work for the old feet. And we could certainly tell we were running at altitude. There were smudgy cow nose prints on the rear window, but the car seemed otherwise Ok. OK, that is except for the wobbly steering, etc. Driving back toward New Fork, we encountered a pickup carrying Steve, Lori and our still-extensive amount of gear. Steve had persuaded the owner of a dude ranch, who was up New Fork to determine if she could get her horse trailer to the trail head, to give him a ride to Willow Creek. Piling the mountain of equipment into the Lynx, we headed into Pinedale. First, we located a carwash and sprayed the mud off the wheels - this would remove most of the wobble. After lunch at the Cattleman Cafe, we headed toward the land of zion. We paused for a refreshing shower at the Coulter Camp in Danniel, WY. Clouds building, cumulonimbus. What fortune to have such beautiful weather! Finally back in SLC, we could not find any of the "finer" restaurants open, so ended up at The Pie. The heavens unloaded on SLC tonight.

The mileage for the trip was approximately 68 miles (109 K). However, please keep in mind that this mileage estimate does not include estimates of energy required miles, where allowance is made for altitude gained and lost.

Having exhausted all our free time, there was time only for a bit of shopping and lunch at a local fishhouse before the flatlanders' flight out at 1 P. Another deluxe expedition. And, a fine introduction to the Winds.

<! --------------------------------------- this first table is to display a jpg map - centered ----------------------------------------->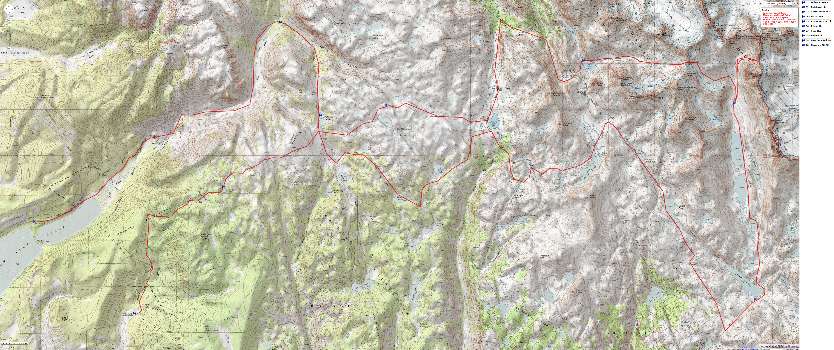 Map: Wyoming: Wind River Mountains: Willow RS to New Fork Lks; rough route
(Click the image to see the map)

<! --------------------------------------- first table ends -------------------------------->

If you want to view a full-resolution map, click here. Caution - do not use this map or gps track for navigating the route.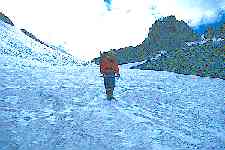 The Ice of Knapsack Col
(Click the image for a full-size view (10k); Photo by Rob)
---
---