Go to the Top

"...the great Canyon endures. The Canyon endures the trifling busyness of humans as it does the industry of ants, the trickle-down erosion of snow and freeze, the cascade of floods, the transient insult of Glen Canyon Dam. These things shall pass, the Canyon will outlive them all." Edward Abbey, from a forward to A River Runner's Guide to the History of the Grand Canyon by Kim Crumbo, Johnson Books, 1981.
Night 1: Glitter Town: As we (Zig, Craig, and I) come over the hill in the claustrophobic darkness of a Nevada night, the dazzle of Las Vegas destroys our night vision. "Yow" we wail in unison, "look at that mess!" This is a, or the, prime example of a city that should never have been. "Why?" you might ask. Well, this water-gorged, energy wasting, environmentally unfriendly plot of overpopulation is so far out of place in this desiccated land, that to further discuss it seems ludicrous, so I won't.
Earlier, we three had a great laugh when Zig and I found our scheduled rendezvous in Parowan with Craig clogged with post-football giggling cheerleaders and padded ruffians swirling about in the cool evening air. In this normally placid town, it seems that the entire county population is here to give Craig an exuberant send-off.
Zig drives as we careen past humongous electric edifices of pyramids, towers, feudal castles. "Oh, the waste of kilovolts is appalling," I grunt to myself, thinking about these human rats pressing levers and flipping cards like so many rodent rats in a Skinner box. Would we need the sin of Glenn Canyon Dam and it's spawn, the Lake Foul Sewage Pond if Americans were living less large, more in harmony with anything wild?
Day 1: Mead to Mead: We are up for a beer and spirit run, our first mead of the day. We finish dragging equipment out of the motel and onto the bus. Then, we ride across Hoover Damn and Lake Mead, where the mead is much like cesspool effluent, to Flagstaff, and eventually to Marble Canyon, where we walk across Navajo Bridge some 400' above the surprisingly clear Colorado River. The moniker 'chili verde' seems more a pro pros than the Colorado today.
Day 2: Ferry Good: (River Mile, RM, 0 to 17.) Starting at River Mile (RM) 0 at Lee's Ferry, we are on the chili Colorado a bit before noon and head for lunch. Long trips revolve around the basic Maslow needs, and I am already dreaming of lunch. Trout abound in the clear, and exceedingly cold (48 degrees frigid), water. In this first stretch, we see three Bighorn Sheep, scattered Great Blue Herons, and a few condors sunning on the shore. Rapids today included Shearwall and Badger.
I am writing by headlamp, lounging in the cool and hot breezes flowing upriver from where we are camped just above House Rock Rapid. The water is running at about 8,000 CFS. Rain flies briefly by, yet, looking up - I see stars. Most obnoxiously, the wind kicks up sand, which coats me like a turkey ready for broasting. I would be grinding sand through breakfast. Will we all end this adventure with flat teeth, like those early Pueblo Native Americans?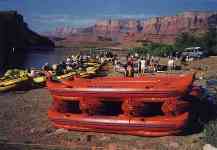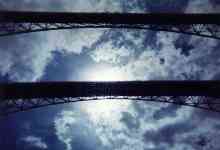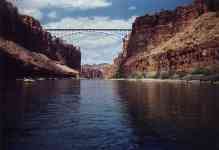 Day 3: Roaring 20's and More: (RM 17-30.) There, dog-paddles Blake. Wait, he's out in the midst of a rapid, swimming along through the champagne bubbles in the deep jade-colored water. If Blake yelled, I didn't hear anything above the roar of the thundering waves of House Rock Rapid. Kevin hauls Blake back in the raft and we continue through the trailers. Blake lucks out and is again ejected as we roll through one of the "roaring 20's" rapids, apparently named for the river miles where they roam.
We stop and hike North Canyon to a cul-de-sac slickrock bowl and pool, where Zig and I wade across to explore the bowls above.
Now we're camped on a sand bar near RM 30, looking across the roiling river and smelling BBQ chicken, gazing upstream to where our last rapid of today rumbles at the base of a sheer Redrock Limestone wall, arcing in a graceful sweep for an eighth of a mile. Rapids today included: House Rock, 21 mile, 32 mi., 23.5, 24, 25, Cave Springs, 27, and 29 mile.
Local sunset has occurred hours ago and yet the breeze and heat from the rocks occasionally remind us of a convection oven.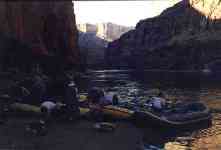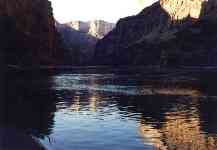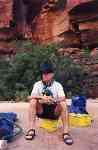 Day 4: 22 Skidoo: (RM 30-52.) We're beached out on a broad beach left from the last large flow, a semi-circular bow of Redwall Limestone provides the backdrop and the fluted walls of Nankoweep provide the opposing view. Near RM 52, we've enjoyed a 22-mile day with only a few fairly mild rapids.
Today, we stopped at the Redwall Cavern, which is large enough in which to practice football, then at a side canyon to view the squid-like fossils called Naughtilloyds, and for lunch at the Royal Arches.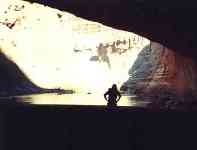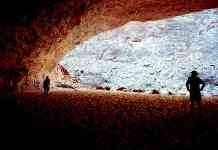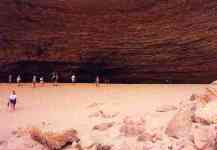 Last night, the river level jumped up by 4,000 CFS or so, and Nigel and the others who fortunately were sleeping on the beach, were awakened by the rising water and they moved the rafts. If the water comes back up tonight, we may all get our toes wet. The water level is back down by morning, yet its rising indicates that Las Vegas may have christened a greedy casino and demanded more power.
Go to the Top

Day 5: Power Spot: (RM 52-75.) This time, the roar is upriver, and it's Nevill's Rapid, near RM 75. I feel comfort in this and the soft, tawny sand under my butt as I sit in the 'blue room' (a large tarp to catch dinner crumbs) and gaze at the stair-stepping eons of geology marching toward the crepuscular sky, now dotted by bats coursing after unseen bugs.

We are up before dawn today, preparing for a hike up the wall of Nankoweep to visit the granaries and a river power spot. Near RM 61, we beach rafts and walk up the Little Colorado, turquoise and very alkaline, to practice scooting down mini-rapids, life preservers strapped around our butts to soften our bouncing off travertine rocks. Several of us form a train, hugging each others like riders on horses, knees in the sides of whomever was in front - lean back and ride.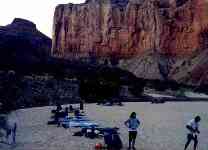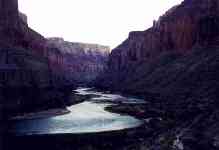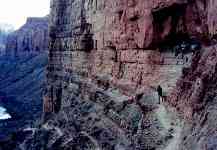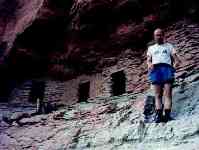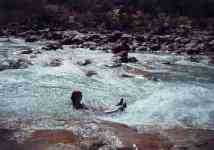 Day 6: The Phantom Miles: (RM 75-91.5.) I'm hiding in the tent from the stinging sand as it pelts everywhere and dusts everything. A thin dust settles in through the tent mesh with each blast of wind. This is the first time Zig and I have erected the tent, and it is for protection from sand. The chili verde Colorado fidgets and fusses, not far from me as it courses through the narrow walls of Granite Gorge. Some of the oldest rock lines the gorge, the Vishnu Schist and Zoroaster Granite. Much of the gorge layer has been removed by eons of erosion, forming a great nonconformity, with the overlapping horizontal Tapeats Sandstone above.
We started the day with the blood-chilling Hance Rapid (RM 76.5) and concluded the day with the horn-wave spook of Horn Creek Rapids, just upstream, at RM 90. We also ran Stockdolager, Grapevine, 83-mile, Zoroaster, Pipe Springs, and a host of unnamed rapids. Water temperature has warmed to a bone-freezing 50 by Phantom Ranch.
We stop briefly at the ranch, where Zig, Bret, Craig, I and others walk to the store and mail some post cards, which leave the canyon via mule.
We beach right in the midst of a solo tiny camp temporarily occupied by Jim from Australia. He reports escaping from the Sidney olympic games, something we Smog Lakers readily understand because we will too soon be subjected to the olympic-style and size carnage wrought by these games of greed. Jim reports, with beer in hand, that today he hiked in from Tanner TH.
Craig notes how his mixture of sand and sunscreen might sell for $50 and ounce in Parked City, suburb to Smog Lake, Utah, as an exfoliative. For dinner, we enjoy sand and salmon steaks, sand and Nigel Potatoes, and sand and glazed carrots. We skip dessert and just have sand in the piercing bursts of wind.
Gazing at the contorted, convoluted schist and gneiss in the last glow of sunset, one wonders what all those ready kilowatts are doing in Las Vegas and Phoenix, cities that should not exist.
A Poem About Sand, by Jean:
Wonderful sand
massages the feet
comforts a seat
conforming for feet
Insidious sand
in between the teeth
impossible for sleep
frustrations steep
Day 7: A Gem of A Day: (RM 91.5 to about 110, below Shinumo Creek.) The first big wave to curl over tall Paul slams into my face and knocks off my hat. The second one strips off my glasses, and the third finishes drenching me with frosty Colorado River water and nearly knocks me out of the raft. I find myself paddling in a water-filled bucket seat, frothy turquoise waves roaring and leaping all about. A towering wave appears and then we are rocketing up it, where for a moment I am looking at high cliff bands, many hundreds of feet above, bordered by a ribbon of azure sky. The raft and we rafting rats, hang suspended, then, whooom, we are rolling, swaying, and sloshing through the remainder of Serpentine Rapid.
Already today, we have careened through some big water at Granite and the humbling Hermit, then on to Boucher and Crystal and Tuna, before hitting the gems of Sapphire and Turquoise and Ruby. Some of the other rapids were named 104-mile, Bass, and Shinumo. Near the end of a paddling day, we stop and walk the short distance up Shinumo Creek to what felt like a hot water shower.
I'm writing from a small sleeping ledge about 30 feet above river level, looking across camp and towards the glowing tip of a sandstone temple protruding above the knarly ruggedness of the gneiss and schist. And, I hear the call from below for hors d'oeuvres time!
Day 8: Frozen Bedrock: (RM 110 to 131.5, below Bedrock Rapid, camp at Galloway Canyon.) Once again, I find myself holding my breath and shivering. It's a cold day (for we lizards) and the rapids are big. We ferry across the river above Bedrock Rapid and watch as the other paddle raft slides silently out of sight over that line marking the drop. It's amazing how one thinks they can see the entire river, and yet, with closer inspection, notes that a section is missing from view. Frothy water pops up from the gap, marking the noncomformity of river run. Parts of the paddle raft appear, then we see it spin 180 degrees near the mormon family-sized house rock form which Bedrock gets its name. Again, they slide out of view, and Kevin barks "forward paddle... here we go!" "Stop," as we float on a champagne pillow, cruising toward, then right at, the bedrock. "Left turn, go!" I hear and we pour on the power. The raft spins, and I hear "Forward, with gusto!" somewhere behind me in the din. Suddenly, we are lunging along, riding the horse lope of the standing waves. It's cloudy and we are camped just down river of this beast of a rapid. Rapids today included: Waltenberg, Forster, Fossil, 128-mile, and Specter, a huge set of leaps here. We also stopped at Elves' Chasm and Blacktail Canyon for delightful, albeit brief hikes.
The views are spectacular as light filters through the cumulus and plays across the polished ebony of gneiss and the gleaming milk chocolate of Zoroaster Granite in the jumbled gorge layers, and the majestic buttes and temples of the horizontal sandstones and limestones. Great photo opportunities abound, especially if you are not in a paddle boat.
Somewhere during last night, some of those vicious 'fire' ants nibble on me, leaving red and sore bumps. But, the true victim of night creatures was Craig, whose leg brandishes dark purple splotches, apparently delivered by a spider or two. Craig begins a heat and chemical treatment which would continue after he is back home.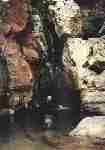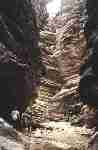 Day 9: Thundering Reunion: (RM 131.5 to 136; hike Tapeats Creek to Thunder River, about 8 miles of hiking.) Just like last year, the roar seems out of place in this solitude exuding desert as we hike past barrel cactus and towering Beavertail cactus, taller than tall Paul. What could be making the roar? Wind? For one version of an answer, see (click on this link):
Thundering the North Rim of the Grand Canyon: Thunder River and Deer Creek There is a large green swatch on the hillside as we hike steeply above Tapeats Creek. There it is, foaming water leaping from a desiccated sandstone wall, effervescent Thunder River, roaring and thundering down the canyon to collide with Tapeats Creek, and continuing to the Colorado, where our rafts are bobbing against polished rocks from eons long past.
There are three stream crossings of the icy water, and after the last crossing, we find ourselves a the Tapeats upper camp, where Craig, Zig, Joe, and I had met Fred, the pseudo wild turkey last year. No Fred today, but I did see a coiled Grand Canyon Rattlesnake (Crotales Viridis Abyssus) under a ledge, and a large Chukwalla (Sauromalus Obessis), wedged in a crack. I find myself dreaming of broasted Chukwalla, braised over a pinon pine fire on a pointed stick... yum. Fond memories roll forth as we pass the Tapeats Camp and view Fred's perch.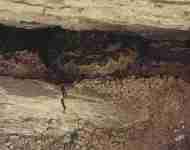 To see photos of Fred, Thunder River, and the Thundering the North Rim trip report click here:
Thundering the North Rim of the Grand Canyon: Thunder River and Deer Creek
Rapids on today's short float were: Dubendorff, Tapeats, and 135-mile. And, we passed through the narrowest part of the canyon, at 76' wide, in Little Granite Gorge. Now, we're camped a few hundred yards above and across from Deer Creek. Ocotillo (Fouquiria Splendens) wave to us from their delicate roosts on apparently bare rock.
Go to the Top

Day 10: Sliding Upset: (RM 136 to 156; hike Deer Creek and Matkatamida Canyons.) We slide off the wave that lofts above Craig, sliding toward a curious depression opening beneath my paddle. Even more curious is Butch yelling "Stop paddling!" We gyrate delicately around the huge hole, powering over the wave and onto another. We repeat this climb and slide motion over two more tremendous, tumultuous waves. Thus, we skulk through Upset Rapid, named after Kolb, who on a 1923 USGS trip, capsized here. Yow, what an unsettling adrenaline spike this is.
Earlier, we paddled across the river to hike to the patio of Deer Creek, which spouts a falls from delicate marbled layers. Zig and I hiked through a maze of Mesquite (Prosopis Glandulosa) to look for Fred, but we found nary a sign of this wise yet obnoxious old bird. We find many lovely memories as we sit on a polished cottonwood log at our old campsite.
After running several rapids, we stop at Matkatamida Canyon for lunch and a hike. It's a mini-slot walk and wade to the amphitheater, through water swirling over polished limestone.
Now, I'm writing from a sandy beach just above the fidgeting Colorado. Looking upstream, I see a massif where a side canyon joins the river. It appears as a bookend, nearly vertical walls soaring two thousand feet straight out of the river. Downriver, I can make out the other bookend, where Havasu Canyon meets the Colorado. The bookmarks are largely comprised of the cliff-forming Redwall Limestone, its deep ruby reds a sharp contrast to the ebony layers where we are camped. After writing just these few notes, it's getting late into dusk and I smell dutch oven enchiladas cooking. How distracting, how wonderful.
Today, we saw a full-curl Bighorn Sheep (genus Ovis) closely shadowing his lady friend, looking as studly as possible.
Rapids for the day included: Doris, Fishtail, Kanab, Matkatamida, Upset, and Sinyala. Well, these were the named rapids, that is.
It's time to focus more on the moment, to be with the river, the walls, the canyon, until only the canyon remains.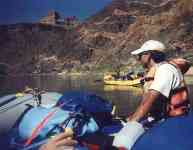 Day 11: Havasu To You: (RM 156 to 168; camped at Fern Glen, hike Havasu Canyon to Beaver Falls, 8 miles round trip. Rapids were wild and included Havasu, 164-mile, and Fern Glen.) The bright turquoise water pools a saturated robin egg blue behind the travertine embankments formed by elegant deposits of calcium carbonate. Zig swims in this surrealistic mineral soup while the rest of us relish in the fern-dotted, ash-shaded end of the route to Beaver Falls, a 4-mile hike from the river along the narrow canyon. After a mid-morning dabbling in this delightful canyon, we return to a boat jam at its mouth, where rafts from several different groups are jammed into the slot like mormons clogging the ice cream shop door. It takes awhile to extract the rafts, and then, off we go, to Fern Glen. I am a tired puppy, and it is with mild delight that I watch four sheep wandering the oposite shore.
After we unload the rafts, thunder rolls through and the clouds make several attempts to rain on our canyon parade.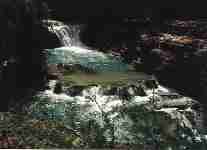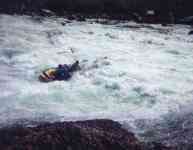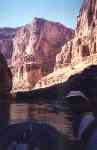 Day 12: Lava Adrenaline Laze: (RM 168 to about 196. Rapids included: Gateway, Lava Falls!, 185-mile, and Whitmore; brief hike up Fern Glen in the morning.) The run, such as it is, sloshes and rages between a killer hole and a tumbling ledge. Running last, we have the 'opportunity' to watch others escape with rafts flooded with water. The rafts sparkle in the eddy below, attesting to how wet is the run. We run as Kevin suggests and glide past the edge of the humongous hole, avoiding the ledge, and rampaging into the V-wave of Lava Falls, rated a 10+ at most any water level.
We know we are approaching this terror as we drift past Vulcan's Anvil, a huge volcanic neck, or disputed geologic origin, squatting in the middle of the river.
The deafening roar drowns out all other noise, and any instructions from captain Kevin are lost in audiological purgatory. The raft fills to the tube tops with water, as we plow through the V-wave and continue to the huge standing waves above a volcanic erratic termed 'the cheese grater.' I am standing on my tip-toes, trying to make contact with the distended bottom of the raft, as I paddle over the tube because the raft floor has dropped away to somewhere below. Teddy Bear Cholla wave us toward a wonderful camp sporting a sandy beach and river bottom. After dark, the alien-eyed toads come out to dance in the openings among the mesquite.
Day 13: Ocotillo Skyline: (RM 196 to 222; hot wind.) The new moon blaze of the stars recedes to the creeping dawn and the flittering brown bats appear, in their crepuscular veneration. Ocotillo spike the Eastern skyline like tufts of Dr. Suess' hair. The burble of the Colorado provides a suitable backdrop to the waking bubble of a rising group of rafters. Another long paddle day awaits. But now, breakfast!
It is a long and hot and windy day and we paddle a lot. As is tradition, there is no rotation between we baggage paddlers and the privileged ones in the oar rigs. A pox on the unnamed one who abandoned the organization of this junket to the hot winds of chaos, exchanging flexible paddlers (bailed out of the trip) with loungers who will not rotate boats, even for a day. As we paddle continuously in the gusts, I wonder what to suggest to future livestock boaters. Some things and issues to consider include: carefully consider, reconsider going on a trip when the organizer bails, because all anticipated arrangements are mute (such as rotating among rafts, participation in deciding which hikes to prioritize, etc.); caution is urged when there is an "insider group" that is reliving a previous trip, for they will attempt to decide your destiny without your participation. If you go with a clique like this, consider whether you can and will be OK 'going with the flow.' Fortunately for me and the others in the 'Intermountain subgroup,' I went for THE Canyon, and enjoyed it and the guides very much. My views are no doubt tainted by the cooperative adventures in which I have participated, this being my first commercial trip in the wilds. I confess that this is a Newt Gingrich of the truth, for in truth, one from the clique tried to whip us into shape, much like a majority whip. (Remember Newt? His speech to the House of Representatives is a classic, where he talked for 45 minutes about how he had given 'partial versions of the truth,' 'left out essentially unessential details,' etc.!)
It is The Grand Canyon, on a scale which defies description or video/photographic representation. Perhaps writers like Abbey have come closest to availing an adequate inside view of the Colorado Plateau. As I close today's entry, the groups mill around the appetizer table, consuming vast quantities of shrimp cocktail and bagel bits, while I put down the pen to consume vast quantities of Grand Canyon sunset and twilight as they play across the myriad eons of rock.
Go to the Top

Day 14: Diamond Down and Up: (RM 222 to about 225; shake, rattle and roll to Peach Springs, to Las Vegas, to Smog Lake.) It starts early, this last day, then I hear the last call for breakfast, last call for groover, last river miles, last ripples.... Diamond Creek, where we help pack the rafts into a truck and repack our river bags into traveling bags. Out we bump via Hualapai Reservation van, a teeth-rattling ride accompanied by blasts of dust that come from the vents with each bump. Last ocotillo, chollas. We wait at the Hualapai Lodge for the bus back to Las Vegas. Buzzards by the half score circle the malnourished dogs gleaning bits of trash at the lodge. Zig, Craig, and I cleaned up quickly in Bret's and in Lori's room in LasWages, then start the long drive back to Smog Lake.
My remaining and closing mind image is the full mooning delivered by the guides as we leave Diamond Creek.
Other WV reports about the Grand Canyon:
Click here or on the Looking Lizard to go to all WV reports about The Grand Canyon
<! --------------------------------------- this table provides a link to all WV reports about the GC ----------------------------------------->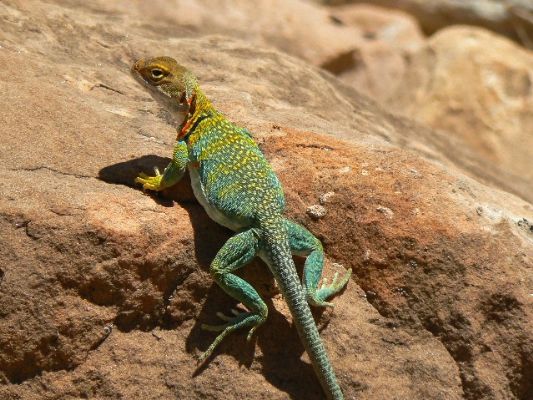 Looking for All Wilderness Vagabond trip reports about the Grand Canyon?
Click the image to go to All WV reports about The Grand Canyon

<! --------------------------------------- table ends -------------------------------->
---
---
Go to the Top