Coconino Cruise: Self-contained mini Bicycle Tour:
Flagstaff - Dairy Springs CG - Happy Jack - Dairy Springs - Flagstaff
85 total miles
With the VM, Venerable Monster, Specialized Expedition Touring Bike - happy birthday! - VM is 30 years old this Summer
May 10 - 12, 2014
by Rob Jones
(Text © copyright by Rob Jones; Photos © copyright by Rob Jones) <! --------------------------------------- this first table is across 2 collums ----------------------------------------->
Loaded
(Click the image for the full-size image)

Camp at Dairy Springs
(Click the image for the full-size image)
<! --------------------------------------- first table ends -------------------------------->
&nbsp Day 1: Elk in The Wind. To Dairy Springs CG. 25 miles; camp at 7200'.
&nbsp The girl herd rolls over the fence like a tan wave. Synchronized leaping. Glorious. The harem of cow elk wait in the forest for a gap when there are no vehicles - except for me, puffing up the steps to the crest above the Mormon Lake bowl. The wind is shrieking - predicted to top 30 MPH today - so I don't hear any of the elk utterances. It's a fine day, except for the wind.
&nbsp I waited at home, finishing packing and cleaning up a bit while the day warms. Then, off on a mini-tour to the Mormon Lake area. I'm bringing all my food, camp gear, etc. because the closest food is at Mormon Lake Lodge.
&nbsp I consider taking the long way around to camp - then reject this idea because the wind blasts unchecked across the section by the "lake" overlook. It's enough with a bit of Ponderosa protection. Mormon Lake, when full, is reportedly the largest natural lake in Arizona, and the diminutive size and depth and the ephemeral nature of this "lake" tells us a good deal about this arid state.
&nbsp Now, the sun is setting and the wind is howling still - yet mostly in the tree tops and not buffeting the TarpTent. Could be a cold night. <! --------------------------------------- this first table is across 2 collums ----------------------------------------->
wall art
(Click the image for the full-size image)

gosslings
(Click the image for the full-size image)
<! --------------------------------------- first table ends -------------------------------->

&nbsp Day 2: The Second Law. To Happy Jack and back to camp. 35.5 miles.
&nbsp The second law slaps me in the face with full force, nearly stopping my progress and prompting me to grab a lower gear. It's a good thing I have so many lower gears. Mostly, I ride in lower gears today, as I tour through the P-pine forest and open parks to Happy Jack. The second law of bicycling - the wind is always in your face. The first law is a unidirectional law, what goes down must go up (the law does not address what goes up must go down, because this does not follow the law). I pause behind the closed FS (Forest Service) station at Happy Jack for lunch and smile, thinking I've found a loop hole in the second law - the wind continues from the South. Done eating, I quickly find there is no loop hole, the law holds, the wind now gusts from the NW. A few snow flakes sweep past. What? It takes me riding to where the pavement narrows (7 miles from the South Mormon Lake junction) to warm up. Then, I occasionally get a reprieve from the second law and soon I am drifting past the geese, goslings, herons near the fire station of Mormon Lake.
&nbsp I rest a bit, then add more clothes and watch the birds the campground hosts have lured with their feeders - Black-headed Grosbeaks, Western Tanagers, Chickadees, Stellar Jays, Cowbirds, hummingbirds, Ravens, Western Bluebirds, lots of birds. The campground has emptied and the wind seems to be lessening.
&nbsp Two hiking trails originate at Dairy Springs, and there is also a trailhead at nearby Double Springs Campground. These trails lead to scenic overlooks of nearby Mormon Lake and the surrounding prairies, forests and volcanoes. From the Dairy Springs area, the Mormon Mountain Trail (#58) leads about 3 miles to the top of 8500' Mormon Mountain. It shares a short distance with the Dairy Springs Trail (#136). From Double Springs - The Lake View Trail (#132) is a two-mile trail to an overlook.

&nbsp Day 3: Law Loophole. Return to Flag. 25 miles. 85 total miles.
&nbsp Yahoo, the wind is at my back. A violation of the 2nd law of bicycling, yet I'll take it. The Osprey hovers above Lower Lake Mary, apparently looking for a snack. It's still cool and windy as I roll back toward Flagstaff, arriving in time for the lunch buffet at the Himalayan Grill - wondrous post-touring food. All told, I've ridden a mild 85 miles during this mini-tour.

Links:

Click here for a jpg file of the Arizona Daily Sun article (870 kb) - article can be viewed below in pdf format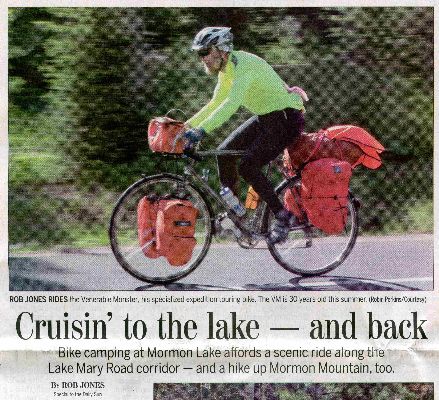 Arizona Daily Sun article about the Coconino Cruise, 7-31-2014; 1mb
Click the image to go to the article (pdf - see above link for jpg file)
.
Previous WV Bike Reports
Click here or on the happy cyclists to go to all WV reports about Bicycle Touring
<! --------------------------------------- this table provides a link to all WV reports about Bicycle Touring ----------------------------------------->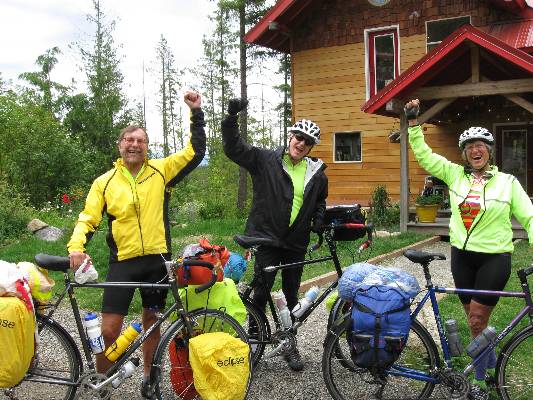 Looking for All Wilderness Vagabond trip reports about Bicycle Touring?
Click the image to go to All WV reports about Bicycle Touring

<! --------------------------------------- table ends -------------------------------->

.

.

More Truth Than Joke:

<! --------------------------------------- this first table is across 3 collums, so it stands alone ----------------------------------------->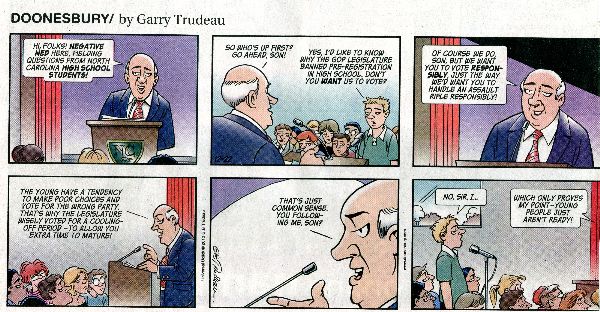 voter suppression
(Click the image for the full-size image)

<! --------------------------------------- first table ends -------------------------------->

<! --------------------------------------- this first table is across 3 collums, so it stands alone ----------------------------------------->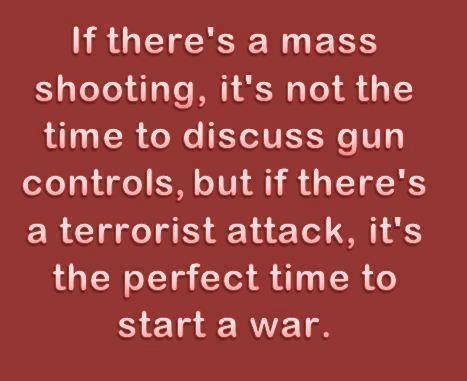 war, the gop jobs plan
(Click the image for the full-size image)

<! --------------------------------------- first table ends -------------------------------->

<! --------------------------------------- this first table is across 3 collums, so it stands alone ----------------------------------------->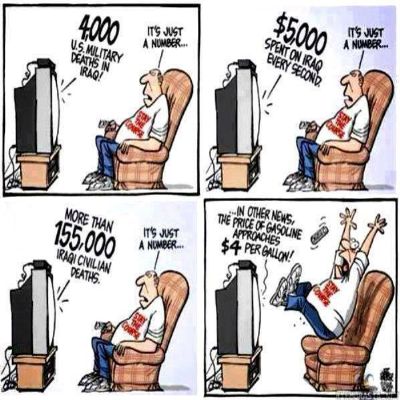 wake up
(Click the image for the full article - read down)

<! --------------------------------------- first table ends -------------------------------->
More - More truth than joke - part 1
Click thumbnail to see full size image

| | | |
| --- | --- | --- |
| | | |
More- More truth than joke - part 2
Click thumbnail to see full size image

| | | |
| --- | --- | --- |
| | | |
More truth than joke - part 3
Click thumbnail to see full size image

| | | |
| --- | --- | --- |
| | | |
Link to below Onion article (click here).
Scientists: 'Look, One-Third Of The Human Race Has To Die For Civilization To Be Sustainable, So How Do We Want To Do This?'
&nbsp 26 Jan. 2012 | ISSUE 48•04
&nbsp Scientists say at least 2 billion dead bodies will be burned and converted into fossil fuels.
&nbsp WASHINGTON—Saying there's no way around it at this point, a coalition of scientists announced Thursday that one-third of the world population must die to prevent wide-scale depletion of the planet's resources—and that humankind needs to figure out immediately how it wants to go about killing off more than 2 billion members of its species.
&nbsp Representing multiple fields of study, including ecology, agriculture, biology, and economics, the researchers told reporters that facts are facts: Humanity has far exceeded its sustainable population size, so either one in three humans can choose how they want to die themselves, or there can be some sort of government-mandated liquidation program—but either way, people have to start dying.
&nbsp And soon, the scientists confirmed.
&nbsp "I'm just going to level with you—the earth's carrying capacity will no longer be able to keep up with population growth, and civilization will end unless large swaths of human beings are killed, so the question is: How do we want to do this?" Cambridge University ecologist Dr. Edwin Peters said. "Do we want to give everyone a number and implement a death lottery system? Incinerate the nation's children? Kill off an entire race of people? Give everyone a shotgun and let them sort it out themselves?"
&nbsp "Completely up to you," he added, explaining he and his colleagues were "open to whatever." "Unfortunately, we are well past the point of controlling overpopulation through education, birth control, and the empowerment of women. In fact, we should probably kill 300 million women right off the bat."
&nbsp Because the world's population may double by the end of the century, an outcome that would lead to a considerable decrease in the availability of food, land, and water, researchers said that, bottom line, it would be helpful if a lot of people chose to die willingly, the advantage being that these volunteers could decide for themselves whether they wished to die slowly, quickly, painfully, or peacefully.
&nbsp Additionally, the scientists noted that in order to stop the destruction of global environmental systems in heavily populated regions, there's no avoiding the reality that half the world's progeny will have to be sterilized.
&nbsp "The longer we wait, the higher the number of people who will have to die, so we might as well just get it over with," said Dr. Chelsea Klepper, head of agricultural studies at Purdue Univer­sity, and the leading proponent of a worldwide death day in which 2.3 billion people would kill themselves en masse at the exact same time. "At this point, it's merely a question of coordination. If we can get the populations of New York City, Los Angeles, Beijing, India, Europe, and Latin America to voluntarily off themselves at 6 p.m. EST on June 1, we can kill the people that need to be killed and the planet can finally start renewing its resources."
&nbsp Thus far, humanity has been presented with a great variety of death options, among them, poisoning the world's water supply with cadmium, picking one person per household to be killed in the privacy of his or her home, mass beheadings, and gathering 2.3 billion people all in one place and obliterating them with a single hydrogen bomb.
&nbsp Sources confirmed that if a death solution is not in place by Mar. 31, the U.N., in the interest of preserving the human race, will mobilize its peacekeeping forces and gun down as many people as necessary.
&nbsp "I don't care how it happens, but a ton of Africans have to go, because by 2025, there's no way that continent will be able to feed itself," said Dr. Henry Craig of the Population Research Institute. "And by my estimation, three babies have to die for every septuagenarian, because their longer life expectancy means babies have the potential to release far more greenhouse gases going forward."
&nbsp While the majority of the world's populace reportedly understands this is the only option left to save civilization, not all members of the human race are eager to die.
&nbsp "I personally would rather live, but taking the long view, I can see how ensuring the survival of humanity is best," said Norwich, CT resident and father of three Jason Atkins. "I guess if we were to do it over again, it would make sense to do a better job conserving the earth's finite resources."
&nbsp "Hopefully, the people who remain on the planet will use the mass slaughter of their friends and loved ones as an incentive to be more responsible going forward," he added.
---
---