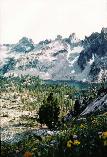 Sawtooth Shrangri-La
(Click the image for a full-size view (37k); Photo by Rob)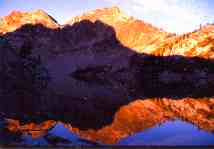 Sawtooth Lake Sunset
(Click the image for a full-size view (12k); Photo by Rob)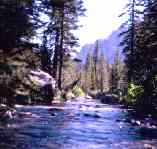 Slickrock Junction Area
(Click the image for a full-size view (11k); Photo by Rob)
---
Sawtooth Traverse: Iron Creek to Atlanta:
Backpacking The Sawtooth Mountain Wilderness in Idaho
---
---
August 25th to September 1st, 1985
by Rob Jones
(Text and Photos © copyright by Rob Jones)
This is a report about a long, luscious through-hike in the Sawtooth Wilderness of Idaho. Straight-line North to South, we covered about 30 miles, nearly the entire vertical distance of the Sawtooth Wilderness. By trail, it was easily triple this distance (see below). Most of the trail mileages in this report were estimated from topographic maps. A relative guess at "true" mileage is to multiply the estimated distance by 20% and add this to the estimate, to compensate for trail wiggles, etc. Also, consider using Paul Petzold's "Energy Required" Miles (ERM), which are determined by adding a mile for every 1,000' gained and lost. In alpine country, the ERM method makes sense. This is part of the reason for giving you elevation summaries in this report. I have estimated the "true" mileage, roughly added in the correction for elevation, rounded the result, and called this "ERM" in the report. The estimated mileage for this trip was 60 miles, and the ERM mileage was about 100 or more. I believe that 100 miles is the most accurate mileage for this trip. Remember, ERM mileages =
estimated mileage (from topo map)
+ 20% (for trail wiggles, etc.)
+ 1 mile for each 500' gained and lost
----------
= ERM
"The Sawtooth Range is an uplifted fault block bounded by faults, and the Stanley Basin is a depressed fault block called a graben. The granite rock of the Sawtooths is closely joined, or fractured, which has made the ridges sawtoothed because the jointing caused the rock to be easily eroded by glaciers. Half of the rock in the Sawtooths is the 88-million-year-old Idaho batholith, which is gray here, and most of the rest is the 44-million-year-old Sawtooth batholith, which is pink or apricot." (Fuller, 1988, p. 6).
The Sawtooth Wilderness is about 217,000 acres large within the larger Sawtooth National Recreation Area (SNRA, about 754,000 acres total). It's a big, wonderful area, but only the Sawtooth Wilderness currently has protection from the road & development crowd. The SNRA also includes the White Cloud and Boulder Mountains, and portions of the Salmon River and Smokey ranges. It's our public land, so I hope you will take action to keep it public, and not the private, special interest, domain of the blue smoke coalition, welfare miners, loggers, and livestockers.
Click here to see a report about hiking a Sawtooth Wilderness Lakes Loop, which was enjoyed in August, 2001
Click here for the 2004 Sawtooth Wilderness Lakes Loop out of Grandjean
Background information:
See other trip reports at:
Wilderness Vagabond: http://wildernessvagabond.com/
Idaho Alpine Club: http://www.idahoalpineclub.org/
Conservation info about the Sawtooth Wilderness can be found at:
http://www.forwolves.org/ralph/wpages/sawtooth.htm
See the Idaho Conservation League to get involved and for additional conservation links at: http://www.wildidaho.org/
See the Sawtooth National Forest (USDA) for recreation updates and information about their trail fee program. The address is: http://www.fs.fed.us/r4/sawtooth/
References:
Fuller, Margaret, 1988. Trails of the Sawtooth & White Cloud Mountains, Revised, Signpost Books, Edmonds, WA. (Hey, a book with a foreword by Cecil Andrus must be good.)
Sawtooth Wilderness: Hiking Map and Guide, Earthwalk Press, 1994 Eureka, CA. (Good planning map, partially replaces topos.)
<! --------------------------------------- this first table is to display a jpg map - centered ----------------------------------------->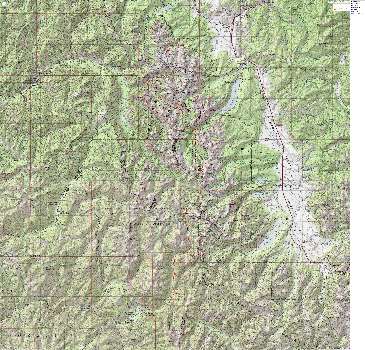 Map - ID: Sawtooth Wilderness: Iron Creek to Atlanta (rough track, not a GPS track)
(Click the image to see the map)

<! --------------------------------------- first table ends -------------------------------->

If you want to view a full-resolution map, click here. Caution - do not use this map or gps track for navigating the route.

Before Day 1, I drove to Smog Lake, Utah from Pocatello, Idaho and met Jim Sinclair and Lori Neumann who arrived at the airport from the flatlands of Wisconsin. It was a long day of mechanized travel for them. After all these miles and miles, we are all experiencing TB. Over to Bruce Pusey's in Pocatello we drove, then over to the Pilot House, a down-home Mexican restaurant where Christmas lights and plastic airplanes hang from the ceiling throughout the year. It would be a long day for me as well, because I needed to finish packing equipment that had been drying following the Beartooth off-route snow adventure. I also had to finish arranging the pack food and register for college classes. Around 2:30 a.m., I got to bed, dreaming about a Sawtooth Shangri-La.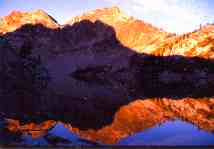 Sawtooth Lake Sunset
(Click the image for a full-size view (12k); Photo by Rob)
---
---
Day 1: Alpine Start: (Driver; Iron Creek TH to Sawtooth Lake; hike 4 miles; 3 hrs.; start at 6710' and camp at 8430'. ERM = 6.) (Remember, ERM mileages = estimated mileage + 20% for trail wiggles, etc. + 1 mile for each 1000' gained and lost.) We loaded all our cargo and selves into Bruce's Ramcharger and headed to Stanley from Pocatello. We paused at the Doublespring Pass Road to view the 10' vertical scarp left by the '83 Challis or Mt. Borah earthquake. Impressive. I was driving to work in Moreland when the quake hit. It shook the car - giving us the feeling of driving on jellied tires. The shaker caused masonry buildings to fall (killing two girls walking past), disrupted springs, cracked foundations, rearranged property lines, and increased the height of Mt. Borah, Idaho's tallest peak.
After getting the rest of the maps in Stanley, we drove the remaining short distance to the Iron Creek trailhead for final pack arrangement. Cathy Pusey returned to Pocatello with the vehicle. She would be picking-up we travelers when (if?) we made it to Atlanta, far to the South across the wilderness.
Whew, we were on the trail at 4:30 p.m. - a real alpine start. Up the dusty trail we four (Lori, Jim, Bruce, and me) plodded, passing several day-hikers on their way out. It was during our first consultation of the Stanley Lake 7.5 minute quadrangle that we realized that we had all brought the gorp - amassing a hefty 8-10 pounds of the stuff. "We'll never eat all this!" stated Bruce, already chafing under 50+ pounds of pack, "Let's jettison some of it now." We munched some instead, getting back to our map consultation. Starting near 6710', we'd call the charge off at near 7:30 p.m. and 8430' at Sawtooth Lake (a 1700' ascent).
We enjoyed views of glorious spires and far-reaching vistas toward, but not of, Stanley. And, we had a good view of Alpine Lake, which we passed along the way. We camped at the North end of the lake, where the trail to the McGown Lakes intersects with our trail. There were mass quantities of spaghetti for dinner, accompanied by a cloud-shrouded almost full moon. My trusty MSR stove became so hot during the preparation of this feast that it melted a hole in the aluminum wind-screen. We ate a bit more than as much as we could. The overnight low was a warm 47 degrees F.
Day 2: Down Elevator: (Sawtooth Lake to Moolack Creek, 8 miles, 6 hrs. ERM = 13.) We undulated from near 8500' to 5600' (where we intersected with the Baron Cr. Trail), and back up to 6300' at Moolack Creek. It was a down elevator, a minus 2900' day.
The morning broke warm at Sawtooth Lake and background spires. We would have the rain jackets on and off twice today, but there wasn't any need for long-term raingear. After wheat germ and oats cereal, we were on the trail, headed toward Mt. Regan and over a low divide at the South end of Sawtooth Lake. Then, down, down, down. Around the South end of Regan and West to meet Baron Creek, the trail steadily dropped - from almost tundra to scattered Ponderosa and occasional ferns. Granite (quartz monozite?) all around, and apparently lots beyond our view. We had problems with a minor creek crossing before the junction with Baron Creek, where the rain had made a slippery log crossing more so. I crashed off the log, and skewered a new gash in my leg. Our feet were feeling a bit flat at the intersection, then we began the climb to Moolack. We saw a long tail weasel chasing a chipmunk. This was a rare and interesting sight, and we concurred that it seemed that the weasel was not trying to catch the chipmunk. A vanilla aroma wafted by, originating in the alligator hide of the monarch Ponderosa Pines. Ahh, Idaho it is.
Moolack? "Perhaps an Edward Abbey Cove" said Sinclair. "No bovines allowed beyond this point, or face instant hamburgerization."
At camp, we heated some water to add to the frigid stream water and then we relished in a warm shower. "I must get one of these shower heads to attach to my water bag," I thought. Portable decadence is allowed, within limits. After all, we have our standards. As we looked across the deep and narrow canyon near Moolack, we experienced an early sunset and didn't see our nearly-full moon. Reportedly, I slept through a sonic boom, which roared through during the night. Anyway, I didn't hear it. Another 47 degree night.
Day 3: Up Elevator: (Moolack to Baron Divide to Alpine Lake; 9 miles, 8 hrs., ERM = 14) Today, we climbed from 6300' to near 9300' at Baron Divide, then we dropped down to Alpine Lake at 8331'.
Frosted forbs lined the first 4 miles or so of trail. Lush. It was suddenly alpine as we climbed above Baron Creek Falls. Although we saw only one horse party yesterday, we were disappointed to encounter two groups of hikers and a 'possible' group of female equestrians. They told us that they 'possibly' ride every Tuesday if they can. Someone put an extra nickel in the Great Sinclair, for he was ricocheting off the rocks with energy. "Just glad to be alive in the "Tooths" he dismissed. I concur. There was lots of elevation among the Baron Lakes, with the three lakes ranging from 8100-8500'. The vistas and waterfalls were ever-increasing as we ascended the Baron Creek canyon toward the namesake lakes. Tohobit, Warbonnet, and Baron Creek falls graced the upper reaches, just downstream from the lakes. "WOA!" (Wow-Oooh-Ahh) and other mutterings escaped our mouths between gasps for the rare air.
Then, we hiked steeply on numerous switchbacks to Baron Divide. WOA! - tremendous views of the Redfish Lake Creek drainage and the Mt. Cramer/Arrowhead area. It was cool on the divide, and this and the late hour prompted us to move along. But first, we snapped photos and chattered like Asian tourists on a holiday before descending the 1.6 miles to Alpine Lake. (Yes, there is an Alpine Lk. near Sawtooth Lk. as well.) There was some screaming and complaining from my left foot arch because of the weight of the pack, but WOA!, what country. Zig-zagging our way past three glacial ponds, we arrived at the dust bowl delight around 7 p.m. This area apparently receives a good deal of use. Our full moon rose over an orange-hued granite lump and the glow shimmered across the lake. WOA!
We saw three deer and some humongous frogs near the ponds. The overnight low would be 44 degrees F., at least 10 degrees, perhaps 20 degrees, warmer than it was last week in Stanley (27). It's still arduous to hoist the 50 pounds or so of precious food into a rodent/bear tree.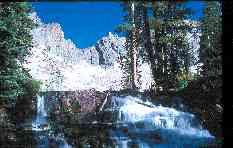 Cramer Lake Falls
(Click the image for a full-size view (25k); Photo by Rob)
Day 4: Flatrock Decadence: (Alpine Lake to Cramer Lake; 6 miles, 4 hrs., ERM = 9) From 8300' at Alpine, we dropped on switchers to 7400' at Flatrock Junction over about 2 miles. Then, up for 3.5 or so to a camp between Middle and Lower Cramer Lakes near 8300'.
We began with an excellent morning, a continuation of the delightful weather we've experienced so far on this jaunt. We hiked down to Flatrock Junction, where Redfish Lake Creek slips and slides over polished granite glides. Deluxe. Jim demonstrated the feet & hands, then belly slide down the polished and wet slickrock. Water temp. was about 50 degrees, a painful experience for my feet, but no problem for the Sinclair. It was also a great sunning spot as well. Gorp time. More sun. A little more sliding, and a few a-la natural photos before packing and dusting our way to the Cramer Lakes. It was dusty enough that we talked briefly about the forest fires that still rage in the Salmon N.F.
After mostly hiking in the forest, we popped-out to views of Cramer. WOA! The Arrowhead. WOA! Falls cascade between the Upper and Middle and Lower lakes. Fantastic! WOA! It certainly is nice to have some lounging time. Time to watch the mountains comprising our backyard turning pink, then gold, reflected saffron on the lake surface, and finally a dull greenish-blue before dark collapsed. WOA! After a delicious dinner of various beans, broccoli, carrots, and mushrooms we awaited the moon amidst a few obnoxious mosquitoes - very few for this trip. As quiet fell, we heard...waterfalls, in stereo - WOA! We were unable to stay up until the arrival of the moon, and it became much cooler, near 40 degrees by the time we went to bed. The overnight low was 34.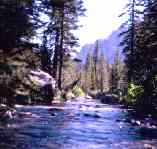 Slickrock Junction Area
(Click the image for a full-size view (11k); Photo by Rob)
Day 5: Cramer Cram: (Cramer Lakes to Edna Lake; 6.5 miles, 5 hrs.; dayhike Edna to Sand Mountain Pass; 5 miles, 2 hrs.; 11.5 miles total. ERM = 10 - not counting dayhike.) We were glad to have the sun in camp this morning - to warm our cold bones. It was another alpine start, and we were on the trail around 11 a.m. Up and up we hiked to Cramer Divide. Here we found revolving views of The Arrowhead, Mt. Cramer, et al. We hiked into alpine terrain, walking switchbacks doubled upon switchbacks. Cramer is a high divide for the 'tooths, nearly 9500'. Spiny crags. The Temple. Despite the ferocious wind at the pass, we enjoyed a high-altitude sunburn during one of many gorp stops. It looks like this venture will be marked by its sunshine and dust clouds. However, the winds and hastening high cirrus clouds appear to be signs of a weather front change. For now, we basked in the sun, out of the wind behind a boulder, munching handfuls of that steadily-diminishing, but still hefty load of gorp.
What is gorp? Well, the technical name is "granola, raisins and peanuts," or "good old raisins and peanuts." Our gorp contained the standard ingredients, plus various additions of M & Ms, pieces of dried fruits, some dried peas, sunflower seeds, chunks of dates, and an occasional surprise of some spicy bits of Japanese crackers. Yum.
Continuing down; we hiked around and above a no-name lake to Hidden Lake and on to a trail junction with the South Fork of the Payette River Trail. Here, we could take the "lake route" or the "forest route" (somewhat easier, I assume). The "lake route" took us up toward Edna Lake. With powdery dust poofing from beneath our boots, we hiked to Virginia then Edna Lakes.
After establishing camp, we motored up toward Sand Mountain Pass. I took along my raingear in an Albertson's plastic grocery bag. Without packs, it's an easy jaunt up the switchbacks littered with granulated granite (quartz monozite?) to the pass. WOA - great views of Toxaway Lk., Snowyside Peak, out toward the White Cloud Mountains, Castle Peak, et al. A group of backpackers trudged by, mouths agape at our "packing gear" (remember the Albertson's bags?). "Where did you come from?" they asked. "We started at Iron Cr. TH," we replied. After a pause, accompanied by glances at our bags, at us, at our bags, the heavily-laden packers moved on, shaking their heads. The overnight low was 38 degrees F.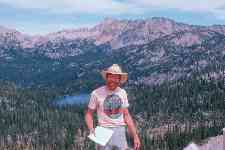 Rob at Spangle Divide
(Click the image for a full-size view (14k); Photo by Rob)
Day 6: Pass and Pass Again: (Edna Lake to Fly Trip/Middle Fk. Boise; 7.5 miles, 5 hrs. ERM = 11.) Rain arrived during the early morning hours. Not much, just enough to emphasize the wonderful weather we've enjoyed. A nicely-timed break allowed us to cook and pack-up fairly dry before a second rainstorm rolled through. We climbed out of the Edna basin and past Vernon Lake on our way to the first pass. Up to 8800', down sharply to Ardeth Lake. Immediately back up to 8900' between Ardeth and Spangle Lakes. Five miles so far. More WOA and great views from the Spangle Pass (my name) of Cramer and the Payette Peak ridge in the distance. There's The Temple. The Payette River drainage exits to the West. We entered the Boise NF as we dropped off Spangle Pass and again headed South. Although we saw several people yesterday, and four this morning near Edna, we've encountered no others since.
I'm siting on a polished grizzly granite boulder at Spangle Lake, writing journal notes while the others are day-hiking to Ingeborg Lake. The ominous-looking clouds overhead are distracting me, temporarily, as they magically puff-up and swirl in grand circles. This trip has been delightful, allowing far-ranging views of the tooths. There are wonderful contrasts here, the starkness of the granite and alpine areas, the fragile delicacy of the high meadows, hidden along with the numerous turquoise lakes, the calm quiet of the forests, the masking stereophonics of the waterfalls. But, I am sad to report that we are determining zones for camping to set-up for the rendezvous with Cathy Pusey on Sunday at noon, near Atlanta. This is one of the limitations of backpacking, that it can/must be driven by destinations, despite all that wandering in between. In essence, it's a goal-directed activity. The group has been quite cohesive and complementary, with much wit and abstractions of witticisms. Sinclair with his wang (camera pouch), dangling in front, wearing his pumpkin (gigantic orange poncho), gyrating up the trail in his indomitable style. Bruce plodding along and joking despite a too-heavy pack. Lori reminding us how lucky we are to be surrounded by all this... We've been beyond the trivia accompanying all jaunts, but not for long and not completely... They're back from Ingeborg and we start down the Middle Fork, Boise River.
The other route leads to Ingeborg Lake, the Ten Lake Basin, and eventually to Queens River. Another bit of country to explore, another time. The flora changes as we descend, the canyon continues to be quite beautiful. From 8550' at Spangle to 7600' at the Fly Trip Creek/Boise River intersection. There's a good campsite near the junction, and we're feeling like it's dinner time. As we finished dinner, we received some special visitors. A doe and twin yearling fawns cautiously tip-toed into camp - to within 10 feet. We sat holding our breath for 20 minutes or more as the deer roved around and through camp. Another doe later joined the first group. Mosquitoes nibbled on my forehead as I watched the deer. The doe was apparently searching for salt or other condiments, as she searched the perimeter of camp, licking the dirt. From pika pass to deer valley, and all in one day.
Intense moonlight woke me during the cool night. Overnight low was 40 degrees F.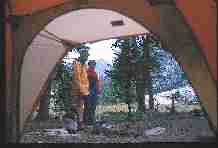 Jim and Lori near Fly Trip Lake
(Click the image for a full-size view (18k); Photo by Rob)
Day 7: Flatfooting toward the Flatlands: (Fly Trip Creek (7600') to near Leggit Creek (5600'), along the Middle Fork of the Boise River; 12 miles, 8hrs. ERM = 16.) It's a cool morning, perceptually the coolest of the trip, belying the 40 degrees low. There are deer tracks throughout camp. The canyon is still tooth-like, and would remain so until after we passed Rock Creek. Consulting the map, we see it is a very long way, graded down, from Spangle Lake to Atlanta. It's a stretch I would not prefer to hike up. But, it's a pleasant down escalator. Roving in and out of islands of what we called "the dark forest," we relished the biologic diversity at the edges of these patches. We would not encounter others until the Rock Cr. junction, a duration of over 24 hours since we left Edna Lk. It's pleasant today.
We crossed the Middle Fk. Boise four times. One crossing was a tip-toe on a log suspended 20 feet above the river and jammed into a hillside. To get off this sky-walk, you must lean out and grab a tall stump (where the massive tree broke from it's earth-tether), then pull yourself up and over the stump splinters to the hillside. Invigorating, especially with a full pack. Making good time, we're back into reddish-tinged forbs and occasional amber aspens. Lots of the spruce trees appear to be victims of the bud worm, acres of red on green needles. Miles and miles, but God scenery most of the way. During a lunch stop after crossing the Middle Fk. Boise for the last time near the Timpa Lk. Trail, which goes West of the Middle Fk. along Rock Cr., we noted with delight that we have consumed the vast majority of our gorp. Lately, I've been able to snap the top pocket of my cavernous Lowe pack to the main pack - down to 45 pounds or so. My feet can begin to assume their normal shape. As we rolled past Mattingly Peak, toward Leggit Cr., Lori says "I'm getting grumpy from the lack of mountain views and the low altitude." "But what about Wisconsin" I asked. "As I recall, it has approximately the same number of mountains as the Arco desert, and it's a sea of claustrophobic greenery." Lori disapproved of my observations, and her reply is not printable. Maybe her language was of the mid-east dialect (look at any map, Texas is in the south and Wisconsin is in the mid-east).
Approaching Leggit Cr., we encountered a road scar where the trail to Leggit Lk. breaks off. The Wilderness boundary already?! More crossings of this Symms sign. (Steve Symms was a self-proclaimed wilderness hater Idaho senator, fully owned by special development interest groups.) Disgusting! Despicable! Another mile and we came to Leggit Creek, where we began the search for the trip's last camp. While setting up in a marginal camp, we learned the story of the Symmscyle gash. Grandfather rights to a mining claim (on what is your public land). An ORVer who "owned" this stretch informed us. We were on "his" property and he was wondering if we were the scuzball pointy-headed "envirnmentlists" who had left his gate open - only HE was supposed to utilize this gate. Bruce had gone over to talk with the Symmscyclist, mostly to obtain his license plate or to beat some sense into him with an environmental-sympathizer rock. After a brief discussion, the mechanical intrusion departed. Jim's Symms condition (diarrhea) of abnormally frequent intestinal evacuations continues. I joined him for a republican party caucus over an old log just after sunset. We considered it a fitting way to mark this private desecration of our public land.
Cool air was settling from the Leggit Cr. chute as the overnight low reached 40 degrees F.
Day 8: Drizzle Down: (Leggit Creek to Powerhouse CG near Atlanta; Chatanooga Hot Springs; 2 miles, 1.5 hrs.; and drive, drive. ERM = 3.) I was up very early to a gray sky and setting moon for a Symms bout - proximity to civilization is making me sick, and I have diareahha. Back to the tent for a nap, and then up for breakfast, packing, and group hesitation to leave the wilderness. A light rain began to fall as we finished our oats and groats. It's completely overcast now. The wilderness has sensed our mood and provided the weather to match. Out to Powerhouse CG we hiked, an hour and a half hike. We had to haul the protesting Lori past the Wilderness boundary sign. My trusty straw hat was beginning to droop and leak in the continuing cloud spray. We met Cathy as we were hiking out to the CG, perfect timing. One consolation was the Cookies in the car!
Atlanta hot springs (a 75' wide pool) was along the road, and we eventually found Chatenooga hot springs flowing from a bluff near the Middle Fork. It's west of the Atlanta pool. Low drifters of clouds and steam from the hot water commingled, making discrimination difficult. It's still raining, a slow soaker. Who cares now? We're near 5400' now, really the lowlands. We relished in a glorious soak in water near 107 degrees, and enjoyed a hair-washing nearby. Overload! Near-total absence of blood pressure! Hypotension blackness overwhelms one if they stand up too quickly.
Finally time to leave, with reluctance. We drove through Rocky Bar and Featherville, silver/gold mining areas, and 3 hrs. to Glenns Ferry to pick-up Bruce & Cathy's kids. Discussion complemented the coffee and home-made cinnamon rolls at Bruce's parents' home, yum. Then, over to Jerome to visit Jim's Mother for an hour. All those Idaho roots to water. And, rain and more rain fell as we drove through the dark to Pocatello...
<! --------------------------------------- this first table is to display a jpg map - centered ----------------------------------------->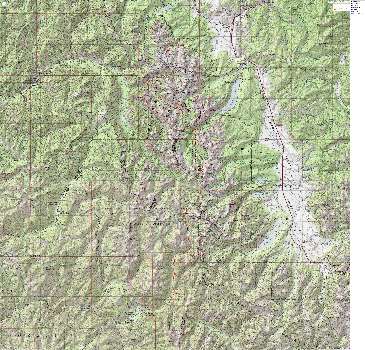 Map - ID: Sawtooth Wilderness: Iron Creek to Atlanta (rough track, not a GPS track)
(Click the image to see the map)

<! --------------------------------------- first table ends -------------------------------->

If you want to view a full-resolution map, click here. Caution - do not use this map or gps track for navigating the route.

Epilogue: I'm glad to be home in some ways; Lecia, hot shower, cookies. I would need to wash some of my clothing twice to produce a clean, though slightly gray, appearance. Thinking of the Sinclair Sawtooth Traverse; traverse the 'Tooths in 8 days, over 5 divides, and somewhere around 90 (ERM) miles. A tremendous trip.

After a restless night (who can sleep on these fat mattresses?), I was up to clean more gear, then drive Jim and Lori to the Smog Lake airport. It's all over so quickly. With the thermarest pad folded on the seat to prevent TB, we drove into happy valley. Last moments with Jim and Lori at the airport, then, on the way back to Pocatello I watched as the sun cast a magenta glow on Kent Mountain near Malad, Idaho, named for my great-grandfather. The heavy cool alfalfa-scented air was collecting in the dry creek basin near the historic Jones' Deep Creek ranch near Malad as I stopped for a quick inspection. Standing by the cast iron, porcelain-knobbed wood cookstove in the old ranch house which replaced the original homestead log cabin, I wondered why no one has lived here since my Grandmother died. The cool and quiet of the 'Tooths didn't feel quite the same as the present cool and quiet....




---
See the Caveat to this report below:
---
*ERM: Energy Required Miles, are there data to support this mileage adjustment?
Journal of Outdoor Recreation, Education and Leadership
Petzoldt first proposed his theory in his 1976 book "Teton Trails" to help backpackers plan trips and calculate their energy needs on mountain trails. "Petzoldt defined one energy mile as the energy required to walk one mile on the flat. He recommended adding two energy miles for every 1,000 feet of elevation gain, so a person hiking one mile and 1,000 feet upward would use the equivalent of three energy miles," Phipps said.
Petzoldt's energy mile theory was just a reflection of the mountaineer's "gut feeling," Phipps said. The theory had never been tested in a laboratory before the study began in WCU's Exercise Physiology Laboratory in the spring of 2010, Phipps said.
To determine the validity of the theory, the study measured the energy cost and perceived exertion for walking on flat ground, with and without a 44.5-pound backpack, and up an elevation gain of 1,000 feet, with and without the backpack, through the collection of metabolic data, Phipps said.
Twenty-four student, faculty and staff volunteers, including 12 males and 12 females, went through four testing sessions as the research continued into fall semester of 2010. The study results showed that the additional energy cost for ascending 1,000 feet ranged from 1.34 to 2.02 energy mile equivalents, for an average of about 1.6 miles, compared to Petzoldt's use of two energy miles for each 1,000 feet. The range revealed by the study was due to the "hikers" personal weight differences, Phipps said. "It is remarkable that Petzoldt's energy mile theory is so close to the actual energy cost measured during our study," Phipps said. "In the field of outdoor education, it's important for leaders to include an estimation of energy requirements during the planning of hiking trips."
Phipps said the energy required for hiking up steep mountain trails would vary for individuals and groups, and the variables of the trail would also factor in, but he recommends that backpackers stick with Petzoldt's idea of adding two energy miles for every 1,000 feet of elevation gain when planning trips.
The Validity of Petzoldt's Energy Mile Theory, 2010
Authors: Maridy McNeff Troy, Maurice L. Phipps
Publication: Journal of Outdoor Recreation, Education, and Leadership
---
---