Passion for Paria!
Backpacking Paria Canyon

With Day-dabbling in Buckskin Gulch




May 1 - 8, 2004

by Rob Jones

(Text and Photos © copyright by Rob)

<! --------------------------------------- tables are in a TABLE I set the BORDER = 6 and color to red so to better see the effect I also used ALIGN=center in the TD element to center each minitable in the cells. Using TH instead of TD would have the same effect. the BCColor in the GC report was FFDEC6 -----------------------------------------> <! --------------------------------------- this first table is across 3 collums, so it stands alone (the image is also larger than the others ----------------------------------------->

Wrather Arch, 6th largest span in the world (90k; full-size panorama is 1187 pixels wide;
look for Bret off the left buttress for scale)
(Click the image for the full-size panorama)

<! --------------------------------------- first table ends and 3 collums started, for three images ----------------------------------------->

Click here for a description of backpacking Buckskin Gulch to Paria Canyon:
Hiking The Center of The Earth, 1987
---
Click on the thumbnails below for the full size images. They will open in a separate browser window.

---


Kit Fox in Buckskin Gulch

Hanging Log

Petros - Wire Pass Jct.

Group-Buckskin Gulch

Craig & Slide Rock Arch

Bret & Moqui Steps

Paria Contortions

Calm water morning

Bret in the Paria

Shower Springs

Paria Canyon 1

Craig says "The Paria is Deluxe!"

Happy cactus

Wrather Arch - front view

beware - bushco was here

Lower Canyon Sunrise

Petro Rock, Rolled over

Rob & Kathleen

Roll on Paria!
"What threatens us today is fear… Our danger is the forces in the world today which are trying to use man's fear to rob him of his individuality, his soul, trying to reduce him to an unthinking mass by fear… This is what we must resist, if we are to change the world for man's peace and security. So never be afraid. Never be afraid to raise your voice for honesty and truth and compassion, against injustice and lying and greed. If you will do this, not as a class or classes, but as individuals, men and women, you will change the earth. William Faulkner, Oxford, Mississippi, May 28, 1951 address to University High School graduating class.

This sounds frighteningly similiar to present day bushco fear mongering. It sadens me to think how many Americans still believe there were WMDs in Iraq and that there was a connection between AlQueda and Saddam H. They are prime dupes of bushco, defender of elitist corporations and nothing else. It's corporate welfare for big business, and fear for everyone else.
Wanting to immerse ourselves in delightful and precious wildness, we backpacked the Paria. Wildness seems an endangered landscape in the extractive-priority bushco West. In the dynasty of bushco, precious places ever-wild are rapidly becoming never-wild. We are all losing our heritage.

We are mindful, while considering wading (and swimming?) the Paria, that Archimedes' principle states that a body immersed in a fluid is buoyed up by a force equal to the weight of the displaced fluid. It is comforting to note that the principle applies to both floating and submerged bodies. Archimedes, born in 287 BC in Syracuse, Sicily.

Day 1: Marble Canyon to Lounge: Kathleen and I drive to Bret M's, and after some last-minute wrangling with water shoes, we are on the road to Escobar's in Kanab. We eat at Nedra's Too because Escobars' is closed - then on we drive, completing nearly 400 miles at Marble Canyon Lodge, where we meet Craig M.

Now we are sitting and gazing at massive Vermillion color-drenched walls, while watching lounging lizards watch us in the sultry air. This presents quite a contrast to our last trip, where we slogged through mud and snow in the canyons of Southern utah. One of the tires on K's car has a slow leak and we are fortunate enough to find Lou repairing a semi at the Lodge. As we present our difficulty to him, Lou grumbles and growls and grinds his teeth, emphatically stating something about passenger car tires.... later fixing the tire by the dim light of a yard light for $25 (a bargain). K and I enjoy some spiked lemonade and some wine (this isn't utah, after all) while C and B go to Lee's Ferry Inn for dinner. Ahh, the delightful days of desert dreaming.

Day 2: Dabble in Buckskin Gulch, top portion: BLM Rd. 1065 to Wire Pass, explore Buckskin Gulch, top portion. After much packing and re-packing, we drop the Forester at Lee's Ferry, stuff Craig's car full of packs, food for 9 days, the four of us, and drive back toward Jacob Lake to BLM Rd 1065, which cuts between Hwy 89A and 89 and between Paria Plateau and the cliffs. After 20 miles of OK dirt, we arrive at Wire Pass TH, and back in utah. It is near hot and late afternoon as we enter the cleft and cleavage of the Gulch, resplendent in its curvaceous colors and convolutions. Deep in the dark of inner earth, I glimpse what might be a fluffy tail slipping around a corner. What? A coyote down here in the slit of darkness? A pointy nose peeps out from where the tail disappeared. Nope, it's a Kit Fox and he's hiding in the tiny alcove, pretending to be part of the rockwork (see photo). After 3 miles of Buckskin dabbling we return to the car and drive the 8 miles to White House CG, where we flop into folding chairs in the shade of a juniper, drawing designs with bare toes in the eons old sand. A near full moon pops over the gray Navajo SS as we enjoy spaghetti, wine, and etc.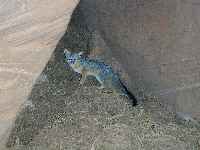 Kit Fox in Buckskin Gulch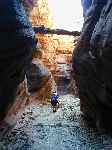 Hanging Log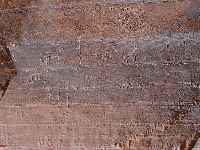 Petros - Wire Pass Jct.
Day 3: Paria to Buckskin: Dabbling for Camp: After checking in at the BLM contact station, we select footwear and start into the Paria at White House. The map calls it P0 (mile zero of the Paria). It would be about P39 when the Paria meets the Colorado.
I erroneously take boots (old Asolo) and river shoes - probably river shoes and good sandals would have been better. Craig hikes in his triple water-proofed boots and does great. Bret uses water shoes. Kathleen uses boots and sandals. The mud sucks the sole right off one sandal, and we use Craig's "Murphy's Law" fix-it kit to repair it by stitching it together with wire.
It is hot and it quickly becomes tiring hopping the river rocks, trying to stay dry. At about P4 the narrows begin and I changed into river shoes - which I still wear as I write from Big Springs at P12. Wow, the gorge is delightful as it turns and slithers, orange and reds of iron oxides decorate the Navajo SS. Slide Rock Arch appeared at P6.8 - there being a false Slide Rock a mile above. Of course, I get numerous photos of both slide rocks.
Then, we feel the cool air drafting out of a serpentine dark and narrow slot - could it be? too small? No, Yes it's Buckskin! One could easily miss this marvel if not fully aware because it could be mistaken for a convolution of the canyon. I suppose this means nearly all neo- conservatives and wrong-wing "religious" soldiers would miss it, being blinded by cash and such? It's P7.6 or so, and we drop packs to explore. Amazingly, there is no one camped at these most popular of camps in the area! We camp high on a bench and lounge while watching the raucous ravens, the swifts and swallows as they swirl the thermals near the rim.
About 10 p.m., a group giggles down the black of Buckskin. Then the sound stops, and I wonder if they are near. Later, I smell a putrid fire and wondered some more before drifting to sleep. In the morning, we see that they have broken all the rules and common sense, which is not so common after all - a campfire, a dog, no permit.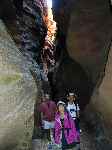 Group-Buckskin Gulch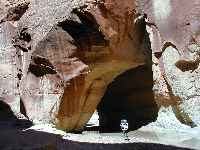 Craig & Slide Rock Arch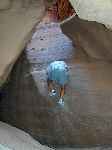 Bret & Moqui Steps
Day 4: Moqui Boulder Jam: P7.6 (Buckskin - Day hike to boulder jam) to P12, Big Springs. "Deluxe!" we chant as we wind and curve along the Buckskin, footsteps echoing as we day hike to the boulder jam- about 1 and ½ miles up the gulch. A serpentine delight, dashed with the ebony of desert varnish and soft glows of warm crimson, Buckskin Gulch is reputed to be the longest of slots on the Colorado Plateau, at 11 tunneling miles. Photos, especially words, are inadequate to describe the delights we see. This is a welcoming and yet stark slot, "the" slot on the Colorado Plateau. Reaching the boulder jam, Bret climbs the moqui steps for a better look (see photo).
We return to camp for gorp 1 and to find the texan defilers gone and the smoke cleared. Hoisting packs, Craig declares "the weight-lifting contest has resumed!" Down the twisting Paria we wade, noting that the water level had dropped by ½ of yesterday and that it is considerably cleaner. We carve past abandoned and hanging meanders (rincons) and loop through the continuing narrows of the Paria. The tight canyon provides shade, which we relish. Lots of wading- but not deep water (ankle to knee deep). We encounter Germans - a couple-heading upstream - they wondered about whether Buckskin Gulch was obvious? Yes, but one must look careful. You may look and not see. I guess they missed it on the way down stream. They too are headed for Big Spring at P12. The spring chugs and spurts from the wall - deluxe, delightful, blue crystal water fringed by Maidenhead Ferns - yahoo. Two lounger East Europe rodent-types came in and attempted to camp amidst us - yet Craig and Bret finally persuaded them to camp near the Germans. I surmise Europeans are used to camping in close proximity in parks? But right in the middle of our camp, which we had carefully placed to leave room for others? Both foreign groups were hiking to Big Springs then back out to White House. A good plan, which avoids a shuttle and through-hike. The map suggests that the more open part of the canyon is below. Sprawled on the fine sand, I prop my prune feet on a chunk of driftwood and gaze tilt-necked at the roaring walls topping the evening.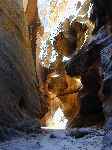 Paria Contortions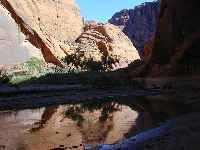 Calm water morning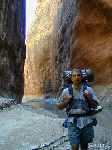 Bret in the Paria
Day 5: A Hole in What?: P12 (Big Springs) to P18.3, below Judd Hollow Pump: Leaving the haven of Big Spring, we trek past the (this trip) nothingness of the boulder jam at 16.2 and the rincon and Judd Hollow pump at 17 before locating a delightful camp at about 18.3.
We explore downstream to 'The Hole' - a small grotto with a minor flow of difficult to gather water - yet opted for the camp at 18.3. Here we are, relishing in the shade and gathering coolness of camp following a hot day- the canyon has opened some.
The camping is crowded near the springs, and of course, in the corridor. A San Jose group of 7 arrive near dusk - finally setting up just upstream of our camp. A thunder of deer interrupt our sleep.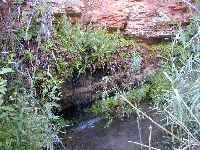 Shower Springs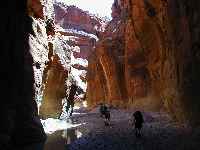 Paria Canyon 1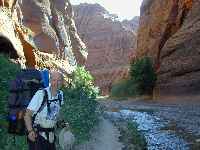 Craig says "The Paria is Deluxe!"
Day 6: I'd Wrather Be Wild, Thank You!: P18.3 to P22 Shower Spring Camp and explore Wrather Arch (5th largest span in the U.S. and 6th largest in the world at 246 feet):
Up and on the trail early - the purple rocks, flowers, dusky drooped rye grass and toasted cinnamon walls look especially fresh in the morning coolness. We breeze past The Hole and, after some consideration and map inspection, soon arrive at P20.5, the tight opening that we surmise leads to Wrather Arch. Up we climb to this monster span, wedged in the top portion of the canyon about 3/4 of a mile up from the Paria. The arch is so massive that it takes several frames - to capture the span. The opening panorama (top photo in this report) is formed from 5 images. A delightfully deluxe! power spot indeed. After gorp 2 (or is it 3?), we continue to Shower Springs, reportedly the 2nd best water in the canyon, after Big Springs.
You may ask, "What arches or natural bridges have larger spans than Wrather Arch?" Well, they are: Kolob Arch (Utah, 294'), Landscape Arch (Utah, 290'), Rainbow Bridge (Utah, 275'), Sipapu Natural Bridge (Utah, 268'), and Aloba Arch (Chad, 250'). These data are from the website for The Natural Arch and Bridge Society. Wrather, of course, is the least visited of the top five U.S. spans, and we feel privileged to share the canyon with it.
We lounge in the shade of soaring Navajo SS walls through the blistering mid-afternoon, listening to baby raptors cry and the tinkling of Shower Springs across the burbling Paria while the shower bags warm in the generous sun. Cooling thermal-driven winds cool the early evening, as the scent of flowering Russian Olives wafts by and the pinks, purples, and yellows of cactus flowers bob and sway. We council about how to plan the next 2 days, with the last reliable Paria spring at P25 and water hoped for up Bush Head Canyon (1/4-1/2 mile up?). What to do? Will there be water in Bush Head? We are at P26.4 . Will the Paria be flowing and clear below Bush Head? How will we like the last 12 miles (to Lee's Ferry at @P38.5)?
Local sunset has arrived and it's about 6 p.m. as Craig is preparing to cook split pea soup and a feticini dish - he pensively waits for a pause in the pesky wind to light the stove.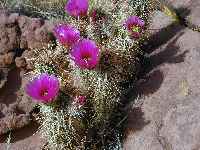 Happy cactus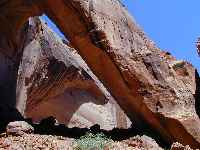 Wrather Arch - front view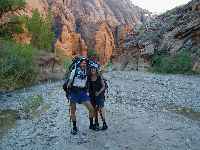 Rob & Kathleen
Day 7: Afternoon Delight, or Bush Head Revival: P22 (Shower Spring) to P32.5. Up early, we leave the grandeur of Shower Spring and drift down canyon past the last reliable spring followed immediately by a few feet drop of "Paria Falls" where the Paria eats into the Chinle. The fluted sculptures in the Moenave are delightful. Bush Head Canyon cuts far back into the towering rim burned by wild fire about 10 years ago- the area looks OK to me and the soot-spotted Cottonwoods would provide a fine camp.
We're sitting under a delightful Cottonwood near what we suspect is the start of the high water route (P28-30.2), lounging in our custom swamp cooler outfits - clothes soaked from a full immersion in the Paria. It's 2 p.m. and torrid out in the substantial sun. The canyon culture has transformed, becoming wider yet deeper. Now huge coils of Navajo SS recline on the dark chocolate and ruby cliff layers of the Kayenta and Moenave Formations, sprinkled with lighter extrusions of Chinle, which is mostly covered by debris.
K and C are napping as the sun continues to smolder, Bret is off exploring, and I am considering a nap too. As soon as I finish a few more notes.... Ahh, sweet desert delight.
We get back on the trail, pass the "P.T. Johnson 1912" inscription, and climb on a decent trail high above the Paria into clay multicolor and dramatic volcanic ash bumps. Ever changing geology. This is the fabled high water route. Chukars pop out of the canyon to "chuck-er-er" at us. Clouds and a strong breeze roll in and the walk is enjoyable - although high temps now drop into the 80's - it feels hotter. Passing the "last camp" where the route returns to the Paria (poor site, one weather beaten tree), we are happy we planned to continue to the petroglyph rocks (see photo of petro rock, where the images are upside-down after rolling down a hill). Huge dunes spread out from the cliffs. (I wear my boots from Brush Head to the TH at Lee's and get only a little wet.) Petro camp is full of chortling old hikers guzzling precious sauce. My mouth waters despite the blowing sand that sifts in whenever I take a deep breath. Well, now what? It is getting late and the storm is blowing hard as the clouds go from gray to intense purple. We locate a sheltered camp @ P32.5 and set up quickly - then, as soon as everything in the tent is covered in a fine silt, the sky clears to expose wondrous stars - our first star-scape outside the narrow slit of sky we saw in the canyon. Craig's nightly reading of trail poems soothes us.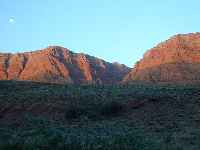 Lower Canyon Sunrise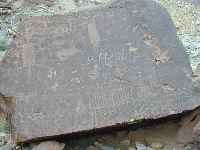 Petro Rock, Rolled over
Day 8: bushco radioactivity (Yikes) and Basha's: P32.5 - 38.5 (Lees Ferry). Up early to a glowing rampart of sun-splashed cliff bands, we hike past Wilson Ranch in precious coolness. There is a spring here but also a bushco radioactive sign.
"Is radioactivity bad for us, emperor bushco?", ask the mental midgets who support bushco. "No," replies emperor bushco "as long as we keep it stored in the ultra-conservative ultra-compliant states of Idaho and utah, perhaps Nevada, and don't eat more than a few spoon- fulls each day, we'll all be just dandy fine, especially the envirocares" (and other Orwellian-named elite businesses), "just dandy fine." "Note to nukular norton - must remove unhealthy signage from them there western folks hang outs." "We'll just remove the signs, not the assault on public lands, lands which we will sell off to our buddies like kenny-boy." "No folks from them there red states know environmental toxins kill far far far more people than terrorists," chuckles bushco. "Another note to nukular norton" quips bushco "think up more (Orwellian) slogans like 'healthy forests' (where special interest elite loggers are allowed to cut down all the trees, especially the old growth and those in riparian areas, to 'save the forests'), or 'clear skies' (where particulates, mercury, lead, and other biological tyranizers will be 'regulated' by the big business elite), or a 'save our salmon' program (where protection will be eliminated on most streams essential for the recovery of native salmon) so wealthy elitist builders will be able to build right on and destroy stream banks, or an "energy independence" policy which rewards waste, and greed by producers (rather than conservation or alternative energy sources), etc." "Those pesky regulations are for people, yet I'm for corporate welfare and the wealthy elite,"scoffs bushco. "We need more slogans, more wealth for the elite, more control of the press and the courts, more corporate welfare programs, and we can get it all by managing and producing more fear, more distortions and misrepresentations of the truth," sneers bushco. "After all, many Americans still believe there were weapons of mass destruction in Iraq, and that there was a connection between Saddam and AlQueda, so all we in bushco need to do is keep things stirred up while pretending to be for the average American, then we can enrich just our corporate elitist friends and make it improbable for Americans to use social security because they won't live as long (when coupled with pharmacies and big medicine running 'health care'). Use simple words and simple thoughts for complex problems, wrapped tightly in slogans, fear, and lies," chortles bushco.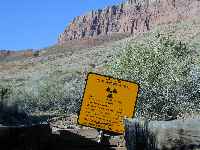 beware - bushco was here
"Since george w bush took the office of President of the United States I have been sick of heart, unable to stomach or abide by this administration's aggressive policies directed against the environment, education, social services, healthcare, and our civil liberties - basically, the wholesale destruction of seemingly everything that contributes to a free society, except the special interests of big business." Terry T. Williams, The Open Space of Democracy (2004, p. 17), The Orion Society, Great Barrington, MA.

Are these uranium rocks scattered about? We encounter more and more signs of incursions by the tyranizers (to quote bushco). Cow-burnt 'meadows,' rutted roads, abandoned pipes and such.

We pop into Lonely Dell, then walk roads to Lees Ferry. It's over too soon for me, this precious hike of passion in the Paria. Although I enjoy a shower at Marble Canyon before we cram everything into K's car and head for Page and Basha's grocery, denizen of fine spirits, I long for those writhing, contorted, snaking narrows, a conduit to an open mind and experience...

On to Page, for non-utah wines and beer!! (Retrieve Craig's car at the Whitehouse TH.) To Kanab for Mexican food! Here we sadly separate from Craig and drive the 400 miles home to the land of smog and salt.

"Knowing ignorance is strength. Ignoring knowledge is sickness." Tao Te Ching of Lao- tsu

"The fact that an opinion has been widely held is no evidence that it is not utterly absurd; indeed in view of the silliness of the majority of mankind, a widespread belief is more often likely to be foolish than sensible..." Bertrand Russell

"Anyone who has the power to make you believe absurdities has the power to make you commit injustices" -- Voltaire, 1767

"Where is there dignity unless there is honesty?" --Cicero (106 BC - 43 BC)

"The only thing worse than wisdom on ice is ignorance on fire, as in the republican party," Newt Somebody

Roll on Paria!
---
---