midden pottery bonanza
(Click the image for a full-size view)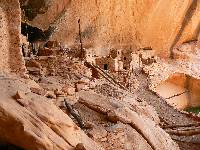 Inside Kawestima - Keet Seel
(Click the image for a full-size view)
Inside Kawestima - Keet Seel
(Click the image for a full-size view)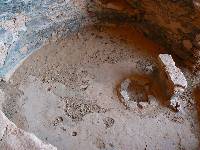 Kiva, Kawestima - Keet Seel
(Click the image for a full-size view)
Pots, Kawestima - Keet Seel
(Click the image for a full-size view)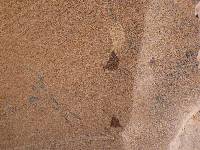 Pictos, Kawestima - Keet Seel
(Click the image for a full-size view)
(There are - More photos below the trip narrative.)
Day1: Rim Trails; (3 mi; 3.5 ERM). Along the way to the National Monument (NM), we tried to locate Tuba Arch - wrong MP for road. At the NM, we hiked the Sandal, Aspen Forest, and Canyon View Trails to views of Betatakin Canyon. Then, we camped in #23 at Sunset Campground (CG). Few visitors. Very nice at 7300'.
Day2: Kawestima/Keet Seel Ramble; (19 mi.; 25 ERM, long day). Our first minor 'mistake' was not starting early enough (we started at 7 a.m.), the second was starting from the CG rather than the Keet Seel (KS) Parking. Road walking, then closed road walking to Tsegi Overlook, now on the Navajo Nation. Then, down steps and sand ridges, past the turn-off to Betatakin, and down more to the wash. We crossed, hopping through water, and rounded the bend into KS Canyon, following mileposts. The mileposts are numbered from 8.5 at KS parking to 0 at the Ranger Station (RS) at KS.
After the 1,000' drop, we're walking upcanyon with a 400' rise to KS. Back and forth, we cross the cow-infested stream, keeping boots dry for the main part. It's a long way, and when we get to the 2nd waterfall things were promising. Passing more gaseous ruminators, who look a bit more intelligent than the asses of evil (bushco, cheney, and the ex-rummy), who display their evil lying deceit alongside their bovine intelligence. Stinky.
Lots of unsavory water and overgrazing amidst this geographic and architectural jewel. Tragic. Native vehicles can drive to the 2nd waterfall, and ATVs beyond this. Despicable. Eventually, we reach the NM boundary and pause in the shade of oaks and box elder trees, awaiting our private tour of KS. There are few people around today - we saw 5 people on the way in (they were coming out). We enjoyed a private tour because we were the only ones around. Some backpackers arrived about the time we came out of the pueblo.
It was the Hisatsimom, ancestors to the Hopi, who built Kawestima (Keet Seel) some time around 1200 a.d. Within a century, the storage rooms of KS were mortared shut and people moved on - probably because of drought. Sound familiar?
I attempt a couple of panos of KS, and fortunately, Steve is able to stitch one of them together (see above). There are lots of kivas and levels in KS. Pottery shards of different construction type, red on black, black on white, coiled are scattered about in the midden.
Refilling water bladders from the extra gallon I have been carrying, we begin the long trudge out, noting the canyon with the secret spring, and the trail leading to it from the high route. We also note how small the NM boundary area is - after the dramatic down-sizing from what this NM was in its glory.
On the hike out we see an arch we dub Tse'yi Arch (pronounced "say-yah") high in the wall. We are advised that Tse'yi means something like 'in the rocks.' It's back down canyon about 200 yards from the 3.5 milepost and high in the East wall. I try to steady my sewing-machine body, resting my trusty Panasonic at full zoom on a hiking pole and easing off a few shots.
We are dragging when we leave the tainted water and slog up the sand ridge. And, it's nearing sunset as we plod back to the CG and a hot sunshower and muttar paneer with rice - which greatly eases recovery. A cool evening collapses on us as we finish chores by headlamp.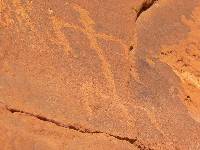 Petro near Tsegi Overlook
(Click the image for a full-size view)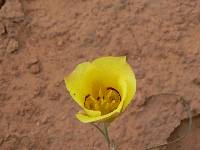 Yellow Sego
(Click the image for a full-size view)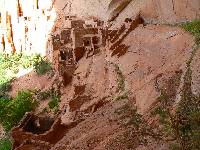 Talastima/Betatakin
(Click the image for a full-size view)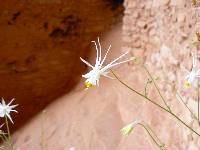 Columbine - Talastima/Betatakin
(Click the image for a full-size view)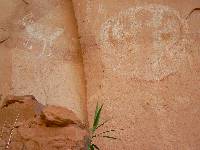 Picto Talastima/Betatakin
(Click the image for a full-size view)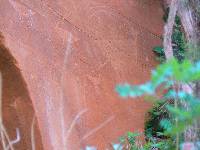 Petro - Talastima/Betatakin
(Click the image for a full-size view)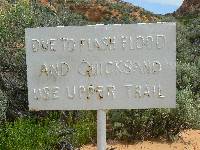 sign in Kawestima
(Click the image for a full-size view)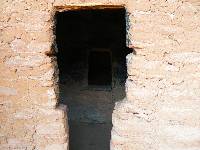 T-Door In
(Click the image for a full-size view)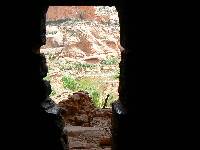 T-Door Out
(Click the image for a full-size view)
(There are - More photos below the trip narrative.)
Day3: Arch Madness Surprise; Kayenta, Monument Valley, Goosenecks SP - yikes, in utah.) We sleep in a bit because of yesterday's bruising and when we try to sign-up for the Talastima/Betatakin tour, find it is filled by a single group. So, we pack and head to Kayenta, then North, discovering two arches near MP 408.4 on Hwy 163, East side, and I also see one low in the basalt near Kayenta - but we don't pursue this arch.
We also enjoy Owl Rock and across from it, Agathla Peak. Later, the clouds roll majestic over Mexican Hat.
We pause at Gouldings' to inspect Navajo rugs and consider a tour (declined). On to Mexican Hat, enjoying vistas of Monument Valley. To Goosenecks SP, where we find great views but no real CG - it's open, hot,and windy. So, we return to the CG at the NM. On the road, hogos wallow in their own filth, but it's fresh air we breath at the NM, ahh, how American.
Day4: Talastima/Betatakin Stroll; (5 mi.; 8 ERM). OK, this time we are hiking with a Native ranger to Talastima, initially following the same route as to Kawestima/KS. She points out a petro I had not seen on the way in. It looks almost identical to the one we saw in South Canyon of the Grand Canyon (see this report).
It's hotter today, and we are pleased when we reach the grove of Aspens, Gamble Oak, and Water Birch and then the coolness of the alcove. A spring graces this dwelling-filled oasis, and it may be largely responsible for the existence of the alcove. Ancestors of the Hopi labored here for just one or two generations, then moved on. Delicate Columbine grace the wet areas, accompanied by poison ivy. I attempt a panorama of the dwellings and photos of the shield figures and some petroglyphs too.
Day5: Archdom; (White Mesa Arch, Tuba Arch, home.) Eventually, we find White Mesa Arch on the Navajo Nation and get distant photos. Then, to Tuba City and another try deciphering Ray's directions to Tuba Arch - success, then on home.
It may be time to re-read "The Summoning God" by Kathleen O'Neal Gear and W. Michael Gear, 2000. (See below or in the "Pictos" report.)
<! --------------------------------------- this first table is to display a jpg map - centered ----------------------------------------->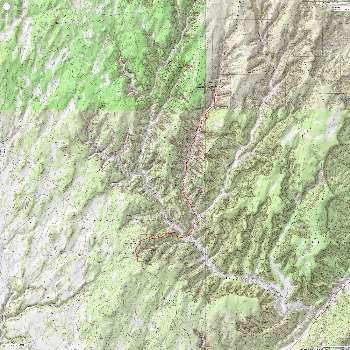 Map - AZ: Navajo NM: Kawestima-Keet Seel Ramble; 19 miles
(Click the image to see the map)

<! --------------------------------------- first table ends -------------------------------->

If you want to view a full-resolution map, click here. Caution - do not use this map or gps track for navigating the route.

<! --------------------------------------- this first table is to display a jpg map - centered ----------------------------------------->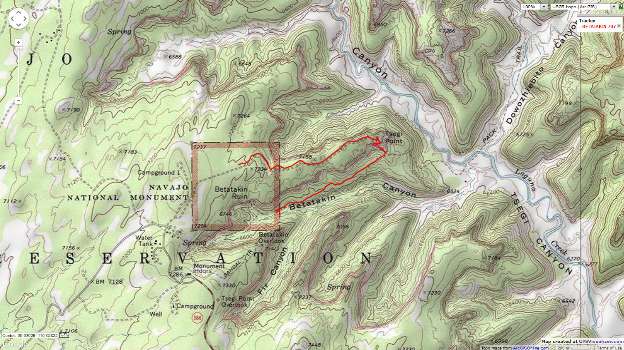 Map - AZ: Navajo NM: Talastima-Betatakin; 5 miles
(Click the image to see the map)

<! --------------------------------------- first table ends -------------------------------->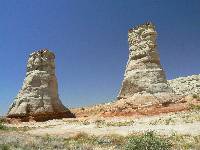 Elephant Feet - on Rd to Tuba
(Click the image for a full-size view)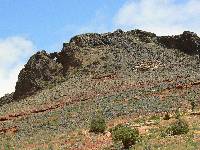 Black Eye Arch, MP 408.4
(Click the image for a full-size view)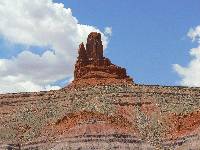 Owl Rock, hwy 163
(Click the image for a full-size view)
Mitten view - Monument Valley
(Click the image for a full-size view)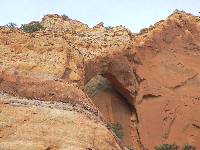 Tse'yi Arch, Keet Seel
(Click the image for a full-size view)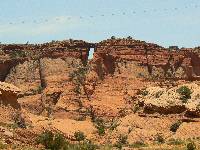 Navajo Cube Arch, MP 408.4
(Click the image for a full-size view)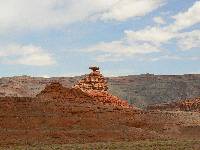 Mexican Hat
(Click the image for a full-size view)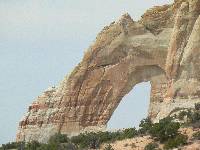 white mesa arch
(Click the image for a full-size view)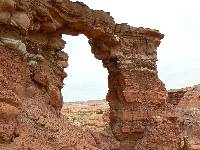 Tuba Arch
(Click the image for a full-size view)

The Rise and Fall of the Anasazi:
Why Should We Care What Happened to Them?
taken from: "The Summoning God" by Kathleen O'Neal Gear and W. Michael Gear, 2000, New York: Forge Books
Text below © copyright 2000 by Kathleen O'Neal Gear and W. Michael Gear

During the eleventh century, a high desert valley in northwestern New Mexico named Chaco Canyon became the cultural center for a people we call the Anasazi, or Ancestral Puebloans. Their culture encompassed over 115,000 square miles and included approximately 100,000 people. The Anasazi built five-story buildings with over eight hundred rooms in them; they charted the solstices and equinoxes, the cycles of stars, even the 18.6-year cycle of the moon; they established far-flung trade routes that brought them scarlet macaws and cast copper bells from Mexico, seashells from the Pacific Ocean and Gulf Coast, the buffalo hides from the northern plains; and they engineered a road system that would be unequaled in North America for seven hundred years. But by A.D. 1400, they had all but vanished.

Perhaps the two questions archaeologists are most often asked are: "What happened to the Anasazi?" and "What do they have to teach modern people?" Though both questions are linked, the latter is the more important, because the answer bears directly upon the survival of our own civilization.

Around A.D. 1130 the climate began to change. In Europe it would become known as The Little Ice Age, but the Anasazi knew only that a new drought had begun. Not in their wildest imaginations could they have guessed that the period of deep cold and reduced rainfall would last for more than three hundred years. The count of tree pollen in the archaeological record drops dramatically during this period - meaning they cut down every tree they could find to clear fields for crops, to build their homes, cook their food, fire their pottery, light their kivas, and keep warm during the bitter winters. When the trees ran out and the soil became depleted, they imported many of the basic items of their lives - wood, pottery, food, and animal hides. But, in the end, not even that would save them.

To understand what was happening to the Anasazi, we need to look no further than our own lives. Since the arrival of Europeans in North American we have cut down 90 percent of our forests. Most of the wood we use to build our houses comes from forests hundreds of miles away. We import a great deal of our meat, fruits, and vegetables, often from distances like South America and Hawaii. Much of the oil that fuels our automobiles and heats our homes is shipped from the Middle East. Why? Because we, too, have over-utilized our resources and are now relying upon trade to provide us with many of our most basic needs. But the parallels to our own time do not end there.

In 1900, 80 percent of the people in the United States lived in rural areas. Today, 80 percent live in cities. In the 1200's, as the shortages grew and the climate deteriorated, the Anasazi abandoned their small towns and moved to large pueblos. Let us make this point clearly, before A.D. 1150 there were hundreds of Anasazi settlements, small and large, scattered across the Colorado Plateau. By A.D. 1400, there were three: the Hopi villages in Arizona, and the villages of the Zuni, and Acoma, in New Mexico. The rest of the traditional Anasazi homeland was a vast no-man's-land.

How could such a thriving and sophisticated culture be reduced to a mere handful of survivors? Despite the romantic image that the Puebloan peoples were peaceful farmers, we have abundant archaeological evidence to demonstrate that during the thirteenth century the Anasazi were engaged in brutal annihilation-oriented warfare. Massacres, scalping, slavery, torture, and even cannibalism occurred.

The vicious cycle that led to the rise and fall of their civilization has become clear as a result of excavation of hundreds of their towns: the rise began with a warm wet climatic episode that resulted in a period of affluence and scientific achievement. With the affluence came swift population growth. In the process of feeding their people, they exhausted the soil, cut down the trees, over-hunted the animals. Then the climate changed. When their crops wouldn't grow, they expanded their trade routes. When their trade routes were cut, they turned to warfare to keep them open. When they couldn't keep them open, they took what they needed from their closest neighbors. They must have fought to protect their homes from their victims' wrath, then the fight became a struggle to stay alive.

We leave it up to you to decide where in that cycle our modern civilization stands, but several things are clear: we've over-utilized our resources, the climate is changing, and we've already begun to "fight."

End of quote from "The Summoning God" by Kathleen O'Neal Gear and W. Michael Gear


Despite what king george says or demonstrates, please show some restraint - Click here to see the effects of and what you can do about reckless population growth and consumption.

And, Click here for a link describing the relationship between population growth, consumption, and the death of nature.

<! --------------------------------------- this first table is to display a jpg map - centered ----------------------------------------->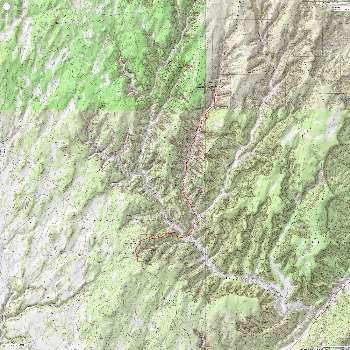 Map - AZ: Navajo NM: Kawestima-Keet Seel Ramble; 19 miles
(Click the image to see the map)

<! --------------------------------------- first table ends -------------------------------->

If you want to view a full-resolution map, click here. Caution - do not use this map or gps track for navigating the route.

<! --------------------------------------- this first table is to display a jpg map - centered ----------------------------------------->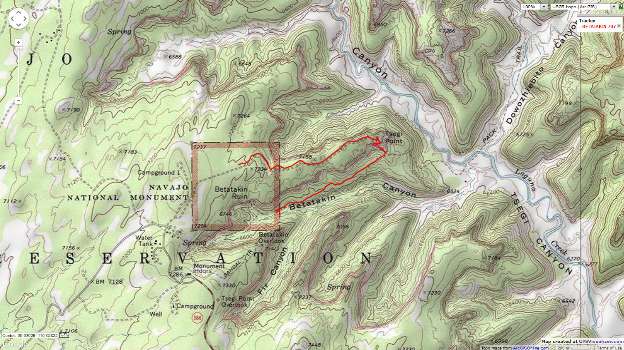 Map - AZ: Navajo NM: Talastima-Betatakin; 5 miles
(Click the image to see the map)

<! --------------------------------------- first table ends -------------------------------->
---
---