AWild Vagabond Trip Report
---
BACKPACKING: ESCALANTE RIVER CANYON:
Escalante Escapade Or, Along The Escalante Esplanade
(Harris Wash to Coyote/Hurricane Wash; & Peek-A-Boo Gulch)
May 24 - June 3, 1990
by Rob Jones

(Textand Photos © copyright by Rob Jones)
(Click on the THUMBNAILS to see larger images)
(And,thanks to George Cole for the html design!)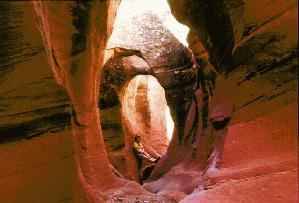 Lori lounges in the tiny double bridges of Peek-a-boo gulch
(Photo by Rob)
Lori under the Coyote Natural Bridge
(You'll need to download the full image to see her, 41Kb)
(Photo by Rob)
Jim explores the confluence of Coyote Gulch and the Escalante River
(Photo by Rob)
PRELUDE: Before you entertain the idea of an escapade to the Escalante, permanent home of Everet Ruess, please heed these equipment suggestions. Take sturdy wading shoes (and expect to have them on all the time you are hiking the canyons and the river course), long twill-type pants and a long-sleeve light canvas shirt (for brush, insects, and sun)- best if they're not the type that are heavy when wet, insect repellent (horse/deer flies, biting midges, no-see-ems, et. al.). Arrange a shuttle before you go. The Bureau of Leasing and Mining is characteristically non-helpful in this regard, but we found that the park service is still distributing a list of shuttle contacts. We arranged a shuttle to the trailhead at Hurricane Wash, where we dropped the Bronco, and then returned to Hurricane Wash, where we began the search for the Escalante Esplanade.
And, yes, this is the area President Clinton designated in the Spring of 1997 as the Escalante/Grand Staircase National Monument (1.7million acres). Good stuff, but it will be administered by that agency with the most disappointing multiple-abuse (A.K.A. "stewardship") history of your public land, the BLM (Bureau of Leasing and Mining). Please get involved in the process to maintain the integrity of this area. For more information, see the info and pictures at SUWA
See the BLM's Escalante NM website at:
---
---
---
---
DAY 1: DRIVER (to the trailhead): We (Jim Sinclair and Lori Newmann, now living in the flatlands of Wisconsin, and I) gathered USGS maps and completed the mandatory REI and lunch trips after Jim and Lori arrived at the SLC airport. I worked most of this Thursday, and arrived at home in time to see the Great Sinclair performing the Sinclair Stuff (pack organization). We left around 5:30 p. We would arrive at the Harris Wash trailhead around 1 a. or so. Drive and drive, and drive some more. Finally, there's the town of Escalante. An ominous screaming yellow caterpillar dozer was vulnerably resting on its trailer in the dusty BLM parking lot. Tempting. Visions of monkey wrenching nightwork, but there was little support from the other travelers (probably just sleep deprivation). 5 more miles beyond Escalante on the tarmac, then 10.3 on the gravel of Hole-in-the-rock road, and finally, another 6.9 on dirt to Upper Harris Wash trailhead. What's that sweet odor? I sniffed around in the dark to find russian olive trees in bloom. I took the pleasure of signing in the Smegma Bros. and made some appropriate comments to the BLM bovine intellects in the TH register.
DAY 2: HARRIS HUFF (8 miles down Harris Wash): Up as early as the old bones would tolerate (four decades of abuse have reduced some of the somatic spontaneity). We began with sourdough pancakes before beginning shuttle operations. Good pancakes, and they cook so much quicker and more evenly than oatmeal and other cakes. It really wasn't all that far by road (around 25 miles) from Harris Wash TH to the Hurricane Wash TH. It would be nearly 70 by twisting "trail" of the Escalante wilds. After leaving the Bronco against a large tamarisk, we observed three blue collared lizards engaged in a mating ritual. The cactus, yucca, and purple sage that had escaped trampling by the BLM bovines were in a blooming frenzy on the flats. We had a little time to drink in the Hole-in-the-Rock road view as we bumped back to the trailhead to complete the shuttle.
Into Harris Wash - we were a bit surprised that you go down the first obvious wash (I can see how it would be easy to assume that you needed to hike farther before descending). We were carrying the Rudi Lambrechtse book "Hiking the Escalante", and it gives a reasonable description of many of the trail segments, although it appears to leave out an accurate description of the "boulder section", and perhaps omits a day's travel near Scorpion Gulch (at best it is lightly covered). We saw 3 horse riders and 2 Symmscyle (named for our despot ex-Senator from Idaho) riders, and then we were alone in the wash, redrock walls steadily rising higher around us. We would not see other humans until Stevens Arch (6 days hence). A jeep road at first, motorized travel was prohibited at the recreation area boundary. Back and forth across the small flow, we kept our boots dry all day (and then carried them the many days until we were hiking the final 4 miles out, in Harris Wash).
We quit for the day about 2 miles from the river. An owl serenaded us a bit too loudly during the night. But, ah, so much more pleasant than the shrieks of jet planes, emergency vehicles, and republicans in heat.
DAY 3: FENCE CANYON BURNOUT: (7.7 miles, Harris Wash to Fence Canyon): Beautiful morning in the canyon. Oats and groats in the morning, and curry veggy casserole at night. Deeper and deeper, finally seeing the pinnacle marking the confluence of Harris and the Escalante. We saw some cactus blooming, a desert delight. The Escalante! It looked a bit ominous, but we found that it was easy enough to locate reasonable places to ford where the water was only knee-deep. And ford we did, where the river took broad sweeps, often bumping against the canyon walls, aford was required. It wasn't long before we gave up on changing between boots and wading gear, and just left the waders on. For me, it was wool socks and strap-on flip-flops (sandals). Soon realizing what poor planning it had been, we were required to carry the hiking boots for the next 50-odd miles. Next time I would bring decent waders for the long haul. Deer flies! And some biting midges (but not bad). The swallows who ruled the day and the crepuscular bats appeared to be doing very well, thanks to the bug smorgasbord.
A delightful canyon system, the character of Harris Wash was maintained in a bigger arena. We found the rock work of bovine-keepers near a faded panel of petroglyphs. The rock work consisted of what must be a cattledrive-way. Perhaps the bleached bovines had entered the wondrous Escalante via this route. We passed 6 dead cows, and smelled others, before we arrived at the mouth of Fence Canyon. The line shack at Fence Canyon had been torched, and inside the toasted foundation was a semi-circular curve of steel that had once been a bed. It must have been a warm fire. Vandals had shot the cattle (reportedly 19) and burned the shack in February or March, and of course the locals were quick to blame this on "ecoterrorists." I suspect this misdeed was performed by a local rancher, in an attempt to discredit those working for wilderness and wise use of the land. There is a photo of the line shack in the Rudi Lambrechtse "Hiking the Escalante" book, prior to being torched. A nice place for a line camp, as it was placed on an ancient delta overlooking the Escalante 50' or so below. This delta would be our campsite for the night.
We discovered a few "Moqui steps" and some bullet-poked petros (petroglyphs) around the upstream corner from the crispy ex-cabin. While we were cooking dinner, a big buteo (perhaps a redtail hawk) sailed over dangling a snake from its talons. The snake, not going willingly, was writhing as if swimming through the air. Both hawk and snake were aerodynamic as they slid and wiggled through the air. We enjoyed another deluxe sunset, and this time we managed to take a few pictures. A refreshing dip in the river made the wading worthwhile, it's nice to have the moderating coolness and the availability of so much water in the desert.
DAY 4: ON POINT: (7 miles below Fence Canyon): My notes from the day say "50 degree low, oatmeal pancakes and lasagna and squash pie". That's all. I do not specifically recall this stretch of the river. It melted into my memory of the canyon as a whole, perhaps because the meandering of the canyon made it difficult to reference things. I marked the camp locations on the BLM map, and this indicates that we camped a turn below Twentyfive Mile Wash. The exit of Twentyfive Mile is fairly narrow and did not afford any good campsites. Too early to pause anyway. Rudi says that this is a moderately easy route to the Hole-in-the-rockRoad. According to the geology chapter in Rudi's book, the majority of the Escalante Canyons are carved into rocks of the Glen Canyon Group: Navajo sandstone (youngest), Kayenta Formation, and the Wingate Sandstone. We would be predominantly in the Wingate Sandstone layer (Choprock Bench toCoyote Gulch) which forms reddish-brown, cross-stratified, sandstone of eolian origin. This sandstone is subject to conchoidal (shape of a shell) fracturing.
DAY 5: HAMMERHEAD: (8 miles to hammerhead bend above Scorpion Gulch): Once again, my note for the day is brief. "Cloudy, spattering of rain, rain at night, shorebird nest." Turn and turn, cross and recross, down the elegant Escalante. We hiked up East Moody Canyon a short distance in search of examples of the conchoidal fracturing. A light rain interrupted our gorp and map-gazing diversion. A bit cool today, actually very nice. The light rain jacket was necessary just to stay warm today. Amazing how we can be roasting one minute and cool another. It's just part of the diversity of the desert, I suppose.
DAY 6: FOOLS MINUS SEVEN: We camped today approximately seven miles upriver of Fools Canyon, as best we could determine by using a twist-tie measuring device and a topo map. We enjoyed a long gorp stop on a big boulder at the mouth of Scorpion Gulch. Alluring, surrounded by cattails at the mouth of Scorpion, Rudi's photos suggest a wildly different canyon character not far upstream. This too will await exploration at another time. So much to see, and we yearn to explore, although we're resigned to the fact that in order to make it to the exit, we are on a main-line course. Lori came dashing back upstream to us slower travelers and held up a hand. Great delights ahead? A female merganser and chicks were using the area too. We sat in the sand behind a thin veil of willows waiting for the fluffy balls of feathers to venture out from under a boulder in the river bend. They briefly came out, but the squawking of the hen drove them back into seclusion.
DAY 7: FOOLS RUSH IN: (7 miles to the mouth of Fools Canyon, 52 degree low): Why this particular name? Perhaps the dreaded boulder section was just below (we found that it is), or perhaps someone attempted to exit this route and were found desiccated like thin road toads. It was not obvious to us because this was a great spot to camp. We were able to jump across the entire river in one hair pin turn, climbing over what looked like a different rock strata (kind of greenish). The river canyon was narrow in spots and there were some boulders to dodge on the way downriver. There's a great campsite up the canyon about 100 yards or so, and a good site, which we used, on a sandsweep opposite the canyon mouth. More willows than tamarisks so far, we were finding the brush travel easier than during the first couple of days or so. Lots of beaver sign all along. These nocturnal engineers appear to prefer cottonwood to other plants, because they will walk past willow and other stands on their drag paths to water. The beaver must live in bank dens, because we saw no evidence of lodges.
DAY 8: OVER THE BOULDER: (6 miles to Stevens Canyon): I'm now on my second pair of partially degraded wool socks. Jim is using the first pair as sun gaiters to keep from burning his ankles. My present socks are held up by rubber bands salvaged from the food bag. I certainly am thankful that I brought the long pants, however.
Into the dreaded boulder field. We had no idea of its precise location or length, but we guessed that this must be it. It wasn't bad, although it required careful route-finding and presented many opportunities to get soaked or go for an unplanned swim. In high water this could be the crux move of the trip. Parenthetically, the water level is quite low this year, and Lake Foul, which sometimes backs up to inundate the mouth of Coyote Gulch, is apparently miles away (50' below last year's level). How sad. The house boat tin can tourists are required to watch a little closer for rock obstacles as they drunkenly weave along the surface of the sewage pond, above the drowned canyons of the Colorado system. Spewing an assortment of gasoline and heavy oil fumes, empty Coors cans (breakfast of lobbyists for progress at anyone else's or anything's expense), human effluence, and doing their industrial best to hasten the collapse of the ecosystem. We began to encounter slacker water and the river bed eased angle and broadened. Then, high water marks and some muck to traverse. Lake Foul, for sure.
There really aren't many great places to camp near Stevens Canyon, but we found an OK spot on a sand bar. We gave thanks for the space blanket to keep out the seepage.
DAY 9: STEVEN'S CANYON: We hiked the side canyon, Stevens, complete with the massive (300'+ wide) and high arch facing the main canyon. Up Stevens, we found a grotto with a tiny natural bridge under the spillway. We hiked around and above the spillway and found some great potholes ground into the sandstone. After some goofing and lounging in the sun, we continued up canyon until we ran out of energy. It looks on the map like this system goes a long way.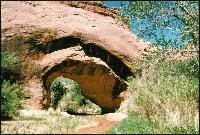 Lori under the Coyote Natural Bridge
(You'll need to download the full image to see her, 41Kb)
(Photo by Rob)

DAY 10: LOBO AND COYOTE, CANIDAE OF THE CANYON: I'm a little fuzzy on details, but I do recall that one cannot exit from the mouth of Coyote (Canis Latrans, in biological speak) unless Lake Foul is low. It's more than low at the time of this writing. Anyway, we proceeded up Coyote, a lovely canyon. There were a couple of drag the pack spots, but in general the hiking was good and mild to moderate. I really could have used wading shoes, however. We passed the jug handle (Wall) arch, then paused for lunch under the Jacob Hamblin (Lobo) Arch. The wolf is Canis Lupus. There was a fern garden in the drip zone just down stream of the arch. A photo opportunity. We walked until near sunset, then camped near a gentle cascade off a wall. Great. Sinclair tried to eat nearly everything remaining in his behemoth pack.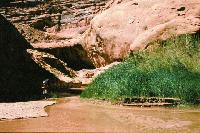 Jim explores the confluence of Coyote Gulch and the EscalanteRiver
(Photo by Rob)

DAY 11: HURRICANE HUFF: Up and on our way, it would prove to be a longer hike than I thought. Somewhere we branched over into Hurricane Wash, leaving Coyote Canyon behind. It got hot and it was grind it out time in the upper canyon. Sand worms (related to snow snakes?) tried to get us. We took more stops than usual. Near dusk we huffed into the flat near the car. Flat feet.

Sinclair and I hobbled over to the horse trough near the cabin to fill the bwana bags with water for a cool but lovely shower and dinner. There was a horse-rider convention of sorts near the cabin, and much beer drinking and other fun activities were in progress. Of some interest was a sunburned couple passed-out in the bed of an old pickup. As we walked above on the road bench, Jim and I had a great view of the partly-clad lovely and her less-than-lovely male companion, looking much like a red roasted pig. The car was still there, along with a few savory bits left-behind lunch on the way down. The dessert air cooled quickly.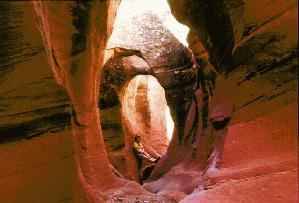 Lori lounges in the tiny double bridges of Peek-a-booGulch
(Photo by Rob)
DAY 12: PEEK-A-BOO, BRIMSTONE: We loaded up and drove back toward the tarmac, abandoning dreams of visiting Dance Hall Rock and the Hole in the Rock leap. Early-day mormons carved a route into the break known as Hole in the Rock, and took there wagons across the Colorado River in there quest to expand (over-propagate) "their" territory. Maybe next time we would visit these features. We frolicked during a day hike in Peek-A-Boo, etc, tiny slot canyons just off the Hole-in-the-Rock Road. What a blast, with some difficult moves just for fun. One has to suck in that gut to get through Spooky Gulch (or was it Brimstone?). Anyway, plan ahead.
Then, back on the pavement and to Escalante for Mexican food. Then, the long drive back to Smog Lake. A great trip with great conditions (except for the horse and deer flies). But next time I'm bringing wading shoes suitable for carrying a pack. :-0


---
---