Wild Vagabond Trip Reports
---
Llama Lounging In The Crags:
Packing in Idaho's Bighorn Crags
Mt. McGuire, Birdbill, Harbor, Terrace Lakes
July 20 - 27, 1997
by Rob Jones and George Cole


(Text and Photos © copyright by Rob Jones and George Cole)
(Click on the THUMBNAILS to see larger images)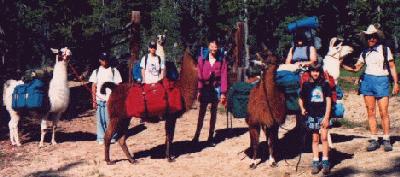 Left to right: Rufus, Mark, Kevin, Junior, Randy, Kaidye, Alfie, Lisa, Anna, Snowball and Rob
---
Prologue: Several hiking trails exist in the Bighorn Crags area. The main trailhead, Crags campground, is reached via unpaved, and corrugated!, Forest road from either Challis or Salmon, Idaho and is open from about July 10 to mid-October. The trail system offers through trails from the Crags camp along Crags Ridge and down one of the Clear Creek-Garden Creek area trails or along Crags Ridge to Terrace Lakes and down Waterfall creek. Access to the area can also be achieved from the Middle Fork of the Salmon River, up Waterfall Creek or from Panther Creek up one of the Clear Creek-Garden Creek trails. Dead-end trails lead to Ship Island Lake and Puddin Lakes. Most of the trails have a grade of less than 10 percent with short pitches of 15-18percent. The two most distant lakes from Crags camp are Ship Island Lake at 12 miles and Buck Lakes at 13 miles.
For further information, contact:
North Fork Ranger District
Salmon and Challis National Forests
P. O. Box 180
North Fork, Idaho 83466
Phone: (208) 865-2383
Returning home from the Uintas trip, I checked my email and found a message from George the Llama Man. It announced that he's going to the Bighorn Crags with the IAC. Part of the group was leaving the next day, while the rest were leaving Sunday...and today is Friday and it's evening. Is there time enough to clean up and turn it around for another trip? Yes. The next morning, I was on my way to IF; afternoon found George and I buying food for 7 people. Donna and Mark W. were already somewhere in the Crags. Bruce, Lori, and Brent Wickham arrived at the Crags CG a bit later than we 7.
Day 1: Cragger: Rendezvous #1 at George's, #2 at Roger's to pick-up a trailer and 5 llamas (Alfie, Snowball, Rufous, Jr., and Randy), and #3 at Lisa's and eventually on the road to Challis. Seven people (George and son Kevin and his friend, Mark S., Lisa and daughters Anna and Kaidye, and me), the 5 llamas, and George's Suburban flew across the Arco desert, then grunted the 70 miles of corrugated dirt up to the Crags CG at 8440' via the Morgan Creek Road. The road clings, edged into the mountains, and hangs above the lipstick sunset. With the sun and temperature dropping, we have dined on burgers. The mewing and trumpeting llamas have dined on left-over horse hay.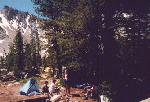 Camping at Birdbill L.
Day 2: Rufous Ruckus: (Crags CG to Mirrow Lake, 9 miles.) After a mini llama rodeo because the two groups of llamas are unfamiliar to each other, and much packing and re-packing, we headed into the Bighorn Crags of the Frank Church River of No Return Wilderness, a name nearly as large as the country. Walking on the quartz monozite trail, grizzly granite gravel by appearance, we entered the land of ghost trees (from an ancient fire) and looming monoliths.
We hiked around Cathedral Rock, then onto the Clear Creek Trail, avoiding the reportedly snow- and ice-covered Beaver Slide Pass near Fishfin Ridge, and expanding our hiking distance to Birdbill Lake, our intended destination, by 3 miles. Losing 1100' along the Clear Creek Trail, we began regaining this elevation during the climb toward Mirrow Lake. Kevin and Mark S. were attacked by a carnivorous grouse, and they talked about barbecued grouse for several hours.
The Ship Island trail is wondrous. We passed through deep forest with sparkling glimpses of snow-sided large Idaho rock and glacier-polished water slicks. Beargrass, Heart-leaf Arnicas, Shooting Stars, Bluebells, Paintbrush, etc. illuminated our trudge.
Starting back up toward the Birdbill from the depths of the Clear Creek Trail, the group was strung-out over a mile or more. We were making reasonable progress when Rufous went on strike. He sprawled in the trail and refused to move. After numerous attempts, George stayed with Rufous and the rest of us lurched to Mirrow Lake, where Snowball made some mild refusals. Because of the time and troubles, the remaining members of the group camped at Mirrow. Mark S. and Kevin footed it over the pass above Mirrow, delivering most of the tent, stove and food to Bruce, Lori, and Brent who had hiked to Birdbill as scheduled by the trip leaders. We later discovered that we had Bruce's tent poles, and that Bruce had engineered a tree-hanger for the tent. Mark S. and Kevin returned as dark collapsed on the Crags. George rolled in, without Rufous, at dark. Mobbed by mosquitoes, beset by a too-short day, we enjoyed glimpses of Fishfin Ridge and its reflection on the lake to an 11:30 pass-out.
Day 3: Bye and Bye, Birdbill: It's a delightful morning, and I'm writing at Mirrow Lake. George has returned to get Rufous the Ruckus. When they arrived, we loaded and began the 2+ mile, 400+ vertical feet hike to the pass which lapses into the Birdbill/Gentian cirque. Rufous was resistant and stalled out, sprawled out, intermittently. But, we made it.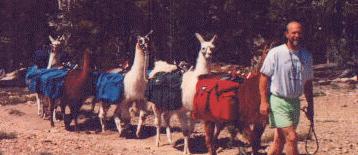 Llamamaster George and our llama packers: Alfie, Snowball, Junior, Randy and Rufus.

We enjoyed the developing vistas of the Crags book-ending Mirrow Lake. Eventually, the Birdbill Lk. cirque, skylined by the granite dorsal of Fishfin Ridge, cruised into view. Later, Mark W. and Donna, trip leaders from afar, appeared after a day hike to Ship Island Lake. They are camped across the divide at Harbor Lake. If we had known they were not going to follow their plan to stay at Birdbill, we could have avoided the longer hike to avoid the slide, and the trip to Harbor would have been 5 miles shorter and much easier. But, we camped at Birdbill and enjoyed dutch oven calizone, brownies, and cheesecake prior to the golden glow of sunset slipping off the dorsal. While we watched the sunset, we perfected the "mosquito mosey," walking back and forth to avoid the intermittent marauding squadrons of winged blood-suckers.

Rob atop Mt. McGuire

Day 4: McGuire, Yes and No: (Climb Mt. McGuire, 10082', 7 miles.) First, there were wonderful pancakes. Our distant leaders appeared sometime after 10 a.m., and part of the Birdbill group went with them to Clear Lake. I started for Airplane and Ship Island Lakes, but I went off-route and climbed Mt. McGuire.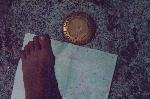 Rob's foot atop Mt. McGuire

As I hiked over the low pass from Birdbill to Airplane, I encountered the McGuires from Indiana. They were here on their second Crags visit to climb their namesake, Mt. McGuire (no relation). So, we joined and climbed to the tarn on the SE aspect, then we angled up to the ridge beyond a covey of sentinel spires. From here, it's a boulder-hopping ridge walk to the summit. Beyond the tarn, it's rockville. At the summit, there is a USDA Forest Service, 1920 monument (not a USGS monument). Justin McGuire dropped Dad's camera and it bounced down from the summit slab. It sustained a good rock bash, but we were able to retrieve it. Justin made it to the summit, but losing the camera dampened his father's enthusiasm and he did not summit. Mt. McGuire, yes and no.
Back at camp, a hot shower awaited, along with a George chicken fajita dinner. Our snowbank refrigerator is nearly gone. So the wine and cheese were moved to another, more shaded snow cooler.

Day 5: Beaver Slide, Non-glide: (Birdbill to Harbor Lake, 2.5 miles.) We enjoyed another beautiful morning as the azure of Birdbill turned jade and the sunlight painted gold caps on the teeth of the Crags. We trooped toward Harbor Lake. We would have to cross the hard-packed, high-angle snowfields that remain on the long switchbacks at the top of the cirque called the Beaver Slide. It was traumatic for a couple of the llamas, and lots of work for the rest of us. The difficulties came when we detoured around the largest field. The only decent detour lead into rocks and a less than obvious route back to the trail. Bruce, Brent, and I excavated an S-turn into the edge of the field. The llamas came along with much forward and rear encouragement. Then, we slid the llama and people packs up the snowfield, pulling them up with a 100' rope.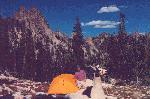 View of Fishfin Ridge from Harbor/Wilson Lakes

At Harbor, Mark S., Kevin, Lisa, and I hiked up to Fishfin Ridge for spectacular views of the Birdbill/Gentian cirque on one side, and the Harbor/Wilson cirque on the other, with distant views of the pointy Lost River and Lemhi Mountains. We baffled the McQuires, still camped in the trees near Birdbill, with a conversation with the heavens as we yelled messages to them from the ridge. We thought we saw a mountain goat to accompany the plentiful tracks, but it was a buff-colored rock with two short black stripes. Very convincing. We slid down for dinner, spaghetti and a freshly-baked and frosted cake. But, the wine and cheese were left at Birdbill, so Brent and Bruce hiked back to retrieve these treasures.

Day 6: Sheep-o-rama: (Harbor to Terrace to Heart to Welcome to Harbor Lakes loop, 8 miles.) Kaidye, Kevin, Mark S., and I hiked off-route over the saddle south of Harbor Lake, then we skated down the other side of the ridge to the trail near Heart Lake. Then, we went up and over the pass west of Heart before dropping into the Terrace Lakes along broad, sweeping switchbacks. The pass trail notches through polished salt and pepper granite, and is bordered by keen ridges on both flanks. The skyline to the east is a saw-edge of peaks.
Following a break, we returned to Heart Lake, then we continued to Welcome Lake. While hiking out of the Terraces Basin, Kevin spotted 5 Bighorn Sheep, then one more, then another....nine in all as they crossed a steep snowfield near the pass. Wonderful clear mountain water tumbled over the crisp white granite-gravel stream bed near Welcome Lake. Down more, then up Wilson Creek to Wilson Lake, passing the mountain shower falls where Wilson Creek leaps over a granite dome.
Donna and Mark W., and Bruce, Lori, and Brent hiked out and returned home today.

Day 7: Lisa, Call Home: (Harbor Lake to Crags CG, 10 miles that should have been 6.) We hiked the ridge route to the junction with the Clear Creek Trail and waited for the group to gather. Everyone was there but Lisa and Anna. We waited. George and I walked back to Harbor. We searched. Where is Lisa? Then, concluding that Lisa and Anna had somehow missed the signs at the junction of the Beaver Slide and ridge routes, we investigated down towards the snowfields where we had hauled llama and people packs and drug llamas for about 2 hours. Certainly Lisa would not continue across this stretch where we had vociferously discussed how wonderful it was that we would not be returning this way?! George had outlined the route on her map this morning. Certainly, she would not continue on this long loop?! We returned to the junction and waited, realizing that it was too late to chase down Lisa. We left notes, and waited at junctions along the way as we hiked to the CG. Fine views accompanied our hike to the CG.
At the CG, we talked to the CG host, who called the FS. George called home and Melonie relayed the Lisa event to those who were expecting us. We waited. Horse people rode past the corrals, and there was a one-horse rodeo when a horse was spooked by seeing the llamas. The rider earned a bloody, torn ear by being dragged through the bushes with his foot caught in the stirrup. Ouch!
No Lisa and it's getting dark. We camped and made slumgullion stew from left-overs. About midnight, Lisa and Anna stumbled in, having hiked an unnecessary 5 miles. We were happy that Lisa and Anna were OK, but puzzled about how Lisa had missed so many cues about which trail to take.

Day 8: Home: A day late, we returned to IF, having greatly enjoyed our llama lounge adventure. Because of our late return, some of us would be pressed to prepare for our next adventure, hiking the Frank Church River Of No Return Wilderness from Mule Hill to the Middle Fork Salmon. (See the report of this trip.)

People report summary: The Crags is one of the most used sections of the Frank Church, and probably the busiest for hikers. We encountered groups every day, and we camped not that far away from others. The lakes draw campers, so pressure is concentrated here.

Bug report: The insects did not bother us while we were hiking. The mosquito squadrons were intermittent, but quite bothersome during their attack periods. The "mosquito mosey" helped some during these assaults.
---