Canoeing Black Canyon of the Colorado River
Hoover Damn to Willow Beach, RM 64 to 52
Also - hike to Liberty Arch and Black Canyon Overlook




March 8 - 11, 2012


Text © copyright by Rob; and Photos © copyright by Rob Jones, Kathy Olson, Marilyn Smith, and Zig Sondelski

<! --------------------------------------- this first table is across 2 collums ----------------------------------------->
Liberty Bell Arch - Day 1
(Click the image for the full-size image)

AZ Hot Spring Canyon - Day 3
(Click the image for the full-size image)
<! --------------------------------------- first table ends -------------------------------->

<! --------------------------------------- this first table is across 2 collums ----------------------------------------->
Crane Nest camp - Day 3
(Click the image for the full-size image)

Below the gauger cable car - Day 4
(Click the image for the full-size image)
<! --------------------------------------- first table ends -------------------------------->

"In spite of the durability of rock-walled canyons and the surging power of cataracting water, the wild river is a fragile thing—the most fragile portion of the wilderness country." - John Craighead, Biologist and one of the architects of the Wild and Scenic Rivers Act

&nbsp Summary: This is a report about a short (bantam) trip exploring the Black Canyon of the Colorado River by canoe. It was organized by Zig and Dave of the Wasatch Mountain Club. Short, yet sweet. We canoed a dozen miles of this glorious river, as it is freed from the horror of Lake Mead evaporation pond.
&nbsp Trip participants include: Phyllis Anderson, Connie Bain, Barbara Boehme, Linda and Vince DeSimone, Bob Grant, Rob Jones, Mardi Maack, Cathy Mooney, Kathy Olson, Dave Rumbellow, Marilyn Smith, David Sturgeon, and Zig Sondelski.
&nbsp Note - sadly, I lost all my photos from Day 2 to mid-way through Day 3 because I was fumbling around with my camera while wearing paddling gloves. Thanks to Kathy, Marilyn, and Zig for providing some photos from these sections.

"Water, water, water . . . There is no shortage of water in the desert but exactly the right amount, a perfect ratio of water to rock. Of water to sand, insuring that wide, free, open, generous spacing among plants and animals, homes and towns and cities, which makes the arid West so different from any other part of the nation. There is no lack of water here, unless you try to establish a city where no city should be." - Edward Abbey, Wilderness Reader

&nbsp Day 1: Liberation! Hike to Liberty Bell Arch and Black Canyon (BC) Overlook: 5.5 miles, 11 ERM.
&nbsp I'm returning from the BC Overlook into the captive Colorado, clear and languid, it rolls along hemmed in by ebony gutters, freshly released from the Lake Mead impoundment and sewage pond, when, humm, something moves near the Liberty Arch buttress. I pause. A deer? An ear of a dear? No, the ungulate dashes straight up a naked rock chute. A Bighorn Sheep ewe. Rock dancer.
&nbsp I turn my attention back to the arch, noting that the highway on stilts can be seen a few miles up-canyon.
&nbsp It's been a most excellent break from the drive. I pulled off at MP (mile post) 4 on Highway 93, nearly to Nevada, and park, then walk back under the road and into the rolling tortured terrain of buffy and black rocks in White Rock Canyon. The canyon narrows and, I believe, drops to access Arizona Hot Springs. I peel off this route and roll past an unusual ore boat - near an abandoned magnesium mine on my way to the arch and overlook.
&nbsp And what of the Colorado River, harnessed for a city that should not be. Like Phoenix, Las Vegas is an insult to the desert, creating a problem where one should not be.
&nbsp Then, it's time to travel the short distance to the motel to meet other members of the Wasatch Mountain Club for pre-canoe gorging and organization. It's good to be back among friends, new and old.

Map - A map of this GPS track/map of the route to Liberty Bell Arch can be seen below. Change the map type (topo, terrain, etc.) and alter the scale as you wish. Click "bigger map" text below map if you want a larger map.

Black Canyon 2012 - Day 1 (photos by Rob)
Click thumbnail to see full size image

| | | |
| --- | --- | --- |
| | | |
| | | |
| | | |
| | | |
&nbsp Day 2: A Good Scout: Canoe RM (River Mile) 64 to 61.7, Boy Scout Canyon.
&nbsp Gurgle, bonk, clunk, glug, Connie' and Cathy's canoe slowly rolls turtle into the frigid captive Colorado. Yikes! Rescue? No, Dave and I grab the drowned canoe and help the women guide the swamped sluggish capsized vessel to the rocky shore, unload all the strapped-in bags, drain, flip the canoe upright, reload, continue down River. The River looks passive, yet reveals a different nature with sheer forces around rocks and upstream eddies, as in this example. A little excitement to spice the day.
&nbsp And the NPS (National Park Service) notes that: From Hoover Dam to mid-way between Willow Beach and Eldorado Canyon …the current ranges from 3 to 12 miles per hour. This current is variable, depending on the volume of water released from Hoover Dam and the water level in Lake Mohave. At Ringbolt Rapids, the speed of the water may reach 16 miles per hour on week days.
&nbsp Earlier, we 14 from the WMC load the trailer for the short shuttle to the foot of the damn, load 7 canoes with provisions and goodies, and lilt down River to the Sauna Cave, where a bored tunnel leads through hot water, instantly steaming over glasses and lights and camera lenses.
"Men may dam it and say that they have made a lake, but it will still be a river. It will keep its nature and bide its time, like a caged animal alert for the slightest opening. In time, it will have its way; the dam, like the ancient cliffs, will be carried away piecemeal in the currents." - Wendell Berry
&nbsp Then, to Gold Strike Canyon to hunt for hot springs, finding and enjoying several. And, then down River to Boy Scout Canyon to lunch and camp and scale slippery obstacles, sloshing through hot springs and hot water along the way. The obstacles get progressively more difficult, and hikers turn around just beyond their comfort point.
&nbsp The Las Vegas coolers and lights and casinos are switched on full and the River level undulates and rises and rises. Our well-beached canoes, once completely out of water, are floating free (yet tethered) during the night. The pathway to the portable scenic toilet is submerged, yet only Bob, prowling the night, notices.
&nbsp I dream about floating away. Not because of the River, but because of the hot water rolling down the canyon. The cool and still air accentuates the clashing of water over obstacles up-canyon. Then, there are musings about the River and how it might have been....
"To have some parts flowing free again . . . with deer grazing on its banks . . . ducks and geese raising their young in the backwaters . . . eddies and twists and turns for canoeists . . . and fishing opportunities such as Lewis and Clark enjoyed . . . would be the finest possible tribute to the men of the Expedition, and a priceless gift for our children." - Stephen Ambrose, Undaunted Courage
Black Canyon 2012 - photos by Kathy Olson, Marilyn Smith, Zig Sondelski
Click thumbnail to see full size image

| | | |
| --- | --- | --- |
| | | |
| | | |
| | | |
| | | |
| wBC-2012 Kathy Olson Day3-1 Dave S and Kathy at gauger house.jpg | | |
| | | |

Map - A map with a hand-drawn track/map of the Bantam Black Canyon Canoe can be seen below. Change the map type (topo, terrain, etc.) and alter the scale as you wish. Click "bigger map" text below map if you want a larger map.
<! --------------------------------------- this first table is across 3 collums, so it stands alone ----------------------------------------->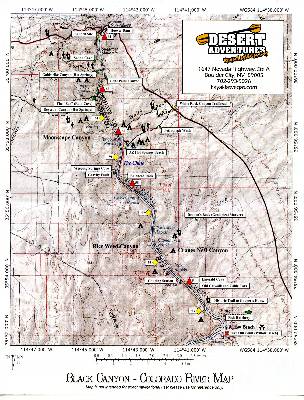 Black Canyon - Colorado River map (PDF file; 1.9mb; 2 pages
(Click the image for the full-size image)

<! --------------------------------------- first table ends -------------------------------->

&nbsp Day 3: Nesting With Cranes: To RM 55.8, Cranes Nest Canyon.
&nbsp Like a blizzard of black flakes, the explosion of American Coots struggles to get airborne and they finally sweep past in a blur. It's a sunny, delightful day in BC. Dave and I ease into Sea Cave and cruise silently above a turquoise bottom into relative dark. Too narrow to turn around, we back out so others can have a turn. It's certainly calmer than when those speedboats churn past, throwing out a dangerous wake, acting like republicans.
&nbsp On to Moonscape Canyon, where the stream is warm and up-canyon are hot springs and pools, one pool around 105F. Lovely. A coursing slither of warm water forms a 10 foot falls and marks our turn-around spot for today. Three Bighorn Sheep dash down seemingly vertical rock and perilously ply the path up the other side of the canyon. Wow.
&nbsp At White Rock Canyon, the throngs of people press the life from the fragile desert, exemplifying the population glut that is unsustainable, and has been for decades. Will politicians, even scientists, talk about this 500 pound gorilla in the room? Not likely. Instead we rely on default methodologies (hah) of faith and magical thinking. Danger, danger, self-fulfilling prophesy on an (unacknowledged) rampage. What prophesy? Well all sorts of mental midgets (a la sarah palin) to true intellectuals (Bill McKibben, see the book, Eaarth) have prophesized the 'end of days.' That's what prophesy. The increasingly erratic spiral of weather events (how many years between 100-year droughts, between 100-year floods, perhaps 10, and declining?) certainly suggest the unsustainable nature of what we are doing. The self-fulfilling part is how 'faiths' prevent the rational discussion of overpopulation - ensuring that we get the consequences.
&nbsp One can hike down White Rock from the highway, continue downriver to Arizona HS, where another throng swirls like a toity bowl in the tiers of HSs that grace an adorable narrow canyon. Scenic toilets too. Wondrous. Photogenic.
&nbsp After tours of the canyons, we leave the impending decibel dirge (party and yell) for a quieter venue, albeit to a gathering gale. Well, not quite a gale, yet enough up-canyon wind to form whitecaps at times. Horrid air tour terrorists add to our disdain over disruptions of the natural quiet. Actually, they are worse than most other intrusions.
&nbsp Three Cormorants ply the twilight in a basic chevron, marking the end of a BC day. We mark it around our social circle, sharing schnapps, humus, salsa, crackers, cheese, amaretto, and other happy hour treats.

"I choose to listen to the river for a while, thinking river thoughts, before joining the night and the stars." - Edward Abbey

"Growth for the sake of growth is the ideology of the cancer cell." Edward Abbey, "Money, Et Cetera'' in A Voice Crying in the Wilderness
Black Canyon 2012 - Day 3 (photos by Rob)
Click thumbnail to see full size image

| | | |
| --- | --- | --- |
| | | |
| | | |
| | | |
| | | |
&nbsp Day 4: Windy Returns: to RM 52.5; Willow Gulch and out.
&nbsp The moderately-laden canoe bucks in the wind-generated swells and spray collides with my face. Ahh, Spring in Arizona - or, are we in Nevada now? Dave, me, and the rest of the WMC group are slipping from behind the last wind-tempering point of land and plowing across The River to Willow Beach.
&nbsp After a night of occasional waking to wind gusts and lapping waves that sounded like they were abutting the tent, we get an early start to take advantage of relatively calm water. The forecast is for winds to reach 25MPH. Yowee. The gauging station, catwalk and cable car, a dim Emerald Cave are enjoyed amidst wind gathering. Wind builds as we pause at the gauger homesite and it just lets fly as we approach the fish hatchery. Not to worry, we're soon on the beach and headed for the hotel parking lot. So soon, the bantam Black Canyon canoe trip closes down, yet fond memories remain. Along with a little sand in my shoes.
"We forget that the water cycle and the life cycle are one." - Jacques Cousteau, Oceanographer
Black Canyon 2012 - Day 4 (photos by Rob)
Click thumbnail to see full size image

| | | |
| --- | --- | --- |
| | | |
| | | |
| | | |
| | | |
Scenic Toilets of Black Canyon 2012 - photos by Rob
Click thumbnail to see full size image

| | | |
| --- | --- | --- |
| | | |
| | | |

Hike and Canoe of the Day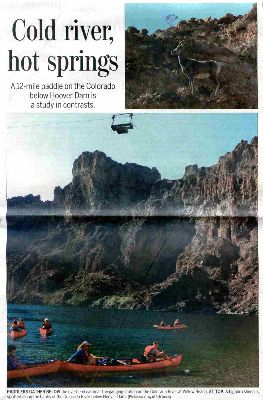 see my Arizona Daily Sun article about Cold River, Hot Springs (including AZ Hot Springs by land) (pdf)
(Click the image for the document)