Southern Utah Swing
Bicycle Touring: Self-contained loopo of Southern Utah
Green River to Goblin Valley (50 miles) to Hog Heaven Rest Area (66 mi.) to Natural Bridges NM (65 mi.) to Blanding (40 mi.)
to near Monticello (28 mi) to Moab (48 mi.) to Green River (50 mi.); 347 miles
VM, the Venerable Monster, the Specialized Expedition, rides again!
347 miles of this is the a Place
September 11 – 17, 2010
(Text © copyright by Rob Jones; Photos © copyright by Chris Winter, Mark Shipman, Rob Jones) <! --------------------------------------- this table is across 3 collums, so it stands alone ----------------------------------------->

Pano - San Rafael Swill from Old Hwy 24
(Image is very wide - scroll to view it (2820 x 700; 356 kb) - Click the image for the full-size image)

<! --------------------------------------- pano ends -------------------------------->
Below is Cheryl's plan for the Southern Utah Swing. Cheryl Soshnik produced this excellent draft and we ended up mostly following it. It's a big pdf file with layers of good information.
<! --------------------------------------- this second table is across 3 collums, so it stands alone ----------------------------------------->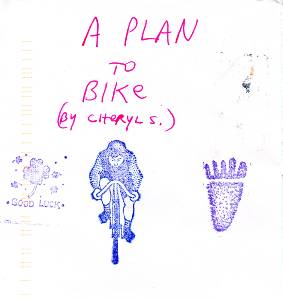 Plan for biking the Southern Utah Swing - click for big file by Cheryl Soshnik
PDF file

<! --------------------------------------- file ends -------------------------------->

<! --------------------------------------- this second table is across 3 collums, so it stands alone ----------------------------------------->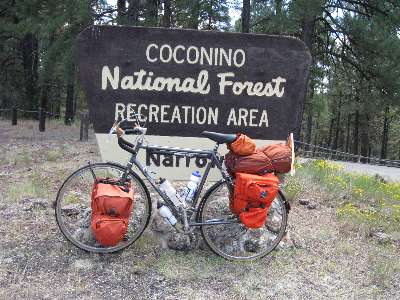 VM preparing for the Southern Utah Swing
click thumbnail for larger view

<! --------------------------------------- file ends -------------------------------->
Southern Utah Swing - photos by Chris Winter
Click thumbnail to see full size image

| | | |
| --- | --- | --- |
| | | |
| | | wutbike10 Chris and Cheryl at Edge of Cedars by Chris Winter.jpg |
| | | |
| | | |
&nbsp Photos are scattered throughout this report.
&nbsp Keep scrolling.
&nbsp This trip was a one week self-supported camping bike tour of Southern Utah. Panniers or bike trailers were used by all participants to carry their gear, and there was limited (water only) vehicle support for the Natural Bridges section. It was about a 347 mile loop starting and ending in Green River, Utah.
&nbsp Co-riders: Cheryl Soshnik (tour organizer), Randy Burns, Rod Collins, Tricia Lee, Tiffany Mercer, Rob Paull, Dave Rumbellow, Mark Shipman, Robert Turner, Don and Angie Vincent, and Chris Winter.
&nbsp Now - on with the report, starting with ---> Prelude: Driving the reservation route to meet the group in Green River, Utah, it's a bit of a slog and I'm still feeling tired in the afternoon from the JMT-JJ (John Muir Trail – Jaunty Juggernaut). Rendezvousing with Cheryl, Dave R., Rob P, Chris W. and others, the night quickly arrives. So does the noise pollution, cars driving round and round, a shrieking train, plopping of fountains (waste water treatment or water waster golf course?), and such. Not much, certainly not enough sleep, yet corrupted dreams of gentle touring.
&nbsp Day 1: Hobgoblin Ho – to Goblin Valley State Park (SP), 50 miles.
&nbsp The bulge of the valve stem thumps pavement as I groan into Goblin Valley SP. Thump, grind, thump. Certainly, the tire is seriously flat now. It's been a tiring low tire day grinding from Green River to Goblin Valley, especially considering it's a fairly light mileage day. Perhaps, once the tire is fixed, it will be easier? Yeah, right.
&nbsp Chris notes that when you are riding slower than 8 MPH, the biting and other bugs can keep up, mobbing you as you ride. A mouth full of insects, unpleasant. Itchy nasties, more unpleasant.
&nbsp Showers and welcome shade in the mysterious haunting hoodoos, spires, and cliffs of Goblin Valley, delightful at sunset.
&nbsp Today we took the airport road and after a few miles of gravel connected to old Hwy 24, avoiding I-70. Also, the Goblin Valley road is now paved.
&nbsp Magenta layers the sky at sunset and my eyes roll like pinballs. To sleep.
&nbsp Day 2: Hog Heaven – to Hog Spring Rest Area, 66 miles.
&nbsp The froggies don't seem to mind the intrusion as I search for a pool from which to dip wash water. Ahh – cool and refreshing. The Wingate Sandstone (SS) walls glow with pre-sunset orange as I recount the day – up and finally rolling from Goblin Valley, cool and into the wind. High cirrus clouds seem to predict a front change. And, a nice change after installing my 10-year old once-patched tube into the Venerable Monster (VM; my circa 1984 Specialized Expedition distance touring bike) rear tire. Back at Hwy 24, the road turns generally downhill and with the tail wind (!!) to Hanksville. A leisurely lunch at Hanksville is followed by a rolling up and then a graceful, yet exhausting roll down into Darwin's crack in the earth, deeper and deeper into what appears to be Kayenta SS, to Hog Springs (Hog Heaven) Rest Area at about MP (mile post) 33.5.
Southern Utah Swing - photos by Mark Shipman & Rob
Click thumbnail to see full size image

| | | |
| --- | --- | --- |
| | | |
&nbsp Day 3: Monumental Bonk – to Natural Bridges NM, off MP 91.3 of Hwy 95, +4 into the NM. Over 3000' of elevation gain and down about 2200' along the roller, 65 miles.
&nbsp Bonking again, a long distance of rolling up amidst the open grandness of sky and the stark chocolate of SS cliffs. Dry. Long. Bonk. And, I'm only approaching MP 69, after dipping across what little remains of the Colorado River as it dribbles into Lake Foul, the giant evaporation and sewage pond, brought lower and lower by too many consuming too much, then steeply up to gain and lose the same elevation several times. Finally, near MP 69, I encounter Robert T's car, where he had set out a jug of water. Ahh, a long rest, lunch, and partial rehydration in the shade of the pygmy forest (Utah Juniper and Pinyon Pine), before heading off into the sun and another good bonking. And, not the fun kind of bonking either, so get that out of your mind.
&nbsp Near Fry Canyon (well named today), I encounter Cheryl and we plod almost into sunset, conserving energy and avoiding the bonk. The crisp low-angle sunset was in our eyes as we turned N toward the NM, rolling downhill and home.
&nbsp We set camp quickly and enjoy a quick rinse and settle into a peaceful evening, here around 6000' high at the NM.
Southern Utah Swing - photos by Rob
Click thumbnail to see full size image

| | | |
| --- | --- | --- |
| | | |
| | | |
| | | |
| | | |
&nbsp Day 4: Magnificent Monument – rest day at Natural Bridges, 0 miles.
&nbsp Fronds of the pygmy forest bend in the gathering breeze. The azure sky is nearly unblemished, with an occasional pock mark – unlike the face of an adolescent with typically poor junk food diet.
&nbsp It's been a lounging lizard-like day of recovery and general bliss. Delightful temperatures. Some explore the bridges loop ride and hike while others nap and a couple ride out toward the Moqui Dugway.
&nbsp Day 5: Blanding Byway – to Blanding, 40 miles.
&nbsp The grade increases to 12% or so and the hot wimpy tail breeze stutters to a stop and the gears go to the lowest combination, 34 cog and 24 tooth chainring, and the Venerable Monster (Specialized Expedition) and I lug up the ramp out of Cottonwood Canyon. Lug, chug. Very steep, yet not very long and punctuating a mostly glorious ride, sometimes screaming near or into the 40 MPH range. Yahoo.
&nbsp Dave R and I stop at the Mule Canyon Ruins for some gawking and snacking, then back onto the road to the Salvation Knoll, where lost boys found a path for the propagationists.
&nbsp The joy ride down the syncline and into Comb Wash is followed by the ramp up and t hrough Comb Ridge.
&nbsp Easing into the shade of the corner store (last place to buy beer, etc in dry town Blanding) reminds us that backwards Blanding is dry, yet producing more than its share of artifact thieves and babies per breeding female (age 13 and over). Dave and I enjoy a long wandering conversation with a Navajo man who describes Columbus as a drunk and lost charlatan looking for Indians, and the present Utah legislators as liars and thieves. Succinct.
&nbsp With bikes stripped bare of panniers, etc., and locked to the second story rail of the Inn, we relish in real showers and lounge in real beds. Ahh.
Southern Utah Swing - photos by Rob
Click thumbnail to see full size image

| | | |
| --- | --- | --- |
| | | |
| | | |
| | | |
| | | |
&nbsp Day 6: On the Edge of 191 – Edge of the Cedars to 8 miles N of Monticello, 28 miles.
&nbsp The shawl sports red-orange and blue McCaw feathers carefully woven into fluffy strands and banded together, with a top trim of Abert Squirrel fur. A good use for those annoying Aberts. Most likely, the shawl was traded from what is now Mexico N to the Pueblo People of what is now the SW segment of the US.
&nbsp We're visiting the Edge of the Cedars park on the fringe of Blanding. Delightful. Reproduced pictos and petros adorn the walls, pots and artifacts cram the display shelves, a reconditioned kiva graces the back 40.
&nbsp Then, onto Hwy 191, which it seems all the truckers within a six-state region decided to use at the highest possible speed. Traumatically, we later learn that the traffic is even worse N of Monticello. Rollers to Monticello, where I stop at the library to check email, call Kathleen, and eat lunch in the greenery of this corner park. The truckers get thicker and less well mannered as we ride N for another 8 miles to the camp arranged by Cheryl. Sadly, Rob P drops out of the ride today for health reasons. We wish Rob well, then he travels back to Smog Lake for medical care.
&nbsp Truckers engage their jake brakes as they pass in the low cut a hundred feet from the camp. Ick. Yet, we enjoy a partial end view of the majestic purple shrouded LaSals, mountains of salt.
&nbsp Day 7: The Moab 48, life on the edge – to Up the Creek CG, Moab, 48 miles.
&nbsp Riding nearby the edge of Hwy 191, I'm crowded over a bit more, a bit more by Winnehogos and truckers from texas, certifiably the worst drivers in Darwin's creation. It's a lovely ride, backed by excellent redrock scenery and views of the LaSal Mountains. It's a mostly downhill day, starting high and ending low, surrounded by the swirling heat of Moab.
&nbsp A restful lounging lunch at Kane Springs rest area rejuvenates me before I complete the route to town and the CG. I've checked mail at the library, showered, and visited City Market for the first food bits – lots to drink and some yogurt for mitochondrial development.
&nbsp The breeze switches from up to a cool down canyon mode and the nearby party of marriage revelers sway off in their stupor, and peace returns to the creek area. Restful sleep settles like a fluffy blanket.
Southern Utah Swing - photos by Rob
Click thumbnail to see full size image

| | | |
| --- | --- | --- |
| | | |
| | | |
| | | |
| | | |
| | | |
&nbsp Day 8: Fossil Fools – to viewing magnificent melons; to Green River and home, 50 miles.
&nbsp With two lanes in one direction, visibility a mile or more and the nearest vehicle half a mile away, the fossil fool in the 50+ foot long Winnehogo squeezes us off the highway. Lots of fossil fools, pulling those heinous ORVs (off-road vehicles), huge pickups and such supporting terrorists – many acting as rational as tea baggers. Between assaults, the grandeur of the Moab Fault, sandstone layers in desert hues, awes and inspires. Deluxe country with horrible drivers consuming too much to have a go at sustainability.
&nbsp I note that the cyclo computer is nearing a thousand miles for this year, slightly less than last year's total, yet we still have some riding time to add the revolutions of the VM's wheels. No, not really that many miles, yet not so bad considering the other trips taken along the way.
&nbsp At Crescent Junction, we turn toward big melons, Dave and I taking the far past its prime old hwy while everyone else wisely barrels down I-70 to Green River and Melon Days. Most stress today is attributable to vigilance on Hwy 191, and it is otherwise an easy day.
&nbsp We started the day early – Chris practicing "The Look" to those not yet ready to ride. "The Look" connotes something akin to 'Hah, I'm on the road and you're not, yet should be' or some such message. Being the last or almost last out of camp each morning, I've had no practice giving "The Look." Nevertheless, I have received "The Look" a few times, yet did not realize it until Chris pointed it out. Mark, Dave, Chris, and I rendezvous at the old café that cannot decide which public land abuse to honor with its name "stake" or "steak" (like the BLM, Bureau of Leasing and Mining, stripped and dug or cowburnt)– spelled both ways on the front of the building – and we enjoy excellent pancakes before braving 191.
&nbsp We finish the Fossil Fool 191 with fond farewells and a hunt for magnificent melons at Green River Melon Days before carpooling home, or, in my case, reservation wandering to Northern Arizona, land of pygmy intellect tea baggers and other "conservatives" (where The Tea Party passions are the rancid emissions of class-based greed disguised with flags and Christian symbols – see link below) and a few public land loving ecos – replaying the camaraderie and vistas of the Southern Utah Swing.
Click here for -- fossil fools.
&nbsp What we need now is another Jonathan Swift. (Paul Krugman) Most people know Swift as the author of "Gulliver's Travels." But recent events have me thinking of his 1729 essay "A Modest Proposal," in which he observed the dire poverty of the Irish, and offered a solution: sell the children as food. "I grant this food will be somewhat dear," he admitted, but this would make it "very proper for landlords, who, as they have already devoured most of the parents, seem to have the best title to the children."
&nbsp O.K., these days it's not the landlords, it's the bankers — and they're just impoverishing the populace, not eating it.
Cheryl's plan and maps

Click here to go to a description of the route and maps of Southern Utah Swing
Links
Has Conservatism Lost Its Soul? The Tea Party passions are the rancid emissions of class-based greed disguised with flags and Christian symbols.
Click here for -- fossil fools.
Click here or on the happy cyclists to go to all WV reports about Bicycle Touring
<! --------------------------------------- this table provides a link to all WV reports about Bicycle Touring ----------------------------------------->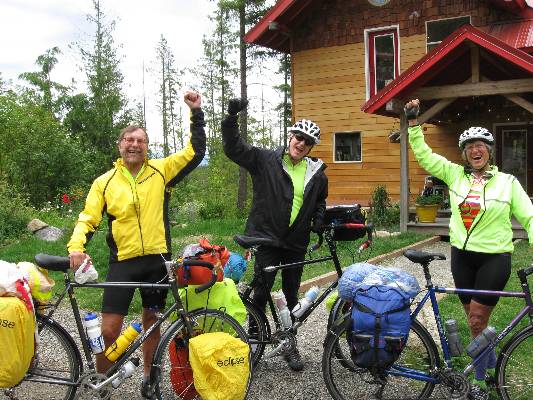 Looking for All Wilderness Vagabond trip reports about Bicycle Touring?
Click the image to go to All WV reports about Bicycle Touring

<! --------------------------------------- table ends -------------------------------->
---
---