Border Bop: Bicycling South to North Across The U.S.:

Nogales, Mexico to Carway, Canada; and back to Idaho




2546 miles in 38 days

June 12 to July 19, 1985

by Rob Jones; Marv Miles, Co-adventurer

<! --------------------------------------- this first table is across 2 collums ----------------------------------------->
Marv, Rob at Mule Hill, AZ
(Click the image for the full-size image)

Canada, yahoo!
(Click the image for the full-size image)
<! --------------------------------------- first table ends -------------------------------->

<! --------------------------------------- this first table is across 2 collums ----------------------------------------->
Marmot, Going to Sun Rd, MT
(Click the image for the full-size image)

near Flaming Gorge (helmet off only for photo)
(Click the image for the full-size image)
<! --------------------------------------- first table ends -------------------------------->

(Text and Photos © copyright by Rob Jones)
I appologize for the image quality, the images were scanned from old slides.
Also, I economized on disk space and load time by squashing the files.
Later, I re-scanned some slide - better quality - yet they are not in order.

Jumps to these sections:(click on section name to go there)
Jump to the Summary
Jump to the Day 1
Jump to the Day 10
Jump to the Day 15
Jump to the Day 20
Jump to the Day 30
Jump to the Day 38
Jump to the Epilog


Return to the JUMP TO section

Summary

: This is a report about a self-contained, South to North cross-country bicycle trip. Self-propelled, my good friend Marv Miles of Moreland, Idaho and I rode 2546 miles in 38 days, an average of 67 miles per day. We spent 262 hours on the bike, an average of almost 7 hours a day. Our average speed (counting only time spent on the bike) was a staggering 9.7 miles/hour. Riding one of these fully-loaded touring bikes is a bit like piloting a waterlogged log down a sluggish river, and sometimes like piloting the log upriver. But, there's also an incredible sense of freedom and living the country through which you're riding, unlike the tin-can touring most Americans do.

When I say "self-contained," this means we carried all our equipment, clothes, tent, sleeping bag and pad, stove, pots, fuel for the stove, tools and repair items, etc. (and there seemed to be lots of "etc.") on our bikes. We almost never slept inside, and we cooked most of our meals.

At home in Idaho, we boxed our bikes and flew to Tucson, Arizona and began riding from there, first to Nogales, Mexico, where we began the long trek northward to Carway, Canada. Although we had planned to box our bikes and ride the bus home after completing the Border Bop, we finished our adventure by riding back to Moreland (for Marv) and Pocatello (for me), Idaho.

Some of my peak experiences would be: Marv's wit, wisdom, and friendship, Mr. Green Banana Frank Kral, the total sensation of the sights, sounds, aromas, and tactile feeling of the environment, including those from the weightless, cruising, lumbering bike; the beauty of the people, of the country, and the contrasts and contradictions.

This report is taken, nearly verbatim, from my trip journal. Prior to the trip, I had seal-a-mealed about 5-page installments of notebook paper in plastic. After I finished a set, I mailed it home and opened the next one. When I got home, I put together the series. This is what I wrote, with comments, commentary, and help from Marv. I hope you enjoy the story.

Related reading

: "From border to border, Bicycling the West." Idaho State Journal (Journal Enjoy Magazine section of the Pocatello, Idaho newspaper), Friday, August 30, 1985, pgs 16-17. (Article by Bill Francis, using my notes and photos.)

"Man bikes to coast at age 69," Lansing State Journal, Monday, August 5, 1985. (Article about Frank Kral by Sheila Schimpf.)

<! --------------------------------------- this first table is across 3 collums, so it stands alone ----------------------------------------->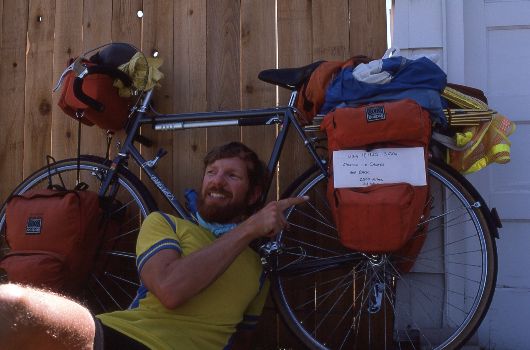 pdf of the Idaho State Journal article (PDF file; 7 mb)
(Click the image for the pdf file)

<! --------------------------------------- first table ends -------------------------------->
Border Bop - Assorted Photos #1
Click thumbnail to see full size image

| | | |
| --- | --- | --- |
| | | |
| | | |
| | | |
| | | |
| | | |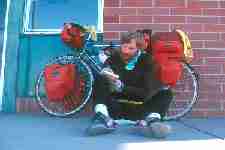 Writing break, where all this journal stuff originated
(Click the image for a full-size view (7k); Photo by Rob)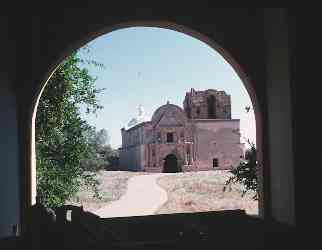 Tumacacori Mission

Return to the TOP of this report

Day 1: Baked feet a la Tucson

: (Drive from Pocatello to Smog Lake; fly to Tucson; bike to Amado; 33 miles, 3.5 hours, flat and deathly hot.) It was a long day. Marv Miles and Maria picked me up at 5:30 a.m. and we drove to the airport in Smog Lake. Then, after checking-in our packs and bikes, Marv and I and our beloved bikes flew to Tucson. It had taken me 3 hours to box-up the Specialized Expedition bike. I even let some air out of the tires, not only to help the bike fit in the box, but so that the tires wouldn't blow off the rims in flight. The plane burned more fuel and produced more hydrocarbons with the first burp of starting the engines than we would on our entire journey. The gorillas at the loading dock managed to bash the axle of the front wheel through the box and my quick release was lost. Thankfully, that was the extent of the damage.

Hot. Near 110 degrees F. in Tucson. Marv and I assembled the bikes in an air-conditioned corner of the air terminal. On the ground at noon, Arizona time, we would hit the tarmac about 3 p. I used an Idaho-improvise of twist-tie wires to hold the axle in the mounts until we could find a replacement quick-release. Now, we're on the Old Nogales Highway and it's the height of hot. It would be 7:30 p.m. and sunset before we found a stopping spot in Amado. My feet, especially the bottoms, were being baked by the heat off the pavement. A pleasant surprise was the huge acreages of pecan trees N. of Green Valley. As we passed through the tunnels drilled through the orchards by the highway, the humidity shot up and the temperature plummeted, ahhh, much nicer. As we tried to discern a path through the maze of dead-end frontage roads near Green Valley, we encountered another pleasantry. An ATB rider came riding the road from the S as we were returning from a dead end. After some friendly discussion, we received an escort through a ritzy retirement segment of Green Valley and back on the frontage road (it's either the frontage road or I-19 here).

Approximately 25 miles from Tucson we passed a rest area. The caretaker was working on the roof and, after our inquiry, said we could camp there if we wished. Probably due to cooked gray matter, we opted to ride on to Amado and a KOA for the night. The quail, desert-eared jacks, coyotes, and flycatchers came out in increasing numbers as the earth cooled. We believed we could hear the creaking of dirt and trees as the temperature dropped. A squadron of flycatchers continued to reel around the lighted KOA sign long after dark, behaving exactly like the bats I observed on Dead Horse Point (Utah) several years ago. It was a very warm reception to the desert.

Day 2: Border Bop 1

: (Amado to Mexican Border to Sonoita, Arizona; 63 miles, 11 hrs., mostly flat, rolling to Patagonia.) Near 105 F today. A beautiful red sky greeted morning and us at Amado. We were on the road just before 6 a., following a quick breakfast of oatmeal. On and off the frontage road, and then on I-19 to Ruby Rd. We had earned our brief stop at the Tumacacori NM, an old mission established by the Jesuits (the first primitive structure was dated approx. 1698). It had bomb-shelter thick walls (5' thick). It was rapidly warming as we reached Nogales (elevation 3865'). Then, we poked through Nogales to the U.S./Mexico border for the ceremonial photo. Now, we were "officially" on the way, border to border we hoped. NE towards Patagonia, we rolled through mesquite-covered hills with an occasional Saguaro Cactus or Cholla waving us on. We passed the dirt strip and battered sheds of the Nogales International Airport, made "International" either because planes from two countries land there, or because the strip crossed the countries' borders? We wondered. Patagonia. No need for jackets or climbing equipment today. In fact, we could use a breath of that chilly Patagonia breeze right now. 19 to Patagonia, another 12 to Sonoita, which was exactly 1000' higher than Nogales at 4865'. We enjoyed a welcome tailwind from Nogales. A brief dip in Sonoita Creek outside of Patagonia was a live-saver, even though the water was near 80 degrees.

After asking around, we eventually set-up camp in the shade of the Reagan-Gardner Building at the Sonoita Fairgrounds. With the jockeys' showers and a picnic table, the accommodations were greatly improved over those at Amado, and free too. We slurped slumgullion stew for dinner, vegies and ramen and tuna. And, where's the urination? We guessed we had consumed 3 gallons of water and juice today, and still no urination. Guess I'll drink some more. The ghost flag haunted us that night. Despite no apparent breeze, and that the other two flags on the pole were motionless, the track flag intermittently flapped in a phantom wind. Strange indeed. From being the minority to sleeping on a ghost track, and all in one day.

Day 3: The Thing

: (Sonoita to Benson to Willcox, 76 miles, 7 hrs, downhill except the stretch between Benson and Texas Canyon, hot and dry.) What a day for touring! Downhill and a tailwind and a cool morning. We were sorry to leave our deluxe accommodations at the fairgrounds, but we headed NE from Sonoita to the Hwy 82/90 junction. Fast and pleasant. A roadrunner! We saw a roadrunner, but no "beeping" or Wiley Coyote. Rotating the big gears, nearly all the way to the junction. Flowering yuccas. Into "The Valley of Rain" this is called, said a young Native American who rode up along us after we passed Elgin Rd. And "the monsoons are due to arrive in about 2 weeks to a month" he noted. Then, it reportedly rains every afternoon for 2-3 hrs. "Not a good time to travel through," he said. He told us that he works in Sierra Vista, a one-way trip of 22 miles from his home beneath Biscuit Mountain. Previously, he would ride his horse, necessitating an overnight stay when he did, but now he rides his bike back and forth. "Much faster, and I'm hooked now," he reported. There are different perspectives on life everywhere. Later, we would see the other extreme. RVs tethered to their umbilical cords in RV campsites, with human prisoners watching TV and running all manner of "conveniences," sucking off the power grid. N to Benson, a drop from 4865 to 3580'. There's still a pleasant tailwind. We stopped for lunch in the shade of an ice machine in Benson. It's now warming to the "fry an egg in your hand" stage (and, it's not yet 11 a.m.!). 38 to Willcox, all on I-10. Sucked along, then nearly tipped over by huge, thundering semi-trucks. A last water bottle fill from an archaic but precious water bottle cooler in an auto parts store, and it's off N by NE again. Tough, rolling hills to the rocky break near Texas Canyon. Muffin-shaped goblins of sandstone lined the road. Guess what, the rest area is closed! We do we get water now? "The Thing" we remembered, was advertised a ways back, as "only 10 miles" distant. This turned out to be a good resting spot. Revival (and no visions either). Another 18 miles to Willcox, but these went quickly. Willcox. No comparison to Sonoita in respect to hospitality or flexibility. After poking/asking around for over an hour, we gave up and went to the KOA (we had tried to find something a bit more "down home"). People were courteous, but little more. The KOA reserved spots with shade for the RVS and relegated us scumbag "tenters" to a flat, open, scorcher of a slab of dust. Akin to the 3 cents per acre land purchase we read about on a marker near Elgin Rd. Excessive profit, no return. We made do by loafing in the shade cast by a house-size RV until just before sunset. Nice people these, even though they seem to be trapped in their glass and steel tin cans. Dinner was an excessive dosage of rice, tuna, beans, cheese, and steamed cabbage. Pork factor 5, Scotty, we are becoming real eating machines. During the wait for the heat to settle, I finally adjusted most of the rattles from the SBI (Specialized Bike). It was pleasant by 7 p.; however, sunset is at 7:30 and it's quiet dark by 8 p.m. A contrasting cool night, the low was 42 degrees.

Day 4: Gila Surprise

: (Willcox to the Gila River, via Safford, 80 miles, 8 hrs., flat on I-10 to 666, uphill and tailwind to Safford, hot and rolling up to near Thumb Plug, thunder down to the Gila River cut near the 666/75 junction.) I'm writing from an old and dilapidated "apartment" (stretching the definition some) at a house/bar near the Gila River. It has been a withering hot afternoon, but thank Zion for the tailwind, and thanks again. 252 miles so far, very good considering the heat. Another day, another dolor. Up early and over to the golden arches for a breakfast special of pancakes and tea before getting on I-10 and traveling NE. 12 more miles on the interstate while the road was flat and the temperature cool. Then, we turned on to Hwy. 666, the Devil highway, and started uphill from 4167' before dropping to 2920' at Safford. Actually, we bypassed Safford and came out at Solomon instead. We stopped at Swift Trail Junction for iced tea and water, then on to Solomon for soda and water, then on to the weigh station for water. A pack of dogs almost got us as we rode the cut-off to Solomon. They came pouring out from a hole in a junk yard fence, suddenly there were eight of them, with pointy teeth and loud voices. Luckily, we had just shifted up for a descent of the junk yard hill. With Marv leading the charge, we outran the junk yard dogs, happy that they didn't chase us to where the hill ran out. Our respiration and heart rates slowly calmed, and the beating sounds in my ears subsided.

As we churned along in the tailwind, we saw more roadrunners and lots of cottontail rabbits darting through the brush. At the junction of the road leading to Clifton, we encountered two battered, road-rashed kids who had just crashed off a motorbike. Earlier, they had passed us as part of a group of approx. 10 riders near the inspection station. Shaken and looking like they had a close encounter with a cheese grater, we ascertained that there was no major damage. We went on because no help was needed, by report. Hotter yet, we had almost gotten to the reserve water we had stashed in a water bag strapped to one of the racks. It's rolling and tormentingly up. Forever? No, just 2 hours. Then a plunging plume to the bridge across the Gila River. It looks like a slow, warm, mess of a "river." Up the other side, and ready to shift back down, I was taking full advantage of the down-hill slingshot. So much that I almost didn't see Marv's bike parked in the shade of the first building we had seen since the inspection station. I pulled into the shade. The building was a sometimes bar, and a residence. The owner was very nice, and immediately offered us ice water and a fruit drink. We drank several. He worked for the county and advised us to go via Mule Creek, rather than via Clifton. "It's cooler and easier to ride, and there's better scenery," he said while I downed 8 glasses of water. Recovering (I was getting a bit quaky), we opted to accept the offer to stay. Later, while preparing dinner, we had an uninvited dinner guest, a scorpion in the water faucet. She flew out of the pipe, rattling into the pan when I turned on the water, and she tried to get me. Bugah! However, shhe checked out from our "apartment" prematurely. It's 6 p. and it's still hot. We are sitting on our creaking, scorpion-invested, mini deck waiting for the earth to cool and observing how different this was from the taciturn behavior of those in Willcox. Did we BAMIC today? (An allusion to the Bicycle Across Mountainous Idaho Country, BAMIC, slog of 2 years ago). Yes. Too hot inside, and too much rat urine on the carpets, and then there's the scorpions, so we slept outside. It finally cooled early in the morning. The ground was hot under our pads when we rolled them. A depressed area, due to the low price of copper and the labor-management difficulties at the Morenci Mine (a huge gash out of a valley). We certainly enjoyed the great hospitality from Frank Garcia, however.

Day 5: Mule Creek? A Wayan Experience

: (Gila River to Glenwood, NM, 52 miles (304 miles so far), 7 hrs.; uphill to the New Mexico border, down to Mule Cr., roll to junction of 78/180, roll up to Glenwood; hot, mostly tailwind.) It was a day of rolling through the ecosystem zones: up from the Gila River (difficult 8% grade) for 4 miles before the state border, through desert environs, into a pygmy forest (juniper & pinyon pines), then pines, even Ponderosa, down to grasslands just beyond Mule Creek, and back into pines. Obtaining more food at the junction, we headed up on hwy 78. A bad choice? We won't know until we learn more about route 666, the Devil way. Burgel said to go this way (on 666), everyone else said it's not as pretty as 78, and longer/higher too. They didn't mention that route 78 has few places to get drinking water. The biking was not especially difficult, but some stretches were tough. There were nice views of sandstone spires near what I'll call Mule Creek Pass. Several Turkey Vultures reeled overhead - waiting for our demise? Granny gear and rest stops on the way up. Rolling down to Mule Creek, now only an occasional post office. We were able to obtain water at a house before continuing out into the grassland. Very fragrant honeysuckle aroma enveloped us as we floated the grassland road. N on I-80. The maps are incorrect, it's 35 miles between the 78/666 junction and the 78/I-80 intersection. Route 78 borders part of the Gila Primitive Area, where there are purportedly sweet water springs 5-7 hrs. hike from most trail heads, which lead into Ponderosa country. We experienced some wear and tear on the knees, but not too much thanks to the tailwind. Nothing at Pleasanton, most unpleasant. We paused at the Gila R.S. and received (belated) the word that water is scarce to nonexistent beyond Glenwood. Terrific. We plodded on to Glenwood and stayed there, not too far from the San Francisco River. Although a bit touristy, it's a nice place. Noodles, oyster, and green beans for dinner. Clouds were forming as the sun set, but nothing happened. It was a cool night in Glenwood, so we walked down to the Blue Front Cafe for a second dinner, the first hamburger I have eaten in over a year. We need all the amino acids we can get to recharge those dilapidated muscle fibers. And, finally we're well-irrigated enough to urinate more than one-half a cup two times a day.

Day 6: Gator Day

: (Glenwood to Whiskey Creek area, 8 miles N of Apache Creek, 59 miles (363 total so far), 5 hrs on bike, rolling up over one pass today, warm and sunny - not an Arizona blow torch day.) In summary: we rode 39 miles in an out twice from the Old San Francisco River, over Saliz Pass (6436') which is 17 miles S of Reserve. Go E at the I-80/12 junction at the "Whispering Pines." Then, roll down to Reserve, then up to Apache Creek over 12 more miles, and finally steady up to a dry camp near Apache Creek. A bovine camp.

We were up for oatmeal and tea before heading N along with the Mogollon Mountains on our E flank. We rolled through Alligator Junipers (big devils with checkered bark), and stately Ponderosa Pines. It's much more pleasant today. There were no services at Almo. The San Francisco River flows through this area, and we cruised in and out of side-drainages. Lots of Turkey Vultures were following us today. Do we look or smell that bad? I stopped to throw a road- killed squirrel off the highway to distract the trailing Vultures. We rolled up to Saliz Pass, then more up after a short drop. We longingly eyed the Tularosa Mountains while enjoying a juicy orange - they look a bit like the Black Hills of S. Dakota. During lunch, we lounged under Alligator Junipers, sipped two bottles of iced tea, a couple of bottles of water, while enjoying avocado and french bread, basic but good. Aromatic? "Sniff and hug a Ponderosa, burn a republican," Marv noted. The sweet, vanilla-like odor of the Ponderosa is a wild bouquet to enjoy while cruising the backroads of New Mexico.

Slogging the route described above, we eventually arrived at the Apache Creek Deaf Camp where we filled all our water containers, including our gallon and a half collapsible. Would it be enough? It was enough to cause my bike to mire in a sand trap on the way out from the camp. Another wobbly two miles up the road and we turned onto a dirt side road and bumped to Whisky Creek. We couldn't/wouldn't drink the water, but it felt great when used for a salty-body rinse. Then, we settled onto a rock to enjoy our dinner of macaroni and cheese and peas and tuna and extra noodles and some baby Swiss cheese - yum. Thanks to the weather, it has been a great day.

Day 7: Gnats to You, or, Sand Bass at Fence Lake

: (Apache Creek to Fence Lake, 74 miles (437 miles total), 8 bike hours.) Summary: On hwy 32, it's 34 more miles to Quemado (a burg of approx. 300 people scattered over this open country at 7000' elevation). It's a 2.5 mile climb on an 8% grade before you roll down from the highpoint at MP 18 to Quemado. Onto 117 which turns into 36 for the 41 miles to Fence Lake, a blink of a town. The terrain is rolling up and flat over this section.

It was a cool morning, with stars galore hanging out in the pre-dawn fragrance (low was 45 F.). My leg warmers were out and on for the first time this trip. They felt good as Marv and I inched our way up the 8% grade. It's deluxe country, studded with lots of pines. Then, there's a long flat bench. We enjoyed whirling wheels over this recently repaved stretch of road. Rolling up to MP 18, then, after a brief break at the rest area (no water), we started rolling down toward Quemado, trading in our 8-9 minute mile pace for a 3 minute mile. The mesa ends, and it's cool! Into Quemado, we refilled our water bottles and ate lunch (tomato sandwiches and yogurt). Then, we were on hwy 117, the first less-than-good road we've ridden this trip. Bucking a warm headwind was new to us. However, it subsided and even gave us an occasional push as #117 changed chameleon into #36 and started to angle West.

We rode the 41 mile stretch to Fence Lake (dry and rolling). There were only sand bass at Fence Lake. We were told that there once was a lake, in the depression days, but it dried up after it was fenced. The purpose of the fencing was to capture the wild longhorn cattle. All of this makes sense, somehow. Clouds moved in again, the weather became more pleasant. While attempting to pause for an orange break, we were assaulted by a huge swarm of gnats. Later, while riding a long straightaway, I fell asleep on the bike. It was good that there was little traffic. This is the second time this has happened, the first time was near Stanley, Idaho after an exhausting climb over Banner Summit on the infamous BAMIC ride. The change in the whine of the tires on the texture of the tarmac startled me into semi-awareness, enough that I did not become road rash. No problem, I mused, it's just another aspect to a long journey.

Marv and I paused at Brown's Store 5 miles East of Fence Lake, and after purchasing more groceries, we spent an hour or so attempting to repair a Western Flyer junker bike belonging to a dirt-faced kid who waved us down as we rode the quiet road. We got it running and off we went to Fence Lake. There are a few houses there, but no store or much else. The school has closed long ago. We obtained water and retreated from the hordes of gnats into the small community church. The entire church would fit into a medium-sized winnehogo.

At Quemado, a guy in the store, who reminded us of the product of several generations of inbreeding, made an insightful statement about Fence Lake: "It's just like Pie Town, someone made pies there, there used to be a fence at Fence Lake, until they fenced the lake there was a lake." I asked, "So they no longer make pies in Pie Town?" "Oh, sure" Mr. Sentient replied "they've always made pies there." After more ramblings, we dropped the conversation and retreated to the smallness of the bug-free church.

Day 8: Zuni Land

: (Fence Lake to Gallup, N.M.; 65 miles; 6hrs on the bikes; warm with a tailwind; rolling down to the junction by Zuni, rolling up to Whitewater, rolling along to Gallup; 502 miles so far.) Up early, we ate our standard Malt-o-Meal cereal breakfast before getting underway. It was strangely quiet and "remote" in Fence Lake. We only saw 2 people, one person when we asked for water, and one stopping in the church to pray, where we were hiding from the gnat squadrons. The road North of Fence Lake was deserted, and we didn't encounter anyone for perhaps 20 miles, and we saw perhaps 7 vehicles during the ride to the 32/53 junction (33 miles). A curious Pronghorn Antelope ran parallel to us for nearly 2 miles, catching up, then running ahead whenever we began to disappear from her view. It's a delightful quiet stretch of backroad. I haven't seen any Alligator Junipers for two days now, but there are lots of Utah Junipers and a few Ponderosa Pines. With our lovely tailwind, we zipped down to the 32/53 intersection by 10:30 a.m. It would be nice to visit the town of Zuni some day, "largest pueblo" the sign says.

It's uphill gradually toward Whitewater (or Vandewagen, as the whites call it), a climb of 1,000' over 13 miles. We paused along the way to gobble bread and peanut butter. We were happy we had brought extra water, for there is no drinking water between Fence Lake and Whitewater. This is a much busier road, and the shoulder is thin. The Zunis and Navajos do seem different. The Zunis are more outgoing and friendly, while the Navajos seem a bit reticent - perhaps this is just around us non-natives.

The highway is now rolling generally downhill, with some steep grades climbing out of washes. The terrain becomes more grassland-like as the highway heads toward Gallup. At Gallup, the route changes/combines with 666, the Devil's number, or so we were explicitly reminded by a retired preacher in Quemado. Perhaps he retired so he would not have to drive the 666?

Gallup, a town famous for its rows of fast food eateries. A dry wind greeted us, making it difficult to peddle as we rode South on U.S. 40 to the KOA. After two days without a shower, we paid a premium $12 for the pleasure of KOA facilities. We even had time for laundry and a complete review of our bikes (tighten bolts, etc.) before 5 p.m. Marv rotated his tires. While gathering more food, we stepped around and over apparently drunk men and women of all ages and races, passed out and serving as door-stops. It seemed too early and too hot to be gutter lounging to us. A strong wind kicked up around 4 p.m. and swirled sewage gases from a lagoon. Anyway, it was good to get the greasy gear marks off my legs and wash my hair and clothes. Gnats again assaulted us, but not in the thick squadrons of Fence Lake. We ate a rare restaurant meal - a pork factor 5 delight - of spaghetti, baked potato, salad bar, and garlic bread. This gorging would serve us well for the Devil's Day. We went to sleep talking about the Gallup gouge, a KOA specialty, we decided. And, we did not have any devil dreams.

Day 9: Devil's 95

: (Gallup to Shiprock, N.M.; 95 miles; 8 bike hours; hot and fairly level; tailwind briefly, then headwind; 597 miles so far.) The Devil's number is said to be 666. Well, here we are, riding hwy. 666 from Gallup to Shiprock, through Navajo land. What a contrast to the twilight zone atmosphere of Fence Lake. Last night's sunset had been deluxe, with well-saturated reds and yellows. Kodak would be humbled.

We were up near 6 a.m. (the days are getting longer as we ride toward the Summer Solstice), and over to the golden arches for a pancake breakfast. Then, out of Gallup on a tailwind by 7:30 a.m. The road was very congested for the first few miles, complemented by rude, uncourteous truck drivers. "These truck drivers behave like cowboys with their brains kicked out" commented Marv.

We covered the first 30 miles in a quick 2 hrs. So, that's what those big gears are for! The wind gradually faded, then reoriented itself into a hot, breathy, Devil's headwind. Marv and I took turns breaking the stiff wind, rotating by the mileposts, one mile.... rotate out and back, slip into the slipstream bluntly cut by the now lead rider and jump up a gear to "rest" and lose some of that lactic acid build-up in the legs. Then, it's time to cut the wind for another mile. Drafting certainly saved us energy and time. We were thankful that it was a gusting, and not a steady wind because it was tough enough as is.

The air is fairly clean today and we could see the jutting Shiprock in the distance. Lair of Navajo legends about Monster Woman, etc. We guessed that the operators of the Four Corners coal-fired power plant wait for sunset to do the Reagan/Symms thing, and turn off the scrubbers at sunset.

We stopped at several of the trading posts and found the Navajos to be quite friendly, some delightfully engaging. Sitting now in the back yard of Ron and Diana Dean in Shiprock N.M., following a dinner of chicken and salad prepared by Diana, we commented about how we had dodged the Devil for another day. After plowing through the winds on the Devil's 666.... We had stopped at the 7-11 store as we entered Shiprock and had fallen right into this set-up. Ron thought he might have one of the few patches of grass in town. He's the manager of the 7-11. It was a nice offer to use his 10 x 12' grass patch. We even used his shower. We bought ice cream and took a family picture. They have four daughters, age baby to 4, and a cat. How different this cat is from the emaciated phantom we saw at Littlewater, an abandoned trading post (and, an abandoned cat?). The terrain today has been rather barren, hardly a bush large enough to step behind to urinate, except the infrequent vegetation near the trading posts.

We enjoyed another ruby-red sunset accompanied by large doses of wind. Later, a few raindrops fell, just enough to cause us to scurry for the tent fly (this is the first time the fly has been out of the pannier). Several cat fights occurred during the night. Marv gave one couple the water bottle treatment, which allowed a precious interlude of quiet sleep. The growling, whining, shrieking started again, and we noted how difficult it is to interrupt this inherent, hard-wired behavior. One of the red-neckersons stopped by looking for Ron and gave us a sermon about how terrible his 6 years in Shiprock have been. "A good place to get your ear trimmed," he said. "Won't pay their tithing to THE church, no matter, how much they make, these Indians. Not a safe place in town, either." Although we had no reason to believe this man's whining, we didn't test the theory and went to bed fairly early, to enjoy the best of both worlds, mosquitoes and gnats.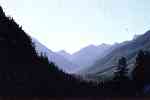 Telluride Views
(Click the image for a full-size view (17k); Photo by Rob)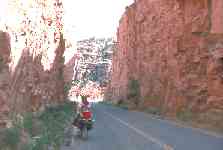 Marv climbs the 10% grade to the Monument, Day 13
(Click the image for a full-size view (7k); Photo by Rob)


Return to the JUMP TO section

Day 10: Humble Pie, Courtesy of France

: (Shiprock, N.M. to Dolores, CO.; 52 miles, 6 bike hours; 649 miles so far; gradually uphill and mostly a headwind, warm (low 90's); 41 miles on 666, 11 on 145.) Marv and I were up early and quietly slipped out of the homestead. We poked through Shiprock for several minutes, looking for a place to get early pancakes. We found a restaurant that would be open in a few minutes, then we sat on the sidewalk and enjoyed the fresh morning dusty aromas of a still-sleeping desert town. Then, on the road, back on the Devil's way, the 666. We had biked a large portion of the length of New Mexico, with 15 miles to go to the New Mexico/Colorado border when we encountered the Frenchman. Actually, we were refilling water bottles from a farm store when we heard the creaking, shrieking of his crankset. The Frenchman was peddling his archaic Motobecane toward Kayenta as we waved him into the water spigot. His brakes protested as the dust rolled off the wheel rims and he eased to a stop. Here are the stats: Rusted crank, cord showing through on his front tire, over six weeks on the road from New York, solo. There was nothing wrong with his wide smile. We learned, in his lilting French-laced American, that he's been through Choco Canyon (difficult but worth it, he noted). His big disappointment? "Everybody in a hurry - too many RVS." He reported that he's on his way to San Francisco, maybe a month from now, then Japan. We were humbled by his experiences and his plans. Maybe someday?

On to Cortez, a nice place, where we enjoyed a leisurely lunch in the city park. A dilemma: through Durango and Ouray, or Rico and near Telluride? It seemed odd to abandon that artificial destination on the map, to Durango.

During our planning, Marv and I had taken a ruler and drawn a line from Nogales, Mexico to Durango, Colorado, then another line to Carway, Canada and used these lines to very roughly estimate the distance and more-or-less the route.

But, here we were, deciding to go via Rico, with the promise of better roads this way (at least for biking). Locals told us that tourists drove like republicans on the way to the bank around the twisting mountain roads. Perhaps there is less traffic via Rico, and there's only 1 mile difference in the routes, as far as we could tell. However, we would miss the higher passes, Red Mountain Pass for one. Years later, I would finally travel (in a car) the Durango to Montrose route, where I would marvel at the incredibly long pulls up pass after pass and also the stunning alpine beauty of this stretch of the Rocky Mountains.

In Cortez, we enjoyed views of the big mesas (Mesa Verde is one) to the SE, mountains to the NE, and we seriously considered the tough climb to Mesa Verde. But, we went North instead, toward Dolores, Colorado.

We're in a city park in Dolores, Colorado at present, drinking Old Milwaukee, a cheap good beer. Perhaps I don't have enough fat content to properly absorb this alcohol - I seem to be having a bit of difficulty with my fine motor functions. I put on my running shorts and enjoyed a water bottle bath in the open of this tiny park - there is only a small restroom with a miniature sink in the park. Then, Marv and I did some laundry, draping it over the bike frame to twist it and squeeze out the water, then we used the bike frame as a clothes line. They are all-purpose bikes.

I'm preparing to mail the first installment of this journal, and I'm getting out new pages sealed in plastic prior to the trip. I will mail this first set of 9 pages from the Montrose post office, whenever we get there. There are decent women in Dolores, actual 7's or so on a 10-point scale. Yum. A local came by selling watermelons and we bought a half for $1.50. It's cooler here, and we are happy we enjoyed our bath as soon as we stopped. The heat from the tiny blast-furnace backpacking stove feels good for the first time this trip. Although there are few bugs here and the storms have been brief, we're still happy we brought the Spynx tent anyway. The Pyramid fly would have been considerably lighter to carry, but not nearly the tent we have needed - if only for the marauding insects.

Looking back, I recall a stark and somewhat disturbing contrast between the Mormon whinebag in Shiprock and the Navajo sitting on the adobe brick wall in Newcomb - from the context of the "shape of humanity." The Mormon appeared to have a very narrow and bitter view of his world, talking mostly about current and past complaints, industry, "progress," tithing. In contrast, the Navajo seemed more at peace with his world, although he had substantially less in material possessions or formal education. His spiritual life, his religion, what little I know about it, is related to the rocks, animals, plants, and the harmony ("hozros") of the total environment. I believe the Navajo is far more human. Marv noted that the Mormon's idea of "harmony" was to tear off the top of a public land or Native American mesa to build bigger winnehogos so he could insulate his huge family from the world. Of course, it's a much wider context nonsequiter: The GDP (gross domestic product) is measured by adding in "progress." The problem is that "progress" is linked to cancer, clear cutting trees, strip mines, overgrazing, etc. As they say, economists must learn to subtract (if we are to be human or fit within our environment). Most of us "developed" people have a great deal to learn about "hozros." We are overdeveloped outwardly, and in poverty inwardly. For all our wealth, it is we in the "developed" world that are impoverished.

Marv's large water bottle mysteriously disappeared while we were on a walk to the post office and the gas station, and this with all our gear scattered out on the lone picnic table and draped over our bikes. We have spent 22 cents for gas so far (we're burning unleaded auto fuel in the MSR blast furnace, a great bike touring stove because it burns all sorts of fuels).
Border Bop - Assorted Photos #2
Click thumbnail to see full size image

| | | |
| --- | --- | --- |
| | | |
| | | |
| | | |
Day 11: Lizard Head High

: (Dolores to Matterhorn campground near Telluride; 53 miles; 5 bike hours; 702 miles total; steady uphill; cool and sunny.) Our adopted "lost dog Joe" was still around when we got up to the 42 degree coolness of Saturday morning in Dolores, Colorado on the 11th day of our jaunt. Joe is very friendly and well socialized, and we hope he finds a good home soon. He refused to eat the cereal we saved for him, apparently waiting for his master/mistress who had inadvertently let him out to pee and left without him, or so we surmised.

We were up at 6 a.m. and headed into a headwind toward Stoner by 7:15. Perhaps the cool air is displacing warmer air as it slides down from the peaks near Lizard Head Pass. Starting from 6200' in Cortez, we climbed to 6700' at Dolores, and it would be 8827' at Rico and 10,250' at Lizard Head, a gain of 4300' from Cortez, and 3800' of it today. Up the Dolores River route we went, where we would parallel the river most of the day. Just before reaching Stoner, we encountered a couple bike touring the other direction. We heard their tales of biking in the Southern Utah desert. We smiled knowingly. They were warm smiles.

Outcrops of warm-colored sandstone jutted out amidst the aspens and cottonwoods. Picturesque. Saturated green is everywhere. And, great quantities of water thunder along the course of the Dolores River, both unique phenomena to us. Road vultures almost crashed into us as they ran downhill trying to get airborne. Yikes. We spied three unopened beers in a carton jettisoned at an intersection, 'probably thrown out by some drunk we're happy was here a while ago' we mused. We salvaged the beer and left the rest. Later, we would enjoy these three precious ones after cooling them in spring water near the Matterhorn campground. Wow, there's more traffic than we had anticipated - just our fortune, there's a blue grass festival in Telluride this weekend and reportedly 13,000 tickets have been sold. It's not that busy, however, so most participants must be coming in from the other direction. Up and up, mostly we rode in the littlest gears of the middle chainring. Not bad, and very scenic. I wore a wind shell the first 10 miles, then leg and arm warmers to Rico (at 8827') where we stopped for a lunch of homemade soup and bread. I believe this terrain is preferable to those ghastly rollers we've endured on previous occasions. Feeling some of the effects from the altitude, we continued climbing after lunch. A great vista of Sheep Mountain (13,188') and Lizard Head Peak (13,113') popped into view. Even with the cereal for breakfast, the package of cookies in Stoner, and the soup and bread in Rico, I was getting hungry as we approached the summit. Only a mile or two of 7-8% grade and then the road mellowed to the summit. The Continental Divide! We enjoyed summit views and rituals before adding clothes and plunging a few miles, past the Trout Lake area, to the small Matterhorn F.S. campground. Due to the festival, we chose to stay at the site we found vacant, because we expected all other campgrounds to soon be clogged or overflowing with celebrants. Also, we wished to stay clear of the Telluride madness. No piped water yet (it's "awaiting inspection" a sign warned us), so no charge. It's just our style. Ed Abbey has written about the rape of Telluride, where "stewards" of our public land have allowed and encouraged private mining rape then ownership of our land. We boiled some water and made do, nicely. A package of cookies was given to us when we asked another camper about whether the Trout Lake store was open. What wonderful neighbors. We must be looking gaunt, or something. A box of minute rice, a can of corn, a tin of tuna, and the package of cookies complimented our 3 beers. Ahh, we lounged against the picnic table, allowing our bellies and minds to round out in hozros.

We had made camp early, and it's only 6 p.m. now. The temperature is in the low 60's at this time, as I cook more water - discovering that the MSR stove can melt/burn the paint off a Forest Service table before the chilled water boils. Stranger than religion, tonight I wrote a letter to the chair of the Educational Psychology Department at the University of Utah. It seems there is a request for an immediate acceptance of my assistantship and tuition waver for graduate school. I wrote a note to the chair on my journal paper, quite fitting I felt. I thought that Utah's gravitational force was too distant to be a factor (many Utahans believe that the center of the universe is located at temple square in Smog Lake, Utah). Enough of this, Marv and I sat back against the stout wood of the Forest Service picnic table with our belies poking out and watched the transition of sunset into alpenglow. The overnight low was 36 degrees F., and polypro and wool hat were standard sleeping garb.

Day 12: ALL The Beautiful People

: (Matterhorn C.G. to Montrose, Colorado; 77 miles; 6 bike hours; 779 miles total; temps in the low 90's; basic downhill.) We began with a Sunday morning uphill of Telluride. It all started with a Wayan downhill (rolling uphill) for the first few miles. I had overdressed, expecting a cold rush downhill, and instead I got a bit wet inching uphill. People were sleeping in vehicles alongside the road, the initial forecast for the Telluride jam. Today was the last day of the festival jam, which would result in a lessening of our appreciation for the country because of the subsequent traffic jams. All the beautiful people in their sex cars... Always in a hurry.

Finally, we did get some downhill, and it was an easy 20 to Placerville. Big mountains (Wilson and Sunshine Peaks) occasionally peeped into view. After our yogurt break in Placerville, we left hwy 145 and turned Northeast onto 62. Twelve miles of mostly large cogs and middle chainring basic uphill followed, to the Dallas Divide (8970'). From here, we plummeted into Ridgeway for lunch at their small, but well-shaded park. The Ridgeway side of the pass seems to have a higher angle. We turned onto hwy 555 and headed downriver along the Uncompahgre River, toward Montrose. It's rolling, then gradual downhill, terrain, and we "enjoyed" an upcanyon wind all the way, about an even trade-off between downhill and wind. We also enjoyed jam traffic all the way. We stopped at the Ute Indian Museum, just outside of Montrose. It's small, and about right for our museum appetite. Among other things, we learned that Ouray (the city of Ouray is South of here about 30 miles) was a Ute Chief who tried to negotiate with whites for reasonable living arrangements for his people. He was treated in much the same way we were in Willcox. The Ute "religion," much a way of life emphasizing balance with nature, made it difficult to comprehend the white man's maniacal rush for power, conquest, and greed. So, what's new with the white man?

Stopping at the visitor center in Montrose, we learned that we could camp at the Lion's City Park. Which we did after buying groceries (almost out!). It's 7 p.m. and 80 degrees, with some bugs. Not bad. People have been very friendly. A parade of old guys who must frequent the park returned with home-made puzzles, garden corn, stories to tell. It was memorable. We felt like well-pampered curiousities.

Today we ventured through a host of ecosystems - Subalpine firs to pines to desert dwellers. Craggy peaks, to sandstone faces, to Badland-like hills. Good night from memorable Montrose.

Day 13: Monumental Rainstorm

: (Montrose to Colorado National Monument; 81 miles; 9 bike hours; 850 miles so far; downhill to 10% grade uphill; sunshine and hot to clouds and rain.) This is most likely our most difficult day yet. I'm writing notes in the fading light inside the tent which is being buffeted about by a wind and light rainstorm at the campground on the Colorado N.M. mesa. We toured terrific scenery today, of dissimilar natures. One was the beauty at the food store in Grand Junction with the long hair, long legs, piercing and provocative eye contact, and lithe body. Her demeanor was a bit more than friendly, or so it seemed. I kept thinking, when I could, that I should say something beyond the small talk, but what? Perhaps I'll have some x-rated dreams, and reruns. I'm out of light and the wind is so fierce that we have to re-orient the tent into the wind to keep it from blowing off the plateau.

From Montrose to Delta it had been a delightful downhill and a pleasant cruise. We slurped a yogurt and orange juice break at the City Market. Then, on toward Grand Junction, riding rollers in and out of Badland-like arroyos. Too busy traffic, reminiscent of the Telluride tide, which we endured for 31 miles to Whitewater, where we stopped for lunch. Ominous clouds were moving in from the SW. Rain began just outside Grand Junction. We hid in a roadside fruit stand and allowed the storm to wash the road in front of us. We planned to loop through the Colorado N.M. on our way to Fruita, so we headed up the plateau. Up and up and up, 4.5 miles of 10% grade, through a tunnel and amidst turrets of glowing sandstone. This is the second natural beauty of the day. We were happy to have the intermittent clouds and breeze on this over-heating grade. After the 10% section, the grade continued up, over 1000'of up, to 6640'. We were rewarded with views, meditation-inspiring landscape, up the Serpent's Trail, to Cold Shivers Point (a sheer drop), Red and Ute Canyons, Monument Canyon...wow. About half way around Rim Rock Drive, we began to hurry in front of an approaching storm, again. The legs became leaden. Push, push. Wind. A few rain drops. Zot, lightening bounced off the mesa above. Just before 6 p.m. and the cloudburst, we rolled into the Visitor Center parking lot - just in time to park the bikes in the rest room alcove and recline on the cold vinyl couch in the Visitor Center to watch the curtains of rain draping the canyons.
Border Bop - Assorted Photos #3
Click thumbnail to see full size image

| | | |
| --- | --- | --- |
| | | |
| | | |
| | | |
| | | |
Day 14: Fire and Rain

: (Our only rest day of this jaunt, 0 miles.) The wonderful warm morning sunshine deteriorated before lunch, as bands of rain rolled across the openness before us. Our attempt to dry our laundry was foiled by the rain, so we placed the wet clothing in the tent, where it was splashed by the driving rain intruding under the rainfly. We took advantage of the pauses between storms to hike briefly off the rim, enjoying the aroma of sage and desert flowers drifting with the mist. It was a cold and damp night, but the storm broke.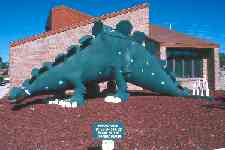 Dino Times
(Click the image for a full-size view (11k); Photo by Rob)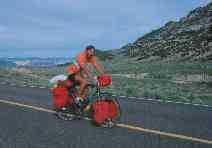 Rob along Flaming Gorge, Day 16 (We always wore helmets, except for this photo)
(Click the image for a full-size view (14k); Photo by Marv)


Return to the JUMP TO section

Day 15: Douglas Mudslide Grunt

: (Colorado N.M. to Rangely, Colorado; 85 miles, 8 bike hours; 935 miles so far; gradual uphill for 35 miles, 4.5 miles very steep; 30 miles downhill; badlands to Pinyon to juniper woodlands, cool and some rain.) After packing the heavy, wet equipment, we plummeted out of the Monument and across the latte-brown Colorado River. We were saddened by the thought that this once-noble river now reaches the once-rich delta area in the Gulf of Mexico as a salt-laden trickle, if at all. What progress, damnation.

We found one of those corner cafes in Fruita where they serve coffee in roasted clay cups so heavy they seem to weigh half a pound, empty. After preparing my coffee to match the color of the Colorado River, Marv and I enjoyed a stuffing pancake breakfast. Then, we rode to Loma, mailed some film to the processor, and began the 35-mile mostly gradual ascent to the Douglas Pass (6300') area. This route winds into the Book Cliffs area, through badlands and into the Pinyon/juniper woodland. Our attention alternated between watching a Bald Eagle, swirling the thermals as her hunting perch and dodging sail rodents as we passed through a prairie dog suicide zone, where desiccated sail rodents were everywhere, squashed and baked flat enough to peel off the road and sail like a frisbee, but with a few tire-puncturing bones protruding for the unwary bike tourist. Now, we're into the mesas and ridges associated with desert zones.

It's a long 73 mile haul from Loma to Rangely and there's no service, except scenic, of any kind out here. Just before beginning the 4.5 mile mudslide grunt to the summit of Douglas Pass, a 5000' gain from Loma (!), it began to rain. Stretches of graded dirt interrupted the tarmac. The road was steep enough that we were already down in super-granny gear, and there was that temptation to stand up for more power, at which we would spin out and slide out of control in slow-motion in the gunk. Bits of gumbo mud and grit and gravel rolled around the tire, making it much larger than it was, and dripped onto the chain and gears and caused instant derailment, a lurching of the pedals, and left me standing in the mud, fighting to balance the loaded bike on the high-angle road. Marv experienced this thrill once himself. This climb rivals, and perhaps eclipses, the Lizard Head Pass grunt. Certainly, it has more miles of high percentage approach. As we approached the top we could see fringes of snowbank. A cold wind greeted us as we added gloves and windbreakers before slipping off the pass and plunging downhill for 2 or 3 miles. We thought it would be a free ride, or at least a cruise for 33 miles to Rangely. But no, a headwind from the North required that we force our way down. It was a long afternoon.

Finally, we rode into Rangely at 5 p.m., and located the camper park (Colorado State Parks) near the White River. I'm somewhat shaky, with sewing machine legs. I guess it had been a difficult day. After a trip to the AG store for groceries and 19 cents of gas, we prepared a dinner of green salad, rice and soup and turkey, which quickly disappeared. It looked copious, but seemed like survival rations. Our equipment dried as we prepared dinner.

It was cool at twilight, a warning to crepuscular creatures to fluff their feathers/fur/clothes for the coming cold. We met a couple from California touring the West in their van. They administered a large dose of excellent wine, and we were engaged in good conversation about touring, etc. The male of the couple had traversed the U.S. East to West two times on his bike. Now, he's a physical therapist and a triathlete.

Day 16: The Mecca 1000

: (Rangely to Steinaker Reservoir near Vernal, Utah; through Dinosaur N.M.; 76 miles; 8 bike hrs; 1011 miles total; cool; up to Dinosaur, Colorado, down to Jensen, Utah, roll to Dinosaur N.M., up to Vernal.) It was a brisk morning, and with my claw-like hands, I had difficulty unraveling a bungee cord wrapped into my freewheel and chain. It had become entangled last night when I moved my bike closer to the tent, just in case someone tried to ride off on it during the night. After breakfast cereal, we were on the road to the town of Dinosaur (18 miles). Up through the boom and mostly bust remnants of the Rangely oilfields. With all this oil, one would hope that there would be a shoulder on the road, but there hasn't been since Loma. Marv and I noted that the tank truck traffic was quite considerate, nothing at all like the George Hansen style of republican-type Utah drivers we later encountered. Exercise your "independent freedoms" at the sake of everyone else," cried George, "take your piece of road from whatever section you wish!" These were mechanized assholes to the max. Even down in New Mexico, it had been the Utah and Texas drivers we most feared. Both states had white and black license plates at this time, and when we saw the black and white bearing down on us, we cringed. Marv reported "We must be getting closer to Mecca, where there's no need to plan for future existence. Utah is a great place. It's just very unfortunate there are Utahans there." We laughed about how we could feel the gravitational pull as we grew closer to the center of the earth at temple square, hub of ultra-prolific mormonism. We paid the price for thinking these unpure thoughts. We rode into a massive migration or infestation of mormon crickets. They were so thick that they pinged off our spokes, clunked against our bike frames, and thudded into our helmets. We kept our mouths closed and our heads down. Our bike tires crunched over the armored carcasses of dead and not quite dead crickets so numerous we could not dodge them. The crunching continued for over a mile, then suddenly we were on virgin tarmac and exhaulted in fresh, mouth-agape breathing.

Anyway, we would roll up and over the 1,000 mile mark today. Are we half way, we wondered? We glided downhill to Jensen, then over and along the Green River to Dinosaur N.M. and the dinosaur quarry. We found it interesting and informative. All those big bones deposited in the river bend for latter day archeologists to find, chiseling out the bones with a dental pick. We looped back the 7-miles to the highway, and continued toward Vernal. Along the way, we enjoyed views of a graceful anticline behind which the Yampa and the Green merge. Picking up more groceries and another 18 cents of gas in Vernal, we were on hwy 191 for 8 miles more toward Flaming Gorge and the Steinaker Reservoir and state park.

Today, I had my sweater off for the first time in the past two days. We camped in the state park, one of the few times we have paid much for camping to date. It was time to clean the bike, removing the mud and sand sprayed on the chain from the road construction zone and those menacing black and white license vehicles, and to concoct slumgullion (ramen and clams and soup base and green onions and green beans and delicious). We enjoyed excellent views of some of the sandstone formations prominent in this part of the world. There are several groups of desert plume near camp, the yellow, frondy plant which is an indicator of poor soil or water, for it flourishes in alkaline or selenium-laden soil. Don't drink the water, is the message. Though the gnats were blasted out of the Colorado N.M. by the wind, they appear to have relocated to Utah, land of industry (industrious gnats?). Except for our freshly laundered shorts and shirts, our equipment and clothing are thoroughly dry at last. The overnight low was 38 F.

Day 17: Flaming Uphill

: (Steinaker Reservoir to Mustang Ridge campground at Flaming Gorge; 42 miles; 6 bike hours; 1053 total miles; warm with long uphill sections.) I am writing amidst boiling clouds, which have us surrounded. There is no action, yet, but rain appears likely at the Mustang Ridge CG, a few miles North of Dutch John, near the Flaming Gorge Dam. A wreck-lamation project, a project to wreck a wetland near you. It was 9 miles of 5-8% grade, then more steep uphill to 8428' at the foot of the Uintah Mountain Range, a range which runs generally East-West, one of a very few ranges in the Northern hemisphere to do so (see John McPhee's book "Basin and Range" for excellent reading about Western geology/geography). Then, roll, up and up to the 8428' summit at the Dagget/Uintah County line, after which we rolled down to the dam zone and across a suspension bridge. It has been a difficult day, and to compound things, many of the CGs on the East side of the sewage pond are closed. We mused about how it's somehow OK to subsidize logging and road development in our wilderness at huge deficits, but it's a "cost saving" measure to close existing CG's, a la Ronny Reagan. We had already witnessed a great deal of welfare logging, welfare mining, and subsidized livestocking, and there was much more to come.

Living on our bellies, we obtained a few groceries at the Flaming Gorge Lodge and more at Dutch John. Reportedly, there were no services or useable water for the 66+ miles to Rock Springs. We wanted to go farther, but it was getting along in the p.m., and the lack of future water was also a factor. So, we decided to stop at the last CG before the long, dry stretch. But first, a self-guided tour of the dam. Bur-wreck is certainly trying to hard sell this project as cost-efficient and the most wonderful event to ever happen to mankind (what about womankind?). I was not convinced. Neither was I convinced that the open pit phosphate mine (which we passed in the 9-mile grunt area) was a scenic delight and model of revegetation. Better suffering through chemicals. So, we're still in Utah, but not far from the state line. Land of industry.

The driving public displayed better deportment today. Although we didn't garner many miles today, we probably turned the cranks as frequently as on a more typical 60-mile day. Our present average miles per day is 60. Stay tuned for more weather info.

Day 18: Ridge Rambo to Rock Springs

: (Mustang Ridge CG to 14-mile BLM rest stop (14-miles North of Rock Springs, Wyoming); 80 miles; 8.5 bike hours; 1135 total miles; up and up plus wind; 88 degrees in Rock Springs; badlands to sage terrain.) The weather arrived, a pattering barely sufficient to send us to the tent this Friday night. Nap time, then a brief break before sleeping clear through to Day 18, Saturday. Skies were overcast and would remain that way all day. We didn't pay the F.S. CG fee, quietly escaping out one loop just as the ranger was beginning his rounds. Scuzbags indeed. With this early 7 a.m. start, we would grind our way to the 14-mile rest stop at 5:30 p.m. It was a rambo, in reference to a recent superjock movie, job on our knees today.

Up and up toward Rock Springs we rode. We were free of Utah by 8:30 a.m., hooray! Three miles of 9% grade, dip, climb up and around a ridge of crimson sandstone cliffs, dip, climb on another ridge, taper and roll off...lots of revolutions in the small chainring today. (Before this trip, I had regeared my already granny gearing so that the top and middle chainrings were half-step gearing, and the granny was a separate dimension that at its lowest was less than a 1:1 ratio.) 66 miles to Rock Springs, I felt like a weather vane in the open country. The true weather vane of the bird kingdom, the prevalent magpie, told us the true wind direction. There has been a brisk wind from the NW the last 30 miles. We loaded-up on groceries (are you surprised by this?) and continued 14 more miles to the aptly named 14-mile rest and picnic stop (no camping). Although we didn't stay long, Rock Springs appeared to be a dusty cowboy town. As we rested on the side of the road, recovering from bucking the nearly continuous headwind, some locals came by and gave us some beer, saying "you fellas look like you need some carbo-loading."

The views during the first 25 miles of today were reminiscent of the Badlands of South Dakota. It was varied terrain. During the day, we had worked our way upwind into the odor of death for over 2 miles to find a long-dead pronghorn antelope, replete with rows of maggots. This tamed our appetite for a few minutes. Later, three pronghorn bucks ran across the road 30 feet in front of Marv. No wonder one of the brothers didn't make it.

At the rest stop, we wedged our small tent into the most level spot we could find, although nothing seems level here. There's a small reservoir here, and it's inhabited by swamp-dwellers, blackbirds, coots, marsh wrens, etc. Breath deep for the delicate bouquet of swamp. But, there isn't any potable water, so we boiled water for drinking and dinner. For dinner today: instant potatoes, a whole chicken in the can, and a can of green beans. This proved to be just barely adequate. We have mailed 56 post cards so far on this 1135 mile jaunt.

Day 19: End Run

: (14-mile Rest Stop to Atlantic City/South Pass; end run on the Wind River Range; 76 miles; 8 bike hours; 1211 miles total; rolling easy up to Farson and South Pass, up and rolling to Atlantic City; warm; grasslands and sage.) Assorted creatures sang swamp songs to us this morning. It was 26 miles to Farson, through the sage and farmland of a place called Eden. Farson has a population of 320 and is at 6900'. It was far, son, from almost everything. It was a pleasant and cool morning, and this helped make it a nice cruise. Marv attempted to locate a friend in Farson and found that she was gone to Utah for the Summer, sigh. Marv and I were looking forward to a few amenities, such as a shower - it's been 10 days since I had a full shower, a laundry batch, and some non-noodle food. Somewhat disappointed, we purchased gas for the MSR, 25 cents worth, bringing the total to near 70 cents for the trip. Then, a late breakfast of pancakes and eggs before obtaining groceries and heading on highway 28 toward Lander. It's longer via this route, but reportedly more scenic. It's 33 pleasant and rolling miles up to the Continental Divide at 7550' and South Pass. It's also the old Oregon Trail passage. Along the way, we passed the "parting of the ways," where one route went to Utah/Oregon and the other route went to far-out West, California. We could see the ruts and the change in vegetation at the parting. Lots of Pronghorn Antelope graced this open country. Lots of sagebrush. One bicyclist. After a short drop to the Sweetwater River, we began the 14-miles of rolling up, suitable for Rambolizing my knees, to the 3rd turn-off to Atlantic City near milepost 49, where some ecoterrorists were mining for iron. A steep drop on a dirt strip toward Atlantic City brought us to the Big Atlantic Gulch BLM CG. My left knee had given me problems since we left the divide and I was happy to give it a rest. Wind blew in sounds of booming thunder, and charges of lightning illuminated my note-writing, but rain waited until later.

We must have called home, for my notes indicate that B.R. Butler of Pocatello fractured a hip while riding his bike. Reports suggested that he was motoring along when he hit a diesel spill that caused his bike to squirt out from under him, bouncing him along the tarmac in an unkind manner. Having ridden many miles with B.R., I felt sad at his and our loss. He would recover to ride many more miles.

Earlier today we had encountered a lone tourist biking a resemblance of the Oregon Trail. We pulled up alongside him as he slumped over his handle bars while stopped near a historical marker turn-out, gazing that 1000-yard stare across the sage-dotted hills. He told us that his great grandfather had traveled on the Trail, and that he was duplicating the route as close as possible on the pavement. Marv and I mused about how we all bike our roots in some way.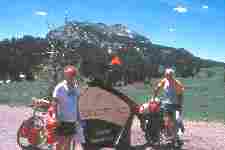 Marv and Frank at Togwotee Pass
(Click the image for a full-size view (14k); Photo by Rob)

Day 20: Lander Lounge, or Frankly, I do give a damn

: (Atlantic City to Lander, Wyoming; 28 miles; 1239 miles total; 2 bike hours; mostly downhill; real trees environment to farmland.) This first day of July found us headed for Lander and a partial day of rest and repair. The overnight low at Atlantic City was 32 degrees F. The rain did not materialize. We finally found the "downhill all the way to Lander" everyone had told us about. This downhill was approximately 10 miles later than predicted and did roll through several drainages. But the view of Red Canyon, wow, was glorious. It had red sandstone bluffs offset by various greens of grass, forbs, and sage. Delicate yet very powerful. We encountered as many tourists today as we have to date (4). One fellow had an enviable arrangement. His girlfriend would drive ahead and locate camp, etc., then ride back to meet him. She had nice equipment.

After mailing home the second installment of this journal home and inhaling lunch, I took my first complete shower in many days, since Shiprock (at the city pool on 9th in Lander, 75 cents). We scrambled for groceries, did laundry, and rolled over to the city park on 3rd Street, where we would camp.

Along the way, we stopped at a local bike shop to see what kinds of gear they had - we were always curious whether we could repair anything major if needed. At the shop, we encountered a most amiable 70-year old bike tourist on his way from Virginia to Portland, Washington. Frank Kral was his name, and he had started out with two others, he told us, one an 80-year old man who dropped out of the tour due to cardiac problems, "we propped him up in a motel, called his wife and continued to ride" reported Frank. His second partner was riding with poorly-designed equipment and the toe clip hit the front tire during a turn. This ex-prize fighter went down, and broke his shoulder, but he rode for two more weeks without telling Frank about his broken shoulder. He became delirious and began riding the wrong way after rest stops, etc., so Frank propped him up in a motel and called his wife. Frank shipped most of his cooking gear home, retaining his "luxury hotel" as he called his three person tent, and continued to ride, solo. It was quite a story, and true. Frank told us that he wanted to make it home, to Owosso, Michigan, for his birthday on August 12th. We bid Frank farewell, and thought that was that. But, when we rode up the short, steep hill to the city park, there was Frank waving us into a grassy place to camp.

Lander has been a pleasant place to stay. It's a clean city, it has a nice residential area, the women are nearly as nice as some we had encountered in Colorado, and the folks gave us a generally friendly reception.

Day 21: Windy River Grovel

: (July 2nd, Tuesday; Lander to Dubois, Wyoming; 75 miles; 1314 total; 9 bike hours; warm and windy; rolling uphill; sage to Wind River Badlands.) Wind River is correct. We groveled approximately 30 of the 75 miles in 23-27" gears with 8 miles of groveling over gravel through a construction site. These aspects made for a long day on the mechanical mules. It was a good trip from Lander to the highway 287/26 junction. Then, the wind kicked up and the real fun started. Gregarious Frank Kral, the 70-year old gentleman we met in Lander, was along, plowing at his own pace through the wind. He did well, and never seemed to be more than a few minutes behind. Graveling, it was prudent to lower ones head and allow the rocks to bounce off the helmet rather than the face and teeth when speeding cars and trucks roared past. Zing, thwang, thudding sounds accomanied the rocks as they shot past or landed on bike, helmet, or flesh. We crossed the Wind River Indian Reservation with hardly a notice that we were traversing tribal lands. There was a basic CG near the river near MP 69, but we opted to continue on, despite the head winds.

The end of three weeks of traveling found us at the Outlaw Saloon in Dubois, leering at Cindy the barmaid. After one beer, I had difficulty crossing the floor to the barroom door. We camped at the Circle Up CG in Dubois, a new-made old-West town. We three bicycle tourists enjoyed trading tales of long rides.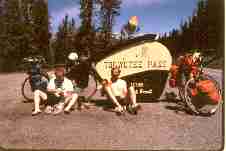 Marv and Rob lounging at Togwotee Pass
(Click the image for a full-size view (12k); Photo by Rob)

Day 22: Togwotee Today

: (Dubois to Colter Bay CG, Teton National Park; 65 miles; 1379 total; 8 bike hours; windy and warm; pasture to subalpine.) Togwotee Pass, at 9658' was easier to cross than the badlands area we crawled through yesterday, because there was less wind. The pass is at MP 25 (0 is at Moran Junction in the park), and there's a FS CG at MP 32. Great views of the breccia cliffs developed on the North side of the pass. It was a good and steady climb from 6900' at Dubois. We have encountered a larger number of tourists lately, as we're on part of the Bikecentennial route (cross country version). While eating lunch at the summit of Togwotee, two nicely-equipped female tourists came by and talked for a bit before continuing toward Dubois. It's too bad they aren't going our way. On the way up, Marv and I stopped to soak up the gorgeous view of Wind River Lake and its sentinel, Sublette Peak.

Along the way, we were hassled by a county sheriff, apparently a lobbyist for the timber industry. He ignored the logging trucks as the drivers careened erratically down the road, passing on the corners and in the distinctly marked "no passing" zones. We were advised, indeed told, to get off the road and onto the nonexistent shoulder. Minion of Reagan, no doubt.

The sign said it's 17 miles of 2-8% down grade along the way to Moran Junction, but we were required to peddle the vast majority of it, with the ever present wind. Tremendous vistas of the Teton Mountains developed as we slipped down the pass. We stopped for gas at the Hatch Lodge and purchased 15 cents of this fossil fuel, a total of near 85 cents so far.

With the traffic volume increasing, we entered Teton N.P. and headed for Colter Bay. Busy, busy. Everyone is in a hurry. Hurry before someone steals the scenery. Encapsulated in their glass and tin tourist cans, these "tourists" experience a muted and different kind of reality, approaching the level of a mundane video. Why not park those RVS (A.K.A. winnehogos) permanently in the backyard and show videos on the windshield? There would be little difference in "real" vs. video as far as the winnehogoists could tell.

We three enjoyed another slumgullion meal, stew and vegies and cheese over rice, with salad. Calls home made us realize that we won't be seeing familiar faces for awhile.

Day 23: Teton Tide

: (Colter Bay to Grants Village, Yellowstone N.P.; 40 miles; 1419 total; 4 bike hours; generally rolling up, cross Continental Divide at 7998'; warm; Lodgepole plateau.) The overnight low was 26, producing frigid fingers in the a.m. We warmed viscous chilled honey in the tea water to add to our breakfast of cereal and rice (left over from last evening's pork-fest). What a great way to start the 4th of July. I was warmed and on my fourth repetition of urination (cold temperatures have this effect) by the time we reached Flagg Ranch between the two great parks. The Teton traffic tide was already flowing like Spring run-off. Hurry to Yellowstone, push, push. Someone might take down that cardboard video backdrop. We, however, rolled into Flagg Ranch and began our second breakfast: doughnuts, fig bars (Frank's favorite staple), yogurt, fudge. By the time we finished breakfast #2, it was warm enough to pack away the sweater and leg warmers. On we rode, but there was not sufficient opportunity to properly observe the plants, animals, and views, there was too much traffic that occupied our vigilance. We enjoyed the quiet ride over new blacktop through the Lewis River stretch. Lunch was at the Lewis River Falls, wheat bread, cheese, fig bars. The ride up to the Continental Divide was not very difficult, and after this we cruised down to Grants Village. Somewhere during this short day we lost Frank. Later, there was a happy reunion at the biker/hiker section of Grants Village CG. We all enjoyed the enlightening Human and Wolf exhibit at the ranger station, which I believe later earned several awards for educating Americans who want to listen.

Marv and I were happy to be reunited with Frank. Before dark and after viewing the exhibit, we rode over and ate dinner (3rd restaurant dinner of the trip). Three showers in a row seemed luxuriously sufficient (Lander, Dubois, and Colter Bay), so I participated in a sink bath instead. Marv and I moved our tent to Frank's spot, because the noisey god squad bikers and a sound pollution wilderness adventure busload had descended upon nearby group areas.

Day 24: Canyon Cruise

: (Grants Village to Norris CG via Canyon; 52 miles; 1471 total; 7 bike hours; breezy and warm; meadows and Lodgepole thickets, volcanics). The overnight low was 28 degrees F, though not as damp as Colter Bay, and so we experienced it as considerably warmer. An oatmeal breakfast warmed us too. We are glad to have Frank for one more day, and to have The German Lady leaving us - she had snagged onto Frank somewhere many miles ago, then lost him in Lander, only to reconnect with Frank at Grants Village. She was on the direct route to West Yellowstone via Old Faithful; while we would be circling around Norris via Canyon. Old G.L. (German Lady) was never seen smiling, and while she talked a great deal, little of substance and no discernable humor was heard. But gregarious Frank Kral, what a delight, a laugh a mile, prepared by the occasion and for the occasion. He says "there's nothing like an old fool, especially when there's a pretty girl around."

It's a sensual experience this morning as we ride to Fishing Bridge. Cool smells, occasionally sulfur, sometimes flowers and pines, then raw earth tones waft by our nostrils. Ahh, forbs and flowers and the soft ambience of diffused light glancing from the surface of humongous Yellowstone Lake, through the mist, a delight to the eye. The soft whir of the wheels, largely uninterrupted by the bellowing of winnehogo. What a day to be alive. Frank, as usual, is a real joy; and he has a saying for every occasion. Such as "a woman's ass is not the best thing in the world, but it's right next to it," and other gems. Yogurt break, with doughnuts, at Fishing Bridge. The last of the extra clothing came off here. Then, on toward Canyon Village. We bought more groceries here for an overstuff of potatoes with a gravy of hash, stew, peas, and mushroom soup glopped together.

A west wind buffeted us into Norris, but the stands of Lodgepole broke it up to an innocuous level. Near the Gibbon River we found a set of hiker/biker sites. Marv thinks it is approximately 405 miles to the Canadian border from Norris. All three of us were feeling a bit of malady in the gut, and wondering if Hamilton Stores poisoned us, or whether it's just a touch of AMS (acute mountain sickness).

Day 25: Frank's Frolic; or Ennis Century; or Wind River Reverse

: (Norris to Ennis, Montana; 100 miles; 1571 total; 8 bike hours; breezy, cold to warm; rolling downhill; Lodgepole Pines to grasslands and pastures.) It's another cool morning, with a low of 28. This constitutes the last of the in-vivo weather reports, as I broke my thermometer at Ennis, in a drunken one-beer stupor. Oatmeal and on the road we go. Frank placed a plastic bag under his jacket to prevent wind chill, much like riders of the Tour de France place newspapers under their shirts on steep descents from the Alps.

We rode through Elk Park, and marveled at the icy glint of sunlight on the cow elks' shabby coats. We softly, quietly, floated through Gibbon Meadow, a sparkle of sunlight off the dew on the grass. We rolled up the 28 miles past Madison Junction to the West Entrance of Yellowstone. Here we paused at the Yellowstone Bicycle Shop, where I purchased a good quality tire pressure gauge - no more guessing about what we were riding on. Then, deluxe!, over to Theresa's Cafe (Hungarian), where we were greeted by Edmund, who recognized Marv and I from an earlier bike loop of Yellowstone. French toast! Strudel! (On our next trip through, Marv and I were saddened to see that Theresa's had degenerated into a yuppie-era cafe with little class and mediocre food, and that Edmund and Theresa had retired and moved to Bozeman.) We spent 14 more cents for gas, for a grand total so far of 99 cents. Groceries and out of town, headed for Quake Lake.

The road North was like the LaBrea Tar Pit, it felt as if our tires had gone instantly flat as they mired in the clingy goo. We rolled past Hebgen Lake. Pleasant, and it's only 11:30 a.m. Wind in the gap near the visitor center for the big landslide caused us to drop gears and grind along in granny for a mile or two. Next, we flew down to the junction with the road that crosses over Reynolds Pass and into beloved Idaho (the lowest pass over the Continental Divide). Thinking fondly of Idaho, we continued on Hwy 287, the road turned toward the North and we received a gracious tailwind. So far today, we had worked normally for our day's distance, but now It's big gear time, and more. We sailed downwind and downhill parallel to the Madison Range and the Madison River. It's 41 more miles to Ennis. Should we go for it? Bonzono! It was a downwind Frank's Frolic to Ennis (population 610). We arrived at Ennis at 5 p.m., having left Norris at 7:10 a.m. During the last 15 miles I only shifted out of my biggest gear (91 gear inches) once. We even outran a thunderstorm.

Frank treated us to a beer at the Silver Dollar Bar, resulting in instantaneous inebriation. Later, Frank waxed philosophic and weighed the price of freedom: he had apparently paid a high price to escape a bad marriage, and he says he's glad he did, for now he is unencumbered.

It was a glorious century ride. Today was like our ride along the Windy River, only in reverse. We had initially planned to go out the North entrance to Yellowstone. However, upon adding up the mileage for the various routes: to Three Forks it was 140 miles via Hwy 287, via 191 (to Bozeman), and 89 via Gardner. We had selected 287 because Frank was traveling that way. We were rewarded by a cruise of a day.

Early in the day, while flying toward Ennis, a huge gust of wind nearly blew me into Canada. I leaned over, into the blast, and my handlebar bag began to unzip as the map case ballooned in the mini-gale. Because I was riding on a 12-mile stretch of newly chip-surfaced road, I had little desire to perform a pavement slide. Down on the drops, lean, waver for balance. It was a wild ride.

At the Camper Corner in Ennis, we experienced a voluminous dose of hospitality Willcox style. Frank insisted that he pay for the camp, though we wanted to split it, and we later wished we had, stayed at the free City Park at the South end of town. As usual, RVS ruled and tenters were out. We were asked to relocate two times, with the last location adjacent to the Dairy Queen. This was a noisy neighbor, and open until 11:00 p.m. Some prison want-to-bes flipped ice cream on my tent and then ran off as we were growling out of the tent.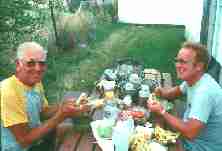 Frank and Marv chow down in someones' backyard
(Click the image for a full-size view (9k); Photo by Rob)

Day 26: Farewell Frank

: (Ennis to Silos CG on the West shore of Canyon Ferry Lake - approximately 7 miles North of Townsend; 85 miles; 1656 total; 9 bike hours; rolling downhill, mostly tailwind; barren and pygmy wheat fields.) We three were up early and over to Bettie's Cafe for wonderful pancakes. It's much warmer here and we didn't even wear our breakfast sweaters. Farewell to Frank, quite sad. He's going West on 287 while we're going North on 287. We've known Frank for a short 7 days, but I have grown fond of him during this time. Perhaps, sometime, perhaps (choke) we will meet again. Thanks to Frank for the good times, Marv and I wish there could be more. Riding/talking with friendly Frank has been one of the highlights of this jaunt. He will be 70 years old in August and he's still as excited as a kid about life and new adventures. And, what a trip he's been on. His original companions dropped out and he kept going. He was tempted to quit. Over 3000 miles by now, and he's becoming weary of the trip and wants to be home by his birthday. He's a rare example of a human being. (Riders of Symmscycles (ORVs) cannot, by definition, be human.) Although many years have gone by, I can still recall the feeling, temperature, light angle, odors, everything as Marv and I peeled right - to the North, and Frank continued straight at the 287 junction, all waving and wishing the other well, choking down our morning pancakes.

Marv and I flew to Harrison on a downhill roller (Norris Hill was along the way, climb 3 miles and drop like a rock in a well). We contemplated the quest, to date. Passing antelope, a few deer, a Redtail Hawk, I dreamed about timely snippets of humor from the old man. The entrance to Lewis and Clark Caverns slipped by while we generally paralleled the Madison River. We crossed and followed the Jefferson River. Near Three Forks, where the Madison, Jefferson, and Gallatin join to form the Missouri, the ride became more of a "plug along" day. No outstanding highlights, just a long ride.

Crossing over I-90, the road climbed over a ridge and began rollering again. We were making good time, but it's kind of dull relative to yesterday's romp. Down, across the Missouri, up several times into muggy air - is it the passing thunderstorms or the riparian habitat? After stopping for ice tea in a bar, a thunderstorm chased us down near Townsend, but not before I tried to capture a photo of an osprey pair and their nest on a power pole. Marv and I lounged under an awning for the rain to pass before going to the IGA for groceries from the generic section (I guess we were feeling thrifty today). The wind stayed after the thunderstorm left and we worked much harder biking to the state CG 7 miles North of Townsend. No water, but it's still a better site that the one at Ennis - a cross between the Gallup gouge and the Willcox screw. We were surrounded by low hills in a low land - Townsend is 3800'. Plain country. A strong wind jumped in around 6 p.m. and lasted for a couple of hours. It harassed us despite our log shelter, whipping any untethered article into space. After boiling some red potatoes and adorning them with gravy, we had a macaroni and tuna and peas glop. We carted all our containers up the bumpy gravel road for water, bringing them back heavy and full. Around 9 p.m. the wind calmed and the sky began to clear, preparing for a desert sunset greatly enhanced the past few days by the airborne particles from the Idaho forest fires. Tomorrow, I believe we will begin to regain some of the altitude that we've lost the last two days. My knees have been steadily improving since Togwotee Pass, ahh, and I hope I am ready for more pass-work. We enjoyed a pleasant, warm evening, occasionally dotted by low grunts from the bellies of the nearby sleeping tin can dinosaurs.

Day 27: Olde McDonald

: (Silos CG to McDonald Pass; 40 miles; 1696 total; 5 bike hours; flat to up and up; hot and muggy; barren to Douglas Fir.) We were on the road to Helena, Montana by 7:30 a.m. Making good time on the flats, we stopped at Winston to mail the next installment of this journal and to call Barb. Barb said she would fly out and meet us at Seeley Lake, but this seemed impractical to me - even though we were riding our dream ride. In any event, it looks as if we might stay a night with Renea and Ernie Lundberg at Seeley Lake. Maybe we'll get together with Barb in August in the Sawtooths of Idaho. We nearly ran over a rattlesnake lounging on the pavement, soaking up that morning sun on the warm tarmac, while we were chanting "Seeley Lake, Seeley Lake!" A piercing "ssiiiii" sound interrupted our dreams as we approached East Helena - Marv has had the first flat tire of the trip, a glass slash. After patching, we proceeded to Helena and rode over to a cycle shop where Marv and I both purchased tires. I bought a 35x700c Specialized Expedition because the rear Expedition was beginning to lose its cleavage. Rolling it, I strapped it alongside my sleeping bag on top of the rear rack. Like putting on a raincoat to prevent the rain, this would ward off any further tire problems. In addition, the cycle shop people persuaded us to change our route plans, avoiding the desolate, dry, windy East side of the divide. However, this meant that we would ride up the Seeley/Swan Lake Valley, and perhaps return near Flathead Lake to Missoula, Montana and on to Salmon, Idaho (??). We ate a big lunch slumped against the front of the grocery store before starting our altered route, leaving Helena on Hwy 12 (not 287), traveling due West. It was a slightly uphill but vigorously upwind 6-mile approach to McDonald Pass on a narrow and busy road. Grind, grind, utilizing our three lowest gears. At the base of the pass, the road expanded to four lanes. It's not a bad grade, but the headwind and the heat made it difficult. "What possessed us to go this way?" I asked. Marv replied "Seeley Lake! Seeley Lake!" and we grinned. There is more pass-work this direction, and we've added 80 plus miles to the distance to Canada - where it was 190 miles to Canada from Helena via Hwy 287, it's now approximately 270 miles to Canada via Hwy 12 to 141 to 83. Then, it's near 400 miles from Canada to Salmon on Hwy 93. Argh. Many more miles to ride and Marv is getting concerned about money and time.

Meanwhile, back on the pass, we stopped at a FS CG about 2 miles below the summit (East side) for a respite from the wind. There was some natural cool spring water at the CG, ahhh. We passed out asleep on the FS tables for what seemed like a long minute but was actually close to an hour. When we got back on the road, the wind had slowed considerably and thunderheads were building and intermittently obscuring the sun. Now the pass was manageable. We learned that there was no place to camp within a reasonable distance on the other side of the pass and there's high fire danger so even stoves are prohibited. So, we opted to stay at the FS CG at the summit of McDonald Pass, another Continental Divide crossing, this time at 6320'.

By now it was after 4 and time for cleaning-up and cooking spaghetti. It's a nice, sedate CG, with few people because the 4th of July weekend had just ended - it's Monday today. It had not been a long day in terms of mileage, but we were tired. There was much ado about map and contingency study before bedtime.

Day 28: Seeley Sweep

: (McDonald Pass to Seeley Lake; 93 miles; 1789 total miles; 7 bike hours; hot; generally downhill; forested rolling hills to more heavily forested terrain.) The daylight seems to last longer as we travel North, as we had enough light to get up at 5:30 a.m., and we were on the road before 7 a.m. Sailing down McDonald Pass and through an inversion, it's suddenly much cooler. 20 miles and we've quickly rolled through Elliston and Avon. Sweeping along toward Seeley Lake, we can feel the Northward quest. Then, we joined Hwy 200, avenue of reckless, inconsiderate truckers, f-ers on wheels. It's a poor road surface, and it's narrow. It's tough and sometimes anxious riding. The conditions slowed us enough that we saw and scavenged a Fenwick fly rod - in good condition. To rebuild our emotional strength, we stopped at Trixie's in Ovando, a classic but not classy place. Here I attempted to call Renee, with no success. We were hoping to stay overnight with these friends of Barb. On again, and we paused and passed out at a rest area, sleeping on the picnic table. It's a good thing that we have already ridden over 50 miles because it is getting hot. The high would be 100 degrees F today, yikes.

Relieved, we reached Clearwater at the junction of Hwys 200 and 83, and away from the terrible 24 anxiety-riddled miles on Hwy 200, tarmac of death. Or, so we thought, because we found that Hwy 83 was just as bad, although it was much more scenic. I was ran off the road for the first and second time of the trip. I guess our good deed of the morning, herding a calf off the road and back into its pasture, had been overlooked!

Into Seeley Lake we rolled, completing the Seeley Sweep. I contacted Renee, who had just returned from a F.S. field trip. She and Ernie met us at the post office and took us to their cabin. They were going over to a friend's house for dinner, but provided us with a deluxe spread: antelope chops (we had observed and smelled them, now we would eat one), potatoes to bake, spinach for salad, and huckleberry muffins. We would need Frank to help us eat this delicious delight. After a languishing shower, we washed some clothes and watched the hummingbirds from the porch while listening to the stereo. Incredible. While lounging, we hear "pop, pop" from somewhere inside the cabin. Going in to investigate, it began to rain through the ceiling. What? "Hey," said Marv "I know that smell, it's homemade beer with extra yeast!" The bottles were stored in the loft, and apparently had got too warm or were just too charged. We cleaned up some and went back to our lounging. No Barb, and little discussion with our hosts; but, what a sweep, 93 miles and handlebar clutching complemented by wonderful hospitality.

We're closing in rapidly on Canada. What revitalization, it seems as though we've had a day off, not traveled 93 miles. (Gas refill of $.18, for a total of $1.17 to date.)

Day 29: Bob Marshall/Mission Mountain Split

: (Seeley Lake to Bigfork, Montana; 73 miles; 1862 total; 6 bike hours; rolling up and down; hot; deluxe glimpses of two mountain ranges.) Breakfast with Renee and Ernie was grand but didn't afford much opportunity to become better acquainted. But the scenery, it was wondrous along the mountain split. Cirques, lakes, cool forests, rambling hills, and a few peaks with active glaciers. We drifted past two whitetail deer shortly after leaving Seeley Lake. They seemed to regard us an novelties, with no apparent threat to them. We were 55 miles toward Swan Lake by 1:30 p.m., and this was a good thing because I suffered from the afternoon heat and the mileage, and progress dropped dramatically. Our fortune with truckers and other traffic improved. It's not as busy today, or perhaps this stretch of the road is more calm. We are certainly calmer today.

We enjoyed lovely views of Summit Lake and Mt. McDonald, where Grizzly Bears feed on the masses of ladybugs on its summit in the Spring. The area is closed during the "bug season" to discourage confrontation between bear and people. There are glimpses into the shadowy depths of the glorious Bob Marshall Wilderness, very alluring. It calls to us to hike there - someday. The Mission Mountains, West side, are also tempting. They look less deep, perhaps allowing easier access. Turning off Hwy 83, we took 209 to Bigfork and found our way to the Wayfare CG operated by the Montana Fish & Game. It's on the NE shore of Flathead Lake. Marv and I enjoyed a pleasantly cool dip before dinner. Again contemplating a route alteration; this time we're considering a light weight flash to the border from a base camp at the foot of Logan Pass (West side). This would mean abandoning our plans to swing around to the East side of Glacier NP on U.S. 2 before climbing Logan from the East side. We were unsuccessful road vultures today, and didn't find any fly rods or tools, but we were given a wonderfully cold beer in the CG. We are storing memories of phalanxes of tall pines and firs, sweet smells, and quiet stretches of Hwy 83; offset by the harassment of truckers, who must have received their driver training in Utah. Only the series of scratches and nicks on the bike headset, from riding in Ernie's pickup, tarnished the revitalization effects of our Seeley Lake respite.

I added air to my tires, 90 pounds in the rear and 80 in the front; both had lost approximately 15 pounds since West Yellowstone. Marv and I talked with two tourists from Holland who reported that touring was much more accepted and provided for in Europe - with hostels, paths, etc. It was a pleasant evening, without too many insects. I slept like a rock until 6 a.m.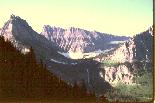 Glacier Terrain
(Click the image for a full-size view (11k); Photo by Rob)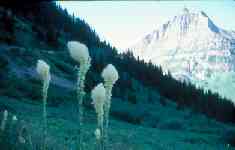 Beargrass in Glacier N.P.
(Click the image for a full-size view (8k); Photo by Rob)


Return to the JUMP TO section

Day 30: Moraine Roll

: (Bigfork to Sprague CG, along the shore of Lake McDonald in Glacier NP; 50 miles; 1912 total; 5 bike hours; rolling uphill; pasture to cedars; hot and dry.) Hot and dry indeed. The temperatures are above normal and the precipitation is far below normal. Over 50 fires are currently burning in the Western states. Yow, but the particulates do allow for some fiery magenta sunsets.

Today we found Glacier NP to be just another RV park. The Going-to-the-Sun Road, and many other ways, was not designed for these behemoth iron dinosaurs. But who is restricted? Not the winnehogos! Only the ethical, compatible modes of transportation are restricted to certain hours of travel. It's justice Reagan-style.

However, before the fiasco, we rode up from Bigfork. It warmed quickly, and we were soon riding near strawberry fields (forever?) on our way to Columbia Falls. At the junction of Hwys 35 and 206, where 35 turns West, we paused for a snack and were advised to take the Columbia Falls Stage Road (.5 of a mile West of 206). This was perhaps the most accurate and useful information of the trip to date. A lovely, quiet road (while 206 was quite busy). In Columbia Falls we stopped for a late second breakfast and groceries at the B & B Foodstore. On to West Glacier for more post cards and water and yogurt. Then to Apgar, where the Park Service people sound like lobbyists for the KOA and RV dealerships. "The Park is for RVS, bicycles are restricted, no hiker/biker sites or provisions, our mission is to make this Park safe for winnehogos and anything else that hastens our and this planet's demise." We wrote post cards until 4 p.m., then biked the 7 or so miles to Sprague CG to find all sites full. Argh, it's KOA revisited - it's OK for RVs to use any site, but tenters are restricted to a smattering of low-quality sites. And, there are no provisions for self-propelled, i.e., ethical, travelers. Is this land stewardship? No, but it is "progress" at any cost. Cooking dinner of boiled red potatoes, macaroni and cheese, and tuna and gravy at the Sprague picnic area, we hoped to scrounge in with another camper, or, maybe we'll have to hide from the ranger tonight. Stay tuned for more exciting scuzball action...

Tomorrow, we plan a blitzkrieg, or lightening strike, sans panniers, to Canada, over Logan Pass, and back. Estimated at 120 miles, it could be a challenge, especially because we'll be required to climb Logan Pass twice, once from the West side, then from the East side on our return.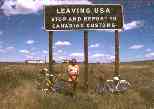 Canada!
(Click the image for a full-size view (15k); Photo by Rob)

Day 31: Blitzkrieg Canada!!

: (Sprague CG to Port of Piegan/Carway, Canada and back to Sprague CG; 120 miles; 2032 miles total; 12 bike hours; forest to alpine to wheat fields; cold and windy.) Canada today! Today the mileage would dwindle to where I could count the remaining miles on one hand, then parts of one finger. During the day, we would surpass the 2000 mile mark...

But first, we were up early and on the road by 6:30 a.m. Flying light, my fingers became very cold, numbing as we headed for the foot of Logan Pass. It's quiet as we plowed through the mist in the pre-dawn light. Deluxe. Passing a moose straining aquatic plants from that ultra-Roman nose from a side drainage, no, it's not yet light enough to attempt a photo. Stopping, I tied a handkerchief around one hand and my hat around the other. Better, some warming of the fingers, but I still couldn't operate the camera to change the film. Early shards of pink hit the cliffs. Wow. It's a nice, even grade up the West side, perhaps 5-6%. 2nd chainring off granny gear, grind, grind. We rolled up through an inversion, and my hands warmed. Amidst improving views of mist-slick rocks, we saw marmots and the ostentatious plums of Beargrass. A little more than 3 hours from Sprague, we topped out at Logan Pass, 6646', and the Continental Divide. There was precious no time for dawdling at the visitor center, so down toward St. Mary and Canada we flew. We made it, with a few minutes to spare, for late morning pancakes at Johnson's in St. Mary, before they turn the grill over to ground-up dead animals. Our stomachs and blood-sugar levels had been howling at us throughout mid-morning. On the way down the pass, a yearling black bear tumbled off the side-hill and across the road a few yards in front of me, and directly behind Marv. This oafish-looking character didn't seem to notice our mostly silent descent, or care. Surely, he could hear the rapid staccato of the freewheels as we floated down from the pass? Without pausing or looking, Mr. Bear ambled across the road and disappeared in the heavy foliage.

A big wind intermittently confronted us as we made our way to the Port of Piegan/Carway, Canada over the next 20 miles. Along the way we stopped in Rising Sun for yogurt, adding that essential substance for muscle oxygenation. We'd need all this fuel and more.

Bulletin: at 1:20 p.m. on July 12th, 1985, we achieved the completion of our primary pilgrimage, South to North TransAmerica Border Quest, self-propelled! We had completed the essence of the Border Bop! (Of course, we know it's really the journey and not the destination we seek, but here is a marker to celebrate!!!)

We continued into Canada for a drink and ceremonial photo. The photo seemed to go OK, but the drink? There was some sort of beer distribution strike in progress, and we could not get any of the Canadian beers, so we settled for something made from rice and hops from the Great Plains. Imagine that?!

OK, we've turned the pedals for about 60 miles so far today. Now, we would buck the wind for 20 miles and ride over the pass from the East side. I was shaking, with sewing-machine legs, by the time we had hammered our way to Babb. "OK, I will live" I reported after inhaling a box of cookies and a banana, washed down by about the 6th quart of North American well water for the day. On to St. Mary for crackers and more water. Then, the 18 miles up to Logan Pass, accompanied by stellar views of wildflowers, peaks, glaciers, and goats. While we paused at the summit, two goats came over and tried to coerce handouts from us. When we didn't feed them, they tried to bite my tire, so I bumped them with it. They got upset and tried to stick their pointy horns in my spokes, so I bumped them again. Marv was receiving the same manner of reception, and since it was 7:30 p.m. and we still had to negotiate the Going-to-the-Sun Road going down, we departed, although our muscles demanded more rest. It was rapidly cooling as we wove our way down the Sun Road, getting back to Sprague CG about 9 p.m., having traveled a trip record of 120 miles. Ahh, the smells, sounds, visual pleasures flowed as we careened and bounced down the pass. It was a bit too demanding at first for full enjoyment; however, as the terrain became more gentle, the senses roved more and soaked in the odor of cedars and flowers and sweet earth. Drifting through cool then warm zones and side drainages provided many contrasts. Late that night, we helped a tourist true a wheel, after he "borrowed" one of my spare spokes that I kept tucked under the deck of the rear rack. It was nearly midnight before we got to bed, and yet we were still a little hyped-up, and too tired to care to wash up (we did anyway). Canada! Mexico! Mexico to Canada! What's left? Lots. Somehow, we should get home.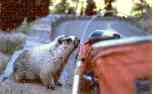 A Marmot looks for lunch or a ride
(Click the image for a full-size view (9k); Photo by Rob)

Day 32: Bigfork Relay

: (Glacier to Bigfork, Montana; 50 miles; 2082 total; 5 bike hours.) We were up later than usual and on the road at 9:30 a.m., I suppose we were late because we are still recovering from our Going-to-the-Sun and Canada adventure . Also, we are in no rush to leave this winnehogo boneyard because we had until 11 a.m. to cross the restricted zone, the area preserved only for hogos.

Songs tumbled out, accompanied by the soft whir of the wheels, as we rolled toward the West Gate of Glacier. Traffic was calm and serene to the gate, and busy and hectic to our Stage Road cutoff. We enjoyed what were arguably the best pancakes of the trip in Coram, then we continued on the same route as Day 30, and this would be the extent of our route duplication. Today we purchased $.24 of gas, bringing our trip total to $1.41.

We're feeling a bit empty. Perhaps we should try to catch a ride? After all, the major quest is complete, right? Well, not really, the quest continues. It's called life. Forward, forward, but with a fond look back. 96 post cards sent so far. A trail of paper memories. With hindsight, I wish I had sent some of these paper memories to myself, so I would have a more substantial treasure to hold and rekindle the memories.

Marv cooked an interesting chicken wing stew tonight: wings and potatoes and carrots and spices and noodle soup. Excellent, but lacking a bit of the gluttony of last night when we stopped at the Lake McDonald Lodge for chips and cookies, and after we consumed all of these, we had a full dinner.

I've written the above account for Days 31 & 32 while sitting on the NE shore of Flathead Lake, mosquitoes nibbling on my toes. I have paused, and will probably quit to look at the gorgeous sunset...most likely enhanced by the area-wide forest fires... "purple and magenta of the mountains, and sunlight is in her name" (the Idaho state song goes something like this).

Day 33: Mission to Mission

: (Bigfork to St. Ignatius; 51 miles; 2133 total; 5 bike hours; rolling along the lake, gradual downhill to St. Ignatius; hot and calm.) Today we rolled along the Mission Mountains to the St. Ignatius Mission. It was an incredible start. An Osprey ripped off a large fish almost in our camp this morning. In overdrive, the Osprey labored to take off with his heavy prize, slowly spiraling up to gain enough altitude to miss the tree tops. Rollering along past resorts and cherry orchards, we found this drainage-cleaving quite a bit of work. It's a narrow road, and a garbage truck seemed to intentionally run us off the road. When we caught up with it and Marv flung open the door to explain the reality of physics to the driver (two objects cannot occupy the same space at the same time...like a fist and your face), there was no one there. We contemplated releasing the brake and allowing other laws of physics to prevail, but contained our republican impulses and rode on.

I've noticed my bright orange Mondia shirt and panniers have been distinctly bleached by the UV in the sunlight. The reflective, once orange, vest I've attached to the rear of my bike is now a light pink. Near the East Entrance of Glacier NP, I road-vultured a dress shirt. Spotting it lounging in the middle of the road, I picked it up with the intention of cleaning my bike chain. Instead, I'm dragging it along with the rest of my plentiful and weighty gear. It's just my size and in good condition. We have scavenged all sorts of things on this trip: shirts, tools, fly rods, pans and bowls, much of which we gave away in the next town along the way.

The traffic is picking up and we're happy we are at the junction of Highways 35 and 93 at Poulson. The shoulder of the road is better for awhile, although it deteriorated near the Bison Range. It's a good thing it was an easy ride from Poulson to St. Ignatius, because we seem to be a bit sluggish, perhaps due to the Canada border marathon. With tires mired on tar pit roads in St. Ignatius, we visited the old mission. Wow, what murals, painted by the mission cook many years ago. We lingered, then realized we needed to find a place to camp.

We camped at the Mission Valley CG (private), just North of town. It's an estimated 400 miles to Pocatello from St. Ignatius and it looks as if we'll be riding all the way home. There's a poignant romance to completing this trip in such a fashion. But then again, there are so many things to do: find a place to live in Smog Lake (graduate school once again for me), hope to get in one or more wilderness hikes, etc. One trip at a time, I mused.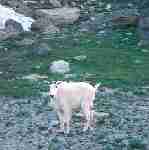 Goat Face smiles after chewing our bike tires
(Click the image for a full-size view (15k); Photo by Rob)

Day 34: Hellgate Haze

: (St. Ignatius to Florence, Chief Looking Glass CG on the Bitterroot River North of Florence - MP 77; 60 miles; 2193 total; 6 bike hours; up and down; hot.) The Hellgate Fire was creating a pall of haze along the Mission Mountains. It was Los Angeles-like in Missoula, and a segment of the fire was visible from downtown Missoula.

The morning started Patagonia-style cool, but it warmed to legwarmer temperature by the time we left St. Ignatius. Today we would complete the majority of the TOSRV (Tour of Swan River Valley, sponsored every year by Missoula) route. Up we rolled to Arlee, where I mailed another journal section and a load of post cards. After topping a low pass, we dropped to the I-90 intersection 9 miles West of Missoula. Where does all this traffic come from, we wondered. We stayed on Hwy 93 and stopped at the FS fire training center where we learned that there had been a fire on the Montana side of Gibbons Pass. Supposedly contained, it would be OK to plan to travel over Lost Trail Pass. In Missoula, we wandered streets until we found the Bikecentennial office, where we registered our venture. To our delight, we discovered that Frank Kral had been through on July 10th, so we knew he had made it this far. Taking in the delights of town, we enjoyed some frozen yogurt and a boysenberry muffin before visiting Braxton's Bike Shop, where we found a photo of Frank and his compatriots on the bulletin board. The old dog sure gets around.

We initially thought we might stay in a hostel in Missoula, but subsequently decided that 42 miles were insufficient. So, back on Hwy. 93 and to Lolo for food and $.09 of gas ($1.50 so far). Then, we continued to the Chief Looking Glass CG along the West bank of the Bitterroot River a few miles North of Florence, near MP 77. Chief Looking Glass was a Chief of the NezPerce People, and was highly respected for his leadership ability. His people were attacked by the U.S. Army near Lost Trail Pass, and this was one of the skirmishes that prompted Chief Joseph to lead his people toward Canada (they nearly made it).

We tussled with occasional bouts of wind today, but nothing for a long duration. I have been at this CG before, on the second night of BAMIC (Bicycle Across Mountainous Idaho Country), which was one of the first self-supported rides Marv and I did together. It was organized by the venerable Spoke and Wheel Club of Blackfoot/Idaho Falls. During BAMIC, we stayed here, before going over Lolo Pass and down the 80-mile grade to Kooskia, Idaho along the Clearwater. Marv and I began chanting CIMAB! CIMAB! CIMAB! (Backwards BAMIC), as we approached the CG.

A particularly raspy-voiced woman has punctured our quiet camp with repetitive and nonconsequated commands to her dog and wailing carbon-copy daughter. She looks great in a bikini, but what a price to be paid to get close to this screamer. Perhaps she's a screamer in other settings, an empirical question for sure.

I pensively began writing a few notes for an epilog to this account. It's not that I want this excursion to end, it's just my faulty memory I'm planning for.

Day 35: Wet & Lost, Idaho; or 5-weeks to Idaho

: (Florence to Twin Creek CG, 7 miles North of Gibbonsville, Idaho; 85 miles; 2278 total; 9 bike hours; gradual up along the Bitterroot River to Sula, Montana, steep up for 9 miles to Lost Trail Pass; warm and wet.) We would enter our 9th state of the trip today, our home state of Idaho, preceded by: Mexico, Arizona, New Mexico, Colorado, Utah, Wyoming, Montana, and Canada. First, we'd be wet and exhausted on Lost Trail Pass, another crossing of the Continental Divide at 7014'. It's the end of our 5th week in the saddle, and it's Idaho.

We rolled out of the CG and onto the historic BAMIC route on Hwy 203. Ahh, a pleasant ride to Hamilton, 30 miles interspersed with the sweetness of new-mown alfalfa, quiet small towns, pastoral vistas, and low traffic volume. One can really hear the neurons fire-off in pleasantries like this. In Stevensonville we visited the old St. Mary chapel, then rode on to Hamilton by 10:30 a.m. for a second breakfast. After a delightfully calm morning, we acquired a slight tailwind out of Hamilton. The locals we talked with said "why, that there's an unusual wind" because it usually blows from the SW. As I recall, we had an "unusual" headwind on BAMIC, and in this case it made things difficult. Presently, we enjoyed the breeze assist. It's a gradual climb all the way to Sula, where we began using smaller and smaller gears while attempting to dodge thunderstorms with our timing. We got wet, but we dried out before the end of the 9-mile grunt to the summit of Lost Trail Pass. Summit! Idaho! It's 5:30 p.m. and time to head down to camp. We dropped on 5% grade for around 7 miles to the Twin Creek CG. The grade on the Montana side of the pass was probably about the same. With thunder closing in again from the near distance, we parked the bikes under the picnic shelter - convenient. A pink hue light filtered through the pines, making them look like giant cinnamon sticks. Although we didn't see any fires, we saw several van loads of FS people, all sacked out except the driver, and headed South on Hwy 93. Humm, the worst is probably over at the Gibbon's Pass fire. It's great we don't have to keep moving to avoid the fire because we're quite tired after a tough day. Slowly, we consumed a glop of macaroni and cheese (2 boxes), with green beans, oysters, and tiny shrimp with a little left-over mustard and cheese on top. Surprisingly, we had a craving for a box of cookies about a half an hour later.

Day 36: Salmon Slog

: (Twin Creek CG (North of Gibbonsville) to Challis, Idaho; 102 miles; 2380 total; 9 bike hours; gradual up; hot, wet, and windy.) This day might have been titled "The Salmon 100;" however, the most enduring impression was that of blah exhaustion while inching toward Challis. Though we didn't receive any more rain on Day 35, we would receive some today.

We floated down to North Fork, where we would begin the upriver Southward trek. The Salmon is a funny river, as it flows North over much of its course. And, it is one of the country's most marvelous rivers, and it is the center piece of the glorious and grand Frank Church River of No Return Wilderness.

In North Fork, we purchased two honest 'quarter pounder' cookies thick at a 4-H bake sale, each nearly an inch. Oatmeal with chips, yum. Rain pounded us, the sun warmed us, alternately, with great and lovely contrast. This rain rhythm began as I drifted down the road, spying a black cat perched on a well house. I sang a few bars to the cat and it started to rain. Superstitions? Nah. Just a coincidence? Perhaps it a was heightened memory like the coincidence that occurred as I rode out of St. Ignatius: the wake of a lumbering winnehogo stirred a cigarette butt, which rolled diagonally across the road. Following it with my gaze, I saw a cemetery. Winnehogos and cigarettes and cemeteries. A coincidence? An omen? A prediction? A probability?

It was an OK ride to Salmon, and we sometimes benefited from a tail breeze. After a pause in Salmon for yogurt, we were back on the upriver trail. At Elk Bend, the calm stirred, and a headwind began. Punctuated by occasional thunderstorms, the ride was becoming a slog. As we rounded a bend of the river, I noticed the willows were leaning more in one location than in all surrounding locations. It's a wind gust funneling through a notch, I assumed. Wrong. It was a mini-tornado, which sand-blasted my face and legs, whipped me around, away from the river and in a semicircle onto the shoulder. I stood astride my bike, stunned. I was puzzled that I hadn't crashed or gone for a deep swim. Looking around to see what "it" was, I saw what was now a water spout sucking up water in the river a few hundred feet away. Siphoned water from the river up approximately 2 feet, the water then sprayed out the side of the spout like from a whirlybird sprinkler. Lucky me, whew. I cautiously, with noted relief, coasted onto safer terrain and rinsed some of the tiny pebbles out of my eyes and mouth. Then, it was back on the torture trail to Challis.

There is lots to look at, but damn this compound grind. It's not really a strong wind, but it wore us down, hour after hour. It would take several glasses of liquid and a cool wash before I began to feel semi-human. Two consecutive tough days. At the laundromat, I climbed into the tub for a bath, it's a good thing no other customers arrived. Smegmatic, indeed. A bath, several drinks, and I began to feel normal (whatever this is). Marv and I engulfed a chicken dinner in town before skulking down into the tall grass and shabby woods near the steel bridge over the Salmon. I wrestled with a bear and bares all night in my dreams. The bear kept coming into the tent in search of picnic baskets; and two bare and beautiful women jumped in too, but not all at the same time.

Day 37: Final Pass

: (Challis to Arco; 81 miles; 2461 total; 7 bike hours.) Willow Creek Summit, at 7160', was our final pass of this trip. Not high, nor difficult when compared to the numerous others we have ascended, but the final pass all the same. The first 7 miles was on crushed gravel, then the gravel occurred at irregular intervals. We had to use our helmets as shields when some chips became airborne when associated with Steve Symms'-style drivers. New chips, old chips, recycled chips, they all hurt the same. We saw a few pronghorn antelope, a few Redtail Hawks, and a falcon during the ride over the summit. After a traditional pause at the summit, we rolled around Mackay Reservoir and into the burg of Mackay. After 50 miles and 4-something hours, we ate lunch in the L-Cafe, next to Perks Bar. There's a bit of personal history here, for I worked in Arco/Mackay for a year, 3 years ago. After a long lunch break, we finally got back on the road, but not for long. At the White Knob Motel, we napped under the eaves waiting for a half an hour rain and hailstorm to pass.

In addition to the food, we had taken longer than usual talking with a solo bike tourist on his way to Oregon. He told us he would work like mad, live in slum conditions, and save up enough to finance his next tour. He lived to bike tour. One could say he worked to live, rather than lived to work like most "real Americans."

A quartering wind laced with mist fronted us to Leslie, then - visions of Ennis - we gained a top-gear tailwind into Arco, flying low through Idaho. In Arco, I called Ardith Williams and she invited us to camp in her backyard. As is now expected, she had a "previous engagement," so, after a bit of catch-up talk, she went to a picnic and Marv and I went to Martina's for dinner - good Mexican food, and a bit of D'Oro wine to toast the closing to the venture. It all seems so soon over, and yet so long ago. I'm thankful that I have this journal to trigger some of the memories. I have produces little urine over the past few days, but none of the turquoise piss courtesy of Frank's "horse pill" mega vitamins.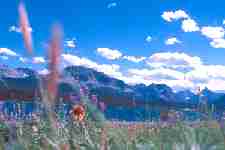 St. Mary Lake, Glacier N.P.
(Click the image for a full-size view (8k); Photo by Rob)


Return to the JUMP TO section

Day 38: Home Again

: (Arco to Pocatello; 85 miles; 2546 Grand Total!; 6 bike hours; desert dessert, hot.) As is more frequently the case, it was difficult to get the old bones up and moving at 6 a.m. It's crisp here, we discovered as we swayed over to the Golden West for breakfast. Our cook gear hasn't seen as much use lately. We're homeward bound today, and we endeavored to get across the "desert" before the winds began and the heat waves swirled.

We met a cyclotourist at the rest area at nukedom (home of the largest concentration of nuclear reactors, secretly paid for by you). He claims he'll be in Missoula by Sunday, and it's Friday. He's traveling light, with front, but no rear, panniers. He may pull off this feat. He also told us he was running over 120 pounds of pressure in his tires. This seemed to us like a request for flat and blown tires, but we wished him well. We churned across the desert without difficulty because the gods of wind smiled today.

We cruised into Moreland, where Marv's trip ended. Declining an offer for a ride home, I continued on with the additional weight of the tent and pots which Marv had been carrying. I've got the "AA's," apprehension and anticipation. It seemed like hours, but it was probably a faster than normal trek from Blackfoot to Pocatello. I bumped into the driveway at 3:30 p.m. on July 19, 1985 after touring 2546 miles of border bop and back again over 38 days. I couldn't decide exactly how I felt, I felt so many ways. Paisley emotions, for sure.

Now the arduous task of repairing/cleaning the equipment begins. And, there is trying to accommodate/acclimate to the "civilized" life. I wondered if I would be able to locate anything or sleep in a bed. A hollow feeling crept over me. It's actually over?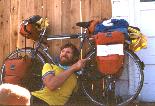 Road's End, Pocatello, The sign says: S. to N. across the U.S., 2546 miles
(Click the image for a full-size view (11k); Photo by Rob)


Return to the JUMP TO section

Epilog

: Self-propelled across the USA, South to North, Nogales, Mexico to Carway, Canada and back. What an experience! A dream come true!

Oh, but the trivia. Washing, adjusting to a new schedule, mail to respond to, Forest Service/BLM fiascos (silly forest mismanagement plans, etc.), find a place to live in Smog Lake, cleaning the bike. Where to put everything? Where has everything gone? What's next on the agenda? I'm anxious for wilderness, but who would be able to go, and then there are all these other things to do... Approach - avoidance.

Certainly, all manner of thoughts and emotions are tumbling around in me. First, I'll attend to the notes I made in the final days of the trek:

Some of my peak experiences included: Frank Kral, the total sensation of the sights, sounds, aromas, and tactual feeling from the environment and from the environment via the bike - weightless, cruising, lumbering. The natural beauty of the people, the country; and the contrasts.

But, what of America? Very disconcerting in many ways: Totally UnAmerican, the RV, the winnehogo. Conspicuous consumption and waste. Fat smokers, developers (Montana, Colorado, Idaho for sale!), winnehogo drivers nearly totally insulated from any but artificial experiences. Doltish cowboy truckers. Criminal, inconsiderate, rushing drivers. Everywhere we saw signs of "progress" - stream channelization, 2nd and 3rd homes, winnehogos, dirt bikes, water-mobiles, desert land entry, sprinkler irrigation - pumps, pumps, pumps, big Wrecklamation dams. Unconscious and UnAmerican, a country cruising for catastrophe.

The bike: very low maintenance. After 1000 miles of maintainence-free churning, I occasionally lubed the chain. No flat tires, no parts replaced or repaired. The spare tire I purchased in Helena and carried for hundreds of miles is curing in the garage. The SBI rendered superb performance, although quite a bit of cleaning is needed. I later found a broken strut on the front rack - since Seeley Lake?

Awards: Worst truck drivers ("Cowboys with their brains kicked out", said Marv) were in Montana, the worst auto drivers were from Utah and Texas (where a black and white license served as a panic stimulus), the most glass on the road was in Idaho (Montana a close second), we saw the best looking women in Colorado, while we encountered the biggest gougers at the KOAs with their adoration for winnehogos (we avoided these tin can meccas anyway).

Things I won't miss: cold water bottle baths, cowboy truckers, KOAs, the whine and bellow of winnehogos - day and night, other RVS and their flaccid-flesh occupants, and seeing the destruction "progress" has rained upon our once-public lands.

The big mileage day was our Canada blitzkrieg of 120 miles, while the shortest day was the 28 mile Lander Lounge. I could have used more time for this venture, time for contemplation/exploration. The original plan of 60 miles per day average, with one rest day a week, remains the best plan.

The Tour de France ended today, July 21st. These iron-legged athletes rode a bit over our distance, about 2580 mile, in 139 hours. Wow. They rode tougher terrain as well. An American, Greg Lemond, was 2nd overall, just a few minutes behind Bernard Hinault who won the tour. It was a terrific finish for an American, and Lemond might even have won if not instructed by the coach to slow the pace on a critical hill climb and allow Hinault to stay in contention. Hinault and Lemond are on the same team.

I recently weighed-in at 139 pounds, down a trifle from my now-normal 142. However, I've recently felt intermittently exhausted - puzzling. Running with my good friend Vic Joe has been trying, my feet hurt and I have no rhythm. Maybe it's full-scale depression or withdrawal from my touring connection...?

Cruising the back roads and highways, asleep on the bike. Alive on the bike... Backward glimpses through my memory... The long and winding road.....

<! --------------------------------------- this first table is across 3 collums, so it stands alone ----------------------------------------->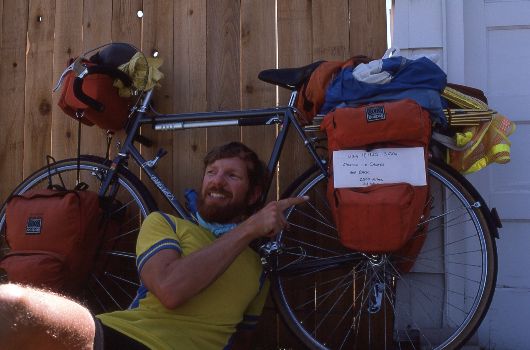 Border Bop-end, 3:30 p.m. July 1985
(Click the image for the full-size file)

<! --------------------------------------- first table ends -------------------------------->

Click here or on the happy cyclists to go to all WV reports about Bicycle Touring

<! --------------------------------------- this table provides a link to all WV reports about Bicycle Touring ----------------------------------------->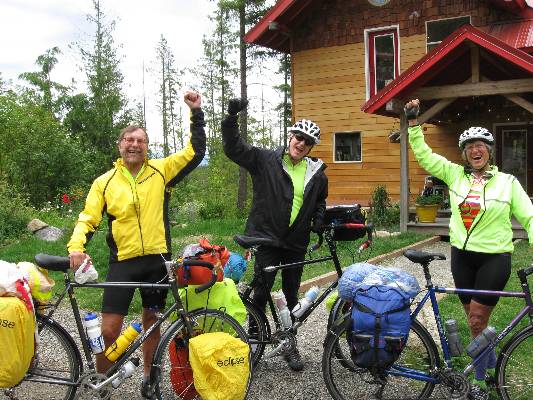 Looking for All Wilderness Vagabond trip reports about Bicycle Touring?
Click the image to go to All WV reports about Bicycle Touring

<! --------------------------------------- table ends -------------------------------->
---
---
Return to the JUMP TO section